The long and short term success of businesses can hinge on the funding that you raise. Crafting a business plan is an essential part of the process, but for some entrepreneurs, it can be frightening to finally see the amount of money they'll need to find in order to stay afloat. 
Even if the level of investment required is larger than you were expecting, it's better to have a clear idea than to lie to yourself. It pays to be prepared, and luckily there are plenty of ways in which a business can gain funding in order to launch or scale appropriately. 
Whether your business will simply act as a popup outlet, or whether you have your eyes on becoming the next global SaaS phenomenon, it's important to understand your options. With this in mind, let's take a look at the most effective ways of finding the right investment opportunities for your business:
Ask For Help From Friends and Family
It's important to state early on here that friends and family represent the safest route to funding. The money they send you may be done with a more lenient repayment plan than the best of banks, and you may even find that they're willing to donate funds to you.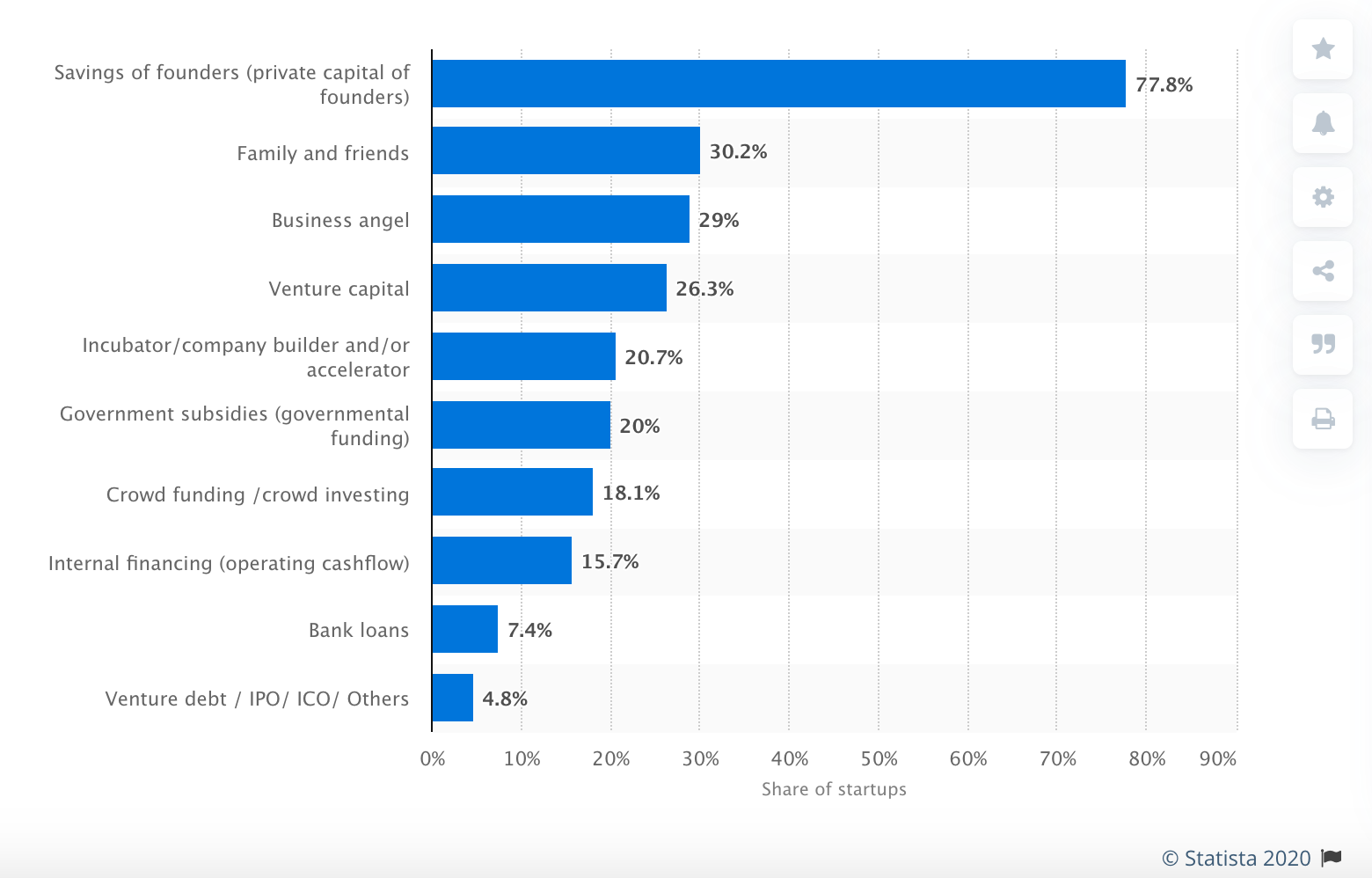 (Graph showing the distribution of startups in Europe in 2018. Image: Statista)
If you secure investment from friends or family members, it's worth remembering that they're entitled to a stake in your company, and thus share risks with you. 
There's much more freedom for all parties to discuss mutually beneficial terms. Where banks may want a return on an investment loan in instalments, it's likely that you'll repay this kind of investment when your business becomes profitable and you can comfortably afford to make a repayment.
Try not to approach this form of investment too casually, or let yourself get complacent with assuming that funding has been secured. Respect those who could be willing to invest in you – regardless of whether you know them or not.
Be sure to conduct a formal pitch to friends and family that could be willing to invest, and share your business plan with them. It's vital that you let all prospective investors know how you plan to use their money, and when you expect to be in a position to pay them back. 
One of the most significant drawbacks on calling for investment from friends and family is that you're mixing business and pleasure. This means that if your endeavour fails and you lose your investment, it could put significant strain on your relationships. 
Small Business Loans
If you're unable to find investment from friends and family, don't worry – there are plenty of business loan initiatives out there. 
In the US, The Small Business Administration stands as an agency that strives to put businesses in touch with the right investors to help their progression. Elsewhere, in the UK, there are some generous government initiatives that are designed to help newer businesses to find their feet. 
While the repayment rates from this form of investment may be more strict, recognised business loans can help entrepreneurs to find funding that best suits their needs. There can also be plenty of useful external advice on hand from some of the agencies offering funding. 
Startup Platforms
The beauty of the internet is that it gives us assurances that we're not alone in our challenges and endeavours. This applies to the funding of businesses, too. Today, the internet is awash with great platforms that offer business owners the opportunity to get in touch with potential investors who could be willing to fund an idea. 
One such platform, Startups.com, offers an easy and convenient channel for locating prospective investors efficiently. With as over one million startups already launched, the platform has a solid record of getting businesses off the ground. There are even some great mentoring opportunities for entrepreneurs on offer. 
Elsewhere, Gust features over 800,000 founders and 85,000 investment professionals on their startups platform. There's a great chance that you'll find the funding that you're looking for thanks to dedicated startup platforms, and even if the investment isn't there, it's certain that valuable insights can still be found on site. 
Cause For Crowdfunding
Crowdfunding platforms help business owners to get in touch with all different kinds of investor – from members of the public to philanthropists and accredited investors. 
There are plenty of crowdfunding sites for entrepreneurs to get stuck into, with Kickstarter being the most notable name on the list. However, it's worth doing your homework when it comes to selecting the platform that you would like to use, as each website has different incentives for investors and different areas of expertise. 
Crowdfunding is a great way for businesses to capitalise on public interest in their product and can be a great way of gaining a windfall from your support where investors have been too cautious to part with their finance. This approach could be particularly effective if you've already built an online following or have showcased working prototypes to the public. 
Going Private
There are two well-known ways of calling on help from private investors: Angel Investment and Venture Capital. Typically, the way angel investors and venture capitalists work is that they receive shares in the company in return for a predetermined windfall. 
In the case of angel investors, high net worth individuals who possess enough wealth and expertise to make a small business successful agree to help out. They may come onto the board of the company they're aiding, and are generally capable of contributing enough money so that other investors aren't required. 
However, it's worth noting that angel investors typically seek a high return on their investment, and are very difficult to gain money from. Essentially, if your business has an angel on its side, the chances are it's going to be a success. 
Angel investors use their own capital to build companies and usually arrive when the business is still in its formative stages. 
Be wary that angel investors tend to want a stake in the running of the company. While their input will often be a welcome benefit to a business, it's important to consider this if you're a visionary entrepreneur whose unrelenting in their aims. 
Elsewhere, venture capitalists step in when a business is expanding and could be moving towards more of a risky venture. Venture capitalists don't use their own money but allocate the finances of investors by setting up funds that are used to buy shares in a company. 
While venture capitalists can take a more hands-on approach towards startups, they usually come in once the business has already been established and has a credible management structure. Essentially, venture capital is reserved for the scaling stage of a business, where an endeavour is looking to move into a new market and gather investment before acting. 
Due to their tendency to come into play later, venture capitalists tend to offer significantly higher levels of investment than angel investors, and funds can often reach into the millions of pounds. However, the return on such investments will also be expected to be significantly high. Much like the aforementioned angel investors, venture capitalists will expect to own shares in the company and have influence in the boardroom. 
Of course, there are plenty of ways in which you can find investment for your startup, and it's vital to say that each business is different – and thus could benefit from different types of investment. It's best to look at your business and its development before accepting one form of funding or another.