If you've ever set up your own business or looked into the idea, the chances are you'll already be well aware of what bootstrapping your startup entails. But considering it's one of the most popular ways of getting a new business up and running, perhaps it's time to take a little bit of a deeper look at the statistics behind bootstrapping your way to success? 
Here's an exploration into the dynamic world of bootstrapping – from a statistical point of view: 
What is bootstrapping?
Fundamentally, bootstrapping is the act of starting a business with little to no money. This means that a founder will attempt to grow their company without the influence of venture capital or significant angel investment. This means that the money generated by a business from its customers will need to be pumped back into its operations to sustain growth. 
The term bootstrapping is one typically associated with hard budgeting. To 'pull yourself up by your bootstraps' is to embrace the difficulty of using limited resources to do something on your own. 
According to SmallBizTrends, there are generally two stages to bootstrapping:
1. Stage one starts with seed money – which pertains to a small accumulation of personal savings or some funding coming from friends and family. Seed money can also come through careful balancing of side hustles – where your day job helps to fund your business through its early development phase. 
2. Stage two involves making sales and bringing customer-funded money into the equation. Once a founder raises enough of their own money to open their business up to customers, it will be down to their collective spending to keep operations running smoothly. This is an especially tentative stage because it's important for businesses to generate enough interest to make the sales that will cover these early expenses. 
It's fair to say that bootstrapping is an extremely difficult but highly rewarding method of growing your business but does it help increase the chances of a long and successful future for startup owners? Here are some statistics that help to provide greater insight into the advantages and disadvantages of bootstrapping:
Bootstrapping statistics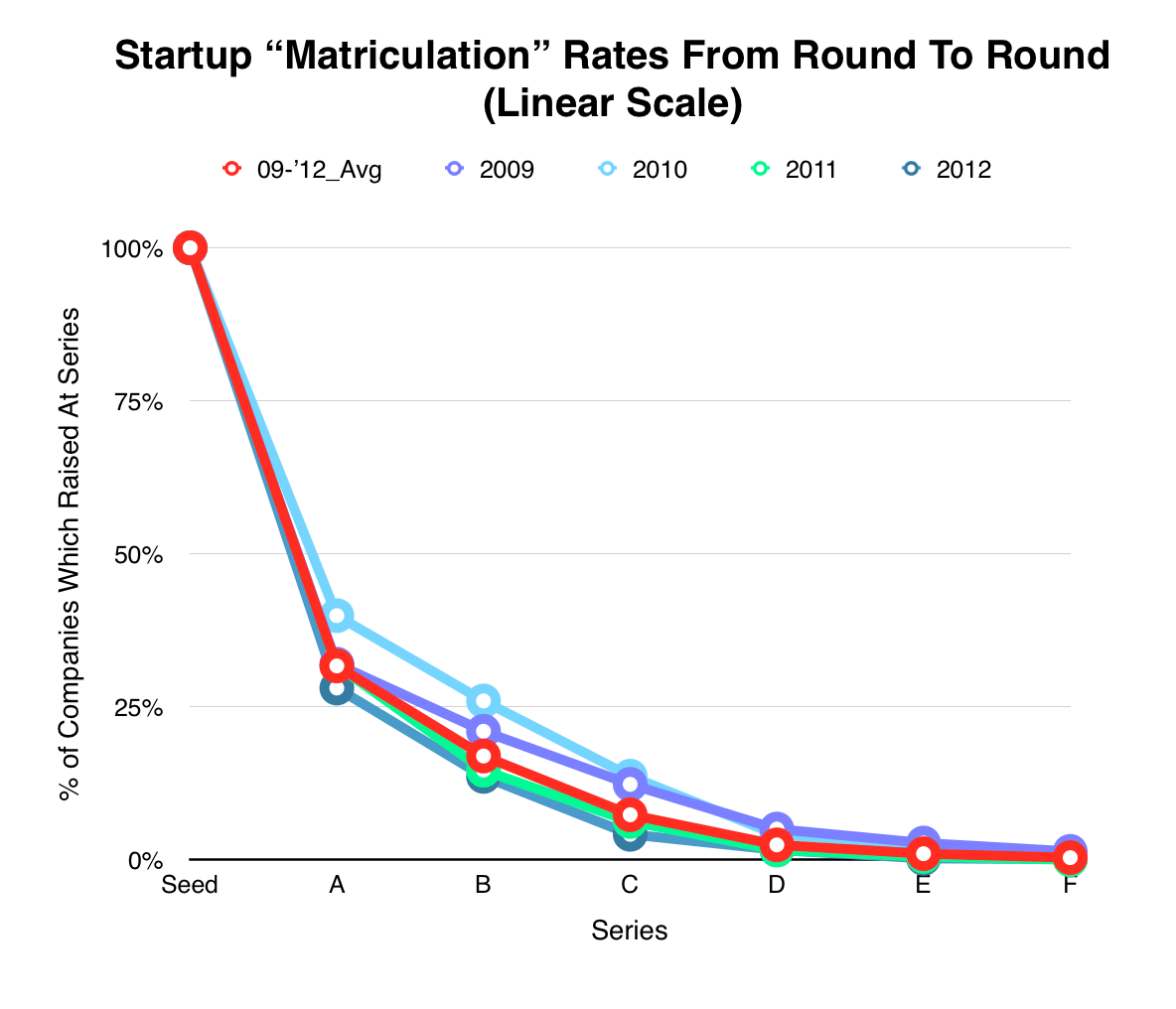 (Of thousands of startups that open their doors each year, only a fraction manage to raise their Series A investment round. Image: Medium)
The first figure we'll look at is the one that's both the most commonly known and fear-inducing in equal measure. As Medium notes, 80% of startups fail. The chart above illustrates that, of around four or five thousand startups that appear every year, around 800 manage to make it to raising their Series A investment round. Then, of those 800, just 10% typically survive to the next stage of investment beyond that. 
The unlikeliness of establishing a business that goes on to be a long term success is a key cause of fear among founders that many look to venture capital firms as a means of attaining a significant cash injection that'll keep their endeavour afloat – even if it means that a share in the company is given up. Let's take a deeper look at the figures behind business funding: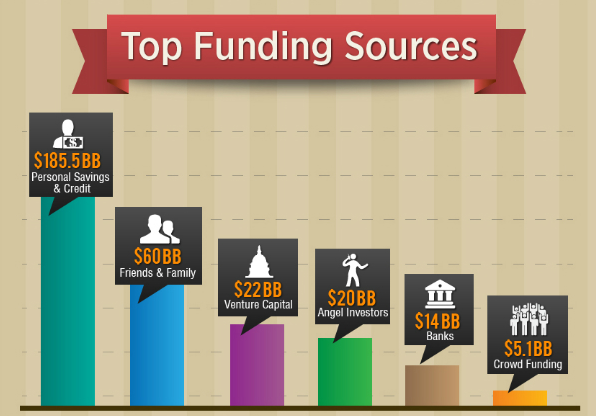 (Bootstrapping is favoured, but plenty look to external help. Image: Neil Patel)
According to figures collected by business guru, Neil Patel, the vast majority of business owners fun their endeavour through their own personal savings and credit. However, according to the figures, over $60bn has been used in external funding sources from venture capital firms, angel investors, banks and the increasingly popular form of crowdfunding. 
According to SmallBizTrends, one-third of small businesses were established with less than $5,000 in funding, while 58% got started with less than $25,000 behind them. 
Around 77% of small businesses primarily fund themselves through personal savings and finance, but only 40% of all new businesses are reportedly turning a profit. With 30% breaking even and another 30% recording continual losses. 
So where does the money go? Social media scheduling company, Buffer, has provided a statistical breakdown of how expenses can have a profound impact on a fledgeling business: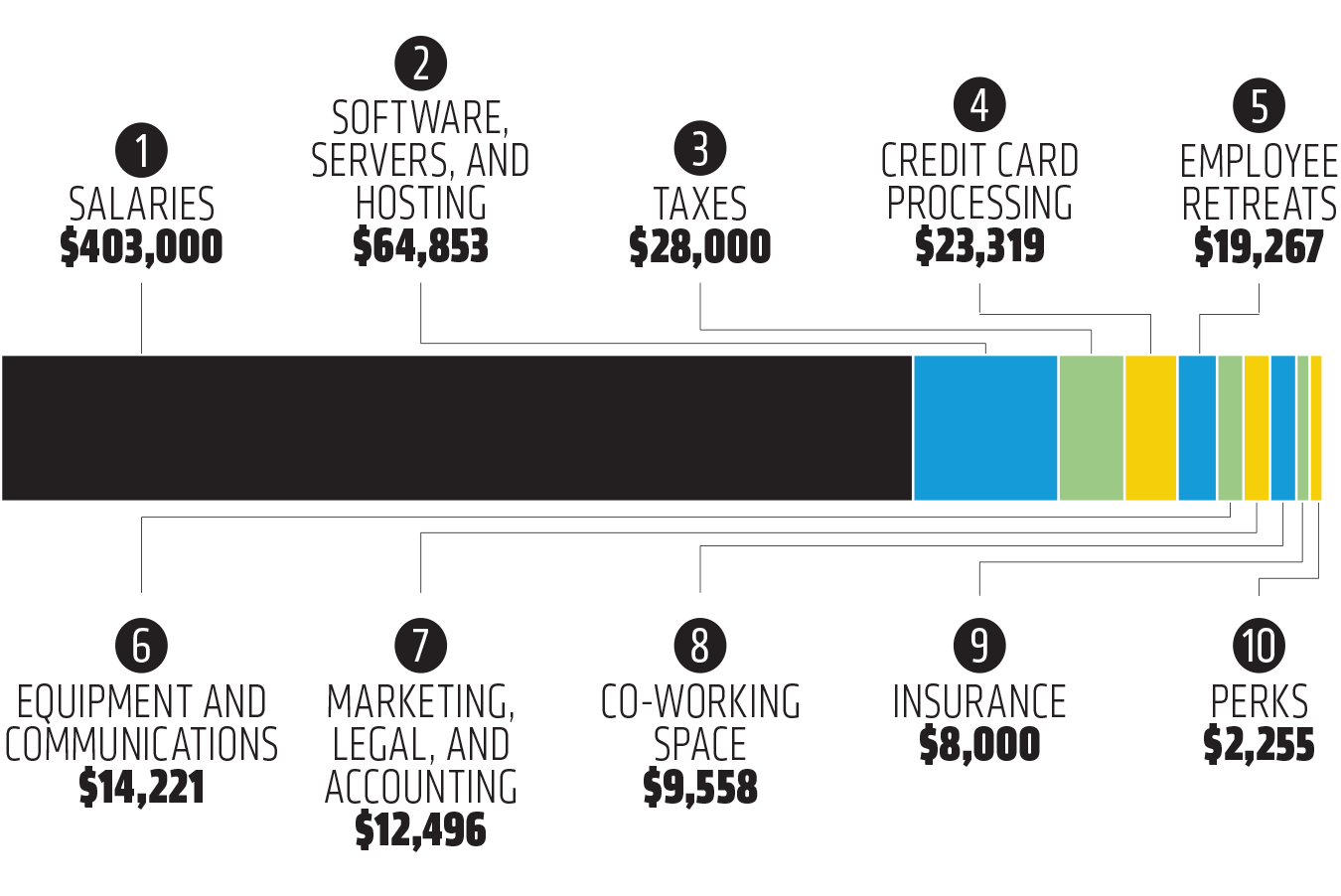 Buffer's monthly expenses look staggering, but don't worry – it's a company with over 70 employees and one million customers to boot. However, the breakdown of a relatively new business is curious. 
Failing to anticipate your cash flow can be disastrous for new business owners, and aspects like credit card processing fees, insurance and perks need to be taken into account when calculating the state of play for a company.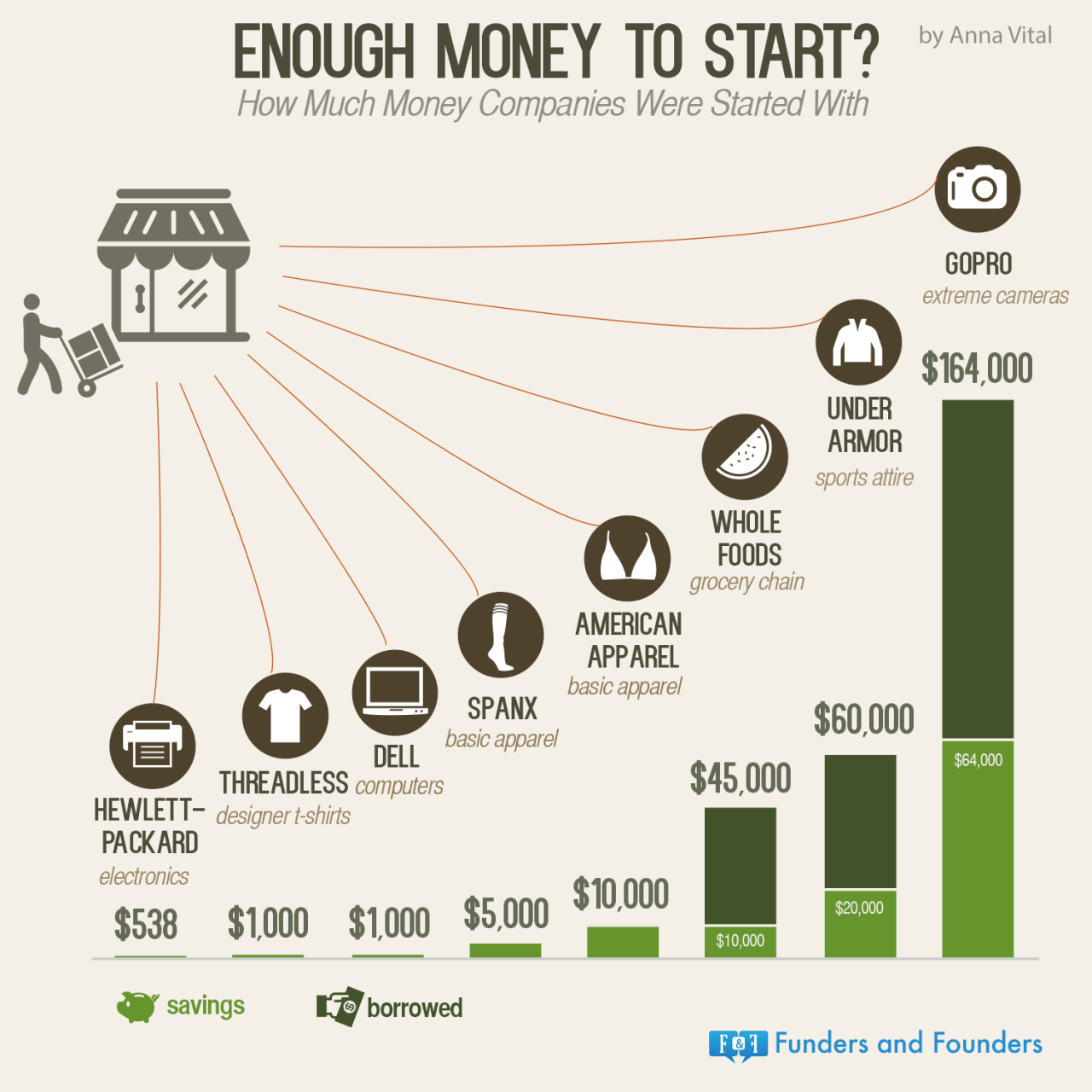 (Varying levels of funding used to lunch companies: Image: Neil Patel)
The metrics above show that there's not necessarily a right or wrong amount of money to raise when launching a company. Many multinational corporations were founded with $20,000 in savings or less. However, the biggest challenge that most business owners will face is figuring out how much money they should raise to leverage a proportionate scaling plan. 
The avenue of choice?
The world of business is an extremely challenging one. There are few occupations out there that come with a lower percentage of industry success. However, entrepreneurs need a little bit of self-belief to defy the numbers and ensure that their endeavour won't be one of the 80% to fall short at the first hurdle. 
SmallBizTrends states that 82% of failed businesses do so because of cash-flow problems. Large figures like this can be terrifying, but they can make for positive reading, too. 
Fundamentally, most problems in new business endeavours are most likely to arise through issues in cash-flow. With this in mind, it's important to invest more time in monitoring your financial progress as a business. Regardless of whether your investments were sourced internally or externally, it's worth investing some time each day to considering whether any factors could potentially influence the income or expenditure of your business. 
Nobody could claim that founding a business is easy, and failure can catch any entrepreneurs unaware, but to give yourself the best chance of falling into the 20% of startups that continue to operate into the future, the best course of action is to relentlessly self-assess. 
There's no right or wrong way to fund a business, just so long as you're prepared for the next outgoing.