We live in a fast-paced age where time has a habit of waiting for nobody. This can make it tricky to give your investments the level of care that they deserve. 
Luckily, as technology develops, so too does the level of convenience that we're capable of enjoying – which is just as well given the pace in which life moves. 
One of the most exciting developments in the world of investing in recent years concerns the rise of the micro-investment platform. Micro-investing typically takes the form of investment apps for smartphones that automatically withdraw small sums of money from a connected bank account whenever a small purchase is made.
While they certainly help to bring convenience to the world of investing, these apps also play a significant role in removing more traditional barriers when it comes to making investments. Brokerage account minimum balances, for instance, don't tend to apply to the world of micro-investing. 
For instance, the crowd investing market (which can also be considered as some form of micro-investing) is expected to reach $7 billion in transaction value by 2022.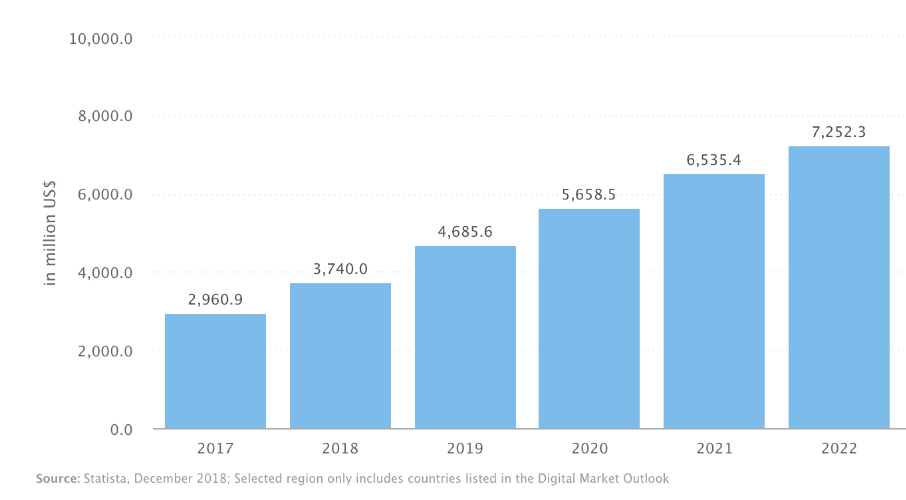 Image: Statista
But what are the ins and outs of this form of investing? And are micro-investments the best way for you to save your spare change? Let's take a deeper look at one of the most exciting innovations in the recent history of money-saving. 
Micro-investing in a nutshell
Have you ever owned a piggy bank? Because that's the idealistic logic behind the rise of micro-investing. In a paperless society, the best way to squirrel your spare change away is if an application is on-hand to take the 40p change from the hot chocolate you bought this morning and save it for you. 
The beauty of micro-investing is that the 40p you've saved in this instance is unlikely to be missed, and if you make the same purchase every day on the way to work then after a month you've saved up £8 – that's £96 per year just by rounding up your morning purchase to the nearest £1 and investing the change. If you repeat the process for lunch and on other purchases made while out and about, there's a chance that you could be saving upwards of £1,000 just through small change. 
Of course, if you're 'really' dedicated to saving money, somebody more critical might raise the question of why an individual would be out buying a hot chocolate on-the-go in the first place instead of taking a hot drink from home. But, the best thing about micro-investing is that it can operate in a way that doesn't force us to change our lifestyles.  
The benefits of friendly fees
So hopefully you'll have gained an idea of what micro-investing is all about and why it's become a popular tool for investors who are looking for convenience. But it's worth asking whether this approach is actually any good? Or would traditional saving methods still be more favourable? 
Well, let's take a deeper look at some of the factors that go into micro-investing. The first thing to point out is that the associated fees with this form of investment are extremely favourable. 
Simplicity at your fingers
Smartphone applications are designed to be user-friendly, and micro-investing apps are no exception. You can set up your account in minutes and track the progress of your investments in moments and review the options available to you. 
When you establish your account, you won't have to worry about picking and trading stocks. The money you invest will placed into a portfolio of Exchange Traded Funds (ETFs), which are typically based on a level of risk of your choosing. 
Using the app, it's easy to view your earnings, and many apps are capable of projecting the level of earnings that you accumulate based on your predicted monthly contributions. 
Many apps also involve 'socially responsible' investing, which enables users to support causes that are of great interest to them, like renewable energy – and choose those organisations to invest in. One of the best things about micro-investing is that the company you're investing in does all the hard work in researching so you don't have to. Experts will build a diverse portfolio on your behalf to take care of your investments automatically. 
Investment sizes
However, it's certainly worth pointing out that there's a risk that this level of investment may not be so appealing to ambitious investors. The rounding-up method of building savings can take time – like in the case of a real-life piggy bank, and if the card you've registered with isn't often used to make purchases, your savings over time could prove to be relatively meagre compared to a more traditional ISA – for instance. 
Essentially, if you can afford to save more than your spare change, it would probably make much more sense to set up a recurring payment of the specific amount that you're willing to spare each month. 
Beware higher fees for larger accounts
If you've invested a significant sum into your micro-investing app, it could be worth reassessing your options. This is because higher fees tend to be associated with larger accounts. 
For example, apps like Stash and Clink charge a fee of just $1 per month for account balances below $5,000 – which equates to a manageable $12 per year. However, when the annual percentage fee of 0.25% kicks in for accounts with over $5,000 in value, this would add up to a more significant cost of $125 per year. 
The more money you have invested, the heftier your fees are – so with this in mind, as your account begins to take shape, it could be worth taking the time to continually reassess the pros and cons of your micro-investing account.