As the world slowly gets back on its feet after its downfall in 2020, thanks to the Covid-19 pandemic, 2021 has been the year of anticipation to see how much of the world the pandemic has affected. Due to the nature of last year's events and how businesses were affected, there is no doubt that 2021 would have to be a challenging year for all. 
However, it has created an opportunity for financial freedom for some, giving them time and funds to begin investing in stock markets. For those working throughout the pandemic but unable to spend their money how they usually would, holidays and nights out, have taken a real shine to stock markets and investing. Social media platforms like TikTok have also helped make investing in stocks easy and more accessible to the younger generation with a wealth of information available from experts in the field.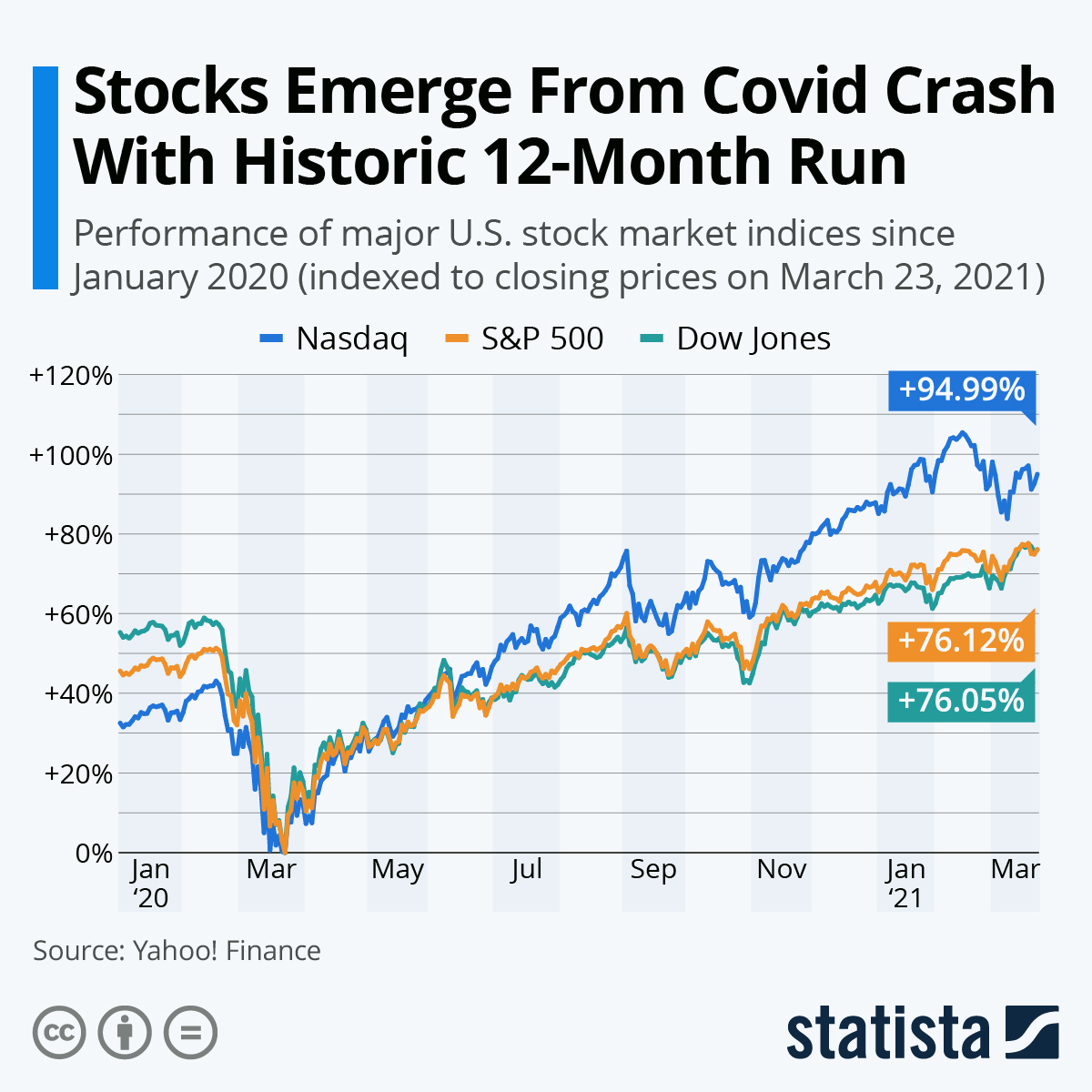 (Image Source: Statista)
Although the stock market is picking up, and as we delve further, we will discuss where to invest next, but it is still worth considering that Covid-19 has not disappeared and is with us. As new variations become more prominent, there is much uncertainty in knowing what it still has in store for us. But on the bright side, vaccines by hero pharmaceutical firms such as Pfizer, AstraZeneca and Moderna have helped create vaccines that are slowly being rolled out worldwide, making the whole situation better, which is helping the economy. 
As the economy continues to battle its ways to normality, going forward, the notion of things changing overnight needs to be considered and normalised. As with any type of investment, even pre-pandemic, there is a big chance of losing considerable funds and making mass amounts of gains, which always needs to remain at the back of every investor's mind. So before we get stuck into where to invest next, it's vital first to understand how stocks work. 
How do stocks work?
A stock or share, which is also sometimes known as a company's equity, represents a part share of a company that investors can buy, leading to owning a part share of a company. Thus, the more stocks an investor holds for any one company represents their share of ownership of the company. 
Most investors get a right to vote on significant changes in the company if they hold considerable amounts of stocks, such as voting on takeovers and new acquisitions. This is because stocks are how ordinary people invest and the primary reason for doing so is to earn a return on their investment. Return on investments can come in two different ways:
Firstly, when the price of the stock appreciates in value, reflecting the growth and success of a company, some investors choose to sell the stock they are holding as they are worth more than the price at which the investor initially brought them for, allowing them to make a profit by selling them at a higher price.

Some stocks pay dividends which are paid to shareholders. They are taken out of the company's revenue and are generally paid throughout the accounting year. Depending on where the company operates and is based determines how many dividends an investor gets throughout the year. For example, most US companies pay out dividends quarterly, and UK companies pay out dividends twice a year.
Most investments made in stocks are over a long time, which means stocks are primarily beneficial for long-term investors. The average annual stock market return is 10% that can fall to 7% or 8% after inflation. Therefore, when considering investing in stocks, it's wise not only to buy stocks in just one company but to buy a varied amount of stocks across a range of industries and geographical areas, which will help build a well-rounded portfolio.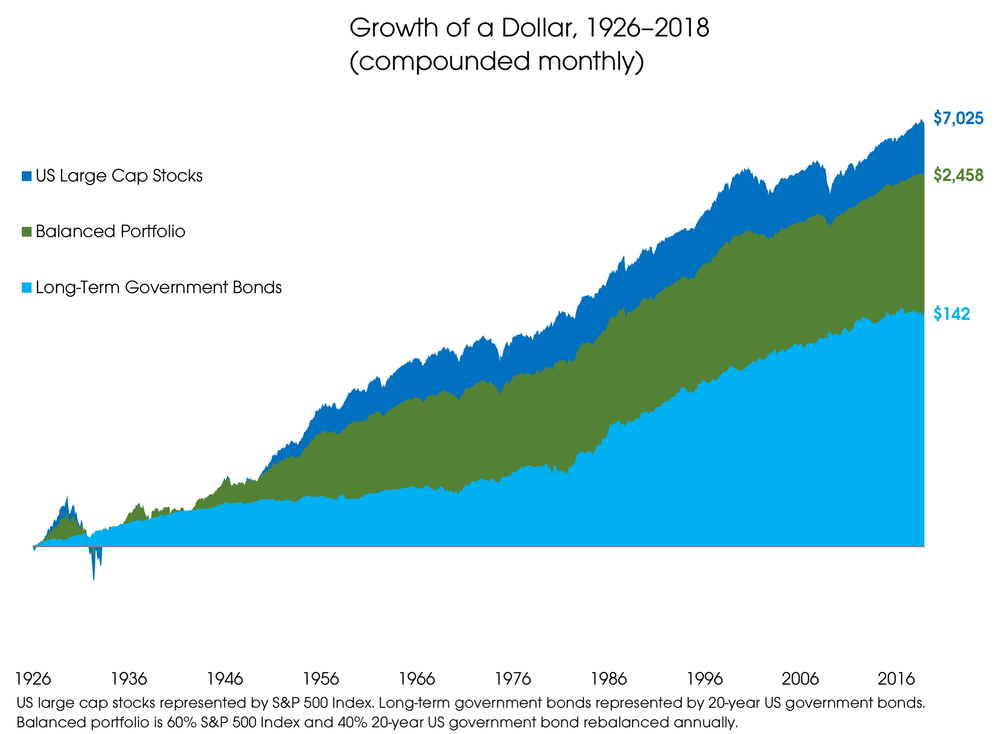 (Image Source: Highland Financial Advisors)
Companies sell shares in their business as a way of raising money for themselves. They use the money acquired from investors in stock in various ways, including launching new products or services to help the business grow and scale by expanding their operation, and in some cases, they use it to pay off debt. Most companies begin to provide shares in their stocks by going through a process called Initial Public Offering (IPO), which is what helps the company get investors at the early stages. 
Once a business's stock is on the market, it can be bought and sold to investors. Investors typically do not purchase stocks directly from the companies themselves but rather from investors who are selling their already owned stocks. The trades of these stocks are handled on numerous stock exchange online platforms. All investors need to have a brokerage account that will allow them to invest in stock on the market.
Most investors own common stocks, which are the types of stocks we have been talking about. They come with voting rights and give investors a share of the company's profits as an incentive for investing. However, although stocks have a solid history of high returns, making them less risky than other investments, they present their own risks. It is possible for a stock to fall considerably, reflecting the market and the economy as a whole. In addition, the price can fluctuate to delft market volatility or special events taking part in a company like the CEO leaving or the country's economic state.
Traditionally long-term investors hold onto stocks for years before they even consider selling them without frequently buying or selling. Of course, while preserving the stocks, they will see frequent fluctuations over time. But overall, their portfolio will increase and go up in value in the long term. There is no doubt that investing is a great way to get your money working for you, but there are risks that need to be taken into consideration and the fact that they will not make you rich overnight, so you have to be prepared to be in it for the long haul. Many investors that we see today, those with significant portfolios, are not only investing in stocks. They invest in numerous types of investments, Cryptocurrencies being a popular one today, and grow their wealth over time in this way. 
Where to invest next: Global Emerging stocks
Here is a look at some of the best emerging stocks to buy in the back end of 2021, with growth projected for the future. 
1. Alibaba group holding (BABA)
The pandemic has created a monumental push in the number of businesses on the market today. One of the ways that many are trying to increase their streams of revenue is by doing Amazon FBA. That is great for amazon as it creates a wealth of users and products listed on the site, but this is also great news for Alibaba. Alibaba is another one-stop-shop that drops almost all wholesale goods and is used by many worldwide. It is a Chinese e-commerce and cloud service giant. Us has transformed the way businesses, manufacturers, consumers and brands interact with each other when buying and selling goods online. 
The operations of Alibaba comprise multiple business segments. These include e-commerce, digital media, cloud computing and entertainment. In addition, the company affiliate company Ant Group provides payment services to Alibaba users. In the latest quarterly report, Alibaba announced that it has reached a milestone and has over one billion active annual users and consumers worldwide. The company also has a strong portfolio that includes a 64% year-over-year increase in revenue and growth, which has also been relatively consistent. Moreover, as many lost their jobs in the pandemic, they began to pursue their dreams of becoming entrepreneurs, which has brought more business and helped to excel bunnies like Alibaba for goods.
2. Eletrobras (EBR)
Out of the many things the Covid-19 pandemic has taught us, we have learned how we are affecting the plant. As countries went into lockdown, smog appeared to lift, and aquamarine life began to return back to rivers. For his reason, it only seems fitting that sustainable brands will do well in the future. Centrais Elétricas Brasileiras, which also goes by Eletrobras, is one of the biggest companies in the electric energy sector today in Latin America. It is seen as an emerging market stock because it is the world's largest producer of cheap and greenhouse gas-free hydroelectric power.
Hydrogen power is most certainly the future, and this is evident by the Tokyo Olympics. This year, the flower torch that housed the Olympic flame has been fueled by hydroelectric power, making it the environmentally cleanest and most emission-free Olympic flame to date. Eletrobras is in a good position today as most investors are interested in putting their cash into utilities which are needed every day. As they are able to generate and transmit energy in Latin America's economy, there is potential to take it to new heights, making it one to watch. Although economic growth has been relatively slow in Brazil since the recession in 2015, businesses like this have the potential to make it big globally while introducing a significant change that will make a sustainable impact.
3. Baozun (BZUN)
Baozun is a Chinese based e-commerce company. They aim to help brands execute their e-commerce strategies. They do this by selling goods directly to consumers online or even by providing other services such as digital marketing, warehousing and customer service. The service helps e-commerce brands with their operations without needing to have departments in house. E-commerce played a big part in the pandemic and was a way for businesses to sell their products in lockdown. This allowed their customers to shop when stores were closed and even after they were open, maintaining safety and social distancing, especially for those who are not very comfortable with coming out even after lockdown rules eased.  
These new consumer behaviours have paid off for Baozuna, allowing it to grow over one of the most challenging times in history for businesses. In its first quarter, the company's total net revenues were $308 million as an unaudited financial result. That means they are up by 32% year over year. Their income operations also increased to 313%. In the first quarter of 2020, Baozun was showing bright performance in the early parts of the pandemic when most global markets tanked with a revenue increase of 18.4%.
4. Housing Development Finance Corp (HDFC)
Housing in growing countries is one of the most significant and most rewarding changes that can happen to any area. Correct accommodation, facilities and resources can turn rural areas into busy cosmopolitan areas. However, many developing and underdeveloped countries require financial support to be able to provide for their residents. The housing development finance corps is one of the leading providers of housing finances in India. Over the years, the company has gained a wealth of experience working in developing areas such as Asia, Africa, and Eastern Europe. 
The company works by giving countries residential and commercial loans to provide the equity to build. In addition, the organisation also has stakes in businesses that are involved in banking, giving them the upper hand in the financial markets. They work in the financial markets with insurance and mutual funds and have financed an eye-watering 8.4million cumulative housing units. This also reflects how the Indian economy is growing, which puts it in a position for economic growth and development to come over the years. Although, like most businesses, the pandemic did have an effect on them. But moving forward, the company has taken the initiative to offer low-interest rates and soft property prices which have helped drum up business back to pre-pandemic levels. 
5. Taiwan Semiconductor Manufacturing co. (TSM)
The pandemic has shifted the way we work and receive education and thanks to the wealth of technical equipment available to us. Today, it has been plausible to work from home and educate from home. As more consumers begin to learn work and entertain themselves at home, which is evident from the boom of Netflix subscribers over the pandemic, semiconductor producers have been doing undoubtedly well.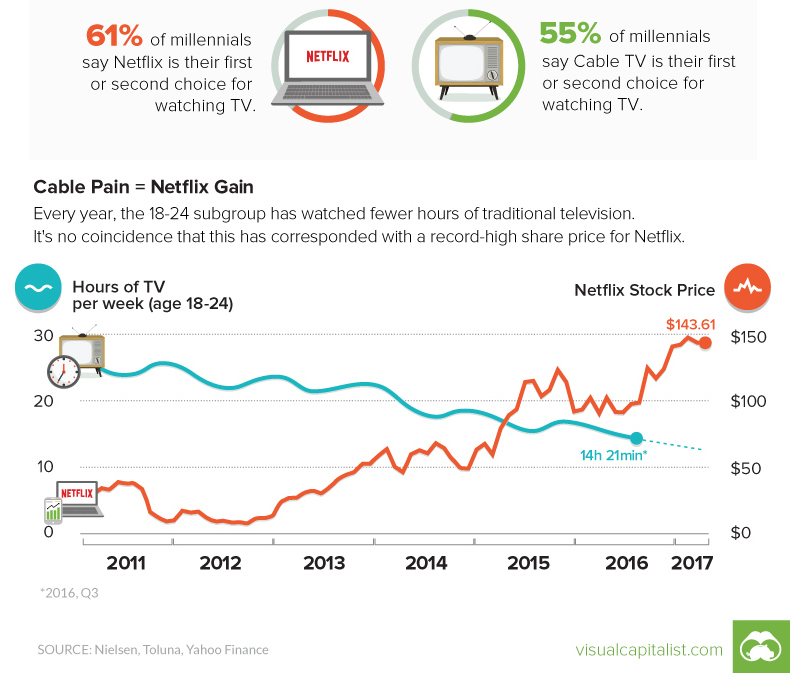 (Image Source: Visual Capitalist)
Taiwan Semiconductor Manufacturing is no exception to this and has comfortably found themselves in the 'Stay-at-home' industry birthed by the pandemic joining other brands like Zoom. As a result, they have benefited from the health crisis that is upon us. Although this is great for now, there is a chance their stock and business growth could slow down as the pandemic comes to an end and more people are vaccinated, allowing communities to return to a new normal. This is something to consider before thinking about inventions in pandemic boosted stocks.
TSM currently have a substantial market share in the semiconductor industry and are one of the world's largest semiconductor foundries. They manufacture more than 10,000 different products and have a strong portfolio of clients consisting of over 500 big tech organisations such as Apple and Advanced Microdevices. So there is no surprise that the drastic change in working and learning from home has created a demand for ore tech creating chip and semiconductor shortages which puts Tim in a very favourable situation.
6. Vale S.A (VALE)
Vale is a Brazil-based brand and is one of the global leaders of Iron Ore, Nickel and Copper. Due to the nature of the pandemic, raw materials are highly sought after, and Vale produces some of the most used metals in the world. Vale also has another extension to their arm of metals and has a logistics network. This network is used in Brazil and globally for railroads and ports. So it is no surprise that they are in a good position as their raw materials will help build covid-friendly buildings of the future. 
Iron ore is one of the leading products for value which has multiple mine pools. This clearly indicates that it has a strong production of its raw material and is the leading iron ore maker, giving the company longevity in its work. Vales is in a great position as its stock rate, which is 27% up this year, also pays a competitive dividend and is currently yielding 3.5%. As discussed earlier, not all stocks offer dividend payments but those that do generally try to keep it competitive with industry competitors in order to win over investors. This is not one of the benefits for organisations, but it is most definitely a benefit for investors.
7. XP (XP)
Globally, financial services and business all work differently. XP has been one of Brazil's major players in the fall of the financial world and has been shaking up their buttoned-down brokerage firms, which big banks have typically dominated. In their first quarter, the firm reported its most robust performance ever for earning results and is part thanks to its retail operations. The firm has also seen great success over the pandemic, and the drivers for its revenue include financial products, fixed income, and equity and futures. These put the firm in a great position, mainly as discussed before, Brazil has some of the most promising stocks.
The company has made some bold changes and announcements in the past year. Firstly they announced in 2020 that it was eliminating brokerage fees. That was for online stock trades at Rico, making it its online-only solution for self-directed investors. Putin himself in this position makes them a strong team player and also gives them leverage over their competitors in the market. The firm also announced it would be reducing fees by 75% for online stock trades at XP Direct. These announcements would be the reason why a firm has experienced a 50% increase in revenue year over year, making it 2.8billion Brazilian reals. 
The future
Emerging stocks are some of the most interesting and exciting parts of investing in stock and are early signs of how the future will look. As the pandemic has changed our lives and we promptly become increasingly reliant on technology, there is no doubt that not only will the future revolve around technology but also its advances. Emerging stock helps investors see which direction the world is going in. In addition, as we have seen above, the need for raw materials can help investors place their money into profitable investment opportunities. 
The rise in the need for hardware has, as we discussed, created a shortage in laptops and computers and working from home takes on full force. But the way the world changes and how suddenly it changes is something no one can predict. The future is now definitely very different compared to our outlook on the future pre-pandemic. Prior to the pandemic, although online platforms were performing well, they were not doing as good as they are now. The uncertainty of the virus has also created a cast over, as consumers return to a new normal, there are still fears and doubts of how the virus and other illnesses will take effect on the human race again.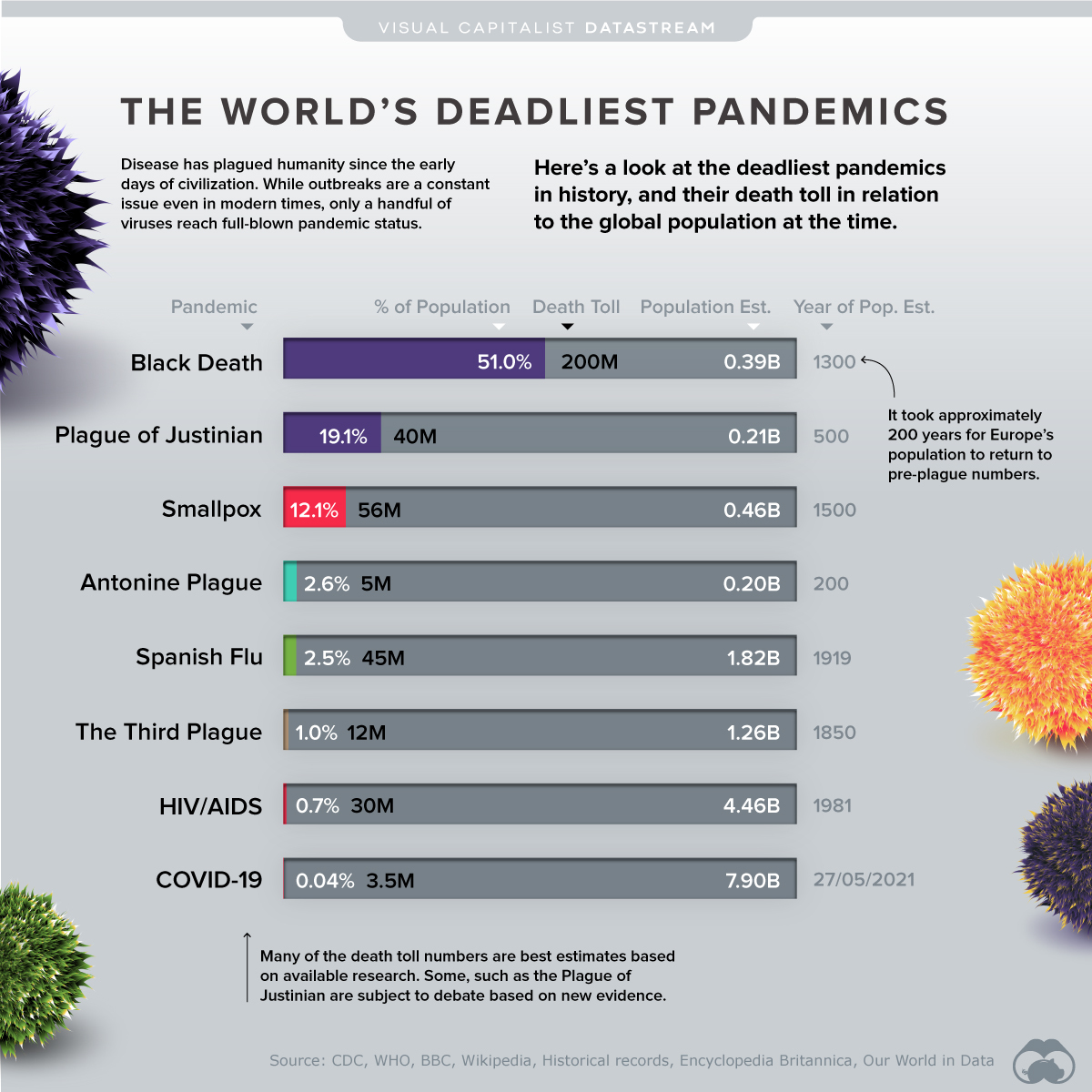 (Image Source: Visual Capitalist)
Moving forward, as an investor, it's good to keep in mind that investing in a variety of stocks is one of the best ways to hold a good and substantial portfolio. Holding stock from companies that have done really well in the pandemic will make investors see losses when things go back to normal. And holding stock for companies that did well pre-pandemic will make investors see losses when another lockdown occurs. Having a varied portfolio will help investors stay afloat no matter what is going on in the world. 
The investing market has changed rapidly over the years, especially as digital currencies have become more prominent and made lots of headway. Therefore, not only is now an exciting time to be investing, but it is also very diverse, which means it requires much more research and trend watching to make sure investments are making money and not losing money. As with any type of investment, there are significant risks and big rewards involved, and so investors should only look to invest with money they are willing to lose as markets are challenging, even for the best of investors.