Securing funding to grow your small business or to get an idea off the ground can be challenging. Young startup companies typically lack sufficient collateral, operating history and financial means to attract big bucks. 
Funding the development at early stages of a business can pay for training, production and operating costs. It helps to increase visibility and attracts the attention of the market. Financial backing from any source adds value to a startup and demonstrates to prospective partners, clients and investors, that your company is worth considering. 
One of the most demanded and competitive forms of startup financial backing are small business grants. Fortunately, there are many types and several ways to get land yourself one to take your business from strength to strength. 
What is a Small Business Grant?
Governments and institutions provide grants of different shapes and sizes to young entrepreneurs and small businesses. From cash rewards to tax reliefs; the objective is to stimulate entrepreneurial spirit and help businesses grow. 
They often take the form of direct cash grants, which unlike loans don't need to be paid back. They're amongst the most desirable forms of investment in the startup arena. Benefits allow the business owner to retain full control of the company, unlike capital raised from venture capitalists and private equity. 
There are countless schemes available; each with different purposes, amounts and criteria. Despite who you are and what your startup aims to achieve, you'll be sure to fit into the criteria for at least one of these small business grants.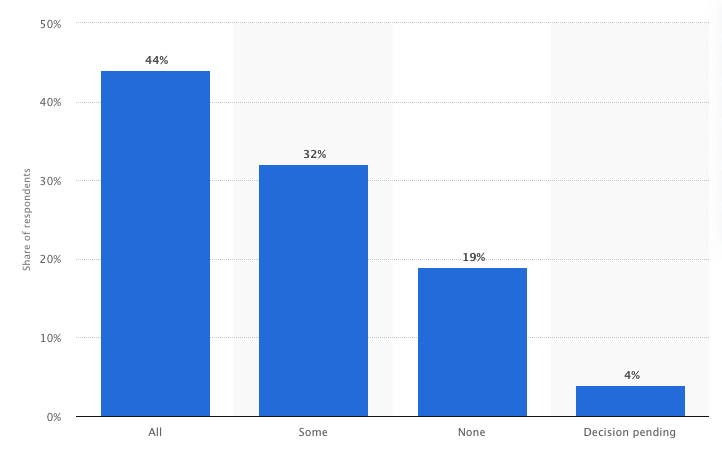 (Image: Statista)
This statistic shows the percentage of respondents outcomes of applications for government and local authority small business grants for small to medium enterprises (SMEs) in the UK for 2018 (Statista). It's clear that the appeal of small business grants, in theory, is matched in practice. Since 44% of individuals stated that they received all of the grants they applied for and only 19% received none; the chances of you getting your hands on some grant money are high. Let's look at what small business grants are available and how to get one.
What are the types of small business grants available?
Direct grant
One of the most well-known and highly anticipated forms of grant finance and is essentially a cash sum. 
A direct grant is cash awarded to new businesses for one of two reasons. First, to cover startup essentials like training, equipment, research and manufacturing. Second, they can be awarded to startup companies in order to fund a specific project. 
In general, a direct grant scheme will require the startup to raise and provide 50% of the grant value. When the grant is provided for a specific project there will often be terms and conditions with regards to how the grant money should be spent. 
Find the right scheme for your startup using the government's Business Finance Support finder. It lists over 300 direct grant agencies with their application processes. 
Soft loan
Whilst technically not a grant – soft loans can be government and institutionally backed too. 
As opposed to a grant, which should be regarded as a cash gift; soft loans are available for startup companies whereby the terms of repayment are 'softer' than they would be of a standard bank loan. 
These soft conditions may be significantly lower interest rates or perhaps none to be paid at all. The timeframe for repayment could be stretched for a longer period to take financial pressures of off developing startups. 
The Start-Up Loans Company, funded by the government, offers new businesses up to £25,000 at 6% interest to be paid back across 12 months. 
Training and Resource grants
Growth, expansion, research and development; all require investment into the training and resources available to startup businesses. Since most startups will lack funds to support the skilled employees and facilities they need for specific projects, these grant initiatives can give them access to what they need.
Innovation vouchers of up to £5,000 are supplied by the government to startups to enlist external experts. These have been proven to assist in particular development projects where the expertise in technology, product design, intellectual property or else, is required.
Support from local councils provides access to grant money and ongoing support in training workshops for free. Get in contact with your local council to find out more about the small business grants and support your startup could be eligible for.
The government has created a series of expert networking and initiative events to connect startup companies with the technological advancements they would otherwise find difficult to access. Contact regional business helplines for free advice on where to find these resources. 
Small Business Grants for Qualifying Entrepreneurs 
As the name suggests, small business grants are directed at providing financial support to small businesses. There are also, however, a number of grants available to entrepreneurs of a specific character. 
Small business grants for women 
Organisations have become increasingly interested in elevating women in business. Whilst it's clear that male business owners are still more likely to attract funding from individual investors; there are business grants available for women.
Small business grants for the 18-30-year-olds 
Young people starting a business naturally have the odds against them. In competitive markets, it pays to have some industry experience. There are quite a few awarding bodies who understand that young entrepreneurs are the future of business. Many are keen to support them.
Some are industry-specific, for example, Shell LiveWIRE awards business grants to young entrepreneurs who have shown initiative in tackling the energy and resource crisis. Others, like The Princes Trust, are keen to support, advise and fund young entrepreneurs who have demonstrated sound business proposals and are running young startup companies. 
Small business grants and loans for the socialites
Many socially driven entrepreneurs who aim to drive social impact are financially backed by Big Issue Investment. They offer soft loans of up to a million pounds to startup businesses and entrepreneurs driving social improvement. The aim is to help them grow their ideas, research new markets and maximise the impact of their enterprise.
The New Enterprise Allowance (NEA) for unemployed entrepreneurs 
Gaps in your CV can often cost you a job and an unemployment status will do you no favours getting a bank loan. But the aim of the NEA is to allow those who have a lacking employment history to make a difference in business.
The premise is simple; one, you need to be receiving certain benefits and two, you need a business plan that could work. And the NEA will give you money and support your business venture.
Small Business Grants competition 
Win yourself a grant with The Small Business Grants Competition. This initiative includes a free-to-enter monthly competition for small businesses to win £5,000 to invest in their startup company.
In considering factors such as; turnover growth, innovation, projects completed, contracts obtained and aspiration; independent judges decide who wins. Based entirely on the merits of each startup – this competition is a good way to get motivated and score a small business grant.