Perhaps now more than ever, society's need for more social entrepreneurship has become imperative around the world. Fortunately, this field of entrepreneurship is attracting greater levels of talent, money and attention now more than ever before. But along with its rise in popularity has come growing uncertainty surrounding the roles and functions of social entrepreneurs.
What exactly is a social entrepreneur? And what do they do? Let's take a comprehensive, in-depth look into the role of the social entrepreneur and how they can help to address societal and community-based issues: 
What is a Social Entrepreneur?
In a nutshell, a social entrepreneur is an individual who pursues novel applications that may have the potential to solve community-based problems. These entrepreneurs are willing to confront perhaps greater levels of risk and hard work in order to facilitate positive changes in society through their endeavours. 
Social entrepreneurs may feel as though their endeavours are a way of engaging in philanthropic pursuits, providing a boost to communities, or simply helping to make a positive impact on society. 
The adoption of more ethical practices, like impact investing, conscious consumerism and corporate social responsibility programs can all help to facilitate the actions of social entrepreneurs.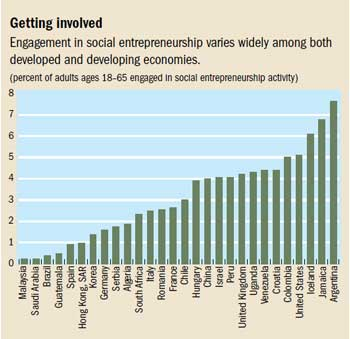 (Image: IMF)
In 2012, the IMF published metrics that showed the extent to which social entrepreneurship has spread across the globe, showing that nearly 8% of adults in Argentina actively engaged in the pursuit, while other nations like the UK and the US ranged between 4% and 5%. 
However, in the years that have followed, the field of social entrepreneurship has grown significantly and is attracting enhanced levels of attention across a range of sectors. The term itself is becoming increasingly used within the media, is regularly referenced by public figures, and has become relatively commonplace on university campuses. 
One key reason behind the growth in popularity of social entrepreneurship is down to the fact that there's great appeal surrounding the role of entrepreneurs and the narratives that surround their actions and goals. People are largely drawn to social entrepreneurs, with business leaders like Elon Musk and his pursuit of clean energy winning the world's current richest man great acclaim from followers. 
However, interest in social entrepreneurship tends to transcend terms like 'popularity' and 'human interest.' Social entrepreneurship signals the drive towards social change, and its transformational benefits to society as a whole. 
Instances of Social Entrepreneurship today
Socially conscious investors can screen potential new investments for environmental, social and governance (ESG) criteria. This set of standards can help to consider how a company performs in terms of eco-friendliness, how it treats employees, its supply chain, customers and the local communities in the towns and cities in which it operates. ESG criteria also cover company leadership structures, executive payments, audit results, internal control and shareholder rights within its considerations. 
The endeavours of social entrepreneurs will likely fall under the ESG investment umbrella, which is steadily growing each month.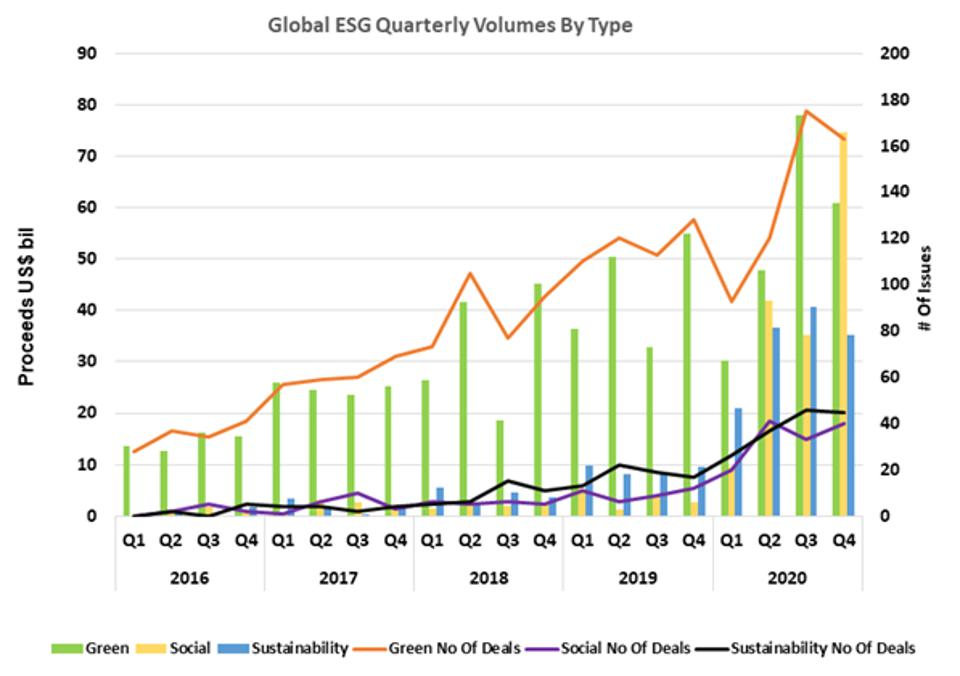 (Image: Forbes)
As the chart above shows, over the past five years, ESG stocks and shares have expanded exponentially – with the number of green deals consistently rising above 150 per quarter in 2020. Notably, sustainability and socially oriented stocks have grown rapidly over the past also – illustrating the sheer power that social entrepreneurship holds in the present day.
More examples of social entrepreneurship can include the introduction of freshwater services through the construction of new wells – whereby the entrepreneur aims to offer access to communities that lack suitable utilities of their own. 
Today, social entrepreneurship is generally combined with technology assets. For instance, bringing high-speed internet connectivity to remote communities in order for students to gain better access to information is a leading example of social entrepreneurship. 
Another example can be found in the development of mobile apps that address the needs of particular communities. This can also include giving individuals ways to alert their city administrators to issues like broken water mains, disconnected power lines, or recurring traffic accident black spots. There can also be apps created to report law violations to city officials or directly to the police to help improve the power that communities hold in governing their safety. 
Social Entrepreneurship Brings Different Meanings to Different People
Because of the various different use cases surrounding social entrepreneurship, the term can mean wildly different things depending on who you're talking to. Some people attribute it directly to non-profit organisations or earned income ventures, while others identify it more as a business that has owners who incorporate social responsibility into the path of their endeavour. However, any definition of social entrepreneurship needs to characterise the need for an alternative market program that's functional to business entrepreneurs.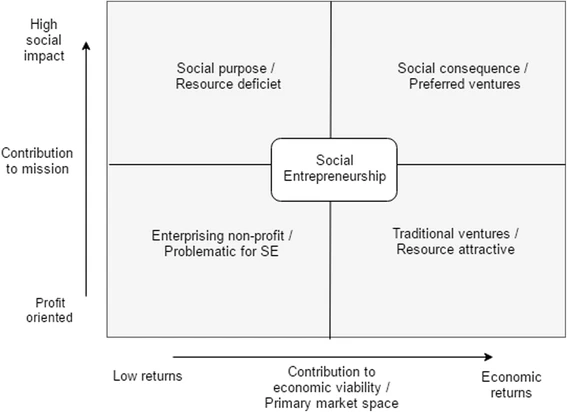 (Image: SpringerOpen)
These definitions implicate starting a business or redirecting an existing company that simultaneously adds value to the firm's capacity, business goals and financial prosperity. There's a need to determine organisational need and purpose and also to carry out the relevant analysis of how a product or service bridges the gap in ensuring that these needs satisfy the intended social objectives of the company. 
Versatility and understanding of risk are key facets in the character of successful entrepreneurs, and these qualities are more relevant than ever with business leaders looking to transform their venture in order to heighten their social impact whilst securing the economic returns necessary for survival. 
Why are Social Entrepreneurs so Important?
Social entrepreneurs are stakeholders in society that have the potential and resources to drive visionary change through unconventional ideas and calculated risks taken in the hope of societal betterment. They can bring positive change to communities through their efforts and initiative in ways that other individuals are unable to engage in. The visions and goals of social entrepreneurs can drive better levels of investment into natural resources which other business leaders may avoid for the sake of financial convenience. 
The actions of social entrepreneurs need to match the conviction of their intentions. This not only means delivering uncompromisingly on visions, but also recruiting the right team in order to achieve the relevant goals. Some social entrepreneurs will make hires directly within the community in which they are based, or they'll actively look to recruit passionate workers from disadvantaged communities in order to drive transformation and positive change. 
The reason that social entrepreneurs are so important is that they are capable of striving to boost the development of society or the communities that they serve where it would otherwise be financially difficult for other business owners. 
Entrepreneurs have gained a reputation for breaking away from the conventions of business and economic norms in order to drive innovation and succeed with new ideas. They may strive to create, drive new causes, or generate profit through the more intangible assets possessed by the business. 
Successful entrepreneurs discover or develop products and services that are unique and inventive. Some social entrepreneurs simply donate to charitable causes that they're passionate about, and incorporate donations into the products they sell. This level of dedication to their causes comes at a financial cost, but the societal investment made may result in more long-term prosperity for the company – and for stakeholders in the business itself. 
It's for this reason that entrepreneurs potentially hold more value in society than multinational corporations, which may be less community oriented and more intent on expanding profit margins. For this reason, it's important to support social entrepreneurship and to encourage those with innovative ideas across local communities. 
The Development of Social Entrepreneurship as a New Business Standard
Back in 2016, Forbes reported that young people have become so environmentally aware that they actively value making a positive impact on the world as much as they value the prospect of making money. As much as 94% of young people are keen to use their skills to benefit a cause – an extraordinary high figure considering how far investments in ESG stocks have come since 2016. 
Against this backdrop, social enterprise has emerged as a new business standard, incorporating capitalistic mentalities with the need to protect the environment. These self-funding businesses that operate primarily to make a profit are also intent on taking on global issues head first, such as tackling world hunger, improving the quality of education and beating climate change on a larger scale, and improving individual community concerns on a smaller scale. 
To accomplish these lofty ambitions, entrepreneurs may fund programs, form partnerships with governmental bodies, or simply engage in their own philanthropic endeavours as a means of addressing the right causes. 
These business standards can not only help entrepreneurs to find personal happiness in their pursuits, but also those connected both directly and indirectly with the company itself. 
Appealing Directly to Consumers
The philanthropic endeavours of social entrepreneurs can help to achieve sustainability goals worldwide. What's more, is that consumers are actively willing to pay greater premiums and covet brands that are known to be sustainably oriented. 
Consumer interest in paying more money for sustainable products extends beyond the endeavours of social entrepreneurs and also appeals directly to larger-scale international corporations.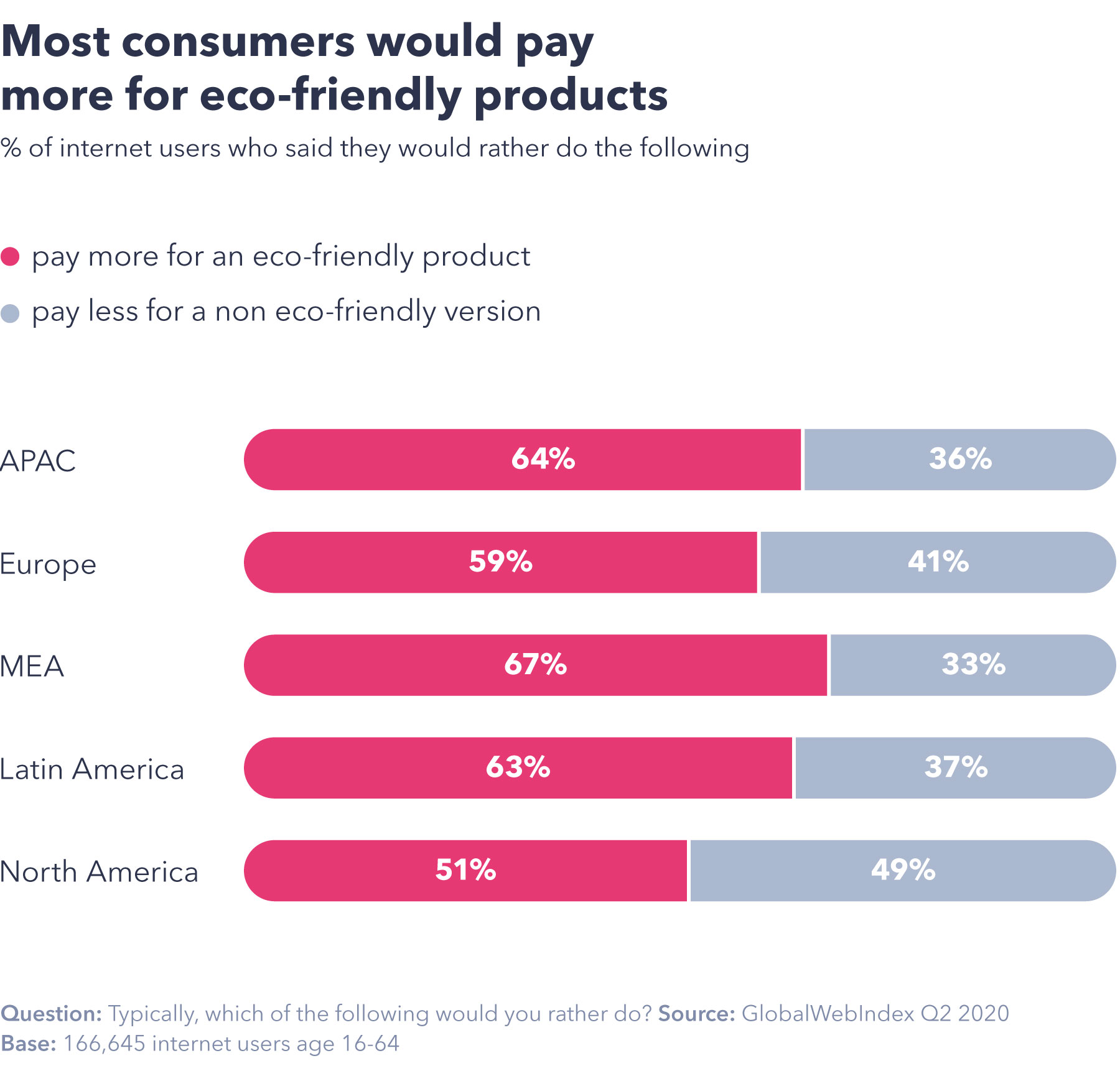 (Image: GWI Blog)
As the data above shows, between one-half and two-thirds of consumers have expressed a willingness to pay more for eco-friendly products around the world – further indicating the new levels of value applied to sustainable consumerism. 
Unilever is an example of a large scale conglomerate actively ramping up its level of care for the environment after listening to the wants and needs of its consumers. 
Because it's a conglomerate with brands operating within various sectors, one of the ways it's reached its sustainability targets has been through buying smaller, sustainable brands and growing them accordingly. In fact, the 26 sustainable brands that Unilever has bought grew 46% faster than the rest of the business and delivered over 70% of all turnover growth. 
Unilever has generally been vocal regarding its purpose as a business and looking beyond profit margins to incorporate brand values within its business acquisitions and decision making. By listening to its own consumer research, the brand found that its customers were allocating increasing levels of importance on topics like sustainability, with increasing numbers buying more sustainable products. 
Unilever, in essence, leveraged its reputation for moral business decision-making. Its environmental focus creates a compelling message that drives greater levels of brand affinity among customers and stronger levels of conscious consumerism for advocates. 
Although Unilever is a wildly successful example of a conglomerate, and thus may be difficult to attribute to the values of social entrepreneurship, the company shows that there's a significant and developing market of consumers who are keen to buy into more sustainable products and from businesses with more sustainable intentions. 
The Investor Benefits of Social Entrepreneurship
The world is facing a wide range of sustainability challenges ahead, and this means that investors are beginning to re-evaluate their portfolios to allocate more importance to funding sustainable projects. 
Sustainable investing considers environmental, social and governance (ESG) factors that lead to a positive and lasting impact on society, communities and the world. Essentially, it revolves around putting money into projects and ideas that give back to the world. 
There may still be a long way to go, but as people become more focused on the problems in society, the more the level of investment in ESG projects will continue to grow. Statistics support this thesis, with €7.3 trillion invested in ESG projects in Europe back in 2012 accelerating to €11.8 trillion by 2018.
Subsequently, many of Europe's major economies like France and Nordic nations have adapted new regulations like the Energy Transition Law in France, to help drive cultural shifts that will reflect favourably on sustainable investing. Even in the UK, the government has implemented a Societal Investment Tax Relief (SITR) system for investors funding social enterprises.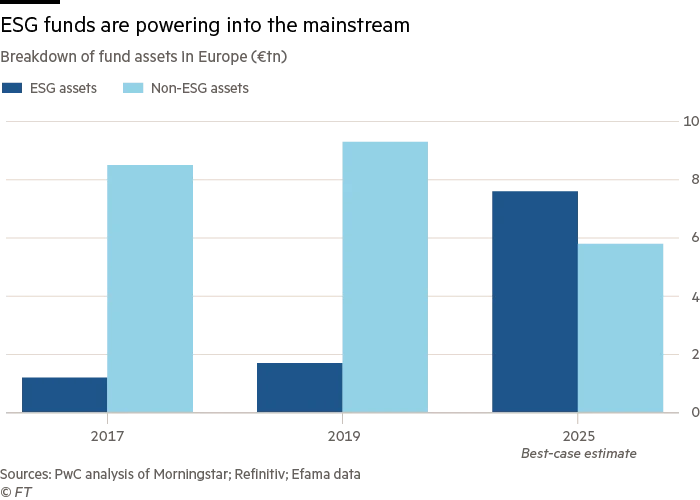 (Image: Financial Times)
As the Financial Times data above shows, European ESG fund assets are estimated to surpass that of non-ESG assets by 2025, illustrating the imperative force that socially aware business endeavours are driving. 
This also means that social entrepreneurs are likely to find financial favour in developing ventures that are heavily focused on community, environment and sustainability. Where in the past, sustainable endeavours were associated among consumers with rising premiums on products, today both investors and consumers are happy to be involved in paying more for good causes due to the benefits they hold for the environment as a whole. 
Sustainable Regeneration
As business owners, social entrepreneurs have the power to benefit local economies by generating jobs and, subsequently, income. In addition to providing jobs, social entrepreneurs can use part of their profits to fund projects that can benefit communities in a more holistic sense. 
This combination of business acumen and social awareness can be highly appealing to many people interested in becoming social entrepreneurs. 
Carrying an emphasis on regenerating communities can help to forge a symbiotic relationship between businesses and the environment around them. While some entrepreneurs opt to protect their cashflow and simply exist in their local environment, others can use surplus funds to cater to their community. 
For social entrepreneurs looking to hire staff more locally and to focus resources on building communities around the business, it could not only help to win more local consumers, but it can also pave the way for an opportunity for a business to scale the local community as it scales itself.
By investing more money into local communities, social entrepreneurs have the opportunity to provide employees and their relatives with greater levels of financial freedom which, in turn, could foster more education, better local communication and retail infrastructure that helps to turn the towns in which they reside into prosperous places that leads to a larger pool of capable and educated prospective employees. 
If a business intends to spend more time and money in a specific community, it can lay the foundations for a self-sustained and prosperous future for all parties. 
The Value of Impact Assessments
For successful social entrepreneurship, it's important to assess the results and outcomes of actions taken on a regular basis. This can be accomplished through extensive monitoring and evaluation of the social impact developed through the venture. 
For instance, it's possible to evaluate the development of employment in a given community as a result of social entrepreneurship. If a local venture has driven up local employment, monitor how many people have benefited from it. It's also worth looking to see if there's been a change in the standard of living for people in the community and whether it's increased and led to social and economic development locally. 
To accurately understand the value and impact of endeavours, it's key that this information is recorded for the sake of future comparison in the social entrepreneurship development process and to make the masses more aware of the progress of such company missions and its respective achievements in terms of positive social change. 
Accurate recording or documentation can further aid the development of efficient strategies and plans for future improvements and advancements. In turn, this can also help to identify what more resources and support systems are necessary to make the venture more successful and effective.
Factoring in Social Entrepreneurship With a Post-COVID Society
Considering the devastating and far-reaching ramifications of the COVID-19 pandemic, we're likely to see lasting challenges facing society along with more financial barriers limiting the influence of social entrepreneurs. 
As we transition away from the pandemic and into the post-COVID era of the 'new normal,' many enterprises will require some form of governmental support. Whilst financial packages have been earmarked for businesses, workers and self-employed individuals, aid for social enterprises appears to be a little more difficult to understand. Funding is likely to vary from government to government around the world, but it remains to be seen whether the work that social entrepreneurs do will be taken into consideration when determining levels of government funding at such troubling times. 
Fortunately, many creditors have already begun offering lifelines to social entrepreneurs. In the US, Open Road Alliance, a fund that specialises in making short-term bridge loans available to social enterprises that have run into difficulties announced that it was offering loans and grants ranging up to $100,000 for organisations that are working to mitigate the impact of COVID-19. Tech companies like Facebook and Netflix have also confirmed that they're making financial packages available. 
Investing data shows that social entrepreneurship and ESG stocks are rapidly growing in terms of support, scale and scope. High volumes of established organisations are adopting it as a strategy to address societal problems across domestic and emerging markets, helping to improve the health of local or stakeholder communities, boosting the environment and establishing economic opportunities. 
With the COVID-19 pandemic, society has taken on brand new challenges, and communities have been left in tatters following lockdown and social distancing measures. At a time where funding may be more scarce than ever, it's social entrepreneurs who have the potential to make a positive difference for those around them and their local communities through their endeavours. 
Finding Happiness in Business
One of the most vital points regarding social entrepreneurship has been saved for last. Fundamentally, being a social entrepreneur can bring great personal importance for entrepreneurs or simply to individuals wanting to find a sense of fulfilment, and those who would like to make a positive change for the world with their money or influence. 
Whilst we've seen plenty of evidence that it's becoming much easier for socially responsible endeavours to make money among more engaged consumers and that investing in the local community can bring with it countless benefits to businesses residing in towns and cities that are receptive towards regeneration projects, taking on the role of a social entrepreneur can, for many, be its own reward in leaving a positive legacy on the world. 
The COVID-19 pandemic has left society, communities and some vital causes more vulnerable than ever to regressing or falling into a state of disrepair. While the traditional role of the entrepreneur is to create sustainable businesses, at this time of widespread need, it's likely that social entrepreneurs will become more prominent societal figures, with much of their good work gaining greater recognition for its vital role in aiding those in most need.