We make dozens of important financial decisions on a regular basis, but in terms of our future wellbeing, no decision could be more important than picking the right wealth management firm to help you achieve your goals. 
Over time, picking a wealth management firm that suits your needs can make a big impact on the growth and preservation of your assets and your family's financial future. 
To see your choice in firm as a matter of saving money on fees could be over-simplifying things. Well chosen firms can help to support your family long into the future, guiding your financial strategy as you grow, preserve, and one day pass on your wealth. Smart financial advice and long-term wealth stewardship transcend the act of simply cutting 10% off of the commission you pay.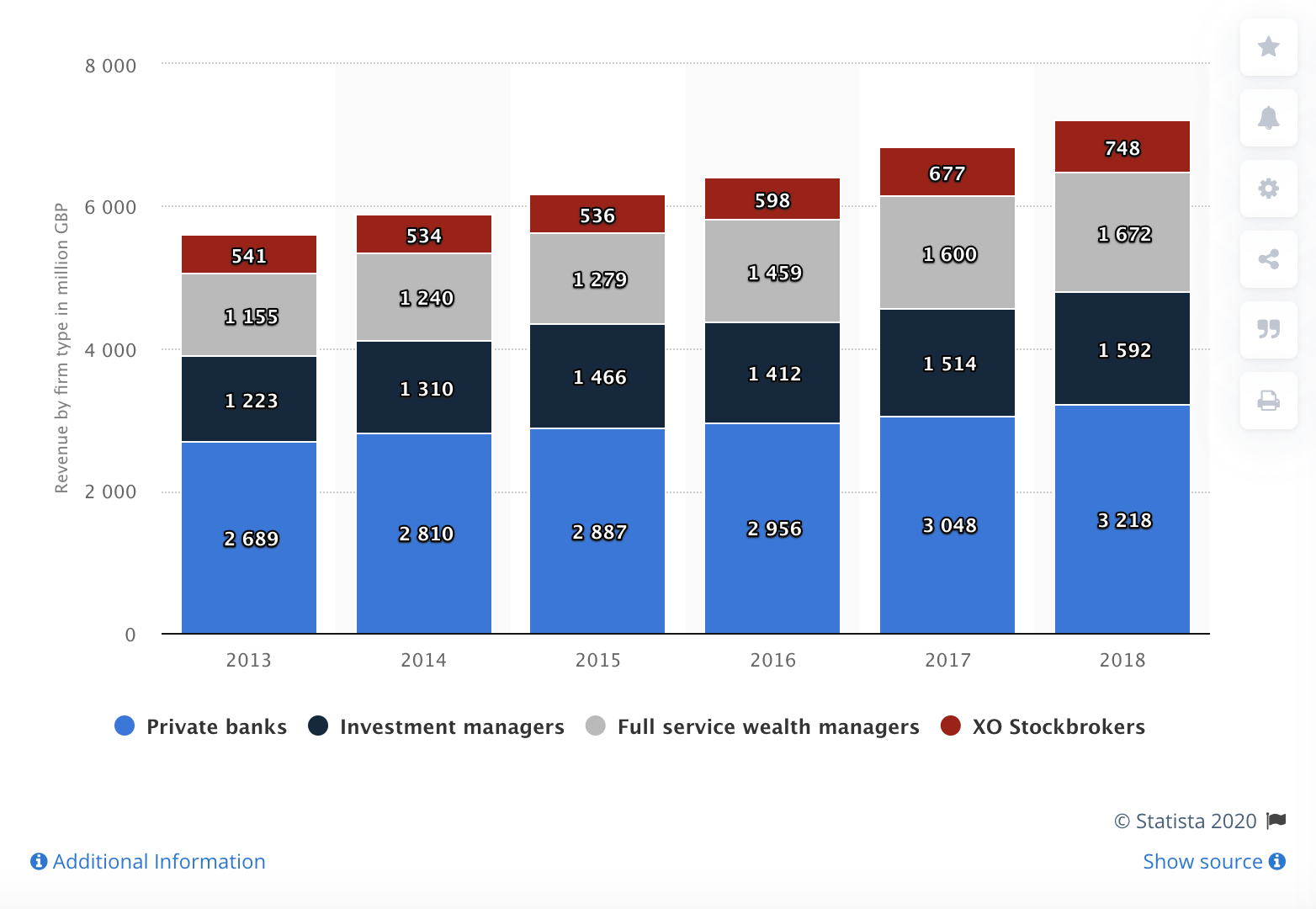 (Revenue streams of large wealth management firms in the UK from 2013 to 2018. Image: Statista)
It's vital that you pick a wealth management firm that has the resources and tools available to cater for your needs. Every client is different, and so every wealth management firm has different strengths and weaknesses when it comes to helping the people who trust them. With this in mind, let's take a deeper look at the things to consider when choosing a wealth management firm. Here are seven key things to keep in mind when looking for a firm to secure your financial future: 
1. Investigate the type of client they serve
Generally speaking, wealth management firms cater towards investors who possess a strong portfolio of assets. However, all investors are different and the portfolios they hold can carry varying management requirements. With this mind, it's reasonable to expect wealth managers to be equally different in their approaches and skill sets. 
While some wealth management firms may prefer to work with clients who possess wealth ranging from £50,000 to £100,000, others may be best positioned to work with millionnaires. When exploring your options, be sure to ask potential wealth managers about the kinds of clients they typically cater to. Their answer will provide you with a clear sign of where their specialisms lie and whether they're well-aligned with your personal wealth goals. 
2. Double-check credentials
Then choosing your firm, allocate some time towards sitting down with the advisor who could potentially be picking up your account. The last thing you want is to pick one wealth manager only to find out further down the line that you've been allocated to somebody else.
Be sure to also ask where they worked before, and whether they're a Certified Financial Planner. Remember at all times that you're the client, and the emphasis should be on your prospective wealth manager to win you over. By double-checking their credentials, you can ensure that your search for comprehensive management gets off to a productive start. 
Luckily, there are plenty of tools available online that can help you find certified financial planners near you. Always make sure that you find somebody that's already walked the walk before they talk the talk. 
3. How do they make their money?
There are plenty of ways that wealth management firms make their money from clients. Some will charge on a commission basis that depends on the type of products and services you hire them for, and others could offer clients a set rate that fluctuates based on the size of your portfolio. 
Be sure to hire someone who will be as invested in the growth of your portfolio as you are. With this in mind, it could be a bad move to hire somebody that solely charges commission based on what they sell you. There's always a risk that they'll be more interested in making their own money than growing your portfolio in a way that suits your requirements. 
4. How do they plan to help you?
It can be worth taking a step back and checking how a wealth management firm actually serves its clients, too. Understanding how their client service model is structured is a great way of working out what you'll actually be getting for your money as their client. 
If the type of service you're looking for isn't in a firm's day-to-day service model, then it's imperative that you either get into contact with them or look elsewhere. Be sure to gain an understanding about how accessible your advisor will be and check how many accounts each wealth manager will be tasked with juggling at the same time – doing so will also help to reveal more about their retention rates for other clients.  
Many families traditionally stick to the same wealth management firm and set their younger generations up with advisors from the same firm. This can be a good idea in the sense that the firm will have a better idea of your aspirations and wealth management goals before they get to work on your account. However, it's also worth noting that there may be other firms out there that are better positioned to cater to your individual needs. 
5. How far does their expertise stretch?
Flexibility can be vital for many reasons when picking a wealth management firm. Perhaps your financial goals are more unconventional to typical clients, maybe you want to invest only in sustainable initiatives, or maybe you're expecting your goals to change over time. 
If this is the case, be sure to investigate the full suite of capabilities that firms offer when choosing the right wealth management firm for you. Here, you'll want a firm that can handle traditional investment opportunities but one that also demonstrates the flexibility and experience in fiduciary matter, and is capable of holding assets in a range of classes. 
When it comes to the matter of services offered by firms, very few wealth managers are the same with the same capabilities. Make sure you pick a wealth management firm that not only suits your needs today, but are a safe bet for suiting them tomorrow and the day after, too. 
6. Conduct a market comparison
If you're in the market for a wealth management firm, it makes sense to explore the options available to you. It could be that you're expected to adopt the same wealth manager that's assisted your family for 20 years, or it may be that you already have a clear first choice in mind. 
Regardless of how ready you are to do business with a particular manager, be sure to conduct a healthy amount of market research to ensure that you get an idea of the full array of products and services that firms are capable of offering you. Different firms specialise in different strategies, and it's worth taking the time to check whether there's someone out there who could be a better fit for you. 
Even if you don't want to change your mind over the wealth management firm you want to use, exploring the market will help you to arrange a level of service that matches your needs better – it could also help you to negotiate a fairer price plan. 
7. Don't be afraid to enquire about their track record
Wealth management firms can often hold millions – even billions – of pounds worth of assets for their collective clients. If you're looking at a small group of firms, make sure you check their history. While it's difficult to quantify the level of growth each of their clients attain, it's certainly possible to check out the awards and recognition that a firm's gained just by checking their online presence. 
At a glance, virtually all reputable firms will possess an insightful array of user reviews online which could help you to gain insights into their respective successes and failures. 
Naturally, conducting research on this scale can be time consuming business. However, it may well pay dividends 30 years down the line when you've managed to squeeze a level of profit from your portfolio that surpasses even your most ambitious of expectations.