Covid-19's digital shift has transformed the corporate sector. A push for widespread adoption of digital technologies within the workplace has not only changed the way we work but has significantly improved customer service, demographic reach and return on investment in a competitive landscape.
According to a post-pandemic study by McKinsey, the Covid-19 pandemic sped global digitalisation up by three to seven years in just a matter of months. As 2020 lockdowns sent a larger percentage of the corporate sector into a remote environment, company leaders were forced to introduce digital aids, technological tools and an online engagement strategy for a new digital demographic. 
While the shift to an online future has significantly increased global outreach for a number of corporations, competition has never been so steep. After startup applications increased by a third in just 2020 alone, both the corporate and e-commerce industry of today is booming with hustle-hungry entrepreneurs who are battling to see audience engagement.
The question is, is technology the recipe for success? Read on as we navigate the corporate sector of tomorrow and explore how widespread workplace digitalisation could transform the future for both employees, employers and the customers they target.
Digitalising The Corporate Sector Post-Pandemic
It's no secret that the pandemic enforced a number of changes within the corporate sector. From a spike in remote working to changing the way companies connect with their customers, lockdown culture and a shift to all things digital significantly transformed the industry.
As global high streets shut down and online e-commerce boomed, both B2B and B2C businesses dipped their toe into technological innovation in order to navigate their way through the covid crisis.
In fact, 67% of corporate companies invested more in digital technologies in 2020 than any other year, with a further half of the respondents claiming that they were able to adapt to technological innovation 20-25 times faster than expected.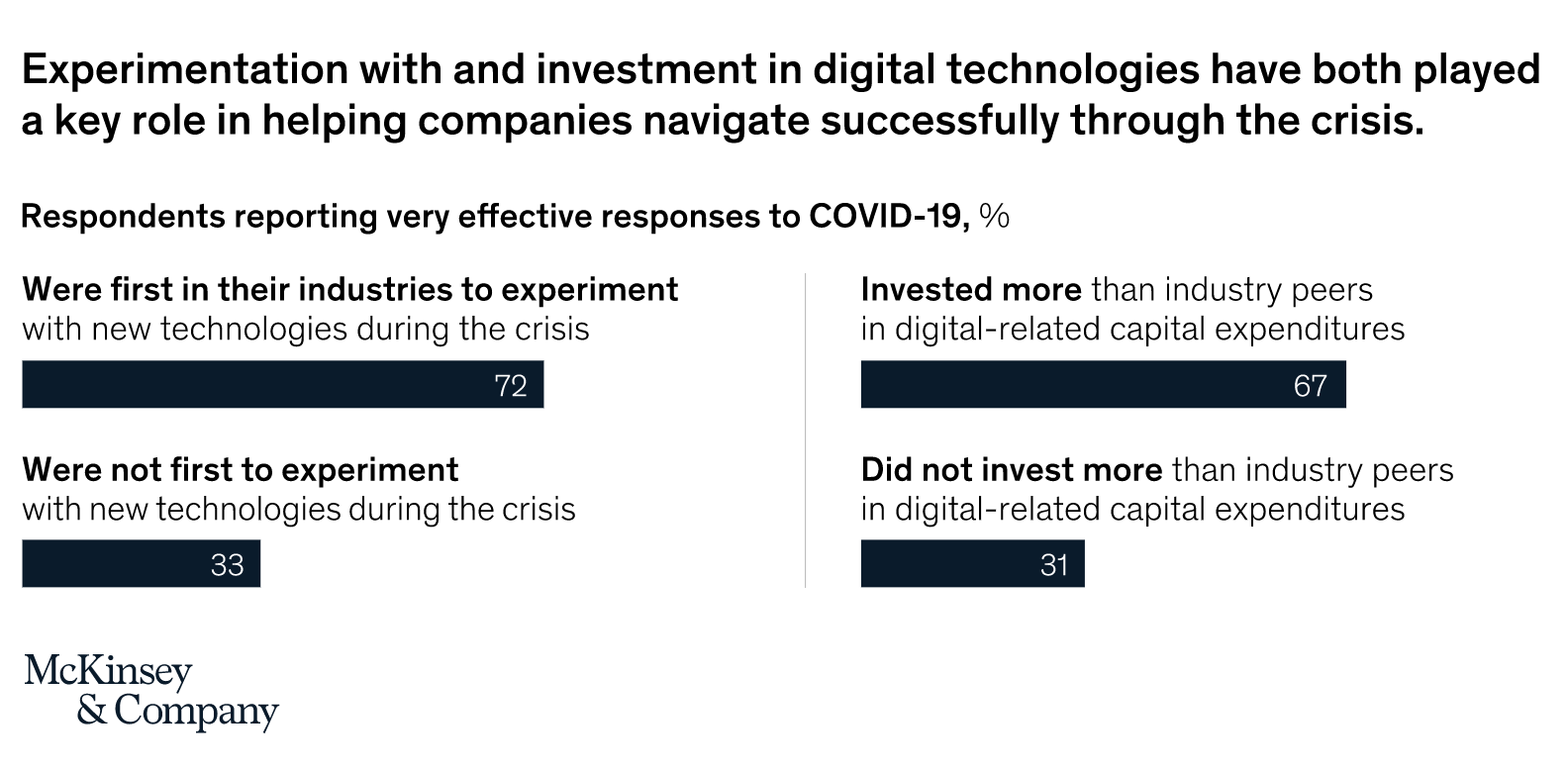 (Image Source: McKinsey)
As business leaders adapted to global lockdowns and a quick turnaround for remote transformation, McKinsey study respondents claimed that technology expected to take up to a year to implement was introduced to remote employees in just 11 days during the first lockdown, as employers worked hard to retrain and redirect staff as they navigated a new digital world.
Elements of strong leadership and a push for increased HR support were vital as companies shifted into a digital sphere, claims George Westerman, MIT research scientist specialising in workforce learning.
"What's changed over the last five years is two dimensions: Employees matter as much as customers in many cases, and you need to create a digital-ready culture to be fast enough to compete in this world," he commented. "If we're going to make digital transformation happen in the pandemic and after, it's got to be all about working through the people by providing the tools, energizing them, and listening to them. That's how we come out of this stronger than we were before.
One technology group that saw a large spike in popularity was automation-based tech, such as machine learning, artificial intelligence and workplace-based robotics. With a larger online audience than ever before, many corporate companies prioritised automation to address higher levels of consumer demand and reduce hiring spending by digitalising repetitive tasks.
According to a study by Deloitte, 68% of business leaders invested in at least one form of automation technology to respond to the pandemic's impacts. Two years on, the study found that 73% of organisations across the globe, have continued investing in automation after seeing significant returns on investment during the pandemic.
After robotics, language processing and AI-driven data collection saw a 58% increase in adoption in 2021, it's no surprise that experts believe the majority of the corporate sector will be dominated by robotic process automation by 2023.
A Shift To Remote Working
Remote working trends have remained popular for a number of corporate companies in 2022. After 84% of employees forced to go remote during the 2020 lockdown claimed that they planned to remain working from home in the near future, it's no surprise that we have seen a spike in corporate digitalisation.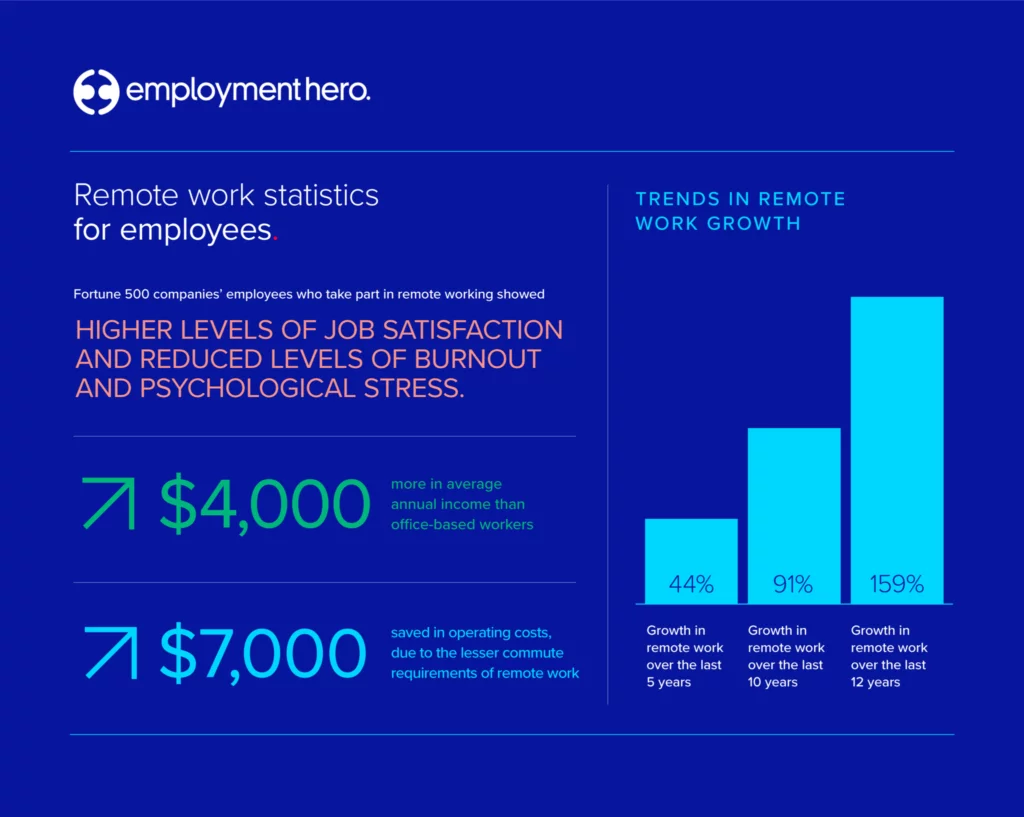 (Image Source: Employment Hero)
As you can see above, there has been a 159% increase in remote working in the last twelve years, and a further 44% spike in just the last five.
As business owners swap the office for the couch, experts at Employment Hero found that working from home resulted in higher levels of job satisfaction, reduced levels of burnout and less psychological stress amongst WFH employees.
In fact, 78% of remote workers claim that full-time or hybrid approaches to working from home have provided them with an improved work/life balance in 2022.
From immersive training tools to machine learning, tech innovation has been ripe in the remote working sector. As VR and AR applications continue to empower remote communication, a third of remote employers are now using immersive aids to train employees from the comfort of their homes. 
Another significant technology transforming remote working is artificial intelligence. Using AI, employers can track remote productivity, automatically assign tasks using AI-powered platforms such as Monday and Trello and even enhance remote video conferencing.
The question is, just how prominent could AI be as we step into the future of corporate working? As machine learning continues to evolve, let's have a closer look at what the future holds for the AI market in a post-pandemic workplace.
Exploring The AI Market In 2022
The artificial intelligence market continues to grow at an exponential rate post-pandemic. After new stats from Global Newswire valued the current market at $328.34 billion at the end of 2022, experts predict that global spending on AI is expected to pass $1,394.30 billion by 2029, expanding at a whopping 20% CAGR in the next decade.
So, what does this mean for a quickly digitalising corporate sector? After 86% of CEOs branded AI as a mainstream technology in the workplace in 2021, a large majority of business leaders are preparing to transform their everyday procedures and introduce automation in 2022.
From chatbots to cyber security, AI is revolutionising corporate work. Using a mixture of big data handling and machine learning, new technologies are able to answer customer questions automatically and store large quantities of data in secure decentralised systems while also aiding company leaders in predicting the future market and financial trends for a calculated shot at success.
However, as artificial intelligence continues to prosper, many employees fear that the workplace will never be the same. In fact, 38% of corporate employees predict that their role in the company will be automated by 2023, adding to unemployment rates and reducing the need for physical intervention in the workplace. A further 13% of respondents in a recent Semrush survey revealed that their career role will be eliminated from their industry entirely as a result of AI automation.
While AI automation may be bad news for corporate workers, company owners on the other hand are basking in the technology's success. Let's delve deeper into the benefits of artificial intelligence in the workplace and explore how it could change a number of procedures going forward.
The Benefits Of Artificial Intelligence In The Corporate Sector
Artificial intelligence is streamlining the corporate sector. Not only can predictive models influence company decisions and secure a financially stable future, but widespread automation across the industry is quickly addressing a post-covid demand surge for online services and e-commerce trading.
Here are some of the greatest benefits associated with artificial intelligence, and how you can use the powers of AI in your next business strategy plan.
Predictive Decision Making
Artificial intelligence has the ability to constantly teach itself and automatically evolve without the need for human intervention. The more data AI consumes, the greater its decision-making qualities become. 
As business leaders continue to use elements of machine learning within their company strategy, they are becoming smarter when predicting market trends, financial moves and future tactics. AI thrives in collecting and indexing large amounts of big data. Automatically building non-biased, predictive models based on the input it receives, AI technology reduces the chances of bad decision-making on a business's journey to the top.
Using AI to remove cognitive biases is the key to success according to Dr Jim Taylor, University Of San Francisco Psychology Professor. 
"Cognitive biases are most problematic because they cause business people to make bad decisions. Only by filtering out the cognitive biases that are sure to arise while decisions are being made can you be confident that, at the end of the day, the best decision for you and your company was made based on the best available information," he claims.
Relying on a predictive model that solely prioritises data patterns when making informed decisions, reduces the risk of human error and emotional biases which can impact venture success.
In order to respond to constant changes within the industry and growing consumer demand, AI-based decision-making is both speedy and adaptable to any hurdles that may crop up. Vice President of Gartner, Donald Feinberg suggests that AI-based decision-making is imperative to the future of business survival, as its data harvesting capacity exceeds any human-based alternatives. 
"The size, complexity, distributed nature of data, speed of action and the continuous intelligence required by digital business mean that rigid and centralized architectures and tools break down," he says. "The continued survival of any business will depend upon an agile, data-centric architecture that responds to the constant rate of change."
Here are some of the key challenges that predictive data models could solve:
Highlighting Market Trends: Indexing high levels of big data based on consumer interactions, competitor success and market conversions within the industry, AI can quickly spot patterns and trends that can be transformed into predictions on what the future could hold for a business niche.
Tracking Consumer Behaviour: Business leaders can also utilise AI technology to track bottom line patterns, as well as general market trends. Gathering insights from customer engagement metrics, predictive decision models can uncover changes in consumer behaviour and suggest changes that company managers can make to their bottom line for increased engagement.
Predicting Financial Moves: While AI can significantly improve strategy planning, predictive models can also be used to make financial decisions based on the success rate of previous investments within the company. Improving money management, and removing the risk of human bias when making an investment decision is the key to keeping business funds afloat.
While only 24% of businesses currently use predictive modelling or plan to use it within the next year, experts suggest that automatic decision-making will continue to thrive as markets become more demanding.
Enhanced Cybersecurity
Cybersecurity risks continue to wreak havoc on small business ventures. In a post-pandemic landscape, the corporate sector has seen a steep increase in cyber-based breaches and attacks on the back of Covid-19's push for widespread digitalisation. 
In fact, since 2020, cybercrime has increased by 600%, resulting in global daily data breaches, and high costs associated with cyber attacks. According to IBM, cybersecurity attacks are costing companies up to $3.8 million annually, often taking two-thirds of a year to identify and contain before recovery begins. 
As a result, a number of startup ventures that have fallen victim to cyber-based attacks have been forced into administration, especially amongst other financial burdens such as post-pandemic recovery and inflation price rises. 
On the back of increased cybersecurity risks, more business leaders than ever before are investing in AI-driven protection and backing up their data in a decentralised system. Using AI-based tech to their advantage, corporate companies can reduce their threat exposure and improve their incident response.

(Image Source: Apriorit)
As you can see above, there are a number of benefits associated with adding AI to a cybersecurity strategy, these include:
Reducing Threat Exposure: AI-driven security systems are able to track hacker-based trends and detect potential patterns that could put a company at risk of a data breach. Using predictive analytics, automated security systems can therefore inform business leaders on how to protect themselves and reduce exposure to potential threats.
Improving Incident Response: In order to reduce the damages associated with a data breach, AI-based security systems respond quickly to threat alerts in order to mitigate the costs of a data breach and stop hackers in their tracks.
Securing Data Storage: Partnering with blockchain technology, AI-based security systems can store data in a decentralised network that aims to reduce the risk of cyberattacks.
AI-infused cybersecurity has taken off post-pandemic, as a number of industry giants adopt data securing technology. Google for example is just one of the tech giants that have introduced AI-driven security within their processes.
Google's Gmail platform has adopted machine learning techniques to enhance email filtering and reduced the risk of cyber attack links for their millions of daily consumers. Using new forms of deep learning, AI-infused algorithms are able to improve self-regulation and eliminate suspicious content from the inbox.
"Before we were in a world where the more data you had, the more problems you had. Now with deep learning, the more data the better," claims the head of Google's anti-abuse team, Elie Bursztein.
Improving Value Production In the Workplace
The post-covid workplace relies on digitalisation in order to thrive. As remote working trends soar in 2022, AI is just one technology revolutionising the way employees connect with each other and produce work.
After more than 56% of corporate employees rated AI tech as their number one productivity booster when completing their daily job responsibilities, it's no surprise that more corporate companies than ever before are investing in the benefits of artificial intelligence. In fact, 89% of employees in a SnapLogic survey revealed that AI could support them in over half of all digital activities, ranging from data analytics to designing new campaigns and creating engaging content.
For example, a number of corporate content writers have introduced AI into their content writing strategy. Using AI-infused tools such as Grammarly, they are able to produce content at a quicker pace, as the machine learning platform corrects spelling and guides grammar, making predictive suggestions based on their tone of voice and past work. In response, a number of markets, researchers and analysts across the globe have claimed that AI has made them more productive and efficient during their working day. 
In turn, value production rates for AI-infused companies have risen and employers are seeing higher returns on investment than ever before.
"As AI is increasingly used to make better decisions and rack up productivity gains, employees have gone from tentatively accepting to fully embracing AI," claims SnapLogic's CTO, Craig Stewart. "The fact that they are now calling on their leaders to accelerate AI technology adoption in the enterprise is a real sea-change,"
Alongside this, experts also suggest that AI can improve corporate communication, especially in a remote environment. With the help of AI-infused tools, workers in a global company can quickly translate conversations using artificial intelligence, while busy employees can use AI-based tools to generate email summaries when needing to process information quickly.
There are a number of various AI-aids available, for a number of corporate sectors that are specialised to fit the industry at hand. From empowering in-house legal teams to inspiring creativity in multi-media marketers, AI continues to change the way we work.
Connecting With Consumers
Last but not least, AI can significantly boost revenue for a number of corporate and e-commerce companies. Using AI-powered tools such as chatbots to connect with customers not only reduces the workload for existing employees but can reduce the need for widespread sales teams across the board.
A recent survey by Forrester found that 89% of sales teams rank chatbots to be useful or very useful when connecting with customers and personalising the company experience.
In a digital-first environment, consumer demands have skyrocketed. For example, 91% of online consumers now expect personalisation within their buying experience, in the form of personalised offers, recommendations and conversations throughout their interaction with the brand. 
This is where artificial intelligence steps in. using a mixture of predictive analytics, historical consumer data and self-learning chatbots, AI can transform the consumer experience and improve B2C and B2B relationships without the need for human intervention.
In fact, 63% of online consumers now claim that they prefer to speak to a chatbot over a human according to G2 Crowd. Not only can a chatbot service be quicker and more efficient for a consumer, but AI-s machine learning abilities enable the chatbot to answer questions in seconds, using information from past customer experiences. 
A further 69% of respondents in the Forrester survey revealed that investing in AI-infused chatbots reduced their overall operational costs and improved their return on investment.
But don't just take our word for it, a number of high street and online giants have already tapped into the potential of AI and chatbot personalisation in customer engagement strategy. 
Starbucks for example uses AI to index historical customer data, before using it to influence new offers and personal recommendations for them based on drinks they have purchased in the past.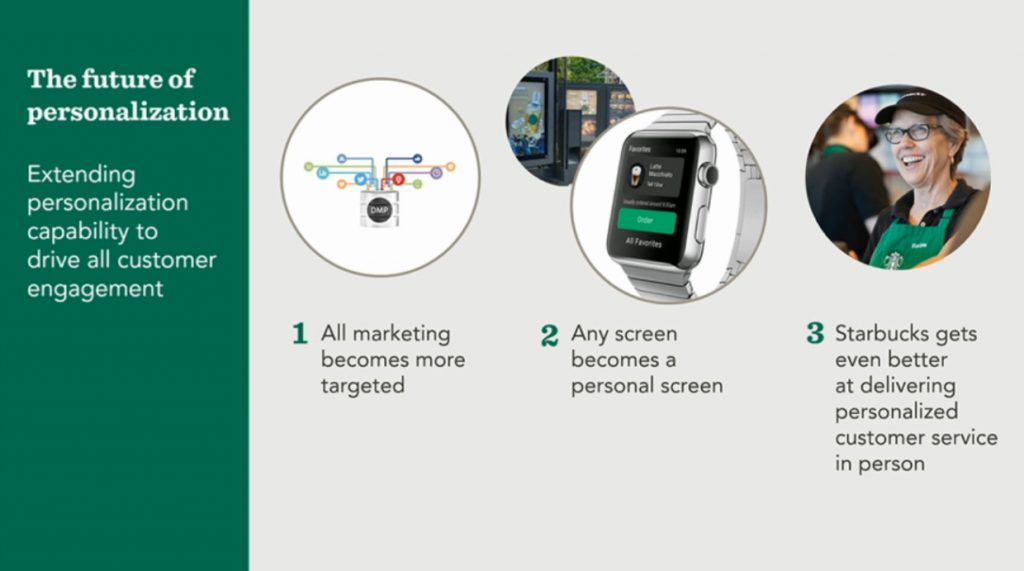 (Image Source: Geek Wire)
This level of personalisation has boosted customer engagement and encouraged them to go digital by downloading their AI-infused app.
Looking To The Future
As AI developers continue to create smarter self-learning technology, there is no doubt that the future is bright for a digitalised corporate sector.
From predictive analytic models to chatbot innovation, both the employee, employer and customer experience will be revolutionised over the next decade. As the AI market grows at an exponential rate in the wake of a post-Covid push for digitalisation, it won't be long before the corporate sector becomes completely automated in a data-focused future.