Financial technology continues to evolve. On the back of digital banking trends and a remote corporate shift, fintech is pioneering the way forward for a fast-tracked financial future.
In fact, on the back of Covid-19's push for a digitalised tomorrow, over 96% of global consumers are now aware of at least one fintech service or company, and a further three out of four of them actively interact with a fintech service frequently.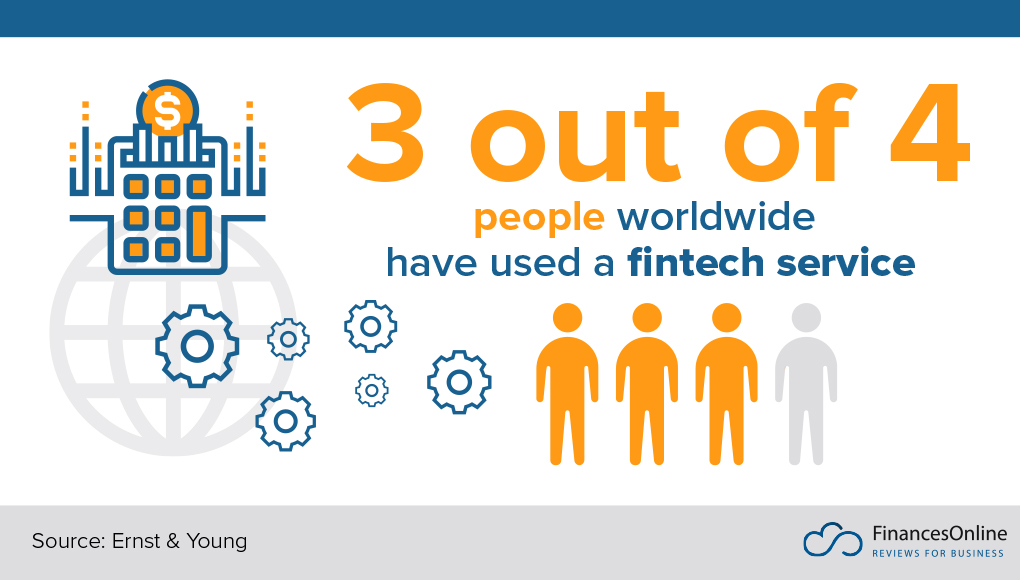 (Image Source: Finances Online)
From facilitating the adoption of popular cryptocurrencies such as Bitcoin to pioneering new B2B payment solutions that streamline cross border transfers, the target audience for financial technology is quickly expanding.
 While the banking sector was once its primary focus, fintech development has now seeped its way into a number of popular divisions ranging from the corporate sector all the way to healthcare. 
With a market value that is tipped to reach over $305 billion by 2025, according to GlobeNewswire, the fintech industry is on track for mainstream adoption within a digital landscape. 
After 84% of business executives in a recent Deloitte study stated that fintech infused automation such as blockchain and artificial intelligence would revolutionise the start-ups of the future, it's clear that the corporate sector will play a large role in the industry's success.
As we delve deeper into what the future holds for a fintech infused corporate sector, read on to find out how the fintech market is evolving and the benefits innovative automation will bring to the post-pandemic start-up boom.
What Is Financial Technology?
Financial technology, also known as 'fintech' is defined by Investopedia as "tech that seeks to improve and automate the delivery and use of financial services."
Put simply, fintech can be utilised to aid business leaders and their consumers when managing their financial operations and processes. Using a combination of machine learning, AI-infused analytics and cyber secure blockchain ledgering, fintech can digitally facilitate cross border money transfers and investment management without the need for a centralised authenticator.
While fintech was initially only implemented within established financial sectors such as banking and investing, Covid-19's digital shift has forced financial technology to branch out in order to provide more customer-orientated services.
Fintech has now been adopted within a plethora of customer-facing sectors such as start-up services, education, nonprofit fundraising and of course e-commerce. As the modern-day consumer steps online, fintech continues to streamline the digital experience, from automating online transactions to driving new digital currencies into the mainstream.
One notable fintech facilitated cryptocurrency is Bitcoin. With a multi-trillion-dollar market worth, Bitcoin has quickly found its way into the consumer mainstream, alongside 64 other cryptocurrency-based start-ups that achieved unicorn status in 2021.
The question is, where is fintech going next? The fintech market is predicted to grow at a CAGR of just over 20% until 2025, with funding set to rise drastically within the business sector in particular.
As e-commerce booms post-pandemic and small business owners continue to digitalise their financial management, fintech is expected to revolutionise transparent accounting, digital lending and even customer insight analytics.
Let's have a closer look at some of the fintech trends we can expect to see as the industry continues to expand.
Fintech Innovation Trends That Will Dominate 2022
From a spike in blockchain adoption to robotic process automation, new fintech trends continue to dominate the sector in 2022. With a particular focus on mobile payment optimisation and open APIs, consumer-facing fintech innovation is tipped to lead the way forward as financial technology is adopted by a newly digitalised corporate sector.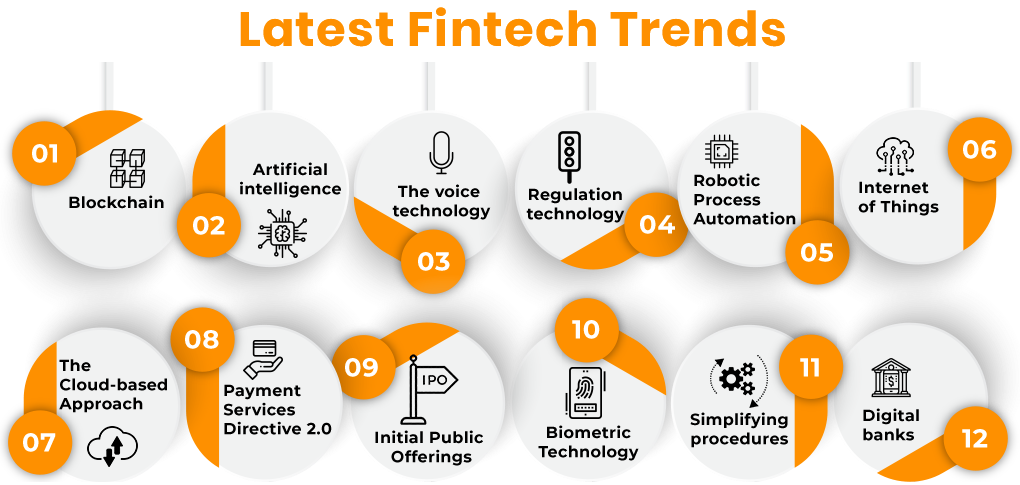 (Image Source: Aglowid Solutions)
After receiving a staggering $37.3 billion in development funding in 2021, fintech based start-ups continue to see rises in demand for blockchain and AI-based solutions as we step into the new year. 
Other notable trends in the sector include a closer look into the transactional benefit of cloud technology, developments in cybersecurity models such as biometric and voice recognition technology and of course, further innovation of payment services and digital banking.
Corporate Blockchain Adoption
When it comes to discussing prominent fintech trends, blockchain, in particular, stands out from the crowd, with over 74% of tech-savvy business leaders stating that the ledger technology has the potential to transform a digital corporate sector in 2022.
Defined as a "distributed database that is shared among the nodes of a computer network", blockchain technology is able to store transactional data in a decentralised system that aims to remove a centralised third party and the risk of cybersecurity threats.
With a 600% increase in cybercrime since the onset of the Covid-19 pandemic, business leaders have begun to adopt blockchain technology within their transactional processes in order to share data securely along the supply chain.
In fact, just under a third of company leaders in a 2021 Deloitte blockchain survey claimed that they planned to invest up to $10 million in blockchain-based services in 2022 after 60% of the corporate sector revealed that they currently utilised at least one aspect of the fintech infused ledger post-pandemic.
A Rise In Fintech & AI Mergers
AI has played a crucial role in fintech development in the past decade and will continue to do so in 2022. Currently dominating the start-up landscape, global AI investment has risen by 115% since 2020 as predictive automation becomes a must-have in order to ensure cyber efficiency.
AI is currently used within fintech development to aid fraud detection, improve financial decision making and assist credit risk assessments. As fintech evolution shifts towards a customer-facing future, AI-based start-up mergers are tipped to improve the efficiency and precision of financial technology when gathering customer insights and forecasting a company's next financial move. 
Alongside this, a rise in fintech and AI M&As can be directly attributed to the rise in post-pandemic cybercrime. AI can improve fraud detection and further enhance the cybersecurity of fintech services. Utilising machine learning solutions, modern-day financial technology will be able to react to large amounts of data in real-time, identify relationships and data patterns in record time and spot fraudulent anomalies before they become dangerous.
Only 7% of companies within the corporate and financial sector have not used at least one form of AI automation. If fintech developers want to catch the attention of a diverse consumer demographic, artificial intelligence needs to be at the forefront of fintech innovation.
A Spike In Cross-Border Transactions
It's no secret that the Covid-19 pandemic has shifted global spending into a digital realm. As the e-commerce sector exponentially expands in response, cross border transactions are at an all-time high.
In fact, a recent report by Accenture divulged that the total cross-border payment flow is expected to exceed $156 trillion by the end of this year alone, calling for e-commerce competitors to step up their checkout game in response.
Digital native consumers require multi-currency payment systems that can facilitate cross-border transfers both quickly and securely. Fintech infused payment systems are set to see a spike in response, as more companies than ever before sign off on cryptocurrencies such as Bitcoin as an official payment method.
Exploring The Future Of A Digitalised Corporate Sector
The future of corporate working is digital. After the pandemic forced more than half of the corporate workforce into remote conditions, 36% of corporate employees still remain in a WFH position two years down the line. 
As lockdown pushed for global digitalisation, a number of leading industries followed suit. From a peak in e-commerce engagement to an array of digital-based services, the key to success now lies within the realms of online dominance as corporate competitors battle it out to rank highly within their niche.
Technological innovation also continues to aid a remote future. From immersive training tools to digital communication facilitators, business leaders are under more pressure than ever before to jump on technological trends. In order to automate their processes and meet heightened employee and consumer demand, smart entrepreneurs are quickly investing in new forms of AI, AR and fintech solutions to remain productive in a fast-paced digital environment.
Let's have a closer look at some of the technological trends dominating the sector post-pandemic.
Covid-19's Push For Digitalisation
It's no secret that Covid-19 pushed the corporate workforce inside. Since working from home began to trend, business leaders have been forced to invest in digital aids in order to keep employee communication flowing and remote productivity at an all-time high.
In fact, 79% of corporate company leaders have claimed that Covid-19 has pushed them to increase their digital transformation budget. In response, global spending on corporate technology solutions is expected to surpass $2 trillion in 2022, as online entrepreneurs digitalise their B2B and B2C strategies.
A concern for WFH wellbeing has also encouraged a number of business leaders to invest in digital communication tools and services. 
After a recent study by The Royal Society For Public Health revealed that 67% of remote workers felt less connected to their colleagues, employers are investing in communication tools such as Slack, Zoom and a digital HR system in order to provide ongoing support for their employees.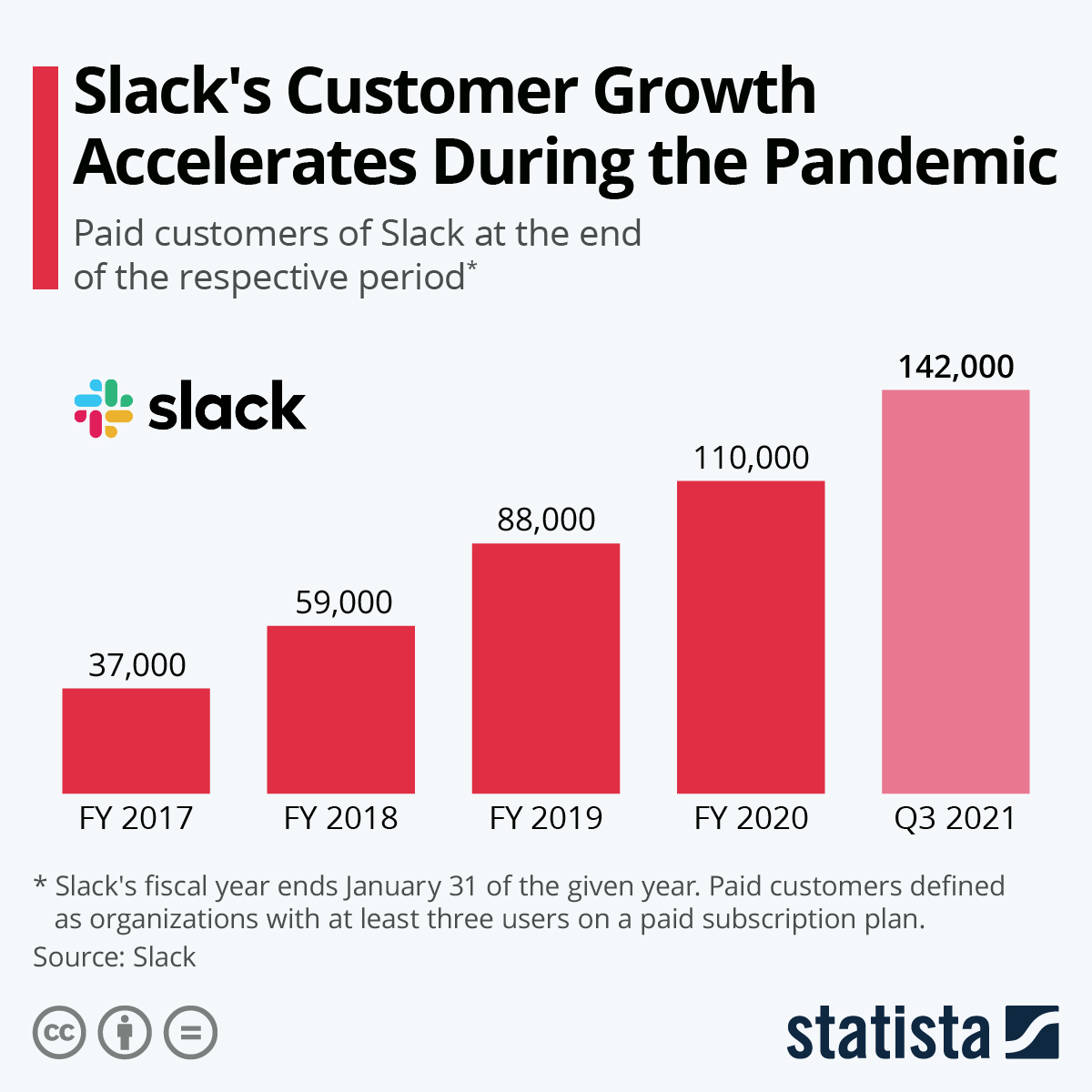 (Image Source: Statista)
As you can see here, the corporate instant messaging app, Slack soared in response to the pandemic, reaching a new high of 142,000 paid customers by Q3 of 2021.
Investing in digitalisation has not only kept corporate competitors in the game but has improved WFH productivity, and aided team collaboration.
The Technology Aiding A Remote Future
In response to the corporate sector calling for digitalisation, technological development has continued to evolve to meet consumer demand. 
One notable technology that is dominating the sector is artificial intelligence. Used to streamline WFH practices by providing predictive analytic forecasts, automating data collection and speeding up cross-team communication, AI has become a must-have for online-based businesses.
Receiving a global corporate investment of $68 billion in 2020 alone, the AI market is thriving in the wake of corporate digitalisation. As we step into the future of smart marketing, start-up culture and online collaboration, it's clear that artificial intelligence will be at the forefront of the sector.
Another technological trend that has seen widespread success since the onset of the pandemic is the call for immersive aids. From augmented reality to virtual reality, the corporate world has quickly invested in its ability to mimic an office-based experience and enhance the completion of digital tasks.
With a global market that is expected to be worth $250 billion dollars by 2028, immersive technology has provided a number of benefits for the remote corporate sector.
Virtual reality in particular has continued to aid the remote onboarding process, enabling employers to generate a 3D virtual environment that can be used to test out particular work-based scenarios in real-time in the same way they would during a physical induction within the company.
CEO of Maple Holistics, Nate Masterson, claims that technological enhancement is the key to remote corporate success. "Solutions that enable teams to discuss, plan, execute, and track work all in one place are especially valuable," he explains. "The less friction you have when collaborating, the more teams can focus on getting work done. This ultimately results in greater productivity."
Growing Concern For Small Business Owners
The pandemic's push for digitalisation has made it easier than ever before to start an online venture. With a multitude of platform building software at a tech-savvy entrepreneur's disposal and a myriad of social platform advertising options, starting a small business has become a post-Covid trend amongst a digital population.
In fact, in 2020 alone, the number of start-up applications reached an all-time high of 500,000 in the US in particular, with a sharp increase of 95% in comparison to pre-pandemic figures.
In response, competition within the corporate sector has become an ongoing challenge for small business owners looking to see success.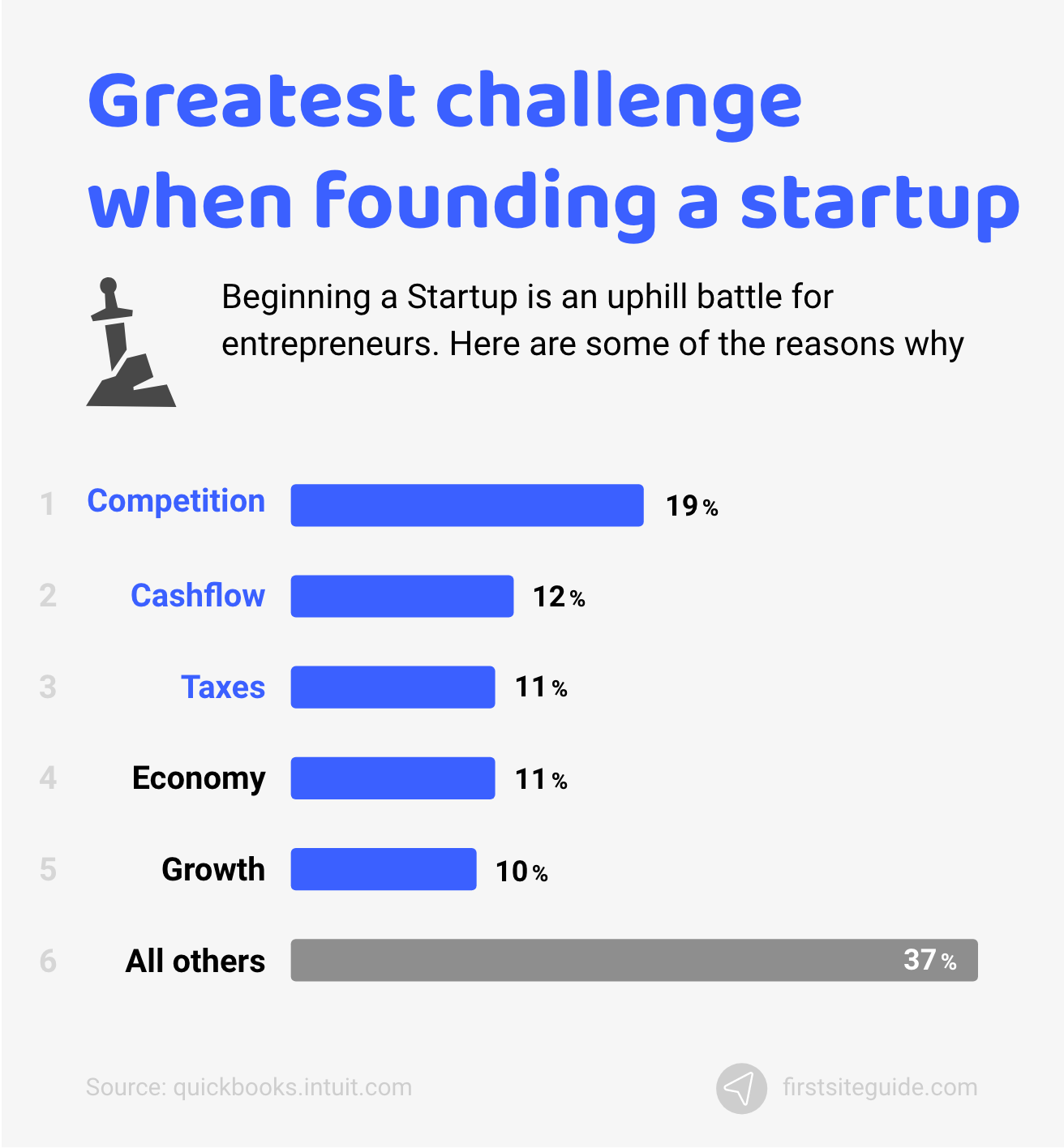 (Image Source: First Site Guide)
As you can see here, 19% of entrepreneurs mark industry competition as the greatest challenge when founding a start-up. Without significant funding, well engaged social channels and experience within the sector, it has become almost impossible to stand out in a growing e-commerce landscape.
In fact, studies show that 9 out of 10 startups won't make it in the modern-day digital playing field. 
Funding Remains A Significant Challange
One of the greatest challenges small business owners are facing is financial management. Financial stability is vital when committing to a start-up venture. Did you know that most small businesses need to rake in at least $50k in annual revenue in order to remain sustainable within a competitive market?
With the majority of fresh entrepreneurs starting a venture with only a fifth of that number at their disposal, small business owners need to prioritise smart investment choices and financial planning if they want to remain in the running.
The question is, could financial technology be the answer to a funding crisis? 
A start-up's search for funding solutions begins and ends with fintech according to Rob Frohwein, CEO of Kabbage. While traditional bank loans prioritise larger establishments and leave small business owners without the opportunity to access the capital it needs to take off, Frohwein states that fintech partnerships can solve small business financing barriers.
"At Kabbage, we have always made the success of America's small businesses our primary objective,"  He commented in a recent statement. "We have built a technology and data platform that provides them with the kind of capabilities and insights often reserved for larger businesses. We can help more small businesses succeed with a fully digital suite of financial products to help them run and grow their companies."
After helping 170,000 start-ups gain access to over $6 billion in working capital, Kabbage is just one of the fintech companies pioneering the way forward for small business success.
Gaining access to innovative funding solutions is just one of many benefits associated with introducing fintech into a small business strategy. Read on to find out why fintech could be the answer for start-ups in a post-pandemic environment.
The Benefits Of Fintech Innovation For Small Businesses
Fintech adoption within the corporate sector is on the rise. Accelerating in line with the post-pandemic start-up boom, small business leaders are quickly adopting fintech solutions in order to improve their accounting, digital lending and even their customer relationships.
In fact, a recent 2022 fintech market forecast from Finextra has revealed that 53.3% of SMEs plan to implement at least one form of financial technology within the next year.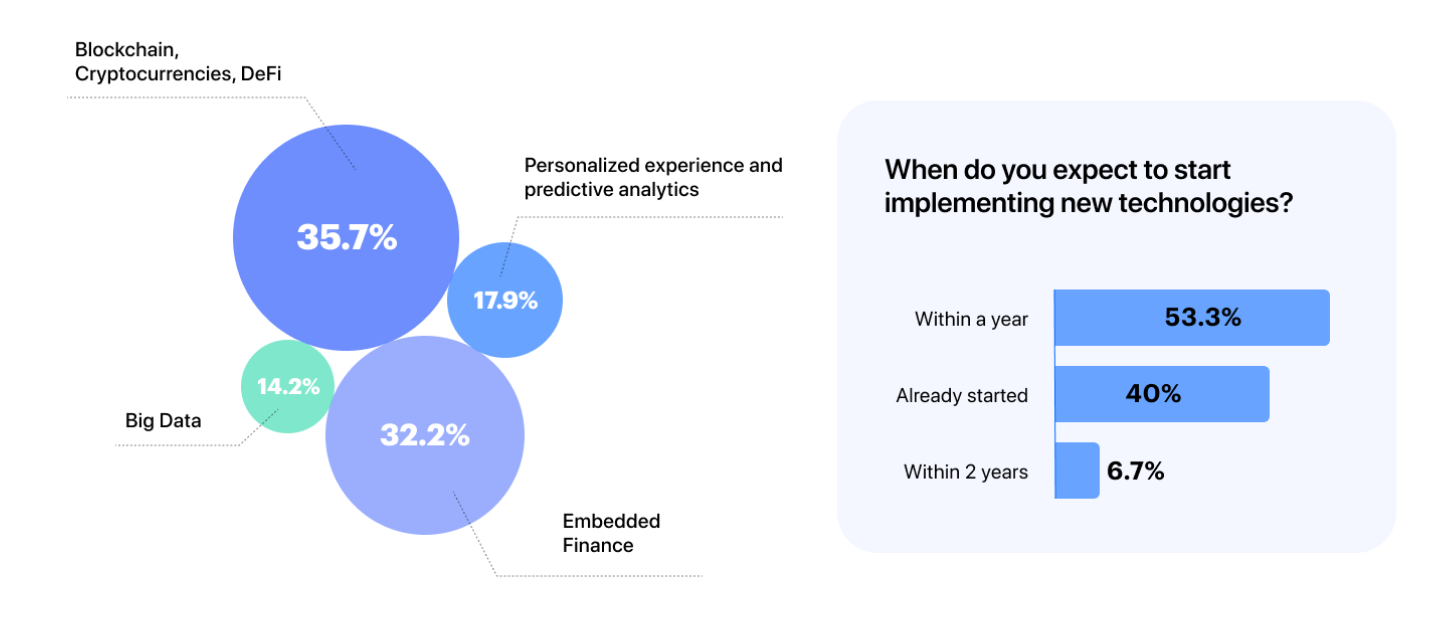 (Image Source: Finextra)
As you can see above, 32% of company leaders plan to introduce embedded finance solutions into their business strategy, while a further 17.5% aim to streamline their services by embracing the powers of predictive analytics.
The question is, what could this mean for small business ventures? Let's have a closer look at some of the benefits.
Transparent Accounting
Accounting has become a simple affair on the back of fintech adoption. Often known as a grinding task for many entrepreneurs, keeping track of personal and business expenses, invoices and more requires large amounts of time and effort for a small business to remain afloat.
Worse still, manual accounting systems are also open to human error, which can cost small business owners a hefty price if they make a mistake. In fact, human errors alone cost UK and US-based businesses over $37 billion per year according to a Marketwire report.
Introducing a fintech based system into your business strategy can streamline the accounting process and reduce the risk of human error in a few simple clicks. By providing a virtual space for data storage while conducting regular financial assessments and predictions, fintech adoption can save small business leaders time and money, while advising them how to save even more. 
Notable fintech based accounting services such as FreshBooks, QuickBooks and Sage Accounting aim to simplify the accounting process and provide access to your secure finances from any device.
"Our cloud-native solutions have performed particularly well, as more new customers choose Sage to take care of their accounting, people and payroll processes – removing friction, delivering business insights, and giving them a competitive edge," comments Steve Hare, CEO of Sage Accounting.
Optimising financial accounting, planning and prediction is a great way to ensure a small business is on top of financial trends and is utilising its capital to improve company growth.
Improving Digital Lending
Many small business ventures fail due to a lack of capital funding. Traditional financial institutions are often wary to lend to start-ups on account of inconsistent activity and ironically because the capital amount they require is too small.
In fact, research by Easy Knock revealed that over 80% of small business loans are rejected due to fluctuating credit scores and the financial uncertainty that comes with starting a business from scratch.
Fintech innovation strives to close the gap between business and banking partnerships using technology to streamline the lending process. While a traditional loan application would require numerous amounts of centralised documentation and a lengthy turnaround time, fintech systems aim to move the digital lending process online, making loan applications a swift, paperless process.
Emerging fintech leaders, such as Kabbbage and Fundbox are quickly moving away from assessing loan eligibility using credit scoring and are instead focusing on real-time analysis of business data points with a much more malleable criteria. 
In turn, small businesses can unlock more capital funding opportunities in order to improve company growth.
Improving The Customer Experience
Last but not least, fintech innovation is not only revolutionising small business finance management but implementing financial-based technology can also double up as a customer insights tool too.
Utilising new forms of big data, fintech is able to gather a deeper understanding of a customer's needs purely from the data generated by credit card transactions and spending patterns, which can all be translated into a personalised campaign strategy.
Research shows that a customer is twice as likely to interact with a small business if it offers a personalised experience. Therefore, using customer insights to create targeted offers is a great way to boost engagement and improve customer retention rates.
A great example of this is the Starbucks Loyalty program, which is infused with fintech technology. Using a customer's payment history as a guide, Starbucks create personalised beverage offers for each one of their 16 million loyalty members, which drives 40% of their global sales.
It's clear that the role that fintech plays in business growth is significant. From reducing human error to opening up new funding opportunities for start-up entrepreneurs, the implementation of financial technology within a small business is vital if company leaders want to stay ahead of a competitive playing field.