According to one study, remote employees work 1.4 more days per month than office-based counterparts. Productivity levels surge and it's evident that working from home poses no threats to employee output. According to a different study, WFH can have adverse effects on productivity. The bottom line is, everyone works differently and can all do with some tips during this prolonged WFH period.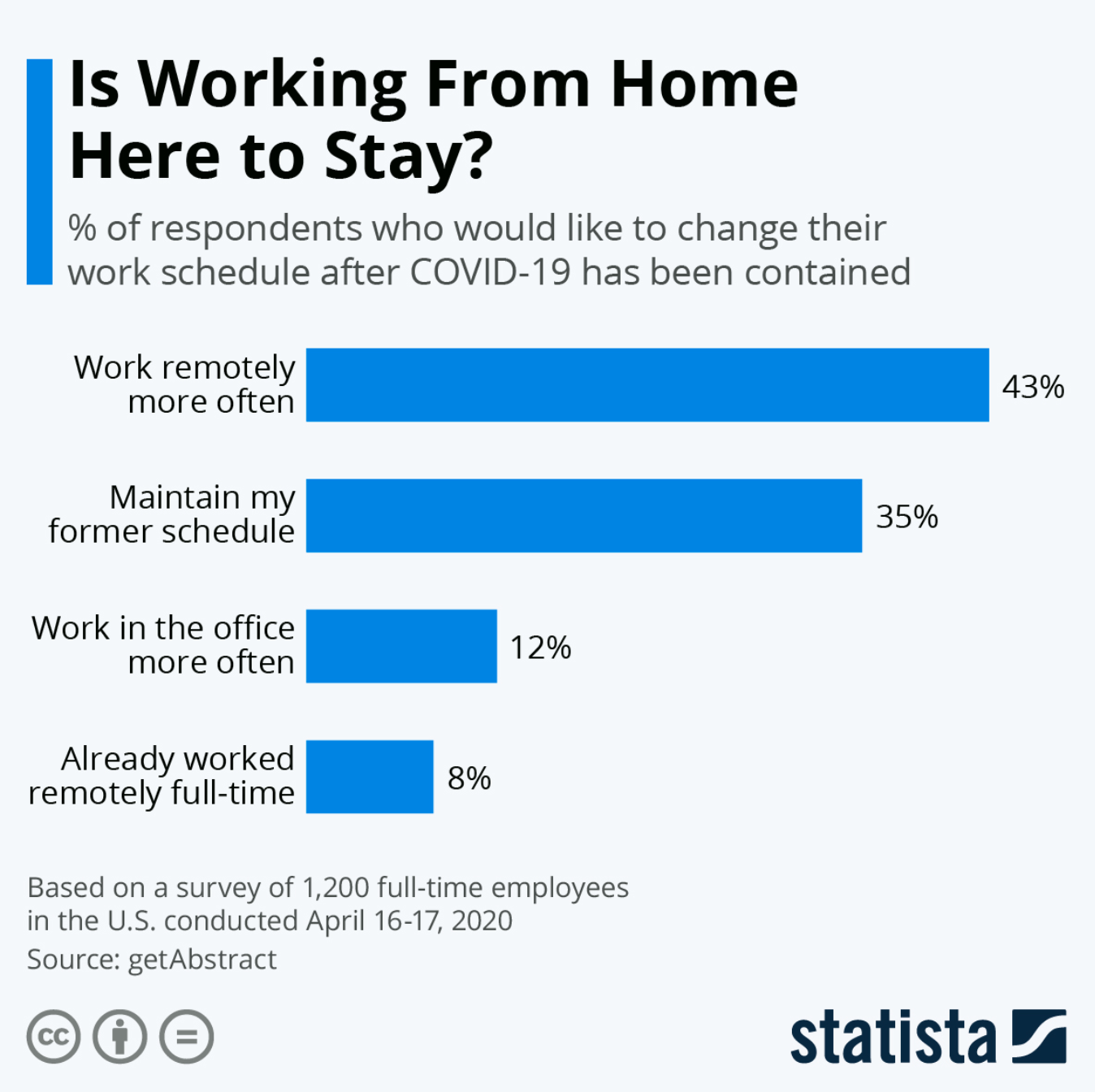 (Image: Statista)
Whilst it's true that maintaining good posture, eating breakfast and getting dressed each morning contributes to improving productivity; there's more to be done. Let's consider 10 actionable ways to improve the way you work at home once your desk is set up and a daily plan is in place.
1. Tune in to inspiration 
Tune out your distracting surroundings and into your inspiration zone. One of the best things about working from home is that you're in control of what you listen to. Whether that's white noise, a podcast or music – find the sound that gets you focused.
Research from Applied Acoustics on background music in the work environment has suggested that music with lyrics can reduce our mental performance at work. However, instrumental music can boost our productivity.
Many types of music are known to have a significant effect on improving productivity. Amongst them are tracks mimicking natural sounds, cinematic music, video game music, music between 50 – 80 beats per minute and unsurprisingly, your favourite music.  Researchers have long claimed that listening to classical music helps people perform more efficiently. 
For those mundane, repetitive tasks, an audiobook or podcast may be the trick to keeping your brain ticking and boost your output whilst you work from home.
2. Stay in the loop 
It's hard to get through the day without being exposed to some coverage of news media, current affairs or celebrity gossip. So, don't fight the urge to fill yourself in each morning. By reading the news, catching up on social media and following the stories you would have been following pre-WFH, your engagement with the world is an important part of life at home. 
Feeling connected to the world around you is a great way to boost your mood and appetite to contribute to it. The better we feel about ourselves and the more we avoid secluding ourselves from the wider society, the more productive we're likely to become. It's also a great way to keep on top of industry news and policies which often strengthens our sentiment to our own company – lending to productivity.
3. Find a buddy 
Sharing the WFH experience with another person can itself be enough to make us work harder and more efficiently. For those fortunate enough to share a home with a fellow home-worker, be sure to schedule breaks together, check-in on each other and reciprocate tea-runs.
One of the reasons office spaces world well in the first place is because of the sense of shared commitment to work. Knowing someone is in the room next door, or perhaps on the other end of the dining room table working, is often enough to prompt us to knuckle down. 
For those lone-home workers, there are plenty alike out there. Reach out to a friend or colleague to schedule in breaks and catch up over the phone to keep you going.
4. Plan for the weekend 
Often all we need to get us through the day or week is something to look forward to. Planning to do something over the weekend can be the driver we need to stay focused and productive as we work from home. It can be as little as some online retail therapy, or as motivating as meeting up with friends for Sunday lunch. 
Be sure to have a weekend plan in place at all times to refer to when you feel your productivity levels begin to slump.
5. Master your evening ritual 
Working from home, in most cases, means that you probably don't have the luxury of another person locking up and cleaning at the end of the day. Be sure to spend time at the end of the working day to clean up and create a pleasant atmosphere for the following morning. 
Further into each evening, be sure to spend time doing something unrelated to work which you enjoy. Allowing yourself such time reminds you that your life is more than simply work. It can help motivate you both during and after the working day to know that you'll eventually get round to reading your book, watching that Netflix documentary, trying out that new recipe or some other hobby.
6. Utilise your would-be commuting time wisely 
The average commute to work was 59 minutes in 2019. Avoid taking this to mean an extra hour in bed. Rolling straight out of bed to your desk can reduce efficiency and cause you to take longer to settle into work. 
Rather, wake up at your usual time and resist the urge to hit snooze. Once showered, dressed and fed; instead of rushing to the tube station, get ready to do whatever you would be doing on your commute. For readers, podcast listeners or news consumers – this is easy. For those sitters and sleepers – it's even better as they now have an hour to time to fill however they choose. It's a good time to exercise your brain in preparation for work and to get into your most productive flow.
7. Engage your senses 
One can imagine the adverse impact of a foul smell on our ability to concentrate and improve productivity. A Japanese study found that certain scents can increase alertness which in turn, results in higher productivity. Just as WFH enables us to choose what we listen to, we're also in control of the air we breathe. The same study found that when lemon oil was diffused through an office, performance amongst data entry operators increased by 54%. 
Research has also shown that scents can be used to increase concentration, productivity and fight off mid-afternoon brain fog. When preparing your office space at home, consider implementing the following scents: 
Citrus – Grapefruit, in particular, can help fight mental exhaustion

Peppermint – found to aid concentration and stimulate the mind 

Rosemary – Improves memory and provokes clear thinking 

Cinnamon – helps fight mental fatigue and improves concentration
8. A guide to working overtime from home 
Working overtime seems like the most productive use of your time. In many instances, it may well be, but there's a difference between putting in an extra hour to tie up loose ends and turning your home life into your workplace. The latter can do serious damage to long-term productivity rates.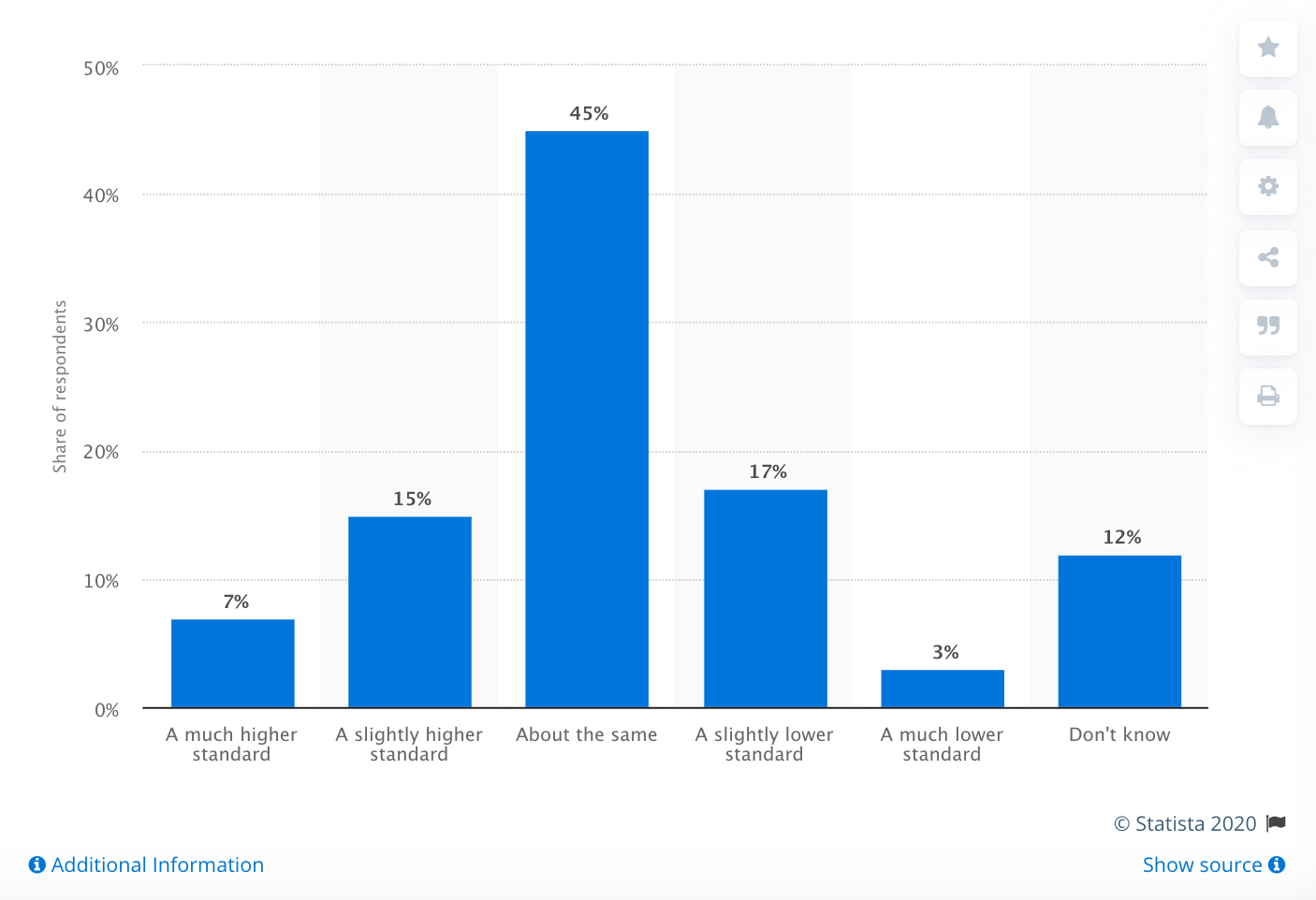 (Image showing an opinion on the effect of working from home and productivity in Britain in 2018. Image: Statista)
Whilst we're all advised to stick to our usual hours, follow a daily schedule and call it a day when time's up; sometimes you'll find yourself having to stick around the desk, computer or phone a little longer. Try to keep track of how frequent this habit becomes and do something about it. 
Either, rethink your schedule and move things around in order to complete all tasks within your usual hours. Or, remind yourself that you finished two hours late last night, and don't over-exert yourself today.
9. Get good coffee 
Perhaps a less obvious and direct way to improve productivity while working from home, but hear me out. We're all missing our daily ritual takeaway coffee, sometimes more than the one. The bottom line is that getting up to make a good cup of coffee is better than getting up to make a disappointment. 
Don't waste time thinking about how subpar your instant coffee is all morning, reminiscing the aroma of Arabian beans in paper cups- do something about it and save time. You'll be happier, and ready to get to work.
10. Tie up all loose ends at the end of the day 
This one will undeniably help you in the morning and directly contributes to improving tomorrow's productivity. It's easy to be distracted and overwhelmed by work that tips over into the following day unnecessarily. Spending an extra 20 minutes to respond to emails, edit documents and check everything off your list will allow you to return to your desk in the morning ready to start a new day.
All these productivity improvement tips should be taken in combination with the general, widely accepted ways of improving your productivity whilst working from home. That is, waking up on time, eating a wholesome breakfast, getting dressed and preparing a work-space away from any distractions in your home.