The rapid spread of COVID-19 around the world has called for unprecedented measures. At first, it was to wash our hands for at least 20 seconds to minimise the contamination period of the pandemic. Before long, social distancing measures were put in place, schools were closed and employers were forced to work from home where possible. 
What has this meant for productivity levels during the WFH period? Now, more than ever, employees should be pulling their weight at home, staying connected and sticking to company ethos. As businesses of all sizes come to face the biggest economic threat since The Great Depression of the 1930s, they'll need to figure out how to keep up the productivity of their team as they work remotely across the region.
It should be noted that just as any workforce operating anxiously in stressful periods of uncertainty and global panic; a lag in productivity should be expected. As employees attempt to turn home-nurseries into offices, maintain functioning households and keep up with the exhausting and harrowing headlines covering the developments of the pandemic; maintaining momentum at work can be difficult.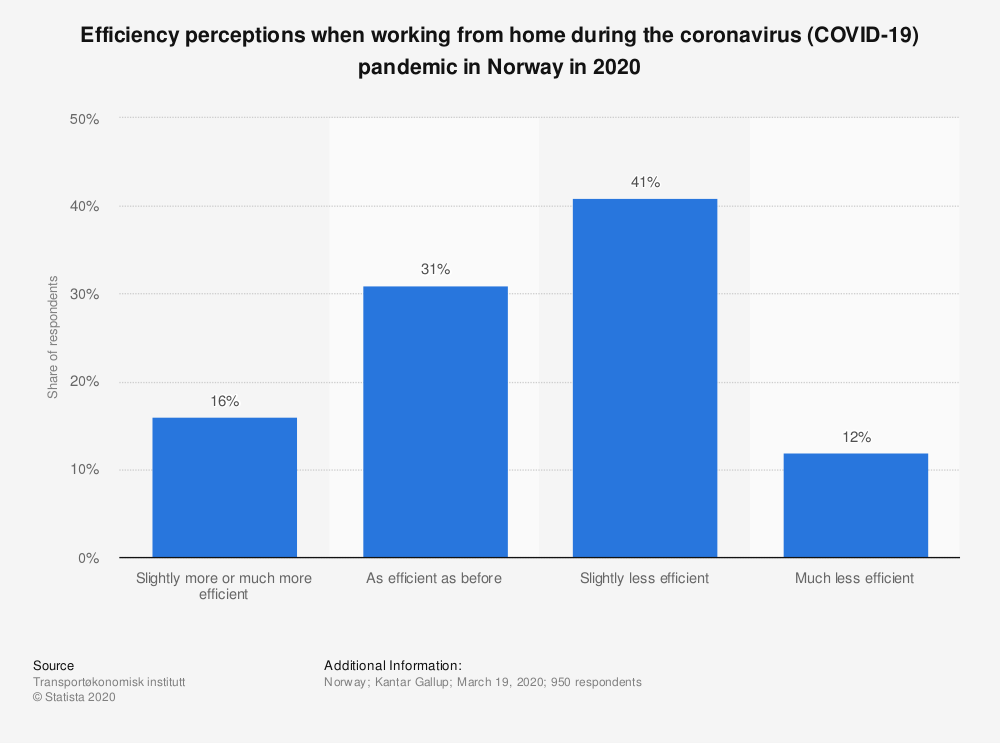 (Image: Statista)
Scandinavia's productivity King, Norway, boasts a 27-hour working week – with workers more than twice as productive as those in the UK. Despite this, 41% of those surveyed perceive themselves to be 'slightly less effective' when working from home. What do these figures mean for the rest of Europe and the UK's working-from-home-force? And how can owners manage a business remotely to ensure their workers are maintaining good productivity, and sticking to company ethos? 
Managing a business remotely can come with its challenges – particularly when it comes about as a result of a world health emergency that has forced office doors to close and home-offices to open. Keeping a remote team on track, motivated and engaged with company ethos during the WFH period is crucial to the survival of your company. It's also one of the most difficult things to do. There are, however, a few strategic tools available at every business owners disposal when it comes to leading a team remotely. 
Communication 
Connect with remote employees and encourage them to connect with each other. The wizardry of modern technology is the force behind many WFH initiatives. The internet, specific software and mobile devices have allowed us to transport our work from the office into our homes. The application of technology should be extended to digital communication – which has a direct impact on productivity and many business ethos, such as innovation, connectivity, and teamwork. 
From email to Zoom, ways to stay connected come in abundance. The impact of regular team video calls can boost morale, resolve any lingering queries and remind all employees of the collective effort and the part they play in fulfilling company goals. 98% of the working-from-home-workforce have used video calling and conference services to attend virtual meetings (Statista). Keeping these calls regular can act as a consistent reminder of what's expected from all members of the team. 
Owners managing a business remotely, should look to cover all the communication angles. In some cases, you may be the only single point of contact for many of your staff. No single person can commit to being available 24 hours a day. An effective way around this communication barrier is to pair buddies within the team – each with a different expert area, where possible. This also helps to foster a culture in a remote team environment. So, if by chance a business owner is unavailable to take a query, solve a technical issue or advise on a given situation; a buddy will be on call to offer their assistance. As such, work can continue and motivation can ensue. 
Build a custom workflow system
Bring out the best in your remote teams with work operating systems like Monday.com. Use the system to keep all work in one place, accessible by each member of the team. So, even when the unexpected happens, keep the momentum going. 
The software defines clear priorities, allocates tasks and is run against a timeline to keep everyone on track and motivated. Monday.com makes connecting with each other easy, and allows you to continue collaborating from afar.
Ultimately, whatever was discussed in video chats and other communication channels, can be materialised, tracked and measured through Monday.com. Work remotely with the greatest of efficiencies. Centralise all communication, tasks and projects seamlessly by eliminating sync meetings and long chains of emails. With efficiency, comes productivity.
Another communication platform, Slack, keeps all employees up to speed with the latest developments in your business under one application. Conversations happen in dedicated "channels". These are organised spaces for everything related to a given project, topic or team. It's the ultimate organisation tool and keeps everyone in the loop.
Working remotely in Slack, lets you share updates with your team, no matter where they are. When all your employees are no longer under the same roof, it's vital to be able to communicate clear messages and updates to the entire team simultaneously. When everyone's kept up to date effectively, there are fewer reasons for any single person to lag in their work. 
Set goals and follow a schedule 
Setting daily and weekly goals and following a schedule to help achieve them, is one of the most practised ways to enhance productivity across industries. This tried and tested approach to getting things done, should extend from business owners to each individual employee. It's at least in part, down to owners to encourage their remote staff to make schedules and report on their progress. 
In the same vein, such schedules should align with the normal working hours that would be expected of employees in the office. This includes the allocated time for lunch and breaks. By incorporating these into daily schedules, business owners can expect, at the very least, a normal level of productivity from their remote staff.
Eliminate distractions 
Key to productivity within and away from the office is to eliminate all distractions. We as humans are naturally as productive as we allow ourselves to be. We're bound to be more distracted at home, than we are in the office. From families to hobbies and household chores, there will always be something nagging at the back of our mind, if you let it. Find a quiet place to work at home, and one which you are least likely to be disrupted – either by someone or something. Although this may seem basic, business owners should be sure to advise their remote employees on working from home best practices. 
Weekly 1:1's between business owners and employees are a fundamental part of remote working. During these meetings, be sure to raise concerns with your staff's working environments, and offer tips on how to optimise these settings for better productivity.
Day by day all over the world, in teams large and small, people are working together remotely to keep businesses moving forward. The importance of keeping up team productivity and striving to business ethos cannot be understated, and should be constantly revisited through digital means of communication to keep up the momentum.