Crowdfunding has become a popular source of capital for entrepreneurs to finance new business ventures. Essentially, a large number of individuals invest a small amount of capital into a new business in return for a reward or a potential profit. 
But where can we find such investment opportunities? Crowdfunding websites exist to bring entrepreneurs and investors together- creating the potential to increase entrepreneurship by extending the pool of capital beyond typical venture capitalists and banks. 
Such websites act as a forum for anyone with an idea to pitch it to an audience of willing investors. Crowdfunding sites generate revenue from a percentage of the funds raised. So, like a well-oiled machine; entrepreneurs pitch, participants invest and the platform takes a small percentage. Following this, the business grows and rewards are returned to investors. 
Most crowdfunding campaigns take place via internet platforms and make use of the easy accessibility of vast networks of people through social media. This method opens the doors to a perpetual pool of potential investors. 
Each platform determines its own set of rules and priorities. In most cases, they will disclose specific monetary goals and set a time limit for when money can be raised. Accordingly, investors pledge a minimum amount to the fund and will often receive a reward for their contribution. Such rewards will vary and depend on the amount invested. 
Depending on the type of crowdfunding campaign, some will allow backers to own shares in the company, whilst others will provide exclusive access to products and services. So, what are the different types of crowdfunding strategies and which one is right for you?
Types of Crowdfunding
Intro to rewards, debt and equity. With relatively low risk attached to a small investment, more and more people are inclined to get involved.
Investment-based crowdfunding

(Equity crowdfunding)

– An ever-popular choice for both entrepreneurs and investors. This strategy allows backers to invest in a business they believe in and receive a stake in return. These are usually in the form of shares and can be retained, bought or sold. 

Reward-based crowdfunding – Perhaps the best-understood type, propelled to the frontline by platforms like Kickstarter and Indigo; which bring users together. In simple terms, individuals contribute relatively small amounts of capital to projects, in return for a reward like a product or service. This type is popular amongst startups whose shares perhaps offer little value. 

Charity crowdfunding – Capital donations are made by individuals and organisations to a person or charity. Nothing is expected in return. 

Lending-based crowdfunding

(Debt-based crowdfunding)

– An alternative channel that allows businesses to be financed by a multitude of investors in return for a set interest rate.
Regulating Crowdfunding
Most jurisdictions call for regulation and restrictions on who can fund a new business and how much they should contribute. These are put in place to protect unsophisticated investors or those who are not in the position to acquire too much risk. Because so many businesses fail, these regulations are necessary. 
In the UK the Financial Conduct Authority (FCA) regulates some types of crowdfunding, like loan-based and investment-based crowdfunding. They do not intervene with donation-based or reward-based crowdfunding. 
In the U.S. the Securities and Exchange Commission offers an exemption from registration with the SEC for equity crowdfunding – allowing companies to offer and sell securities of up to $1.07 million.
Is Crowdfunding Constructive or Destructive?
Crowdfunding can be constructive in many ways for both entrepreneurs and investors. It is a far more convenient source of finance relative to others like venture capital and bank loans. 
It is, by a great amount, one of the cheapest ways to raise capital. In particular, reward-based crowdfunding enables you to attract the interest and donations of thousands of people without having to sell an equity stake in your business. 
In doing so, no collateral, credit check or previous business experience is needed. Few questions are asked and the business plan sells itself. Lengthy meetings with banks or too much intervention from venture capitalists can be avoided. Allowing you to retail all equity and control in your company.
Crowdfunding wouldn't be possible without the internet. And with a global digital population of 4.48 billion people as of October 2019 (Statista) exposure gained on the platform can help to establish brand awareness on a truly global scale.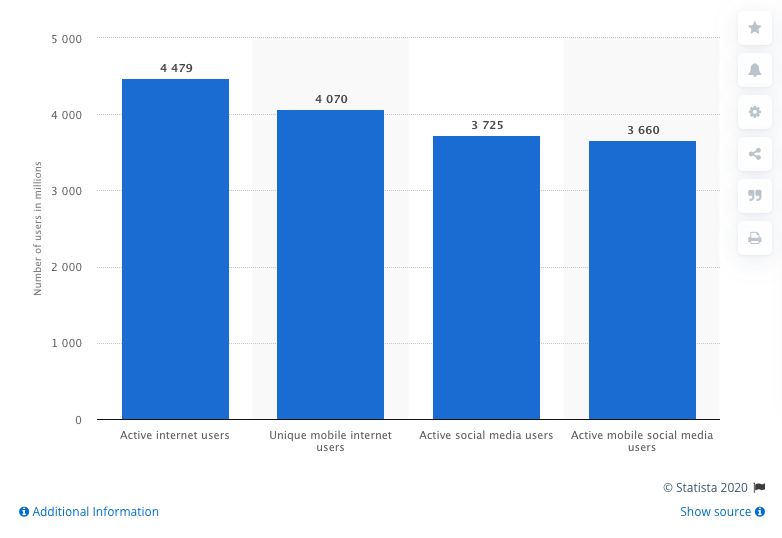 (Global digital population. Image: Statista)
However, crowdfunding has had some pretty destructive implications in many investment portfolios and on the fundraising goals of many businesses. 
Seeing as crowdfunding is essentially raising capital from the 'crowd', you will be relying on individual donations. For those seeking large amounts of funding, it should be noted that the value should be reflected in the rewards given. This can be a major setback. 
Most online crowdfunding platforms will have a specific set of requirements and time limits to adhere to. For example, if you don't reach your goal- you may have to forfeit any amount raised. Kickstarter, for example, doesn't allow equity fundraising and has a prohibited items list that excludes certain campaigns. 
Whilst a business's online presence is perhaps part of the most important marketing strategy in 2020 – pitching your idea online exposes it to both potential backers and to competitors. Avoid having your idea stolen by protecting it with patents. You are at risk of failure if someone else can come along and reproduce your business idea in a more attractive way to investors.
Risks associated with Crowdfunding
Whilst some risks are mitigated by the regulations of the FCA and SEC; there are still risks associated with the very crowdfunding types they regulate. 
Investment-based crowdfunding is a precarious opportunity for businesses and investors. It isn't uncommon for new businesses to go bust. In fact, 75% of venture-backed startups fail (FastCompany),  in such cases, shares are worthless and money is lost. 
Even if the business does not fail, the return on investment is never guaranteed. Shares may or may not raise in value and dividend payments might not be paid out. In such a case, it could become difficult to sell the shares. 
Combined with the fact that the shares are probably unlisted- unlike those in a big company that's listed on the stock market- investors may well be truly stuck with their dead shares.
Tips for Successful Crowdfunding
Nothing in business is risk-free and that is true of funding business. There are, however, a few things you can do to improve the success of your crowdfunding pursuits. 
Your marketing strategy should extend well beyond your crowdfunding efforts. Create and implement a cost-effective marketing strategy to help get your idea off the ground and show to prospective investors that you're a proactive entrepreneur with a sound business plan- at the very least.
All successful crowdfunding campaigns are supported with a clear and compelling message that drives interest to the product or service. Spend time crafting the perfect story that engages readers and makes them want to know more. A proven way to achieve this is by developing an informative and exciting campaign video. 
If you're opting for reward-based crowdfunding, be sure to strategically plan the rewards program to both maximise ROI and be cost-effective. Don't undervalue the investors but at the same time, don't sell yourself short.
For investors, be sure to understand the risks and only invest money you can afford to lose. As a general rule of thumb, you should keep crowdfunding investments to less than 10% of the investment funds you have available for that year.
Before you commit to financially backing a new venture via an investment-based crowdfunding platform, check it out on the Financial Services Register to make sure that it's authorised.