What's the formula for a successful enterprise? Consumer demand, ease of entry into the market, excellent marketing, strong product, and above all – cash. Incidentally, it's cash that can effectively drive consumer demand, break down barriers to entry, generate sophisticated marketing campaigns and strengthen a product.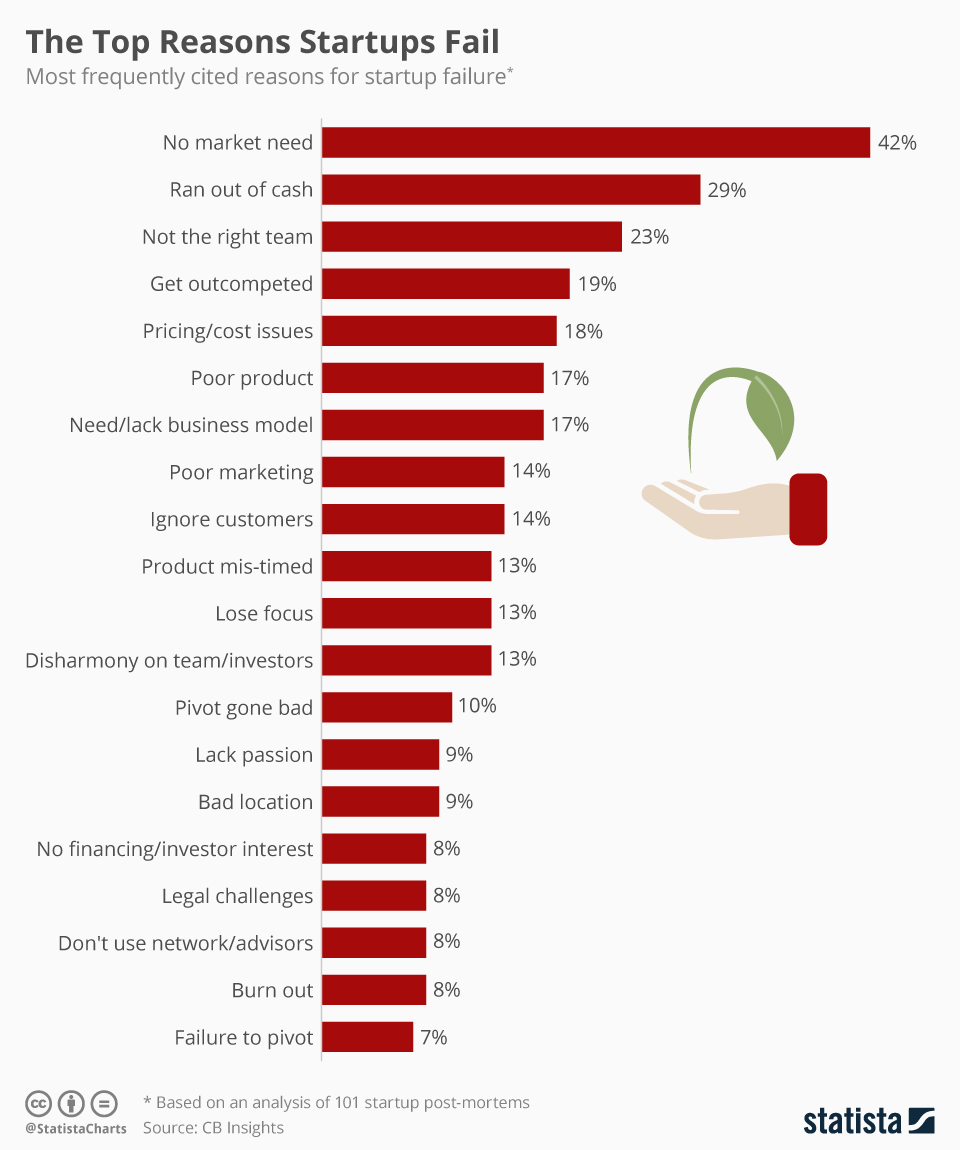 (Image: Statista)
Running out of cash is the second biggest attribute to startup failure. Getting your hands on enough cash in the first place is challenging enough. Finding an investor who will pump your business with cash injections and meaningful experience can help bump your business into the exclusive club of the 10% of startups that actually succeed. 
The process of finding an investor to fund your business growth largely depends on the maturity of your business in its lifecycle. In short, different types of investors will provide different types of investment as you proceed through a typical series of fundraising.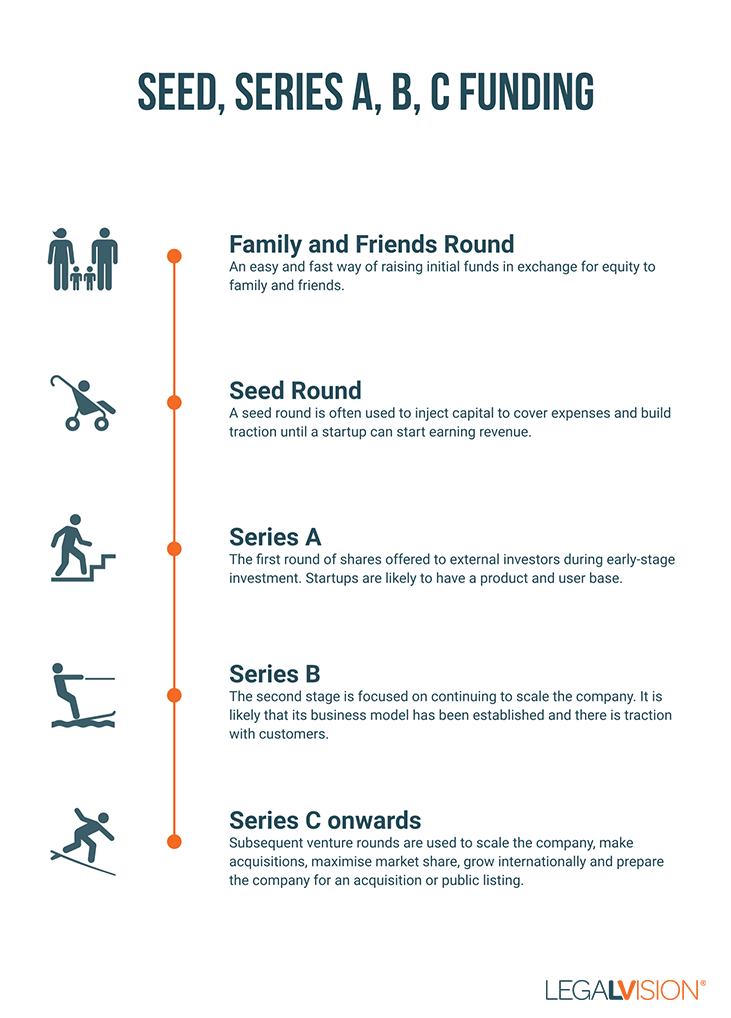 (Image: LegalVision)
From bootstrapping to relying on family, friends and crowdfunding; chances are, your business is in its early days and in need of cash to kick the business idea off the ground. Once it's gained enough traction and is operating a functional business model, a seed round is used to inject capital to cover operating expenses and allow you to start generating revenue. 
Once well established and sizable, series A, B, C and further funding rounds can be taken up on to raise capital for expansion pursuits and to scale up. As such, when it comes to finding an investor for your business, you might turn to one or a combination of the following. 
Friends and family 

Banks and government agencies 

Accelerators and Incubators 
7 rules to follow when attracting investors
1. Recognise you're choosing a long term partner 
Remember that a cash injection into your business regardless of where it comes from is not a quick-fix. Rather, your investor or investors will become a long-term part of your entrepreneurial journey. In fact, it pays to strengthen your relationship for two main reasons. First, should your business fail, it's likely that your investor will be able to help minimise the blow and losses. Their experience should help you to redirect your resources towards a more lucrative pursuit. 
Second, should your business be successful, it's likely that you'll eventually proceed to the next series of investment. As your business grows, so too will your opportunities – of which can be materialised with larger sums of capital. It may be beneficial to bring along your series A investor with you to your Series B funding round. 
2. Understand precisely what you need
Money? Sure, but you'll also need someone to fill in the gaps of your business knowledge, connect you with influential players in your industry and use their expertise to add value to your business. Perhaps you're an expert in accounting, or marketing, or both – there will inevitably be an area in which you lack expertise. By understanding what you don't necessarily know, how your contact list is lacking and what you need to gain from your investor – will help you find the perfect match.
3. Know your own journey 
One of the most important things to remember when bringing an external person onto your team is precisely where you've been and where you're headed. The new member of your team regardless of what they have on offer – should be compatible with your journey. If the ultimate goal is to eventually go public – it would pay to build rapport with your Venture Capitalist in your early days who could help you prepare ahead of an IPO. 
Likewise, if you are anticipating a series C and D investment round, you'll understand the importance of investor relations from the get-go. Having an understanding of what you want to achieve by way of growth and funding, allows you to be open and transparent with any prospective investor. They will appreciate your clear vision and make a decision grounded on your clarity, as to whether or not they think they will be able to help you achieve your vision.
4. Keep an eye on the economy 
One of the most important attributes of any successful entrepreneur is their attentiveness to what's going on around them – the economic environment, in particular. At all times, you should be aware of the external forces that could make or break your enterprise. At any given moment; interest rates on bank loans could surge, demand for your product or service fall, a recession strikes and investor confidence could dampen. A good entrepreneur will understand how these external forces could impact their ability to meet the demands, expectations and requirements of their investors.
In the same vein, investors across the board actually invest in the entrepreneur himself – just as much (if not more) than the business idea. Investors are more inclined to financially back those who show recognition for what's going on around them and an acute understanding of the risks they face. Bonus points are given to those entrepreneurs who can demonstrate contingency plans and resolve during times of crisis.
5. Strengthen your credibility 
No matter where you are in your journey, the bottom line is – your entrepreneurial references should all be outstanding and your credit score and financial history should all be in check. Improving your financial credibility will inevitably give you easier access to investors. This is true of private equity firms, banks and individual investors. A good place to start is checking on your credit score. Check it for free on Experian, Equifax's ClearScore or Credit Karma. 
How to improve your financial credibility: 
Disassociate yourself from ex-financial partners 

Get on the electoral roll 

Pay your debts 

Close unused credit cards, store cards, direct debits and mobile contracts

Manage repayments on time 

Consider a credit-building credit card 
Lastly, keep strong relations with past investors, build rapport with investors in your industry and avoid tarnishing your reputation that could spiral in the investor sphere.
6. Get personable 
Remember that just as you'll be trying to find an investor, they'll be scanning the entrepreneurial landscape looking for bright minds and promising opportunities. It's going to take a lot of networking, so present yourself in the best possible light. We already know that investors will be just as interested in the person behind the business, bust what does a good entrepreneur look like?
Being an entrepreneur is all about self-motivation, self-starting and self-leadership. Demonstrate your self-motivation by keeping a track record of all achievements and the ways you carried yourself and your business in the face of adversity. This will be of interest to investors and of crucial importance when it comes to signing an investment agreement. 
Demonstrate that you are passionate about your business. Those who are able to convey passion are naturally more persuasive and have more social capital. As a result, they're better equipped to drive growth and form relationships.
7. Look in all the right places 
Perhaps one of the most important rules to follow when finding an investor is knowing where to look. Once again, your sector and financing stage play crucial roles in directing you to the right place. 
Finding seed funding investments might take you in a few different directions. The first step is to calculate how much money you need. If it's a small amount, crowdfunding platforms such as Gofundme or Kickstarter are good places to start. You might want to consider taking out a small business loan or perhaps qualify for a government startup grant.
Online tools can help match you up with the perfect investor. Invest Europe's Investor Search is an easy way to find potential funding for your business. You can search by sector, financing stage and country for relevant and experienced investors.
Investors in series A rounds typically come from venture capital firms. Check out Sequoia, Benchmark, Greylock and Accel for well-known VC firms who participate in Series A funding. Taking your business to the next level with series B funding is similar to previous rounds of funding but with the addition of additional VC firms. 
Networking events across the country are also great places to connect with prospective investors. Remember to have a solid understanding of what you're looking for in an investor and ensure you resemble the perfect entrepreneur by reflecting confidence, tenacity and self-leadership.