Entrepreneurs can only develop scalable business models if they are backed by sufficient funds. Startup costs are immediately incurred during the process of planning a business model. From the costs of creating a business plan and research expenses to employee and marketing expenses; all startups need cash. 
Fortunately, there are quite a few finance avenues through which entrepreneurs may pass when raising capital for their startups. Bootstrapping early on is a great way to avoid getting into debt and proudly raise funds by using your own money and managing costs through cash flow your business generates. Indeed, 77% of small businesses rely on personal savings for their initial funds (Gallup). Of course, many entrepreneurs will seek additional funds and may turn to family and friends, angel investors, crowdfunding, or startup business grants. 
A startup business grant is a sum of money typically distributed by government, corporations and foundations to businesses to help them expand. One of the most compelling reasons for pursuing a business grant is because, unlike other types of business funding, they don't have to be paid back, either in monetary terms or by way of equity.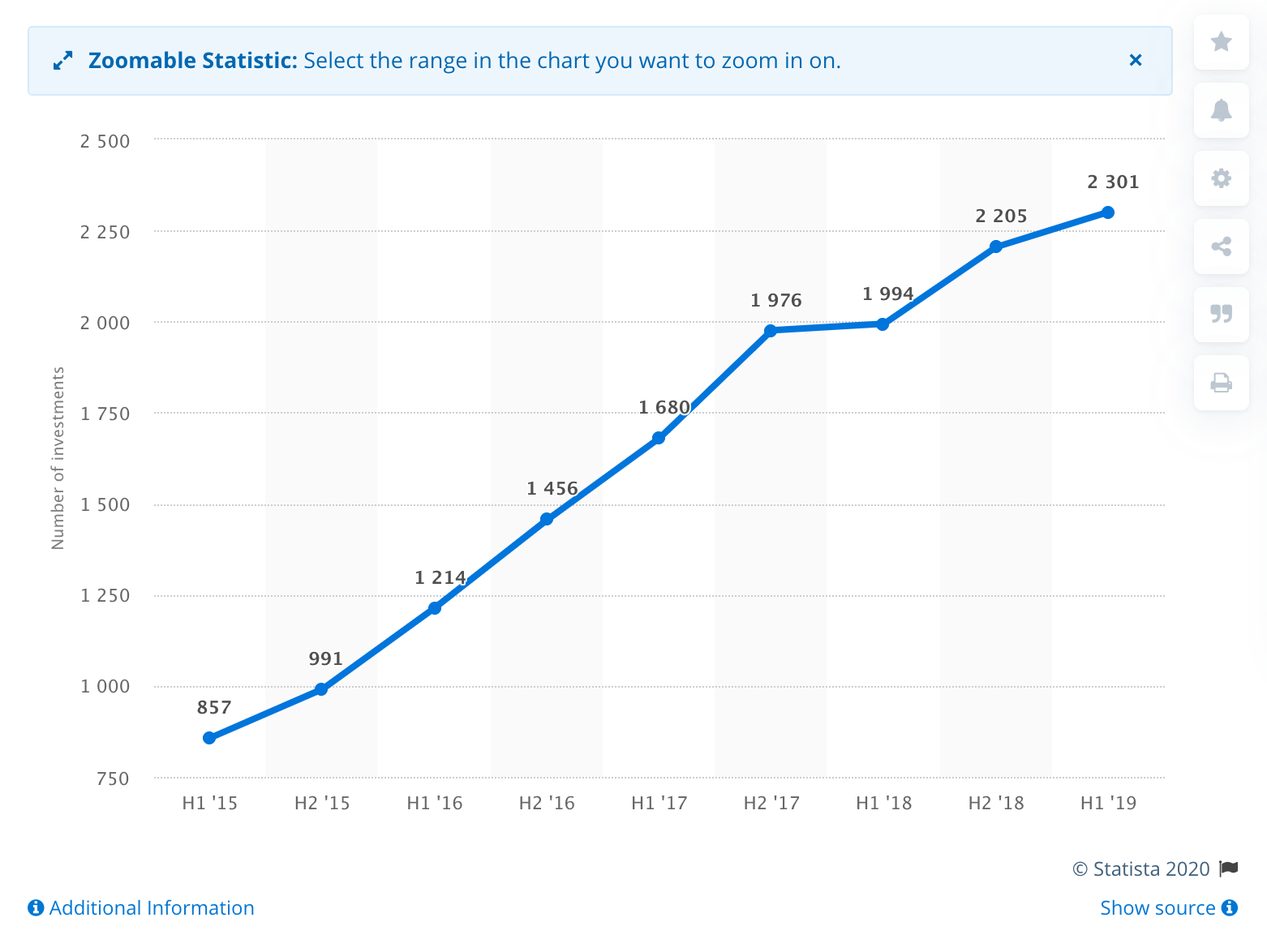 (Number of investments in startups in Europe. Image: Statista)
There are hundreds of types of startup business grants available. Each successful recipient has been able to save money, lower startup costs and effectively grow their business. Most startup business grants are awarded to help launch a new business, but many in the UK cover a range of awards. Including saving money on-premises and rates and buying discounted equipment, for example.
Whilst there are many available, there are also many aspiring entrepreneurs, meaning getting your hands on a startup business grant can be challenging. To make things easier, each grant has its own requirements and criteria making the grants that are best for your business more accessible. 
Direct grants 
These are typically the types of grant most people think of when they hear about grants. They're essentially sums of money directly awarded to a business that doesn't have to be paid back. However, it's rarely as simple as that. Often such grants are offered by the government only when the amount of the grant is matched by money a business has raised. Other conditions include spending limits and money awarded for very specific projects, training and equipment.
Direct grants are competitive, but startups operating in fields where there's generous funding available might have more luck. These include environmental sciences and technology innovation.
The Eureka Eurostars grants provide funding for the development and research of innovative services, products and processes. To be eligible for application, you must be a small business in the UK operating in the tech industry and have the intention of collaborating with other European businesses. This programme provides 60% match-funded grants with up to 360,000 euros of funding.
The Prince's Countryside Fund helps rural entrepreneurs by providing grant funding of up to £50,000 to startups that have long term positive impacts on the British countryside. The scheme has typically awarded more than £1 million of funding each year. 
Whether you're a startup tech company looking to collaborate on innovation in Europe, or a startup textiles company in the British countryside, there are direct grants available. This is the case in most if not all industries, so it's worth taking a look at the direct grants available to you in your industry. 
The Art Council England funding programme offers up to £100,000 for projects and cultural initiatives that have a meaningful impact or work to preserve British art and culture. Grant requests of £15,000 or below typically take 6 weeks to process. A relatively quick way to access funds for an upcoming project.
The Princes Trust provides financial grants to young entrepreneurs to help them start and develop their own businesses. Amounts awarded range between £1,500 to £3,000. The main criteria to be eligible for the grant is to be aged between 18-30 years old.
Access to resources 
All startups will face challenges when it comes to accessing resources. Whether that's training programmes, qualified and skilled personnel, marketing or logistics. Some startup business grants make access to these resources easier and cheaper.
The Growth Vouchers scheme is a government initiative to give startup businesses access to strategic advice in addition to £2000. Smaller startups, measured in terms of having fewer than 19 employees can turn to the Growth Charter scheme for access to workshops and mentoring. 
Some voucher specific subsidies are available when it comes to resources, such as Virgin Media's Connection Vouchers. These voices provide access to faster internet and waive installation charges. Improved speed and connectivity is key to a developing startup.
Tax relief schemes for startups 
A number of tax relief schemes are available to help startups manage their costs. Whilst not strictly a grant, in the way many of us first imagine, these schemes help startup business owners keep more cash in their pockets.
From the Employment Allowance, which helps employers reduce the National Insurance contributions they pay, to discounted business rates for small businesses; there are quite a few options. The Seed Enterprise Investment Scheme (SEIS) is a tax relief designed to encourage investors to invest in early-day startups. It's ultimately an inverted support scheme for startup business owners. 
The Enterprise Investment Scheme (EIS) helps approved startups to enable their investors to get back a large amount of funding in tax benefits. Investors can ultimately claim back up to 30% in tax on investment of up to £1 million. The scheme works as an incentive for investors to back startups. 
The Research and Development tax credit scheme allows startup business owners to claim back a significant amount of their development costs for the year This is particularly important for startups who will spend a large sum of money developing their product or service before scaling. 
Finding a Startup Business Grant
The government provides grants to UK startup businesses, so a good place to begin your search would be the Business Finance Support Finder. Each grant scheme is different, so it pays to check the terms, conditions and requirements before you apply. Get in contact with the grant awards body to ensure you make a successful application. Most grants will seek to match the amount you're willing and able to invest, so make sure you have the highest possible matching amount available beforehand. 
Remember, grant-awarding bodies will probably have a limited amount of money to invest. So, apply as soon as possible- when there's more funding and less competition.