Virtual reality has come a long way in the last few years. Now more than ever, investors are looking to bet on VR stocks. Interest rates are low, and venture capitals are starting to get excited about the possibilities of this new technology. So it's a great time to look at the best VR stocks. Recently, tech giants like Samsung and Facebook-owned Oculus VR have begun to bring to market a multitude of different VR technologies and devices, increasing the market share beyond 2021.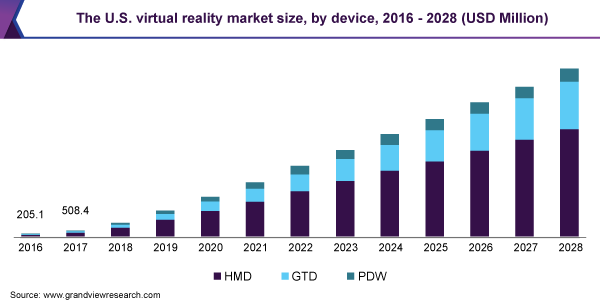 (Image: Grand View Research)
This is perhaps the biggest reason why many investors are considering investing in virtual reality stocks; technology giants are making VR more accessible. But what makes VR such an exciting new frontier? Here's a look at some of the top reasons for taking a dive into VR stocks. 
Top reasons for investing in virtual reality stocks
1. Mobile Power Without Limits
Mobile-powered devices like the Gear VR and Google Cardboard remove limits to how powerful a new virtual reality experience can be with sheer processing power. The Oculus Rift and Vive both push a lot of pixels, but the mobile virtual reality market is poised to take off, thanks to the proliferation of smartphones worldwide.
2. A New Way To Use Our Smartphones
Virtual reality is not just a way to make phones more "cool" or appealing; it will also change how we use our phones for work and play. As VR becomes more ubiquitous, it will significantly impact how we consume content and information. It's not hard to imagine a future where all new 3D games come out exclusively for VR devices. Mobile VR rigs could even provide new ways for individuals and businesses to interact with each other.
3. More Efficient Work
VR is not tied to being confined to a computer or even a phone. Some incredible virtual reality headsets allow for amazing headsets with larger fields of vision. As virtual reality becomes more and more popular, companies will be able to invest in VR with less worrying about how they will get their data out. Investors should keep an eye on new developments in the mobile VR market as there are almost limitless ways that they could improve our lives.
4. New Opportunities For Creators
Virtual reality creates new opportunities for developers who want to create fantastic content. With new and improved headsets, users will be able to experience all sorts of things that have only been hinted at on screens before. For example, people could see how the ocean looks from high above or see what it's like to play a first-person shooter from a sniper's perspective. As a result, VR along with augmented reality (AR) is creating new and exciting possibilities for creators to create compelling content that adheres more closely to a virtual reality experience.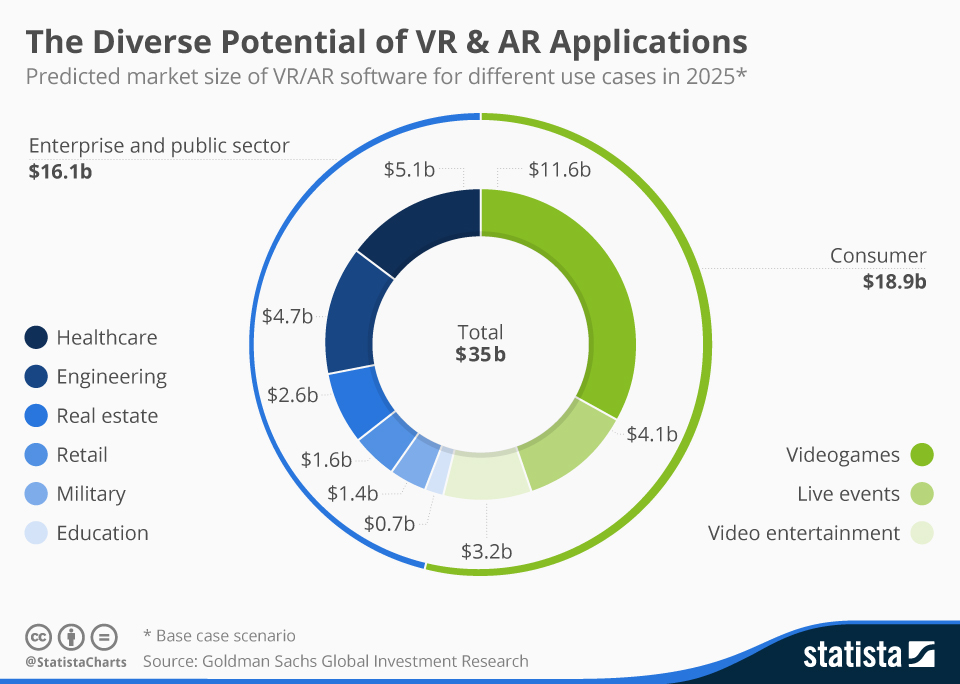 (Image: Statista)
5. Adaptable Market
Virtual reality is not limited to gaming, which is its most significant focus right now. Next-generation headsets will soon break into other markets such as video streaming and web browsing as well. There are also significant prospects for it in the health sector, allowing health professionals to conduct operations with precision and safety. As consumers look for cheaper ways to make their lives more convenient, VR could be a great way to change how we consume data.
Virtual reality is becoming more mainstream as developers realize that gaming is just the tip of the iceberg. New mobile VR hardware will power virtual reality experiences where users can see things in new and exciting ways. Apps like Facebook (FB) are already working on ways to incorporate 360-degree video into their chat app, which proves that virtual reality has the potential to change how consumers view content in a variety of verticals. Virtual reality is not just a fad; it's here to stay, and soon, people will wonder how they ever lived without it.
Why has virtual reality grown in popularity?
Virtual reality is a new technology that offers a whole new way of experiencing games, movies, and even social situations. It's about so much more than video games: it has the power to immerse you in an experience that you could never have before (without leaving your house). As more developers and consumers are looking for ways to leave the tedium of their reality behind, you'd be doing yourself a disservice to overlook VR stocks.
Virtual Reality (VR) is a technology that was once thought to be unreachable. However, it has recently become more commonplace with improvements in technology and great investments by industry titans. Here's a look at why VR has been so successful and what companies are leading the charge in developing new services for users.
1. It allows people to engage with information in ways they can't through other current technologies like tablets or smartphones.   
2. It lets you transcend reality without any physical danger or risk if done indoors (although going outside is an option). 
3. It is something completely new. People have some idea about what they are seeing but don't have any frame of reference for what they are looking at. With VR, users can interact with their surroundings in ways that aren't possible with other technologies. 
4. It touches on our primary senses and, therefore, makes it easier to build applications that leverage these senses to create a more immersive experience. For example, the sound is considered when creating 3D audio for the Oculus Rift (a popular VR headset).
5. Companies like Google (with Daydream) and Facebook (with Ingress) are making millions in revenue due to developing their own virtual reality platforms. 
6. Oculus Rift, PlayStation VR and HTC Vive have all become popular platforms used by the general public. With YouTube and Hulu getting in on the action, too, it's easier than ever to see how virtual reality is breaking into the mainstream. 
7. It is relatively easy to use the technology. Different versions for different platforms (gaming consoles, computers) allow users to enjoy VR without choosing between high quality and low cost.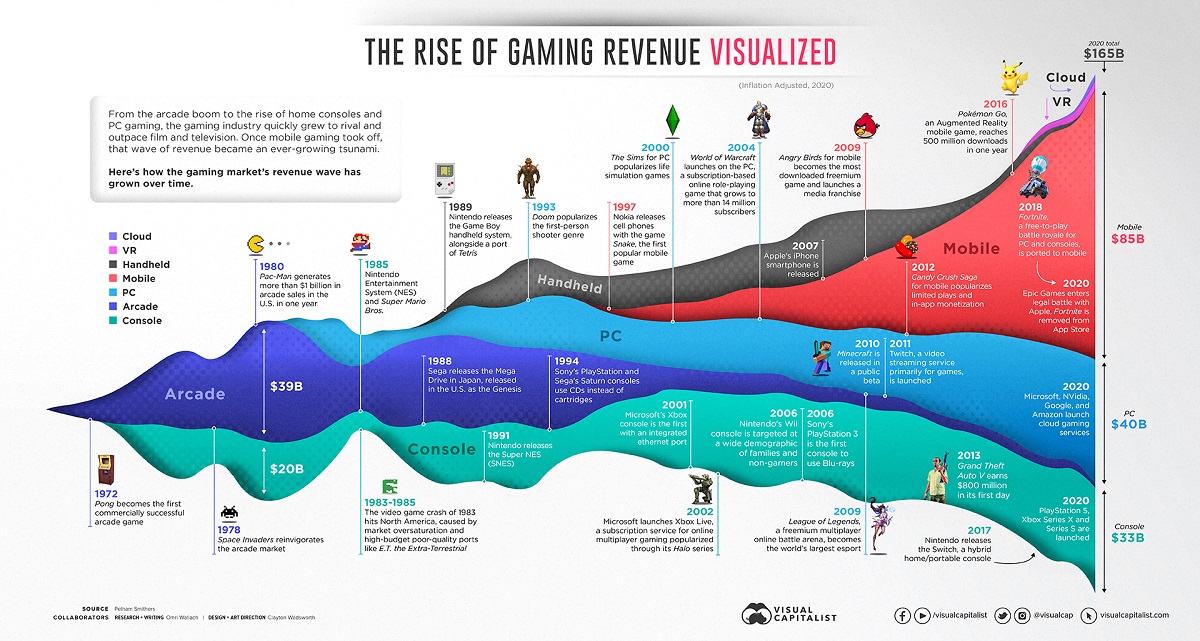 (Image: Visual Capitalist) 
8. It allows organizations to create experiences previously unavailable to individuals/customers which can be used for marketing purposes such as tourism or education.
9. Many people believe that VR will be a ubiquitous technology, and thus, its use will be widespread in the near future. 
Who are the best VR companies and stocks to invest in?
There are many different types of virtual reality startups vying to become leaders in this emerging industry. A big part of what determines which companies will remain on top is whether or not they're actually making money for their customers. VR is becoming mainstream, and companies are investing heavily into the technology in order to make sure they become market leaders.
The best virtual reality companies to invest in for 2021 include Wikitude, Inc., Daimler AG, Google LLC, Microsoft Corporation, MolonLab LTD., Disney Enterprises Inc., Sony Corporation, Oculus VR Holdings LLC and so on.
Each of these companies has risen the ranks with their own offerings that are poised for great success within a year or so. As such, investors now have an opportunity to capitalize on a promising future by investing early and highly before the steam starts to cool off with these big names and their newest technologies.
Google, Inc
It's no secret that Google is obsessed with technology and the cloud. However, with its vast array of technological innovations, Google has also proven that it will try to dominate the market by becoming a location-based virtual reality company through its own Google Cardboard VR headsets.
By creating an ecosystem where different technologies can exist and work together as one, Google has created an even stronger focus on location-based virtual reality experiences. This focus could become a huge moneymaker for investors with the potential to attract a large fan base and keep these consumers interested in continuing to purchase these products as they continue to expand even more within their offerings.
Wikitude, Inc
This is a mobile-based VR company that allows businesses to interact with their customers, enhance their brand, and market their products. With its mobile-based applications, Wikitude has found success in how it uses its platform to capture data that is then used in real-time on the spot.
With 3D mapping technology that agencies worldwide can use for everything from gaming to a location-based experience with augmented reality, Wikitude is a company to keep an eye on as this technology continues to push forward with more developments taking shape around the corner.
Microsoft Corporation
Microsoft is pushing forward with its HoloLens technology, and it's a big deal for those looking to get a virtual reality experience without wearing anything at all. However, while other products that require the use of headsets on the wearer may be more comfortable, it isn't quite immersive enough to replace what this product can deliver
This VR technology is one of the best virtual reality companies to invest in for 2021 because it is powerful, portable, and provides a unique experience that takes gaming and more to another level while providing users with entirely new ways to interact with their environment.
Vivint, Inc
This wireless provider has received a lot of attention recently with its push to deliver an omnichannel experience for customers and gain a stronger foothold within the home as a whole. With the introduction of virtual reality technology that can be used in homes, it is no surprise that this company continues to be an intriguing investment option that could be worth looking into as we head into 2021.
Oculus Rift
In 2014, Facebook CEO Mark Zuckerberg made headlines when he bought Oculus VR for $2 billion. He hoped to tap into the company's virtual reality headset technology, believing that it had massive potential for future use. The Oculus Rift is a groundbreaking device: it allows users to feel like they are in another location entirely. It uses 360-degree images and 3D surround sound, all while you've immersed in the experience, thanks to its ultra-fast refresh rate. This makes it an excellent choice for developers looking to create immersive games or apps.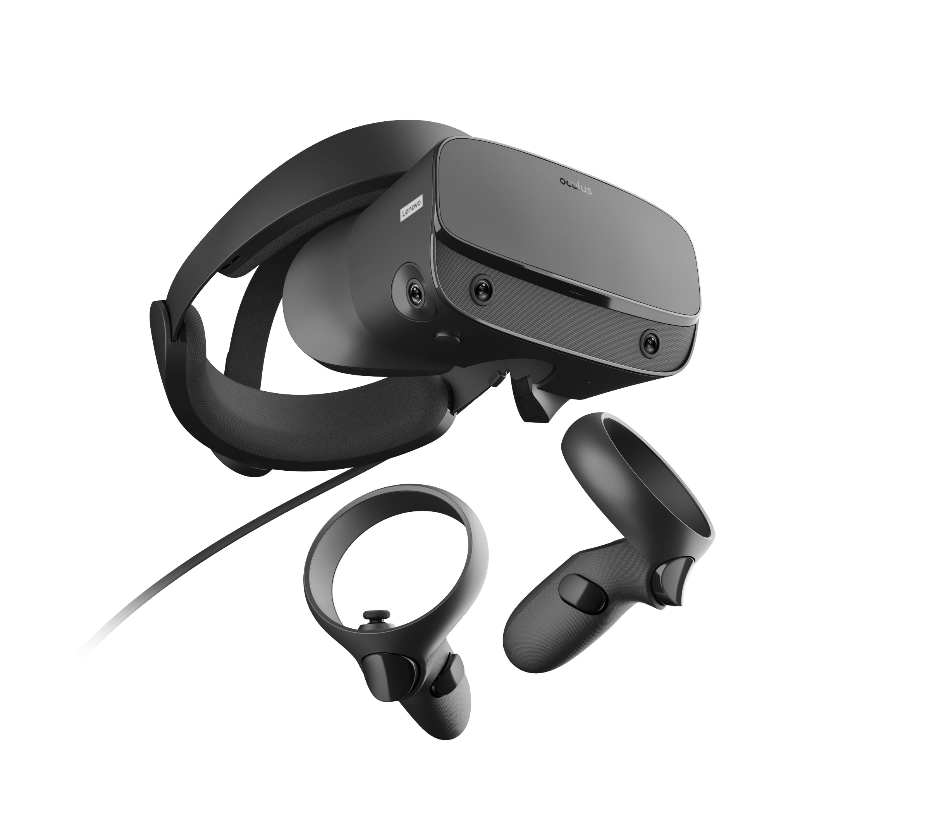 (Image: Oculus)
Wevr / TheWaveVR
Wevr is a startup with the goal of making virtual reality accessible to everyone. They are working on creating applications that can run on various VR devices, including the Oculus Rift and even Google Cardboard. One of the most innovative things that they have done is create social experiences for virtual reality: their app TheWaveVR allows users to connect in entirely new ways that are entirely impossible in real life. It's a great way to design live events while also transporting users into an altogether different world.
Jaunt VR
Jaunt is one of the top 360-degree video companies in the world. This allows consumers to experience events from anywhere they want, whether they're across the street or across the country. A few extraordinary experiences offered by Jaunt include President Obama's final State of the Union address and Cirque du Soleil. These companies have raised over $100 million so far, and many big-name celebrities have already used their technology.
Pristine Robot Productions Inc. / PrioVR
PrioVR is a startup that recently received a $2 million investment from Intel Capital for its augmented reality line of products. This includes a headset that works with both smartphones and tablets, allowing views to be displayed in such a way that they appear to be in the real world. They're also working on creating a low-cost VR solution for mobile devices, which is particularly important for the growing market of devices like smartphones and tablets.
Nvidia VR / Lucid Sight and Trimble DigiLens
Nvidia is one of the top innovators in virtual reality technology, contributing to the work of many companies like Oculus, HTC Vive and Samsung Gear VR. They recently partnered up with Lucid Sight (makers of augmented reality smartphone accessories) to create industrial-grade virtual reality headsets using their powerful graphics cards. Earlier this week, they also announced a partnership with Trimble – a company that makes the first augmented reality systems for mobile devices. This will allow their own augmented reality technology to be used in Trimble's new Map application. Combining these three companies means that the first augmented reality applications will be available for use on smartphones and tablets. Technically, these devices are just miniature versions of what we'll see in virtual reality headsets.
Samsung Electronics Co Ltd
Samsung is the largest supplier of smartphones in the world, and they are also looking into VR. They've already launched their own VR headset, called Gear VR; this device allows users to use their smartphones as controllers for VR applications. However, with Gear VR, you don't get all of the features or content that you would with Oculus Rift. This company has a lot of potential with VR, but it's still early in the game.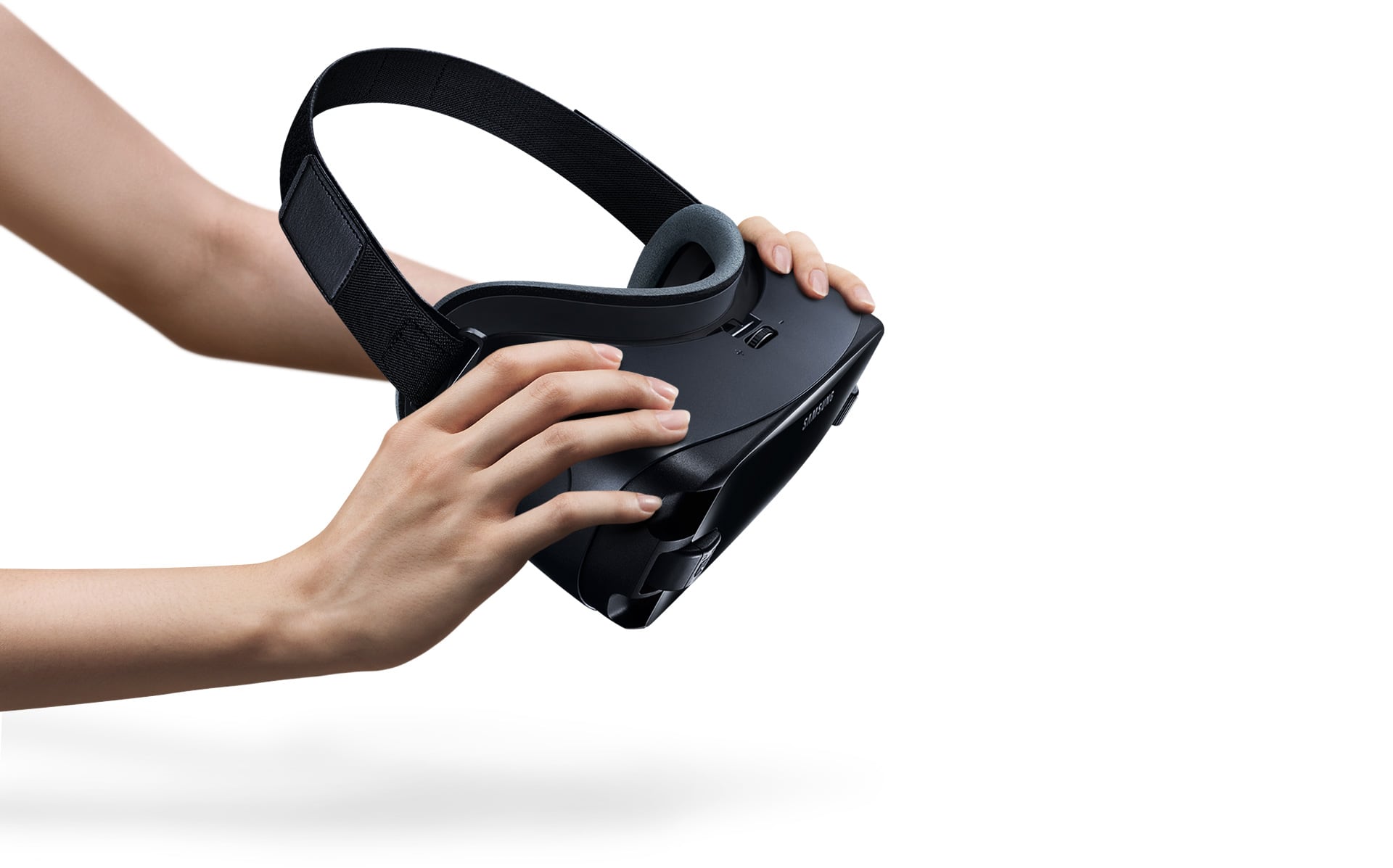 (Image: Samsung)
Sony Corporation
Sony has been doing VR for a long time, and their VR headset will allow users to play games, watch 3D movies, and even navigate the web. They've already sold over 30M units of this gadget! Sony also showed that they are willing to invest in VR by purchasing Soft Kinetic. This is proof that they want to be a solid player in the market for years to come.
Daimler AG
Consumers want more from their cars, and Daimler AG is paying attention to what they want as well. The company has already pushed forward with its new Mercedes-Benz intelligent vehicles that will soon allow consumers to use virtual reality technology in order to interact with fellow motorists while travelling down the road.
The hands-on steering wheel is no longer enough. As the automotive industry continues to embrace this technology, we should expect Daimler AG's offerings of new products for users in this industry to grow tremendously over time. This company is making massive moves into the automotive world, so it should be one of those investments that you consider going forward as we continue our march into 2021.
Disney Enterprises Inc
Disney has already made a lot of money from the gaming world, but this company continues to look for new ways to increase its footprint within the home. With the introduction of gaming platforms that utilize virtual reality technology, we should see this company continue to dominate this space.
The risks of investing
In the relatively new and controversial world of virtual reality, a technology that some believe heralds the impending end of human life as we know it and others see as a transformative media revolution. As a result, some are sceptical about VR investing.
And for a good reason. They cite the inherent risk since many early VR investors have seen their investments wiped out in short order and cast doubt on the technology's long-term viability. But while these risks exist for all technology, they're not necessarily insurmountable or even particularly unique to VR.
According to KPMG, the overall impact of VR is likely to be significant. Currently, according to Grand View Research the VR market size value is currently sitting at USD 21.83 billion with a Revenue forecast in 2028 of USD 69.60 billion, giving it a growth rate of 18.0% from 2021 to 2028  is And that's bigger than the population of the U.S.
In short, it's a big deal, but is it big enough to warrant investing in VR right now? The answer to that question depends on why you're going into this market—and how long you plan to stay.
Some early investors took a wait-and-see, hands-off approach, and that strategy looks to be paying off nicely for them. For example, those who invested in Oculus VR, a virtual reality company owned by Facebook Inc., back in March of 2014 when it sold to Facebook for $2 billion made a nice return on their investment.
However, investors who got in simultaneously are now staring at a paper loss of over 90 per cent, as the value of Oculus VR stock has plummeted to $160 million. The reason? Mass adoption has not exactly happened. The lukewarm response to the launch of Facebook's first consumer headset, the Oculus Rift, hasn't helped. 
The failure of Oculus VR has left many investors looking for new opportunities, for which there may be none. According to a recent Paying Attention survey, 73 per cent of respondents say they plan on buying a VR headset within the next year (not an investment). And only 10 per cent of respondents said they would be interested in investing in a VR startup.
This failure could also deter other companies from jumping into the market, creating an investment drought as it did for 3D television. However, the VR industry does have a few things going for it. First, a few industries have already embraced it, and the list of partners for Oculus VR is a testament to that.
For example, Mercedes-Benz recently announced plans to offer VR experiences for both its personal and business customers through the ARKIT app. And with the success of Facebook's standalone headset, HTC Vive, Sony's PlayStation VR and Samsung's Gear VR/Facebook-owned Oculus Go/Daydream View/Cardboard, the market could be primed for growth.
The VR industry is big enough to support investment, but only for those who can see the future. The revenue potential of apps, games and movies is growing exponentially, and the market is still in its infancy.
Part of the reason investors are so hesitant to get involved now is that there's a lot of misinformation out there. Oculus VR was one of the first companies to offer consumer virtual reality, but it was not without some issues. For example, the Oculus Rift headset has been susceptible to motion sickness and nausea, which is why the company started testing a new Zero-G design. PlayStation VR, which was launched in 2016, has also been a target for some people who complained about the limited movement of the headset.
But with all of these issues in mind, there's still plenty of opportunities. With nearly everyone building their own VR headsets, there are plenty of options and reasons for investment. At this point in time, there are more opportunities to invest in virtual reality than ever before. Many different companies are investing in VR, and it's no longer just for the top tech companies. That being said, the timing is right if you're looking for something to invest in.
It's interesting to see how this technology has developed over the last few years, and its implementation in an array of areas and industries is proving to be successful. For example, we have seen applications for virtual reality in education, training, entertainment and many other domains.
The VR world is still very new in the investment realm. However, many companies are looking to invest in this industry and find projects that fit their criteria – the first being always to have vast market potential.
It would be best if you took your time in order to find the right VR opportunity for you, as there are more options than one would think. And before you dive in, it helps to reflect on this. With nearly everyone building their own VR headsets, there are plenty of opportunities and reasons for investment.
With Facebook's standalone VR headset Oculus Go being the most recent big idea, we might be on the cusp of a new era where virtual reality becomes even more mainstream than it is today. And if you're betting on the future, now might be the best time to start.