Airfreight forwarders are in for another busy year. In the wake of a 2021 shipping surge that saw an 18.7% increase in air freight forwarding demand, 2022 is expected to be no different. 
As e-commerce expansion, a spike in global trading patterns and post-Covid digitalisation call on the industry to streamline their services, air cargo carriers continue to adopt new digital practices in order to address new demands.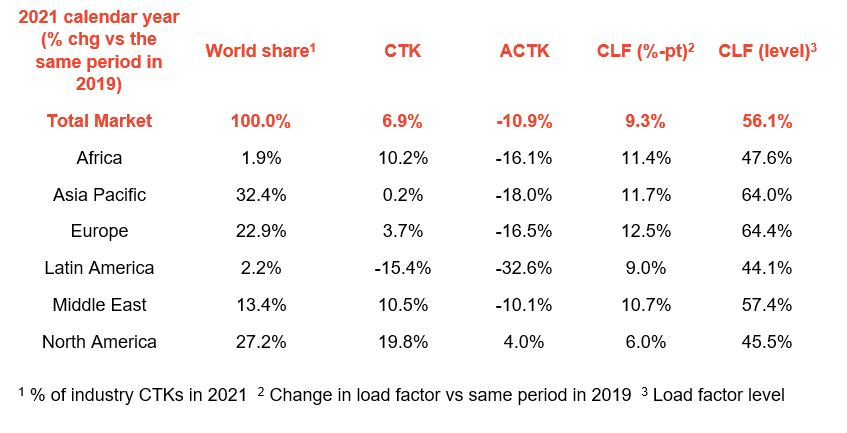 (Image Source: IATA)
As you can see above, North America and Asia Pacific remain the strongest performers on the back of 2021, after North Marica reported a staggering 20% increase in demand since 2019.
Speaking on behalf of the International Air Transport Association, Director General, Willie Walsh described 2021's air cargo performance as 'stellar', suggesting that 2022 was also on track to see significant industry growth.
"Air cargo had a stellar year in 2021. For many airlines, it provided a vital source of revenue as passenger demand remained in the doldrums due to COVID-19 travel restrictions. Growth opportunities, however, were lost due to the pressures of labour shortages and constraints across the logistics system. Overall, economic conditions do point towards a strong 2022," he commented in a recent IATA statement.
Stepping into the future of the air cargo industry, demand surges seem to both be driving the industry's success while also remaining the root cause of current air freight challenges.
From supply chain issues to a lack of labour and storage capacity, the air cargo industry's only hope lies within full-scale digitalisation. In order to expand in line with the e-commerce sector and an increasingly tech-savvy consumer demographic, popular air freight forwarders need to be on board with immersive aids, AI automation and blockchain-based efficiency if they want to see success.
Read on as we explore the future of digitalisation within the air cargo industry and discuss the freight forwarders dipping their toes into an automated future.
Exploring Post-Pandemic Air Freight Trends
It's no secret that the pandemic has presented a number of challenges for the air cargo industry. Within the last two years, air freight forwarders have seen passenger numbers drop, global shipping demands rise and a new push for a sustainable future on the back of COP26.
Currently, over 7.4 billion parcels are flown across the globe each year. On the back of Covid-19's digital shift, large cargo companies have begun to streamline their services in response.
Let's delve into some of the air freight trends dominating the sector in 2022 and dive into the effects of the pandemic on the industry's future.
Cargo Going Green
One of the most influential trends we see moving into 2022 is the air cargo industry's call for sustainability. With more cargo carriers than ever before striving to improve their CO2 emissions, air freight forwarders are beginning to introduce sustainable fuel alternatives, carbon offsetting programmes and electric transport into their business strategy.
Currently, the aviation sector is one of the leading sources of CO2 pollution. In response to a 32% increase in aircraft based emissions since 2013, environmental experts have deemed traditional flying methods as unsustainable in a post-covid landscape.
On the back of 2021's COP26 meeting that brought world leaders together to discuss the future of global climate change, the aviation industry is just one of many unsustainable sectors that have promised to go green before 2050.
Working in line with COP's net-zero promise, over 60% of air freight giants have agreed to introduce sustainability programmes within their practices as the globe moves towards an emission-free future.
"From our roads to the skies, the transition to zero-emission transport has reached a tipping point," claims Grant Shapps, the UK's current Transport Secretary. "We know that transport plays a key role in saving the planet from warming above 1.5 degrees C, which is why this is the COP that will kick start our ambition for zero-emission aviation and why I'm proud to be uniting world leaders to tackle climate change-creating new opportunities for clean growth, green jobs, and improved air quality right across the globe."
North American freight giants such as FedEx and UPS are also on board to cut carbon emissions, on the back of the government's 2030 plan. Aiming to produce up to 3 billion gallons of sustainable fuel alternatives by 2030, the US is tipped to cut down aviation-based emissions by 20% in less than a decade.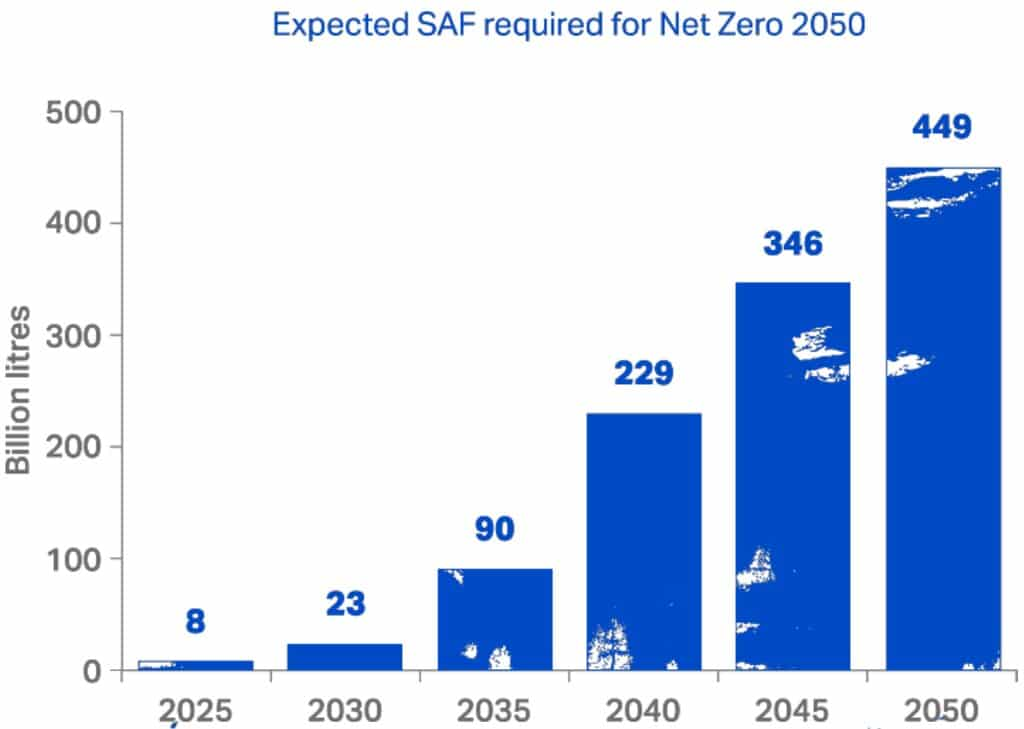 (Image Source: Earth.org)
In fact, some air freight forwarders have already taken the sustainable plunge, after popular freight carriers, Lufthansa Cargo and DB Schenker ran their first 100% carbon neutral flight in Q4 of 2021.
The sustainably fueled Boeing 777F jet has since continued to set the tone for future freight forwarding trends as more air cargo carriers jump on board.
A Push For Digitalisation
According to a recent report by McKinsey, in Q2 of 2020 alone, the e-commerce industry surpassed the growth previously forecasted within the next decade. 
In response, air cargo carriers have seen their demand skyrocket as Covid-19's push for digitalisation has positioned cross-border commerce within the mainstream.
In an attempt to address cargo capacity challenges, freight forwarding giants are investing in ad-hoc charter partnerships and widespread technological innovation in order to keep in line with the e-commerce industry. 
"E-commerce is digital by nature," claims IATA's Head of E-Commerce and Cargo Operations, Brendan Sullivan. "Air cargo must match that and more. We need multimodal digital interoperability."
As cargo carriers rush to meet the demands of e-commerce expansion, 2022 could be the year that logistics go digital according to Sullivan.
"Airlines appreciate the impact cargo is having on the bottom line," he explains. "I think airline CEOs and CFOs will make money available for digitization projects because the return on investment looks promising."
In fact, global spending on digitalisation within the sector continues to grow. Forecasted to reach $75.5 billion in 2026, air freight forwarders are beginning to invest in immersive aids for supply chain efficiency and AI-powered digital tracking systems that aim to streamline the tracking process.
The Consequences Of Inflation
2022 has also seen a rise in global inflation across a wide number of leading industries. Including the air cargo sector. 
In fact, new statistics from the BAI suggest that 2022 could be the most expensive year yet in terms of freight forwarding costs on the back of Covid-19 recovery, Brexit and the Ukraine/Russia war.
FedEx alone has increased their freight rates by 5.9% in the last 6 months in order to account for capacity demands and a new challenging import and export environment. 
These costs will fall at the consumer's door and may keep rising as capacity demands increase, and Ukraine/Russian air space restrictions continue to have a knock-on effect on the air freight market.
New insights from The LoadStar warn that customers need to be prepared for a rocky freight price future as air-based freight forwarders are tipped to see the most impact from inflation in comparison to land and sea-based competitors.
"Customers need to be mentally prepared that their rates are not going to be valid for the long term. They have to plan space and rates issues, aware that the market will keep on changing. Sea freight may not vary much, but air freight is going to create havoc. The only chance of improvement is if all passenger flights return to normal," they stated in a recent article.
The Future Of Air Freight Forwarding
Airfreight forwarding is in a transitional stage. As the globe continues to welcome new post-pandemic trends, freight forwarders are still adapting to meed new consumer, supply chain and sustainability demands that proceed to dominate the sector's transformation.
New data from Mckinsey anticipates that air-freight volumes will continue to increase on an average of 3% per year until 2025. As the nature of air cargo forwarding evolves, forwarders need to improve both traceability, transparency and turnaround if they want to compete against the giants dominating the skies.
IATA has revealed that the future of air freight forwarding needs to be "smart, balanced, and data-driven". Automation within the industry is a must as speed and efficiency come under the spotlight. Modern e-commerce consumers now require a 72-hour turnaround, which has become impossible without the implementation of machine learning, automated supply chains and greater use of freighter planes to match turnover demands.
On the topic of freighters, experts suggest that wide-body freighters could play a significant role in the future of the air cargo industry. Generating around 40% of the sector's annual revenue, air freight trends of the future could see passenger aircrafts becoming redundant during the cargo shipping process, and freighter charters taking the lead.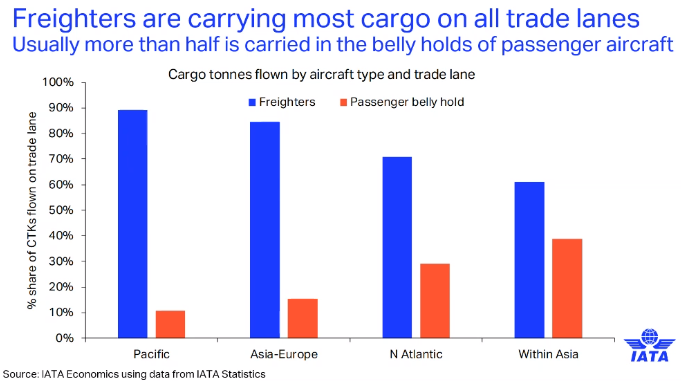 (Image Source: IATA)
As we jump into a digitalised future, read on to find out why the implementation of technology within the sector could be the saving grace air freight forwarders are looking for.
Could Technology Revolutionise The Sector?
Technology continues to revolutionise the future of the air cargo sector for a number of reasons. From improving supply chain efficiency and aircraft maintenance to addressing increased consumer demand, introducing technological aids into the industry has been a lifesaver for freight forwarders post-pandemic.
"Everyone is demanding more of logistics providers, especially with regard to the speed and frequency of deliveries," Claims Amanda King, VP of connectivity hardware at Honeywell Connected Enterprise. "As a result, air cargo companies are expected to deliver packages faster and with more accuracy while keeping costs to a new competitive low."
In response, popular freight giants have now introduced digitalised business models to their strategy, in order to compete with new tech-savvy start-ups. 
In fact, 60% of freight forwarders now offer their consumers an online registration process, digitalised tracking and the ability to manage their shipments from the comfort of their smartphone.
Better still, the air cargo industry's path towards paperless shipping has been defined by IATA as "the smart data sharing of the future" as freight forwarders strive to go green.
Providing an efficient, cost-effective, environmentally friendly solution to the shipping process, widespread digitalisation has made air freight forwarders more attractive to their customers while also reducing the risk of human-based errors.
Let's have a closer look at some of the specific digital aids innovating the industry of tomorrow.
Exploring The Augmented Reality Market
Augmented reality is tipped to play a significant role in the digital transformation of the air cargo industry. 
Experts predict that the immersive technology market that is currently growing at a rate of 31% CAGR could improve supply chain efficiency, warehouse training and speed up the shipping process.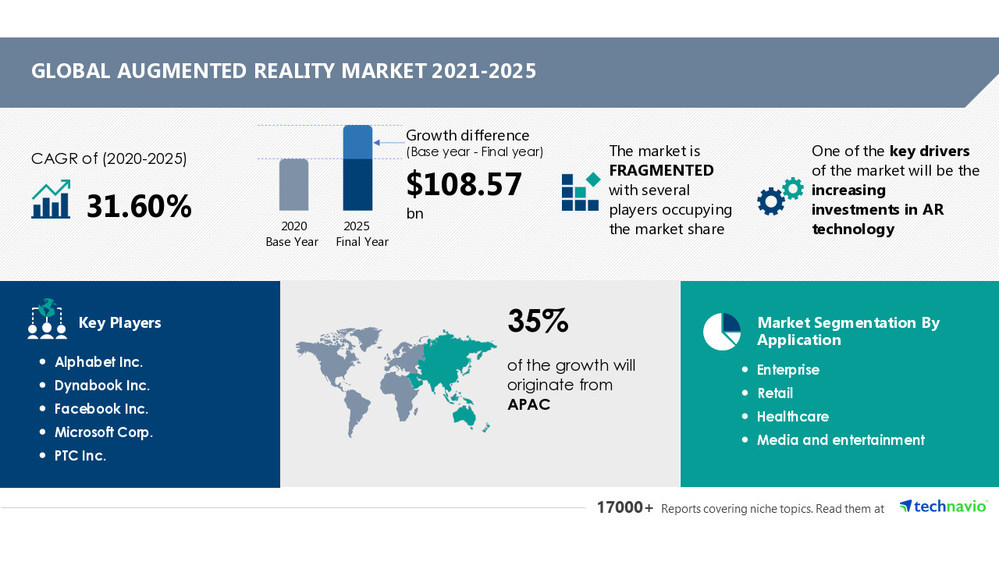 (Image Source: PR Newswire)
Defined by Gartner as the "real-time use of information in the form of text, graphics, audio and other virtual enhancements integrated with real-world objects," augmented reality uses digital layering to enhance a number of supply chain tasks.
Differing from its virtual reality counterpart that aims to fully immerse a user within a 3D environment, augmented reality simply enhances what we already see in an effort to improve human productivity and efficiency within the workplace.
As supply chain demands increase, so does the need for augmented reality. From optimising warehouse operations by displaying real-time machine-based guidance to streamlining pallet build-up operations that speed up the loading time, AR implementation is the key to an efficient future for freight forwarders.
Smart Glasses
One of the key AR-based technologies that have been implemented within the industry is the use of smart glasses in logistics.
Did you know that 60% of warehouse operation costs are directly allocated to picking and locationing? Experts believe that the implementation of AR technology can cut these costs down by a quarter.
Pickers can use AR-powered smart glasses to digitalise warehouse operations. For example, utilising the benefits of virtual overlaying technology, pickers are able to use smart glasses to identify cargo and navigate the warehouse floor. Better still, smart glasses can automate barcode scanning, entering data automatically into the WMS software without human intervention. Tightening quality control and reducing human error, smart glasses speed up the picking process and streamline the supply chain as a whole.
In fact, the popular freight forwarding company, DHL recently tested the effectiveness of smart picking, after equipping their workers with smart glasses that displayed picking records in their field of vision.
Results showed that picking productivity improved by 15% and the number of mistakes fell by a further 40% when smart glasses were put to the test.
Immersive Training
DHL's smart glasses study also showed that training time within the sector decreased by 50% once a form of immersive technology was introduced to the training process.
As the demands for an increase in the uptake of logistics workers render staff training a regular occurrence for freight forwarding companies, immersive technology could be a game-changer for onboarding efficiency.
Utilising the benefits of virtual reality, hiring managers can transport potential hires into a 3D simulation of their role, where they are required to virtually complete tasks and address potential scenarios they could face on the job. This further improves the interviewing process and narrows down potential candidates effectively.
Better still, the use of VR and AR applications within the onboarding process also cuts down the amount of human intervention needed when training new workers. Using the power of smart glasses and mixed reality headsets, new staff members can learn on the go, as digital layering enhancements explain and demonstrate the task at hand in real-time.
Cargo Loading
Another industry operation that benefits from the implementation of immersive technology is cargo loading. From land to sea to air freight, cargo loading continues to take time, effort and precision in order to ensure safety and efficiency during shipping.
However, as consumer demand increases and global trade expands post-pandemic, cargo loaders are struggling to address loading volumes and an influx in cargo transportation.
Cargo loaders need to be constantly thinking about content, size, weight and urgency when engaging in the stacking procedure. AR implementation strives to digitalise this process and automate the loading chain.
Cargo loaders with AR-based aids receive parcel-based data in real-time that would instruct them on what cargo needs to be taken immediately, and where to stack each parcel within the vehicle for ultimate transportation efficiency.
Better still, research on 3D depth sensors is further improving AR technology so that logistics teams can determine load volumes and identify hidden damages that are not visible to the human eye using a visually intelligent aid.
Meet The Freight Forwarders Embracing Immersive Technology
While a full-scale immersive adoption within the air cargo industry is still a few years away, many freight forwarding giants are jumping ahead of the trend and investing in AR/VR based software in order to streamline their logistics strategy.
From an influx in mixed reality-based training to smart picking programs, let's meet a few of the air freight forwarders pathing the way for supply chain digitalisation.
Lufthansa Cargo's AR Training Initiative
A large majority of warehouse workers are currently learning the logistics trade using paper-based manuals as staff members continue to be rushed off of their feet in a new demand crisis.
In response, Lufthansa Cargo has reported that on average, over 30% of their logistics trainees are failing introductory aptitude tests due to a lack of physical training within the warehouse. 
In order to improve the trainee skill set and streamline the onboarding process, Lufthansa invested in the Microsoft HoloLens glasses in 2019 in an attempt to digitise training efforts ad improve employee retention.
The HoloLens technology is able to project a holographic pallet and vehicle within a classroom setting that is guided by a trainer, which new employees can learn in a physical, immersive form.
In fact, Brian Parzer, Lufthansa Cargo's Training Product Manager claims that the introduction of immersive technology has since improved logistics training, sped up the onboarding process and in turn addressed warehouse capacity demands quickly and efficiently.
"Through the AR training, we were able to significantly increase the success. The failure rate was reduced from 36 to 7 per cent," he commented.
Kuehne+Nagel's Robotic Process Automation
Kuehne+Nagel has also embraced the powers of AR within its logistics strategy. Introducing a new concept called Robotic Process Automation, the Swiss air freight forwarding company is using these AR-powered 'bots' to automate simple processes that save workers time and effort.
"These 'bots' can read and interpret emails and other instructions and can act accordingly, leading to time savings and utilising our staff in more value-added activities," claims senior VP and head of aerospace industrials, Erik Goedhart.
Utilising immersive aids to complete simple, yet vital tasks have provided Kuehne+Nagel with the opportunity to allow more time for staff training while improving its position within the marketplace.
DHL's Vision Picking Programme
The German logistics forwarder, DHL is using both VR and AR within their logistics strategy to improve their picking process post-pandemic.
Deploying a new user-friendly AR infused headset, their Vision Picking Programme has provided a hands-free solution to the picking process. Smart glasses are able to offer visual support to employees and aid them in locating and shelving products in a timely manner for dispatch.
DHL claims that their vision picking glasses are voice commanded and can automatically scan a product with a simple tap of the glass. This not only improves picking accuracy but speeds up the feedback to the WMS software.
"On behalf of our customers, we monitor the increase in efficiency in great detail for each area of application," commented a DHL spokesman. "A decisive added value of the data glasses is the direct confirmation of a picked item in the system. 
While the smart glasses are only the start of a future of digital transformation within logistics, DHL beehive that a full-scale technological revolution in the sector is vital if they are to compete with increased consumer demand.