The demand for the air cargo industry is more heavily relied upon than ever before. Being able to simply order any item and for it to be delivered on your doorstep has made e-commerce more accessible than ever before. Not only are consumer goods reliant on air cargo, but commercial and emergency deliveries are reliant on the advantages that air cargo has to offer. Air cargo providers use commercial and large jumbo aircraft to carry goods. This results in the delivery and tracking of a range of products and has become an even more prominent delivery tool in the last decade alone. 
Although there is an array of positives when it comes to air cargo, even as consumers, we see the efficiency with which we can have things delivered to us, there are unseen challenges and hurdles that the air cargo industry has to face and overcome. From environmental concerns to navigating the increased demand for air cargo, the industry is working on finding solutions to this. 
What is Air Cargo?
Air cargo refers to products that are moved and imported on a commercial air carrier or charter. Typically used by a range of logistics companies, air shipping is used to import and export products in bulk for both individuals and organisations. Airfreight and air cargo forwarding companies facilitate the use of airfreight and are essentially the middle organiser when getting the goods from one location to another. There are many commercial airlines that are used for air shipping, including British Airways PLC and West Atlantic PLC, AMC airlines, and AirACT.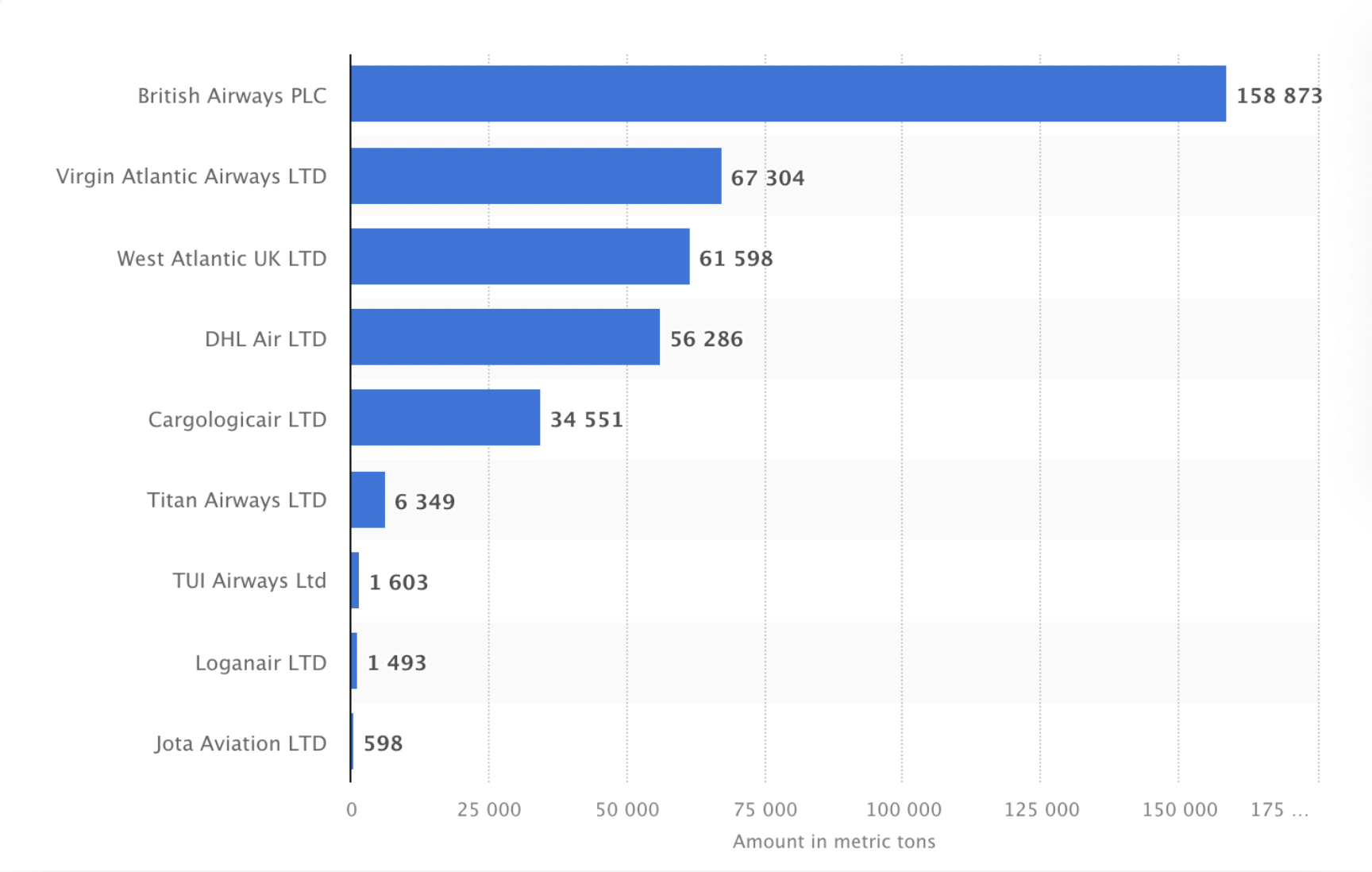 (Image Source: Statista)
The terms airfreight and air cargo are often used interchangeably and can be used to move various types of goods. There are, typically speaking, two types of air cargo and airfreight: General Cargo and Special Cargo. 
General Cargo is a type of cargo that refers to goods that can be transported individually and in one piece. The piece can refer to a pallet, package, barrel or even a box. This can be transported as individual items, or when these pallets or packages are put together and combined to make larger units, it is referred to as group airfreight. The transportation of general cargo does not require or need any type of special handling as this type of cargo travels relatively easily.  
Special Cargo, on the other hand, must be more regulated as the goods themselves have required conditions in which they have to be transported. These types of special conditions can include temperature controls, air conditions and even special cases for the items themselves. The special handling of these types of products means that they still have to be transported within airline and charter regulations, these regulations include IATA regulations.
Special Cargo can include perishable goods (such as meat and vegetables), human remains, (which can be cremated or non cremated), human organs (these include live organs, such as the kidney or liver) and diplomatic pouch (shipment items of a diplomatic nature). 
Special Cargo can also consist of high-value items or deemed high-value cargo. This includes items and products such as pharmaceuticals, electronics and jewellery. Air Shipping can provide a fast and guarded service when choosing to transport goods such as these.
There is a third category of goods, which is not often considered to be transported by air as they are deemed dangerous, but still must be delivered. Dangerous goods are items that could cause damage to the environment and human if something was to go wrong with them on board. Examples of dangerous goods include explosive goods (such as gunpowder and bullets), gases (such as butane or propane) and toxic or infectious substances (such as poisons and live viruses or bacteria).
What is the process of using Air Cargo?
In order to get goods accepted and validated for being shipped by air, there are requirements that must be fulfilled to allow this to happen. In accordance with the IATA regulations, several things are needed in order to pass the terms for air cargo.
1. Air Way Bill. An Air Way Bill is a piece of documentation that provides all the information about a set of goods when being transported by air. This stays with the goods and can allow for a unit to be tracked.
2. Documentation. There are certain documents that are required for each shipment and having any goods specific documents or generally accompanying documents is important. Having the paperwork in order is a must for successful cargo transportation.
3. Marking of the Package. The contents of each shipment must be marked correctly and show an address that is clearly outlined and labelled. Checking that the way you mark your package will be important to streamline the air cargo process as much as possible.
4. Packing. The goods and contents of a shipment must be packed properly and in accordance with the regulations of the particular charter that the cargo will be transported. Any transportation of potentially special or dangerous goods needs to be thoroughly checked as they require specific ways of being packed and run parallel to the airline's guidelines.
5. Labelling of the Package. Labelling of the package is important as it outlines any important information about the goods themselves. The labels must be completely visible and mark the dates that the shipment was labelled. This is different to marking of the package as it is more about the goods themselves than the transit.
6. Shipper Declaration for Dangerous Goods. Although dangerous goods are typically not allowed on all commercial air cargo planes, there are times when these goods must be delivered via air. This means that the regulations around this type of goods are much more enforced and strict than with general cargo. A document must be signed to declare that the dangerous goods have been packaged correctly and adhere to the IATA Dangerous Goods Regulations.
7. Shipper Certification for Live Animals. This is a document that must be signed declaring that any livestock that is transported by air, must adhere to airline regulations and will ensure they are received correctly when they are delivered to their designated destination.
The Advantages of Air Cargo
The constant evolution of technology around us extends to the very nature of engineering. 
This runs parallel to the way that goods are transported by air. The processes that are implemented for us to receive goods in the most efficient way than ever before, means that the wait times between placing an order (for both individuals and businesses) has significantly decreased. Air cargo itself provides a streamlined way of transporting goods and offers direct delivery, flexible pricing and accessibility as a method of trade. The way that space in aircraft is being utilised means that many of the concerns that are surrounding air cargo and airfreight are in the works to be solved.   
One of the primary advantages of air cargo, particularly when it comes to international trade, is the speed at which goods can be delivered. It is the fastest shipping method. Indeed, for the speed at which goods are being transported, you get an array of other advantages which may not normally cross your mind when thinking about air cargo. Another advantage of opting to use air cargo is the low insurance premiums which may save some cost compared to other methods of transport. 
Furthermore, the boundaries of where cargo is able to go are pretty much endless as airfreight offers the prospect of being able to send your goods anywhere and sometimes even the most remote of places. Paired with the openness of shipping goods by air, there is typically less packaging required for general cargo as with other methods of shipping. Opting for air cargo ensures that the transit times and packaging options are quicker and lighter respectively. 
The tracking and labelling processes of air cargo means that goods can be tracked easily and therefore customers can track down their goods easily and get updated on the status of their cargo. Most companies have the means to keep you updated on the whereabouts of your cargo, which means keeping track of the other things that rely on the delivery of goods is easier than ever before.
The Biggest Hurdles and Challenges of Air Cargo
It is no secret that there are an array of advantages when it comes to the use of air cargo, but there are challenges and hurdles also. The way that the demand for air cargo has significantly increased over the years, the use of this method of shipping contributes to an array of disadvantages that should also be considered when opting for this method of shipping. The pandemic alone has shown the prominence of air shipping and how reliant consumers are on receiving goods quickly. The use of air cargo for medical emergencies is also one that has made the most out of air cargo and air shipping and has contributed to the increase in demand for cargo charters. 
The need for more aircraft capacity for cargo has meant that the demand for space has increased, but the pandemic did mean that the space that would typically be used for commercial passengers use was freed up and available for use. Although travel regulations themselves have become less strict, there is still less travelling being done by air post-pandemic.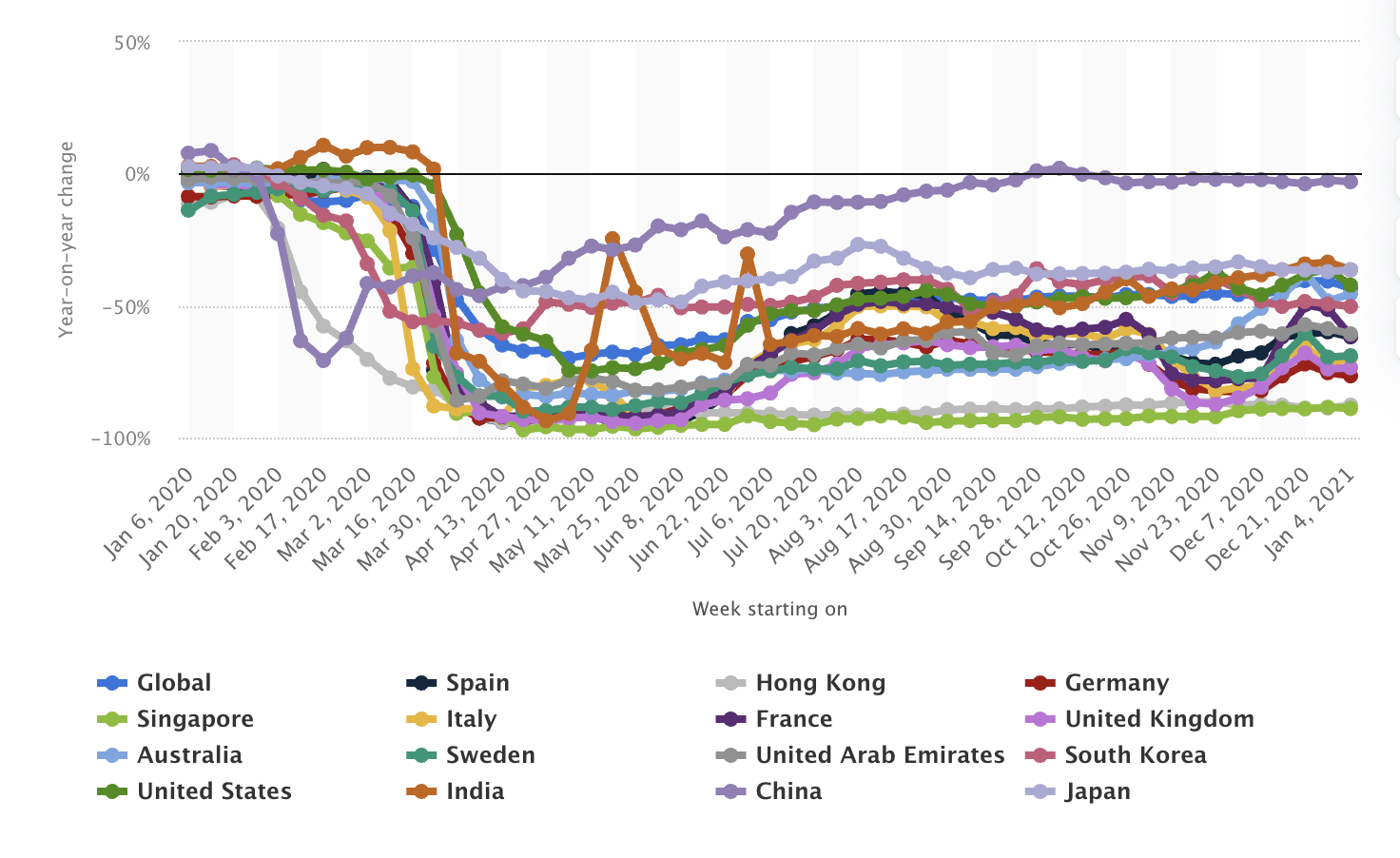 (Image showing the impact of covid on air travel. Image Source: Statista) 
Indeed, there is more freed up space that can be used, however, this in itself poses its own set of challenges. This space is often designated for passenger-cargo and not general cargo, so the features of the charter may not be accommodating to the needs. For example, the doors of the charter may not be big enough to load bigger cargo pallets and boxes. The use of a passenger aircraft for all-cargo flights became a solution that was used to overcome this hurdle and was granted by the civil aviation authorities. Because the demand for passenger planes used by actual passengers had significantly decreased, the use of the cargo space within them made sense. 
Digitalisation
The world of technology and automation has indeed been something that has become more developed and relied upon in the last decade alone and this is something that the air cargo industry has to embrace. The power of data and modernisation of certain processes allows them to be streamlined and transparent and the need for this in the shipping industry has become more and more apparent. Implementing digitalisation has been a challenge for the air cargo industry as there has to be the implementation of digital software in the various different stages. This can be a lengthy process initially.  
Implementing digital plans will allow the process of documentation and tracking to be streamlined even further when choosing to import or export goods via plane. In accordance with EY, the pandemic brought to light the weaknesses in how goods are imported and exported and the solution for these problems lies in digitalisation.
The documentation required to transport goods via air shipping in the first instance is extensive, so by automating as many processes as possible (even in the supply chain side of things) goods can be imported faster and in a scalable manner. By digitising the chain of supply there is an added ease of flexibility for consumers and people wanting to use air shipping. From inventory build-up to quality checking to the initial documentation for cargo, these are just a few of the things that can streamline air shipping and ensure more ease when choosing this method of shipping as they can be digitised.
The Concerns Surrounding Sustainability
It is no surprise that the increased demand of using air shipping has raised concerns about the impact that this will have on the environment. Currently, air emissions contribute to 15% of the excessive global warming temperatures. According to IATA, the air cargo and air shipping industry are committed to reducing their net emissions by 50% by 2050.  This is a big commitment for the air industry to make as this is directly addressing one of the biggest hurdles and challenges within the air shipping industry today. 
The contribution of emissions when it comes to air cargo is primarily attributed to fossil fuels and the reliance on using them. A lawyer for ClientEarth, John White said: "We need to reduce reliance on fossil fuels, but instead of leading a low-carbon transition these companies are putting out advertising which distracts the public and launders their image. Our research shows these adverts are misrepresenting the true nature of companies' businesses, of their contribution to climate change, and of their transition plans."
By utilising planes that are already in use and reducing the packaging that is used for the goods themselves, all these steps are contributing to the issues and concerns surrounding sustainability when it comes to air cargo. Establishing and navigating long term strategies is what is going to help within the air shipping sector and industry. Making the air freight industry a greener industry, regulations have been put in place to contribute to the goal to reduce carbon emissions overall with this method of importing and exporting. 
Safety and Security
Protecting the supply chain and goods as they are being loaded when it comes to air cargo is a challenge that is faced. The safety of employees and workers is crucial to keep the air shipping industry progressing in a positive manner. 
Alongside keeping employee welfare and safety in mind, regulating those that use the service is also important. Enforcing stricter and more thorough checking can contribute to the reduction of people exploiting regulation and exporting and importing goods that are not aligned with the rules. Working with the government will help to tackle this issue and take appropriate action against those who seek to evade regulations. 
Fraudulent behaviour and actions are often facilitated by the incorrect use of air cargo and air charters. These types of crimes can include the counterfeit, illegal sale of authentic vaccines and even fake pharmaceuticals. With the increase of the coronavirus vaccination distribution and the demand for it being global, there is scope for illegality to happen within this world, so ensuring that there are tighter regulations surrounding this is key to overcoming this hurdle. The safety of the staff who are regulating this cargo and not potentially knowing is dangerous for the security of employees.  
Diversifying the industry
The air cargo industry is currently working on initiatives to diversify its workforce as it is currently dominated by male workers. Alongside the change in legislation for women in work, the social bias that is had about women in leadership roles is also a hurdle. The way that women are perceived in positions of management has been a big hurdle that is slowly being broken down by women in the industry. Companies such as Women in Aviation and Logistics Pledge are helping to facilitate this and encourage a more diverse workforce. The aviation industry has pledged to increase the number of women in positions of seniority and in the decision making chairs. The lack of diversity in the workforce, particularly when it comes to managerial roles is most certainly a hurdle that the airline industry has to tackle.
Regrading air cargo in particular, Céline Hourcade, founder and managing director of Change Horizon, commented: "Although the debate on improving gender balance in air cargo has been going on for many years now, there are still too few women in decision-making roles, speaking at, or even attending, industry events
"We have outstanding female professionals in this industry and their distinct expert voices must be elevated through gender parity."
A range of airline companies have collaborated with IATA to ensure that the number of women they have in senior positions will increase by 25% by 2025. That also extends to roles in underrepresented jobs within aviation, such as pilots and operational roles. Lufthansa Group is just one of these airlines that aims to increase the representation in senior management positions. This also applies to diversity outside of gender and includes representation in the workforce of an array of different backgrounds. Also supporting this change in workforce diversity is the Women's International Shipping and Trading Association (WISTA) as they aim to extend this diversity within the logistical side of aviation which, of course, includes air cargo. 
The President and CEO, Craig Jasienski, of Wallenius Wilhelmsen, said:
"To build a sustainable future of shipping and logistics, we need to bring together diverse views, experiences and perspectives in a workplace where everyone can thrive. I hope to see many more men join me as members of WISTA, to join the conversation and together build a truly inclusive industry."
Liberal and Fair Trade Policy
Ensuring there is a diversity of perspectives when it comes to the trading policy will help continue the growth of the economy when it comes to air cargo. By implementing fair and liberal trade policies can globally help the air cargo and airfreight industry.  
By ensuring that air cargo companies and providers liaise with each other, fairness within trading can be established and ensure that the global economy is affected in a positive way. The range of policies across different countries means that certain regulations are easily loopholed which contributes to the challenges and hurdles regarding security and safety. 
Securing global agreement ensures that the air cargo industry will be a fair place to work and operate moving forward. Market demands and needs can still be met whilst meeting regulations and ensuring safe working practices. From the positions of seniority to operational workers, regulations surrounding air shipping must be maintained and will ensure that the trading agreements stay fair and contribute to the global economy in a positive way.
As the air cargo industry is becoming more and more relied upon, the use of air shipping as a go-to method of import and export comes with its own set of hurdles and challenges. Although there are many advantages to air cargo, the downsides and hurdles are still ones that the industry is working on solutions for. From diversity in the workplace and the safety of personnel to sustainability and policies, there are solutions that are being implemented to overcome these hurdles.