The future of air cargo lies in the hands of digitalisation. In the wake of Covid-19's push for a global digital shift, the world has quickly moved online. From remote working to retail, technology is continuing to revolutionise traditional practices, and air cargo is no exception.
As an industry that largely relies on the movement of goods across the globe, it's no surprise that air freight stats have soared in regards to the pandemic's pressures. In fact, air cargo's global demand as an industry has risen by 6.9% since 2019, in response to a quickly expanding e-commerce market that is set to keep on growing.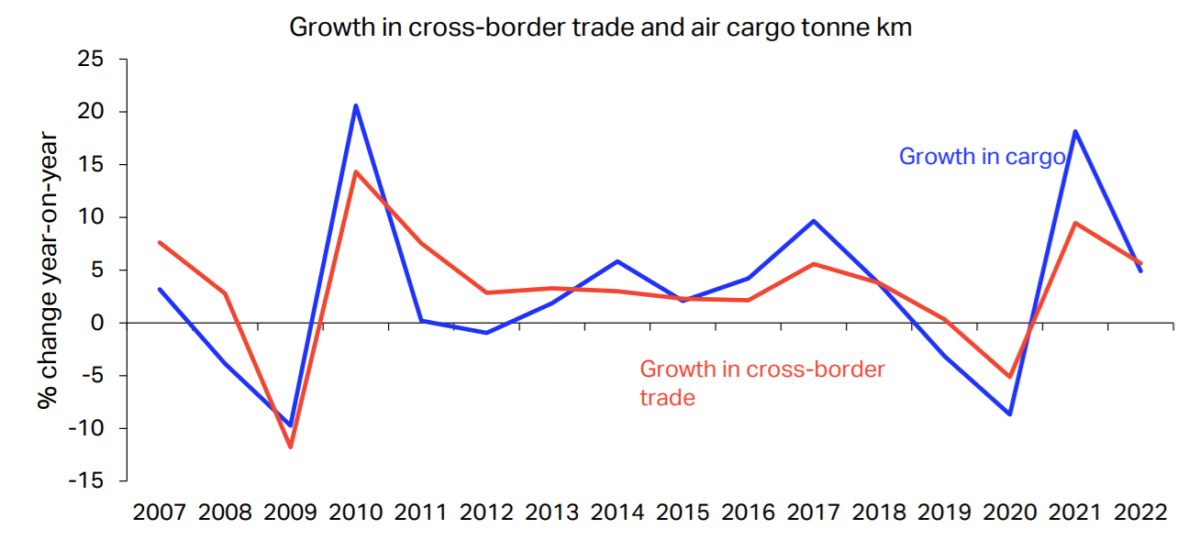 (Image Source: Freight Waves)
As experts predict that 95% of all purchases will be made through e-commerce by 2040, cargo carriers are continuing to prepare for a fast-tracked future in order to meet demand.
Head of digital cargo at the International Air Transport Association (IATA), Henk Mulder, claims that a full-scale digitalisation of the industry is the only way to address new capacity issues and provide demanding consumers with sufficient service.
"The most important tool that has allowed the air cargo community going is without question, the full digitalization of the workplace." He states. "The ability to telework from one day to the next with access to all data resources and the effective use of team collaboration tools has demonstrated the high degree of digitalization that has already taken place."
As we step into a digitally connected future, the air cargo industry continues to evolve. From digitalising the tracking process to blockchain-based security, technology is the key to success for cargo carrying giants. Read on as we delve into the future of air freight digitalisation and discover how the industry is using technology to streamline the trade.
Air Cargo Today
Before we dive into the benefits of technological evolution in the industry, it's important to define what the present-day air cargo industry looks like.
The term air cargo itself currently refers to the transportation of goods via air travel. Also known as air freight, the industry has grown to become one of the most efficient, globally accessible methods of importing and exporting goods across borders. 
Often combining its efforts with the commercial flying industry, most air cargo can be carried on commercial flights, depending on the weight, size and type of freight. However, as demand for air cargo continues to increase, popular air cargo carriers are continuing to ship goods using specialised charters that can accommodate more sizable stock, perishable items and even important medical care such as vaccines.
Currently the air cargo industry ships on average 7.4 billion parcels annually. While digitalisation has significantly reduced the number of written letters sent globally, more packages than ever before are now shipped in response to Covid-19's e-commerce explosion.
In fact, the e-commerce industry alone has risen by 35% since the onset of the Covid crisis, pushing traditional air cargo practices into reform. As we step further into 2022, here are some of the trends the air cargo industry can expect in the post-Covid landscape.
Air Cargo Trends In 2022
From elevated freight rates to the recent Ukraine war crisis bolstering capacity restrictions, there are a number of important air cargo trends to be noted so far in 2022. Let's have a closer look at the events shaping air cargo evolution this year and how technology is tipped to transform the sector in response.
Air Freight Inflation
Freight rate inflation has become a global issue for the air cargo industry in 2022. On the back of general price rises in 2021 and further inflation climbing in 2022, the latest freight weight figures suggest that the cost of shipping will not fall anytime soon.
New stats from the Baltic Exchange Airfreight Index (BAI) have revealed that average freight rates from North America to Hong Kong stood at $10.90 per kg at the beginning of the year. This has skyrocketed above the $6.43 per kg average recorded in 2021 and is expected to increase further as cargo companies work through supply chain issues and surging fuel prices.
One notable cargo giant introducing new surcharges to their shipments is FedEx, the North-American freight shipper, known for being the most used cargo carrier across the western world. 
In January 2022, freight rates rose by 5.9% on all export and import services in a response to a new challenging operating environment. 
"These charges reflect incremental costs associated with the challenging operating environment while enabling FedEx to continue investing in service enhancement, fleet maintenance, technology innovations, and other areas to serve customers more effectively and efficiently," the freight giant commented in response.
The Ukraine Crisis
As both Russia and Ukraine airspace closures continue to place restrictions on air cargo shipping, global demand is quickly outweighing capacity as freight giants are rerouted.
Demanding consumers are looking at high shipping costs and delays in response as airspace restrictions continue to have a knock-on effect for over 30 connecting countries.
In the months leading up to the conflict, new stats from IATA revealed that air cargo capacity had only increased 3% year on year, remaining 9% lower than pre-pandemic levels in 2019. However, as notable freight carriers such as Nippon Cargo Airlines, Korean Air and Asiana continue to cancel flights to avoid the Russian airspace, it's likely to exacerbate the current capacity crisis.
Jet Fuel Prices On The Rise
New research has found that jet fuel prices have also peaked to new highs in 2022. Reaching levels last seen in 2012, the price of kerosene-based jet fuel and WTI crude oil has risen to estimates of $119 per barrel, while gallon prices have risen 120% year on year.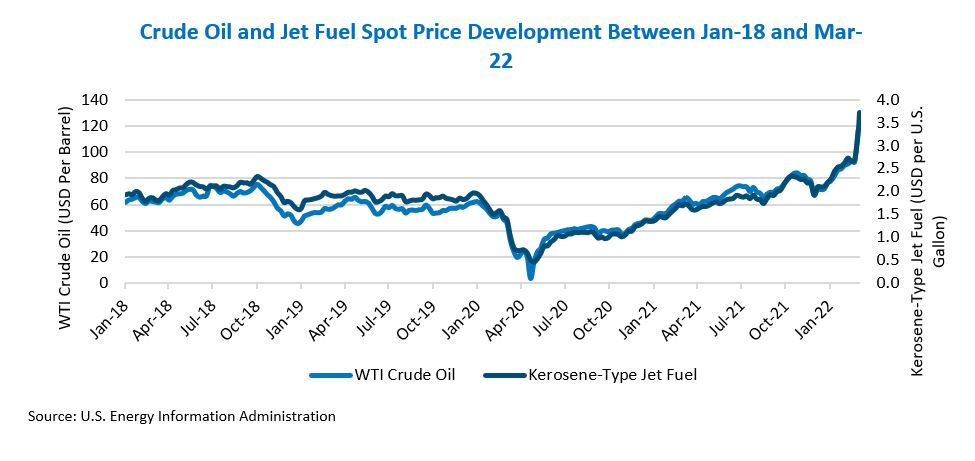 (Image Source: IBA)
This is largely due to the uncertainty caused by the current Russian/Ukraine conflict. As prices are pushed higher as a result of the sanctions currently applied to Russia's energy supply, it's likely that a rise in oil cost will have a knock-on effect for cargo carriers. Consumers could be looking at increased transport fees while freight carriers see large supply chain delays.
Could Digitalisation Be The Answer?
While freight rates may still be on the rise in 2022, one air cargo trend that promises to improve the shipping experience this year is a push for digitalisation across the industry.
In 2021 alone, the air cargo industry saw an influx in the number of digital partnerships between leading freight giants and global tech companies ranging from data sharing solutions such as CargoOne and Nexshore to payment platforms such as PayCargo. 
As the sector invests in data encryption tech such as blockchain to streamline cross-chain payments, and digital tracking software to improve accessibility and transparency throughout the tracking process, the automation of the air cargo sector aims to meet new capacity concerns and serve a more demanding digital demographic.
In order to move forward in an e-commerce dominated landscape, cross-chain efficiency is key. As capacity demands increase, automating all stages of the shipping process is a quick way to keep up with ever-changing consumer trends and shifting freight rates in a post-pandemic environment.
In IATA's recent White Paper, A new era for air cargo — How e-commerce is accelerating the logistics transformation, experts warned that the cargo carriers of today must embrace digitalisation in order to speed up the shipping process and see a return on investment against rising oil, fuel and supply prices.
"Airlines must support transparency by digitally integrating with their business partners," IATA claims. "This includes the integration of data flows between airlines and other parties involved in shipment processes. They need to assess and develop multimodal forwarding platforms and provide transparency for consumers." 
The Impacts Of Post-Pandemic E-commerce
It's no secret that the e-commerce industry is significantly accelerating logistics transformation. With a push from the pandemic, IATA now predicts that the e-commerce market will be worth at least $7.4 trillion by 2025, majorly increasing cargo-based demands in the next few years.
Did you know that 80% of cross border e-commerce is transported by air? As capacity demands increase alongside global digitalisation trends, 59% of e-commerce shippers say that air freight companies only partially meet their needs, falling short on tracking transparency, speed and efficiency throughout the cargo's journey.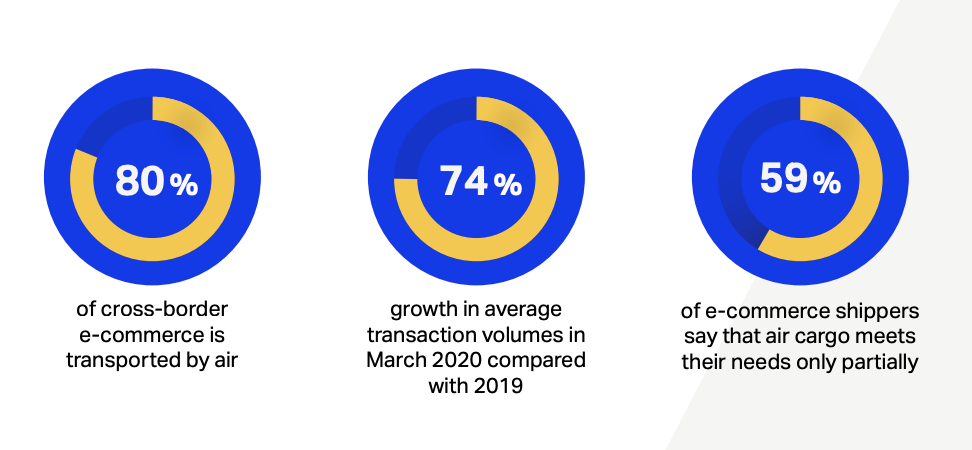 (Image Source: IATA)
As the e-commerce industry booms, we'll be sure to see a push in the demand for ad-hoc charters as well as new advancements in tracking technology. Modern-day consumers require greater levels of communication and transparency so air freight carriers need to start adopting if they want to see success.
Another challenge the industry faces is compliance with ever-changing regulations. A new study by IATA and Cargo IQ found that on average, it takes freight shippers 2.1 days to clear customs, lengthening the shipping journey and hindering the tracking process.
Let's have a closer look at what the air cargo industry is doing to adapt to new e-commerce demands.
The Future Of Air Cargo Digitalisation
In a post-pandemic landscape, there are increased pressures from all directions for digitalisation in the air-freight industry. From data-based services to provide transparency throughout the value chain to new automated processes that improve customer service, air cargo carriers need to remain on top of digital trends if they want to stay in line with market competitors such as FedEx and DHL.
(Image Source: Mckinsey)
As logistics companies quickly evolve and adopt new technologies to improve their services, global spending on digital transformation within the sector is predicted to reach $75.5 billion by 2026.
In fact, the air cargo sector as a whole is set for a significant transformation in the wake of the e-commerce boom. With a greater demand for independent charters within the industry, freight forwarders are collaborating with ad-hoc charter providers and ACMI operators such as AirACT to address new consumer capacity.
As popular giants in the sector continue to revamp their charter services and adopt digitalised practices, here are some of the most important changes we can expect to see.
Blockchain Efficiency
The information technology company SITA has proposed that blockchain could be the key to a fast recovery for the air cargo industry in a post-Covid world. Partnering with ULD Care to create a new blockchain platform specifically for the air freight sector, experts claim that this decentralised technology could speed up cross border regulation checks and improve tracking transparency amongst significant consumer demand.
In an effort to track all unit load devices while scrapping traditional paper systems, SITA believes that they could save $400 million a year, as blockchain adoption could cut shipping time in half.
"Blockchain will help reduce costs related to tracking these assets and bring greater visibility and collaboration among all stakeholders as to where the assets are and in whose hands," Andrew O'Connor, SITA's vice-president for portfolio management claims. "It will also reduce the time to process the tracking and change of ownership of the assets."
Automating Warehouse Operations
Using new elements of machine learning and AI technology, digitalising the supply chain has never been easier for freight forwarding companies. As warehouse and supply chain delays remain one of the greatest challenges for cargo carriers, new digital solutions are the key to high returns on investment in a demanding market.
As we tackle the challenges surrounding storage and handling capacity throughout the supply chain, introducing automated logistics platforms to improve the chain efficiency and visibility of all stages of the cargo journey is an easy way to reduce staffing levels and remove the window for warehouse errors throughout the chain.
In April 2020, Cargocast, an automated digital solutions provider introduced Radio Frequency Identification to the air cargo sector, which has continued to revolutionise the speed of the supply chain. Using the RFID platform to automate the process of loading and unloading goods, air freight forwarders are likely to see an improvement in performance according to Vice President of the company, Michael Morey.
"RFID technology has reduced significantly in cost while improving accuracy and performance. Every warehouse has specific pain points and other areas where best practices are already implemented. We focus on the processes that can bring the highest return on investment in each case. For some, it's ensuring the accuracy of actual manifested goods being loaded (or unloaded). In some cases, the focus is on managing the consolidation of shipments."
Digitalising The Tracking Process
Digitalising the tracking process has been a concern for the air cargo industry for the last decade. As smartphone technology revolutionises the future of ordering and tracking global produce from your own four walls, consumers are now more active than ever before. They require visibility and immediacy in all stages of the tracking process. 
Introducing new forms of real-time visibility has transformed consumer trust in the air cargo industry. Implementing platforms that both consumers and supply chain vendors can interact with and receive updates from reduces time spent on manual tracking methods and automates the booking process as a whole.
CargoWise for example is one of the most popular platforms currently being adopted by a number of air cargo leaders. From streamlining booking, rate quotations and decentralising the payments process to automating verification and increasing data visibility for all parties within the chain, the platform aims to reduce manual labour input.
Using powerful data analytics, all updates along the chain are tracked and stored within CargoWise's internal system, which can aid customers in managing their own tracking and actioning issues automatically.
Alongside this, digital tracking platforms such as WebCargo are also aiding capacity challenges with their own e-booking software. In response to new oil prices sending freight rates through the roof and the Russia/Ukraine conflict rendering many air spaces unavailable for freight transportation, WebCargo aims to provide transparent access to the current prices and capacity available across a wide range of cargo companies, with the added ability to book the best deal in the click of a button.
Working with 1900 freight forwarders, and 14 global airlines, the digital platform is pioneering the way forward for fast-tracked freight forwarding in the midst of the demand vs capacity crisis.
"The WebCargo platform offers instant capacity availability and pricing of all 14 airlines. For example, we have many airlines transforming their passenger flights for cargo-only service using both belly space and main cabin which could be readily available in our platform," says Camilo Garcia Cervera, VP of Business Development at Webcargo. "More than ever in history, airlines and forwarders are opening their doors for digitization. It is no longer acceptable to have a business plan in this industry that doesn't have a digital strategy at the heart of what they are doing.
Meet The Air Cargo Companies Digitalising The Way Forward
As we step into the future of air cargo digitalisation, let's meet some of the air cargo companies pioneering the way forward with their own digital tracking systems, blockchain-based security and supply chain automation solutions.
Lufthansa Cargo
Lufthansa Cargo is one of the leading air freight forwarders embracing full-scale digitalisation within their services. From eBooking platforms that are able to give consumers immediate confirmation of available capacity to their eTracking app that enhances transparency throughout the shipping process, this cargo carrier ensures automation from the first click to the destination.

(Image Source: Lufthansa Cargo)
After introducing etracking in 2014, the air cargo carrier has since implemented worldwide access to eWAB during all shipping operations and now offers API's to digital booking platforms as well as maintaining their own eBooking portal.
In fact, the freight forwarder claims that digitalisation across the company has increased process efficiency and time savings up to 50%, reducing the burden of manual administration while also contributing to environmental protection by going paperless along the supply chain.
Korean Air
Korean Air is pioneering the way forward for cloud technology adoption within the sector. As another notable cargo carrier prioritising digitalisation within their strategy, they have recently invested in the IBS software, iCargo which is based on cloud technology.
Working to improve productivity and profitability within the company, iCargo is replacing traditional disparate satellite technology systems with one unified cloud-based platform that aims to control all aspects of the freight forwarding business, from booking and sales to capacity control and warehouse operations.
Korean Air claims that the new integrated productivity solution will digitally connect all aspects of the supply chain, improving speed and efficiency as capacity demands rise. They are aiming to enhance the customer experience while innovating the future of cargo carrying.
"We plan to launch a mobile portal to make it even easier to make reservations and a revenue management system solution to improve profitability," the airline stated. "The new system will lead change and further enhance the quality of customer service in the fiercely competitive cargo industry."
DHL
DHL's focus is on their customer experience with their digitalisation strategy. After investing a whopping €2 billion into the digitalisation of their cargo service between 2021-2025, they aim to improve the customer experience while also improving their operational efficiency both on the ground and in the air.
With a focus on customer-based platforms, in particular, the freight shopping company is investing in AI-generated chatbots that aim to automate customer service when booking imports and exports with the carrier.
Utilising technology that has been widely used across the remote corporate sector, DHL plans to automate time-consuming tasks to speed up the customer experience.
CEO of DHL Express Asia, Ken Lee, states that full-scale digitalisation is needed if major cargo carriers want to compete in an e-commerce driven landscape.
"We've introduced solutions to streamline vital processes, automate time-consuming repetitive tasks, and helped our teams become more productive. These include autonomous guided vehicles to enhance our operations, chatbots to complement customer service operations, and shipment sensors with track-and-trace capabilities," he comments.
As we step further in 2022, more cargo carriers than ever before are going digital. While giants such as DHL and Lufthansa may pioneer the way forward, contenders in the rage for air freight transportation won't be far behind as capacity demands increase and inflation continues to rise.