In March 2020, thousands of businesses retired from the offices and physical workspaces to the work-from-home space. The uncertainties associated with the Covid-19 pandemic and resultant halt on business operations meant that many employers put hiring and onboarding on pause. Fast forward 12 months and the world seems to have a better grasp on how to work, live and play remotely. 
(Impact of Covid pandemic on remote work in 2020. Image: Netskope)
Due to the high levels of unemployment and the overflowing pool of talent, the first quarter of 2021 has been an employers market. Businesses are beginning to take on new members of staff and are faced with a challenge like never before: How can companies bring new hires into the fold and give them proper orientation when so many of their employees are working from home?
Hiring and onboarding new employees isn't an optional feat. Rather, it's a critical process that helps new employees understand the corporate culture and structure, learn about their roles and teams, and ensure they have the necessary tools to be successful. The process is already complex when all team members are present. In fact, a survey from Robert Half revealed that 95% of professionals say their company has an onboarding process, but more than half (59%) have experienced a mishap in the process of starting a position. 
When it comes to remote work, the onboarding process takes on a new meaning since new recruits won't have the same opportunities to organically integrate into the company's processes and culture as they would have done in the workplace. Equally, the onboarding process is the preliminary phase for employers to recognise how well new employees will fit into the company.
Thankfully, there are a few tips and tools that employers can use before, during and after orientation in order to promote a sense of community amongst individual remote employees and ultimately, reduce turnover. Given the fact that over 72% of new hires onboarded worldwide over the past 8 months have been on a remote basis, it's a good time to strengthen your remote hiring and onboarding processes. 
Obstacles to remote onboarding
The compulsory series of activities that allow new hires to get to know their team and learn about the company's methods, processes, tools and attitudes is known as onboarding. Remote onboarding is no different, with the exception of rather than having the new hire partake in these activities in the workplace, they do so at home. 
For employees, the onboarding process is typically used as an opportunity to get used to the new work environment before they begin working as part of the team. From the employer perspective, it's used as valuable time to share all elements that will ultimately help the new hires be successful in their new role. This two-way process is what drives employee satisfaction, and helps to retain employees. 
The onboarding process can be both formal and informal – this is particularly important to keep in mind when hiring remotely. The informal nature of welcoming a new team member into a company can often be neglected when done remotely. Formal onboarding typically involves a series of training sessions, workshops and video calls. Informal onboarding can be more ad hoc and include impromptu coaching, shadowing and getting to know the team. Informal onboarding clearly faces more challenges in the remote space.
Onboarding time frame
The onboarding period can last from a few weeks to well beyond 3 months. It simply depends on the complexity of the new hire's role as well as the company's maturity and resources. For many remote organisations, the quicker the onboarding process the better. But research has shown that extending the onboarding process up to a year can in fact, improve employee retention and help new hires settle in and feel like part of the team.
According to BCG, the onboarding process is indeed one of the most influential factors when it comes to employee experience. The companies that have strong and effective onboarding processes in place actually achieve over 2.5 more revenue growth and 2 times the profit margin compared to the organisation that have weak onboarding processes strategies. 
What makes it difficult?
Creating a solid onboarding process in the best of times isn't easy. It tasks time, energy and resources to get it right. That remains true when it comes to the remote onboarding process. 
As with many processes in remote teams, onboarding requires more documentation, for instance. In the absence of the physical work environment, which is most important in the traditional hiring process, remote employers turn to video chats and online tools to make the process fun and welcoming. 
From afar – employers have to list out each step of the process and make sure that remote employees aren't getting lost in the avalanche of information. A good strategy is to identify the best channels remote employees can use to ask questions and find the material they need – this is especially needed when employees work in a different time zone and real-time responses aren't possible. 
Another challenge, and a big one at that, is finding the capacity to build an emotional connection with a new team – remotely. When removed from the office and without access to the inner circles of existing and established team member groups, new hires can easily feel isolated. It's imperative to create a structure to encourage informal moments, that mimic the sentiment of chatting around the water fountain in real life. Ultimately, these small things can be challenging to recreate remotely, but they can make all the difference when it comes to creating a strong culture.
7 tips for onboarding remote employees
Drawing from past experiences, as well as current trends, there are a few helpful ways to make the remote onboarding process become more seamless, strategic and powerful in its ability to welcome and train new hires from afar. If nothing else, follow these 7 core tips in the remote hiring process to knock down obstacles and set your team up for success, retention and productivity. Then proceed onto the useful tools that will help put these tips into motion. 
1. Get started early
The onboarding process cannot start soon enough. The sooner you begin to engage digitally with your new recruits, the sooner they feel part of the team. One the contract has been signed and the start date has been agreed upon; it's time to start constant communication. The key here is to let new hires know that despite the fact the onboarding process will be remote, they feel confident enough to get in touch with questions, or even just to say hello. 
Set up an online forum for new hires to join and communicate with the rest of the team. This could provide a way for them to introduce themselves personally, and discuss their interests which can be picked up on by existing team members as a way to bond. 
Be sure that all preliminary HR forms and procedures are completed as soon as possible. It's beneficial to get these out of the way; before the new hires actual start date. Virtual training courses such as data protection regulation and company processes should be all completed, signed and returned to the employer long before the new hire's role begins. Getting these out of the way allows for a more focused onboarding process, with a particular focus on welcoming the new hire to the team.
2. Get new hires online ASAP
Whichever way a company chooses to work remotely, the chances are, they've found themselves using an online platform to collaborate, discuss and work. Do not limit your communications with new hires to email only. Welcome them to the company's online space; be it Slack, Teams or Monday. Giving them access to these platforms as soon as possible allows them to navigate their way through the tools and familiarise themselves with its features before they have to start using them. 
Should their role require them to use a particular online tool to complete their job functions, introduce them to this tool before their start date. This allows for a more seamless transition into their jobs and minimises disruption to the workflows of existing team members. New hires can also get a better appreciation of what remote collaboration might look like prior to fulfilling their roles and responsibilities. 
3. Create a digital employee handbook of guides and company culture
With the absence of a physical environment and face to face interaction with the rest of the team, there is little room for a new employee to join a company and mimic their colleagues to fit into the culture and surroundings. When it comes to remote onboarding, there should be clear and concise information readily available that covers the underlying principles of the company's culture, and its procedures. It should take the form of a guide and should be referred to when new hires are in any doubt about anything from staff meeting procedures and timings, to who to contact in the event of an emergency. 
We often take for granted the small pieces of typically vital information that are relayed to us by word of mouth in the office. These should be laid out in the guide and adapted where needed. A good structure would be to divide the content into sections of relevance, for instance; content on hierarchy, different procedures, style guides and ways to socially connect with teammates. 
4. Create a sense of belonging
Perhaps one of the hardest things to do remotely; creating a sense of belonging is both imperative and challenging. Making new hires feel like they are needed, wanted and valued in the team is one of the best ways to motivate them and retain them. In the office environment, this can be achieved by engaging new hires in social events and ensuring everyone in the team has a chance to informally introduce themselves in a relaxed setting. 
When it comes to creating a sense of belonging remotely, and during the onboarding process, it all comes down to a company's ability to create an informal virtual space where employees can interact with each other. Games, quizzes and company tasks can each give all members of a team a common goal to work towards. This is a great way to bring each team member together and create a sense of belonging.
5. Provide digital check-ins and goals
Catch-up meetings with senior members of staff, new hire reviews and formal goal-setting have each been traditionally relied upon in the onboarding process that takes place in a work environment. The importance of checking in with new hires extends from making sure they are managing their workload efficiently, to ensure they are happy with the support and general company culture that surrounds them. When working remotely, it's more important to hold these meetings frequently to ensure that the challenges and pressures of remote work aren't becoming unbearable. 
Supporting employees remotely during the onboarding process gives them the peace of mind they need to realise that despite working alone remotely, they aren't in fact alone. It's a direct indicator that the company cares about their employee's development as well as making sure that all new employees feel safe and comfortable to bring up any concerns in the next check-in meeting. 
6. Provide personalised onboarding plans
No onboarding process will be the same between employees. Therefore, it makes managing the process a lot easier to begin with making individualised plans. To help make new hires feel welcome, cared for and to ensure they feel they are getting the most out of their onboarding experience, start by making a plan for each individual. 
These plans will probably overlap between new hires, but it's important to take the time to plot out the differences in each onboarding process to provide the personal touch that's so difficult to get with hiring and onboarding remote teams. It's equally important to give each hire a break-down of precisely what their onboarding process will look like – from start to finish. This will include details on their daily duties, who they will be meeting with and even the purpose of each call they partake in, for example. 
Schedule meetings for each new hire in their calendar to help them stay focused and reduce the stress of potentially missing or forgetting about something. For additional personalisation, consider asking each new hire their goals and aspirations within the company. Be sure to provide information and feedback on all they can and should be doing in order to get there. 
7. Make sure onboarding materials are always accessible
From the moment the job offer is made to long after the onboarding process is over, the material used should always be readily available and accessible. It's completely expected for new hires to still have questions or for them to want to refer back to the onboarding material they were given during their training process. To minimise the need for them to hunt down the appropriate person and information; simply make sure it's always accessible. 
Needless to say, remote employees should possess their own copies of all materials and resources. However, it's good practice to put these in a shared folder or a designated Slack channel where they can find and download themes whenever needed. It's also a good thing to make sure you announce that the material is there and should be accessed whenever the new hire sees fit. Let them know who they can turn to if they have any issues. And most importantly, make it incredibly easy for new hires to get in touch if they're ever feeling lost. 
Must have tools for hiring and onboarding new employees
Thankfully, there are plenty of free and affordable employee hiring and onboarding software tools out there to help set these remote onboarding tips into motion. Let's take a look at some of the most effective ones.
1. Slack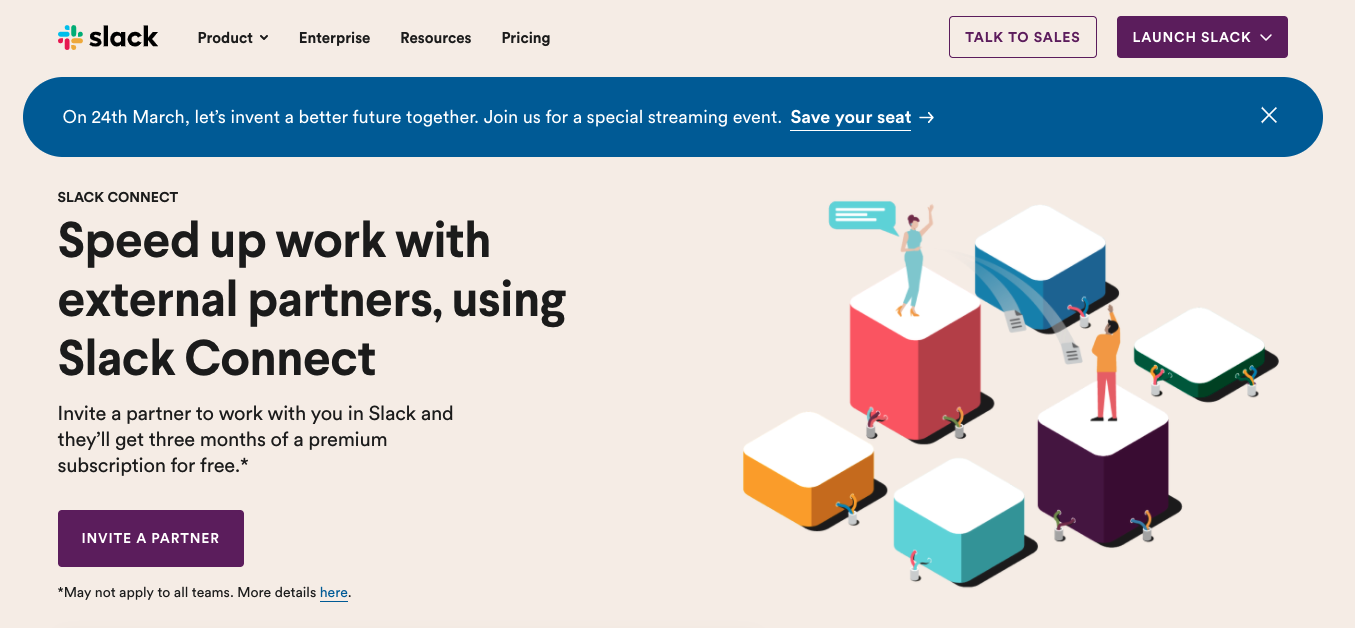 This is the tool we've all heard of – especially in light of the work-from-home era. So much of the real work of training new employees happens when we can integrate them directly into the daily interactions with staff. Paperwork and documents via email can only do so much. Slack is one of the most popular communication tools that allow for daily communication. 
Slack allows for daily text messages and makes it easy to launch both formal and informal video calls and coworking sessions so new hires can get all the verbal and non-verbal cues they need from their team. Thanks to Slack, remote working has never felt so personal and comprehensive.
2. ProProfs Knowledge Base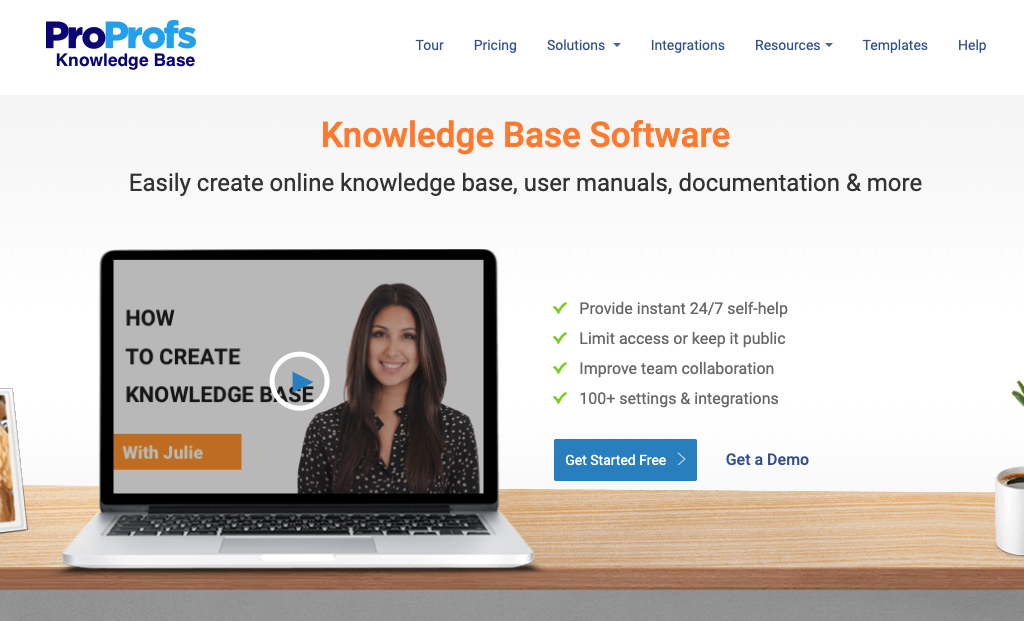 There is only so much time that can be spent onboarding remote employees. To optimise this time, simple, powerful and feature-rich tools like ProProfs Knowledge Base are essential. This tool lets employers create an online employee handbook to familiarise themselves with the company's culture, work dynamics, policies, mission and the new hire's role.
This tool goes hand in hand with tip number 3 above and acts as a platform that provides all relevant information they could possibly need. Once created, the handbook can be opened on multiple devices. The tools compelling features like MS Word editor, Google search functionality and customisable options make it an unmatched experience. 
3. Obie.ai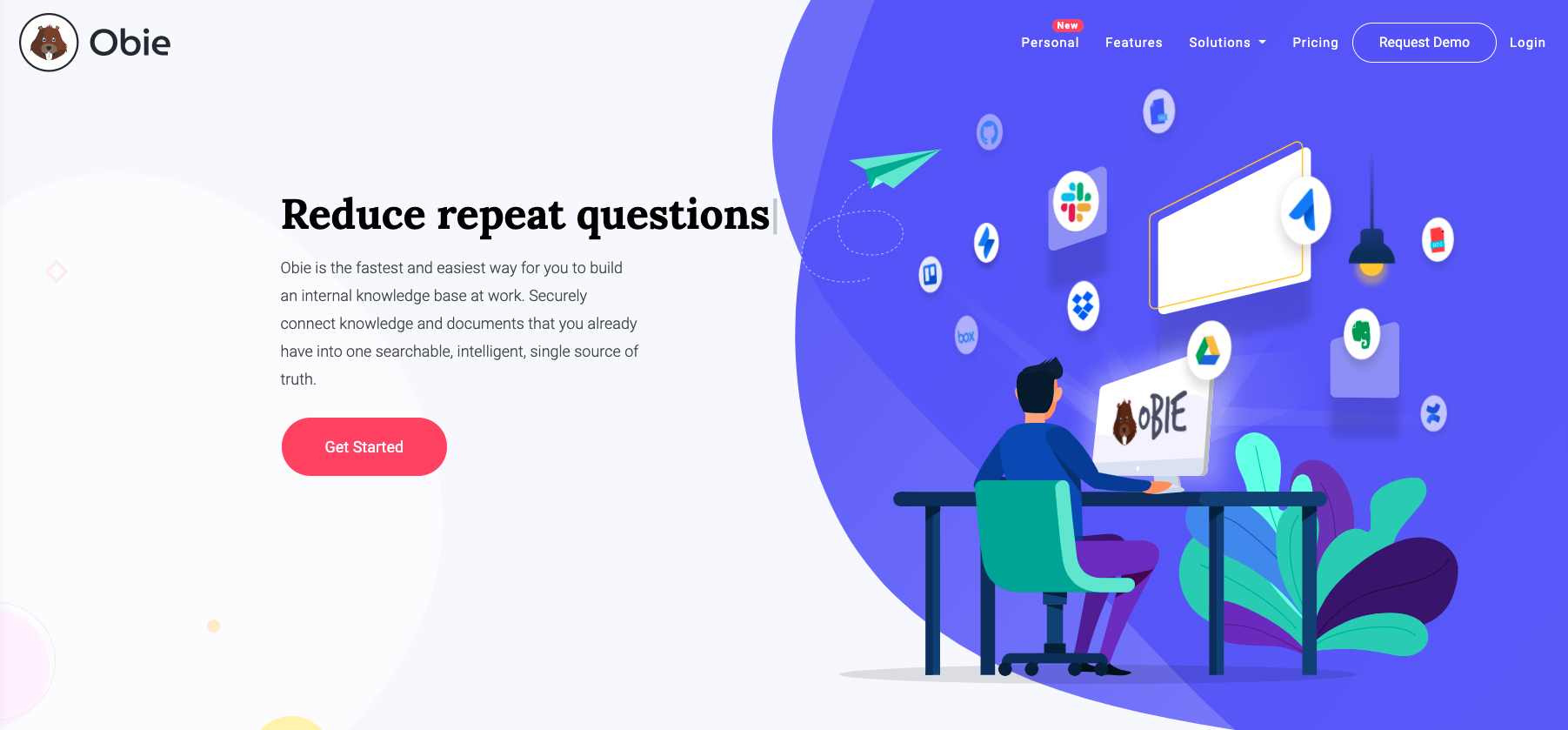 This tool is the future of remote-based training. Obie.ai is a learning software that integrates with popular business applications like DropBox, Slack and Google Docs. It puts chatbots using natural language to engage with new hires. 'Obie' can then help with all of their questions and point them to particular steps, processes and documents, for instance, or can help new employees identify and access company assets. 
The tool effectively automates the training process and eliminates the need for on to one mentoring and constant communication between new employees and their managers. It's a great way, therefore, to keep constant emails and messaging to a minimum as remote workers navigate their way during their first few weeks on the job.
4. Zenefits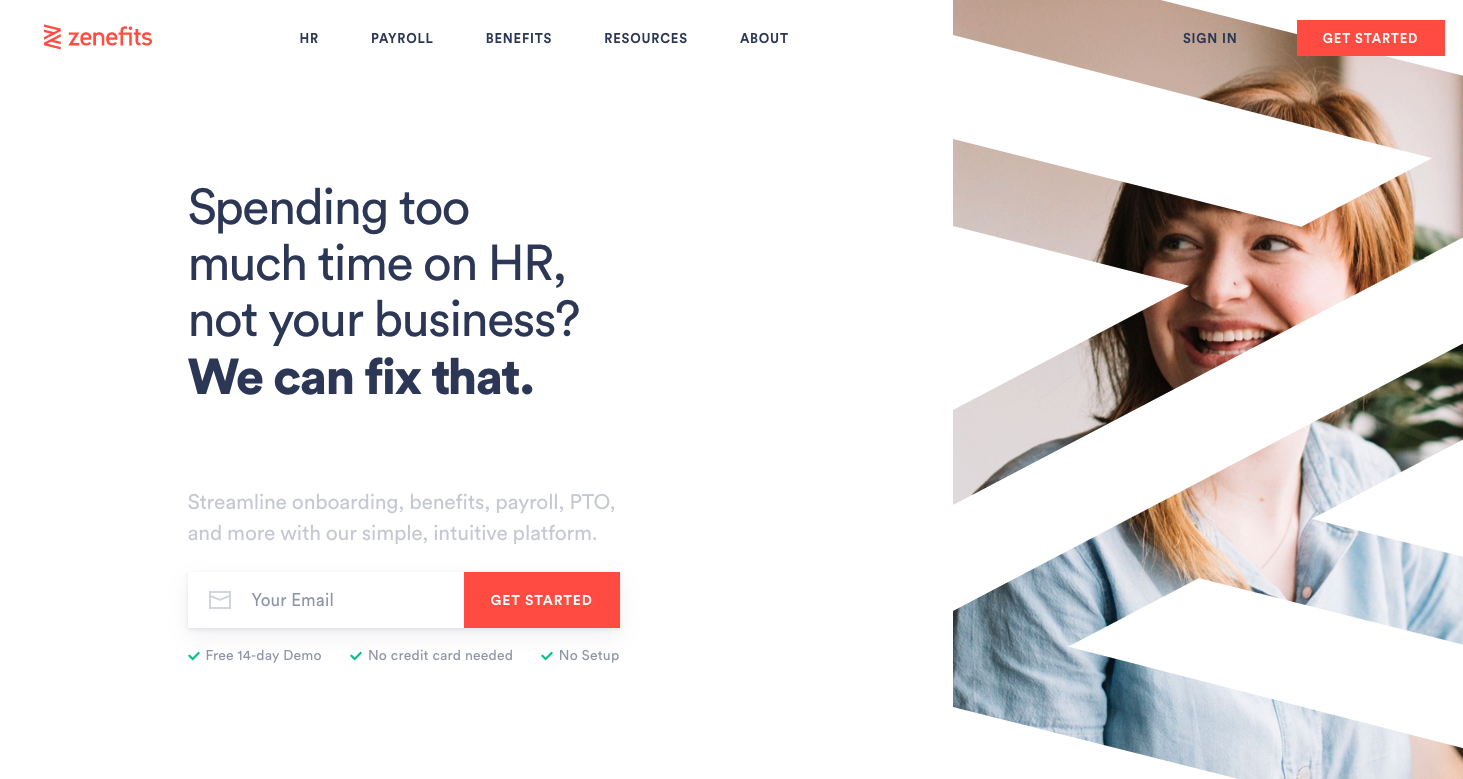 Also dubbed the HR disruptor, Zenefits has found its place in the onboarding processes of startups, small businesses and corporations. It's essentially a free HR automation tool built specifically for remote-staff companies who don't have the capital for a dedicated HR team. 
It offers a fully-featured HR solution, including payroll, benefits management, compliance oversight and productivity insights. Users, including new remote hires, can instantly see their next pay date, review pay-checks and complete HR paperwork within the tool, and can be accessed across devices. 
Zenefits can be integrated with Slack, Salesforce, Office 365 and G Suite to allow for a seamless employee experience.
5. Bamboo HR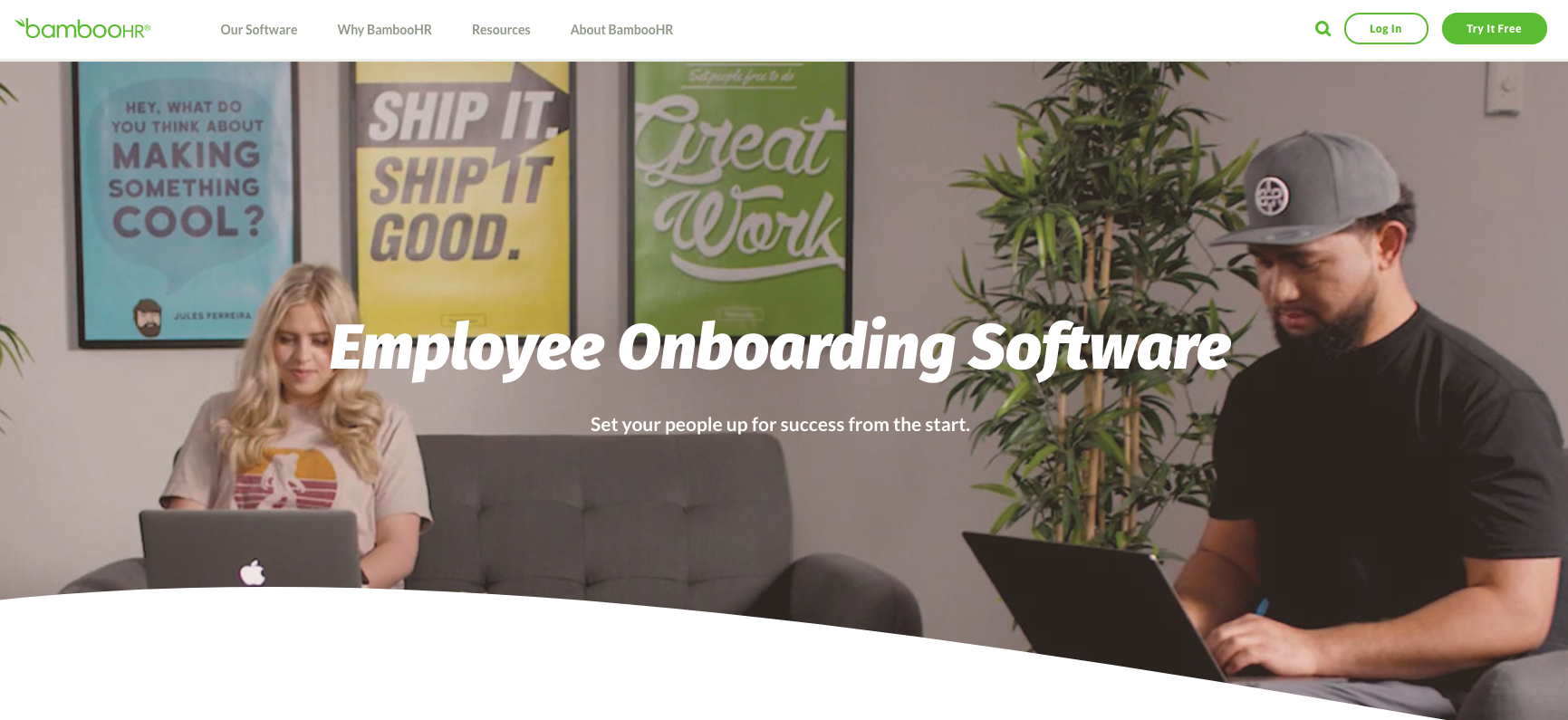 A very exciting entry to the remote onboarding tools market, Bamboo HR makes the remote employee onboarding process even easier, since it's ultimately a self-onboarding tool. Employers will hardly have to do anything at all. Automated welcome emails and team introductions make it possible to quickly welcome onboard new hires to the company.
The softwares' new hire package makes it easy to access all the basic information and paperwork needed, and signed, for new hires to get to work asap. Gone are the days of exhaustive spreadsheets of information. Bamboo HR features several other tools to maximise the efficiency of your onboarding process. From performance management to reporting tools and more. 
6. Mentorcliq Employee Mentoring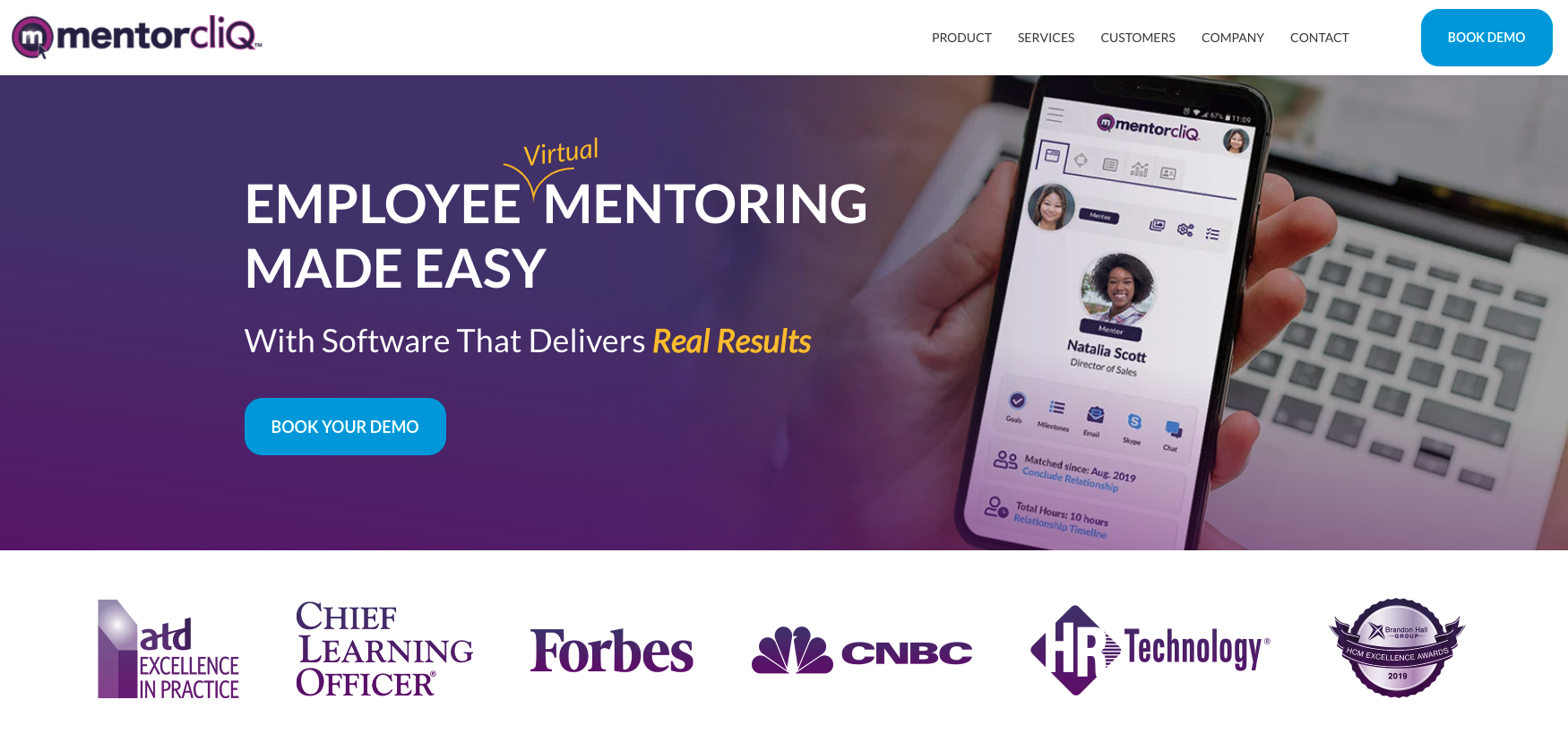 Once again, this tool goes hand in hand with tip number 6 above, since it is an easy-to-use software that provides personalised training and resources for each individual employee. MentorcliQ Employee Mentoring removes the need for traditional, timely and costly one on one mentoring in the workplace. Rather, it provides a new and innovative way to train new hires. 
The ATD award-winning software offers a smoother way to onboard new hires into the company. In order for the process to be a success, all new employees should have an acute understanding of their role and contribution to the company. Since roles vary between people, this tool can carefully build an accessible and actionable guide to what each employee can be expected to achieve in their position. New hires can access it whenever they want, from wherever they are, to find more information on their specific training.