Increasingly, many businesses have introduced flexible or full-time working from home policies. The trend began as a company perk that could be redeemed upon meeting or exceeding employer expectations. Today, WFH has been a clear government guideline for companies caring for staff during the COVID-19 pandemic.
Managing a team remotely comes with its own perils. Beyond reduced productivity, lost creativity and damaged social bonds; employers also face challenges when it comes to hiring staff in the time of WFH.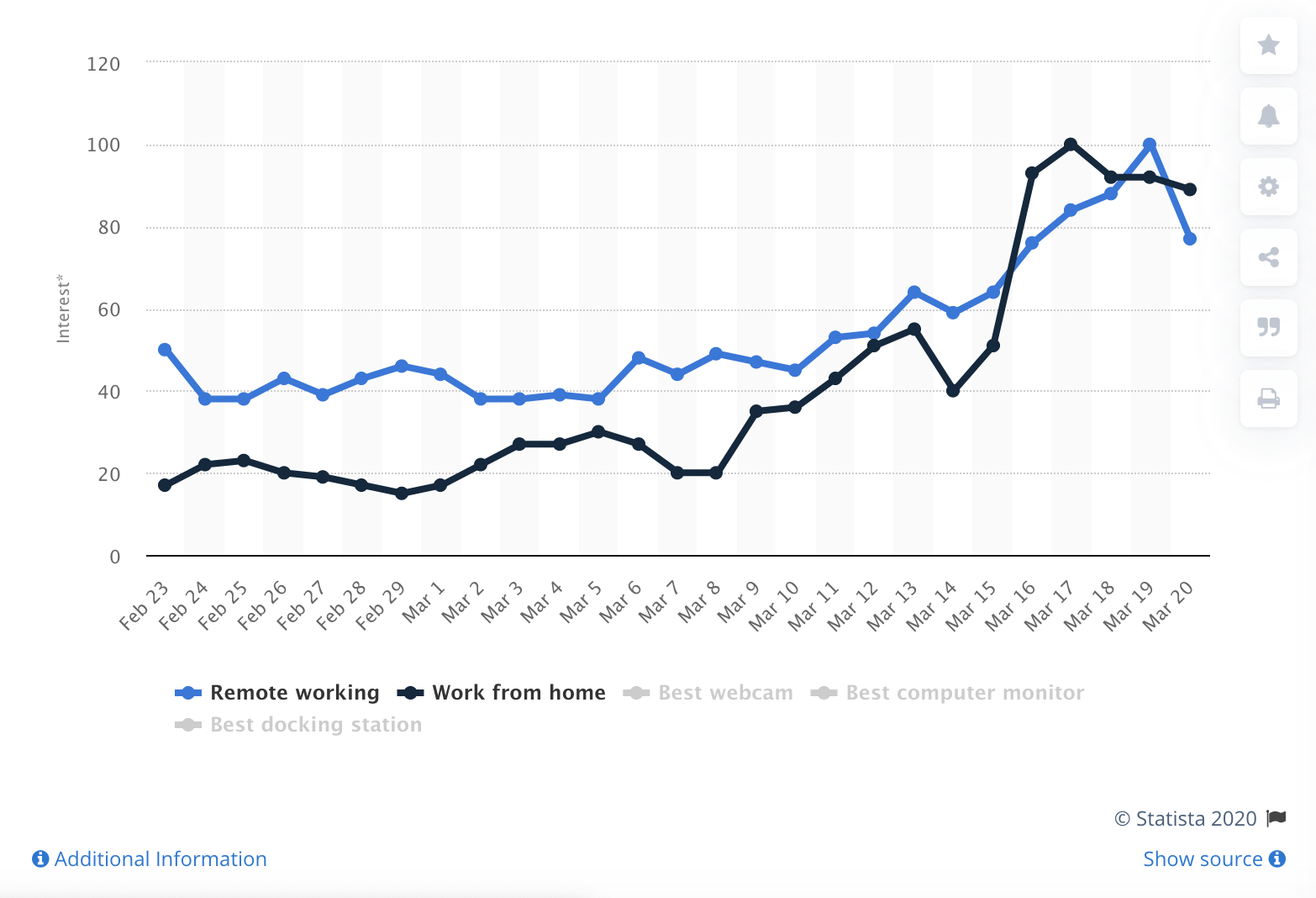 (Image showing search interest in remote working in Google in the past 30 days worldwide during the coronavirus (COVID-19) outbreak. Image: Statista)
With that said, if you're looking for guidance on hiring remotely during this period, your team may be expanding which indicates you're doing something right. Likewise, you may need to hire more staff to meet increased demand. One thing's for certain; the remote hiring process, from recruitment to training, will take a completely different form than that of traditional methods. 
Let's take a closer look at the tools, platforms and strategies that you can use to recruit remotely. 
Attracting remote employees
Long before your hiring process can begin, you'll need to appeal to a range of potential candidates. The first place to start is by building or at least showcasing your employer reputation to attract and retain the most qualified people. 
Build a strong employer brand online. Given that the recruitment process will largely take place online, utilise the online space to demonstrate your company in the best light possible. Remember, just as you'll be sussing out candidates, they'll be weighing you up too. Keep in mind that 84% of employees would consider leaving their current jobs for a company that had an excellent employer brand reputation online (Reviewtrackers).
When you're hiring remotely, candidates have to rely on your digital presence for more information on your company. There are a few key things a company should consider- first, make sure your online presence shows you're trustworthy. In doing so, candidates will be able to effectively visualise themselves as part of your team – or not. 
A trustworthy online presence can be achieved by creating informative careers pages on company websites, which are strategically linked to social media accounts. Such pages should showcase employee testimonials. Consider this; 35% of job seekers agree that employee testimonials are the most valuable piece of information. They act as first-hand social evidence of what it's like to work remotely or otherwise for a particular company.
Structure your employee testimonials by requesting that your remote employees tell their stories and include details on why they continue to work remotely for your company. Make them inspirational and always remember the power of this tool. Thereby, should any negative sentiments creep into the employee testimonials, consider reviewing their publication.
Another way to illustrate your company culture online is through visuals, when words just won't cut it. Take this opportunity to showcase in-person meetings. If at some point you gather with your team for conferences, meetings, annual gatherings – capture and share these moments on your website and across social media. 
Best places to advertise your vacancies
Now that your online reputation is in shape, it's time to begin advertising your vacancies, in the hope of driving the best candidates to your website to be inspired. 
As with the entire process, the nature of hiring remote workers means that the first and only place worth advertising is online. Consider placing your ad for open roles on traditional job boards and social networks. Large and global boards like Monster and Indeed can be effective. Do ensure that you clearly state the remote nature of the role in the ad. 
Social networking sites like LinkedIn, in particular, is a great place to advertise for remote jobs. The professional platform lets both job seekers and recruiters view each other's profiles to add a human element to the virtual process. 
Workable, lets you choose between global and local, industry-specific or broad job boards for you to advertise your vacancy. If you are looking to hire candidates in a specific city or region, do consider advertising on local job boards – where you're likely to come into contact with your desired hires.
Remote shortlisting and interview processes
Once again, this stage of the hiring process will be carried out via digital communication. When hiring remote candidates, it's more than likely that you'll use phone and video interviews as primary communication channels. To make communication more effective – make sure you use the right channels where appropriate. 
For example, shortlisting hundreds of candidates will be most effective via email. It's timely, efficient and effective. However, you might prefer to speak on the phone with those you wish to schedule an official interview. 
With your shortlist to hand, it's time to begin the remote interview process, during which is a good time to use various assessment tools to evaluate your candidate's suitability for the role. Such tools make it possible to make the most objective hiring decisions, even when you don't meet the candidate in real life. 
Tools for conducting interviews remotely
Ensure you and your hiring team can reach better recruitment decisions using Spark Hire. This online video-based interview tool allows you to record the entire interview, so that it can be watched and assessed later on. It's a great way to compare candidates' answers and can make decisions at any point during the process.  
This tool gives you far more insight into candidates in far less time than traditional phone interviews. So much so, that over 5,000 organisations trust Spark Hire's video interviewing platform. 
It's convenient for all and takes the expected pressure out of traditional recruitment. Candidates can answer your questions at their own pace – and you can review the interviews in your own convenience. Better yet, the need to schedule first-stage interviews is removed.
HireVue is another useful tool for remote interviewing. Especially since it lets candidates self-schedule interviews. This is helpful for those in areas with large time zone differences. It's a reminder that your pool of potential remote workers is much larger and consists of the global workforce. 
Assessing knowledge and skills is, of course, crucial to the recruitment of the best team. However, it's equally important to assess culture fit and a candidates' willingness to adhere to the company ethos. A few of the following tools can be a good way to recruit a well-rounded team. 
ThriveMap, helps to identify how people like to work. This tool is useful in creating the most productive team for you. It uncovers the best candidates through narrative-based assessments and real-life scenarios. 
One of the most useful and technologically driven tools to incorporate into your remote hiring process is Saberr. This tool uses data-driven technology to accurately predict how well a candidate will fit into the role and the team as a whole.
Hiring during the WFH period checklist
Ultimately, hiring during the WFH period can be simply broken down into five stages.
First, prepare your online presence to attract the most valuable employees. Use social media tools and employee testimonials to do so. 

Second, think about the best place to post your ad. Whilst this will almost certainly be online, consider whether you'll go global, local, specialised or broad. 

Thirdly, rake in your applications and shortlist the best ones – communicating via email and telephone to arrange interviews. 

Fourth, use online remote interviewing tools to carefully assess your candidates. Compare and contrast the best ones before making your final decision. 

Lastly, be sure to use culture-fit tools available to you. This will ensure the creation of a well-rounded and functional team.