As the air cargo industry continues to rake in record-breaking revenue, the reliance that is held on this method of transport is becoming ever more prominent. From its transportation advantages to its promise to reduce emissions, it has become both a sustainable and a more viable option across an array of business sectors.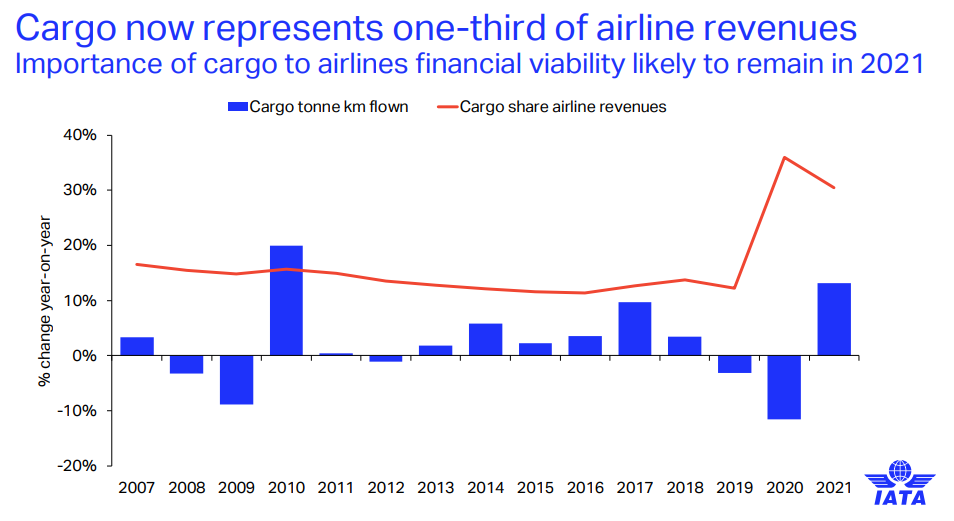 (Image Source: IATA)
In fact, cargo share currently represents one-third of airline revenue, remaining an important contributor to airline success as we head into 2022. 
As we head into a new era of global e-commerce, high levels of overseas trading and a growing consumer market, the air cargo industry is tipped to be at the centre of global economic development. As experts reveal the industry that already facilitates 35% of world trading is predicted to boom post-pandemic, could we see a bright future for the cargo companies on the block?
The question is, will the demand for flight-based trading make the air cargo giants shine, or will it call for new sustainable initiatives such as emission-free fuelling and the introduction of e-freight? Let's find out, as we explore the future of the worlds biggest and brightest air cargo companies.
What is Air Cargo?
The term air cargo can be used to refer to the transportation of a selection of goods via air travel. Also known as air freight, it can be described as an efficient, internationally accessible way to import and export products across the globe.
Although both passengers and multiple forms of air cargo can be carried on commercial based flights, the requirements for air cargo transport significantly differ from traditional commercial airline rules. Depending on the weight, size and type of cargo, air freight companies must access and make a decision about suitable forms of air transport.
While most forms of air cargo are able to be stored successfully on commercial-based flights, heavier, perishable or sizable stock may need to be transported separately via specialised air charters.
In fact, cargo-based security is paramount and most forms of air freight are thoroughly checked before any goods are even loaded onto the aircraft. For example, heavy forms of cargo can require specialist equipment and care, while perishable goods such as fruits, flowers, pharmaceuticals and medical care need to be stored in special conditions. 
Is There A Difference Between Air Cargo And Air Freight?
While the terms air cargo and air freight are used interchangeably to define air-craft based, long-distance forms of shipping, both terms apply to different steps within the transportation chain. While 'cargo' is typically only used to describe the physical goods that are transported via land, sea or air, the term 'freight' has a much broader definition.
An air freight company does not supply the cargo, instead, its job is to move the goods onto the plane. While cargo refers specifically to what the third-party vehicle carries, freight refers to the means by which it is transported and the ongoing import/export process.
As we head into a post-pandemic trading market, air freight demand continues to increase. As we rely on more international importing and exporting, sending on average 7.4 billion parcels across the borders per year, air freight and air cargo requirements are constantly shifting in order to meet the demands of a global consumer market.
Has Post-Pandemic E-commerce Facilitated Air Cargo's Success?
As the world continues to transform post-pandemic, one of the most prominent changes market leaders have witnessed is a sharp rise in the utilisation of the e-commerce industry. As high streets continue to dwindle and the number of digital consumers continues to climb, global trading is at an all-time high.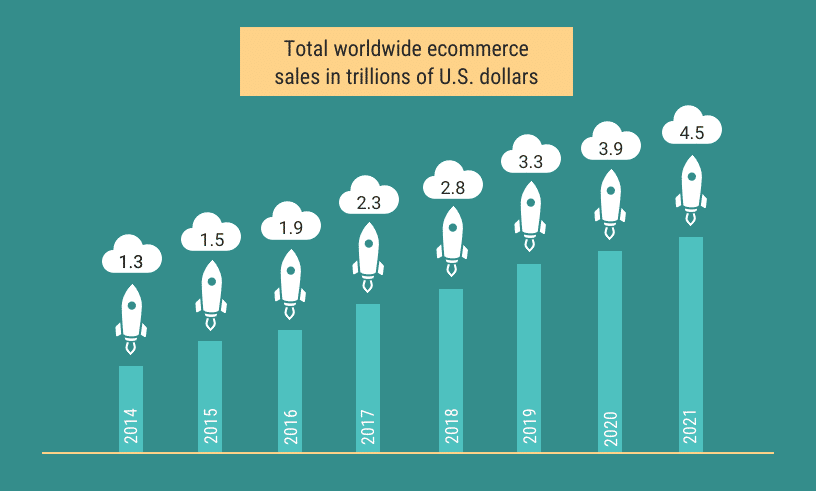 (Image Source: Kinsta)
As the end of 2021 saw global e-commerce sales reach $4.5 trillion dollars post-Covid-19, it's clear that reliance on air cargo has never been more prominent in order to facilitate e-commerce success.
As demand fell for air-based public transport throughout the pandemic, this surge in e-commerce trading has been accommodated by an abundance of free space amongst passenger cabins. In fact, studies suggest that using a passenger-based cabin for cargo transportation enables air freight companies to accommodate an additional 1,000-1,500 boxes.
Over the last decade, e-commerce has doubled air freight parcel volume and has continued to connect the online marketplace with new developments within the air cargo industry.
As consumer trends continue to demand an array of shipping options, fast delivery dates and low-cost shipping solutions, air freight companies are continuing to adjust to cater to e-commerce's pressure on the industry.
From end-to-end digital tracking to 48-hour shipments, the air cargo industry continues to evolve to serve new digital demands. Prioritising new forms of digital supply chain collaboration and online tracking/returning logistics is quickly improving air-freight based business growth. As the brightest air cargo companies on the block continue to develop new cost-effective solutions, air mailing continues to become a simple procedure.
The question is, could air cargo's increasing demand put pressure on the service as trading continues to go global. Let's have a closer look into the benefits of sending goods through air freight, and some of the challenges that both companies and consumers could face as e-commerce pressure grows.
What Are The Advantages Of Using Air Cargo?
Air cargo transportation continues to hold its title as the fastest mode of internationally transporting goods across a global market. Serving a number of industries ranging from food imports to vital medical care, there are many advantages associated with utilising airline-based shipping services.
As we continue to unpack what the future may hold for some of the globe's biggest and brightest air cargo companies, let's see why they have become so popular for post-pandemic consumers and something for new investors to watch out for.
Speed & Security
One of the most important advantages of air cargo/air freight is the sheer speed of this form of international shipping. Providing consistency and security while also enabling same-day international delivery options, this mode of shipping offers consumers reliable departure and arrival times, perfect for those with time-sensitive forms of cargo such as perishable products.
Better still, air cargo trading is known for its consistency and reliability. Thanks to new digital developments across the industry, consumers can easily track both departure and arrival times and customise their transportation experience. 
In comparison to both land and sea shipping, air freight is less likely to be lost or delayed and customs duties are significantly reduced, making for a quick and easy journey across borders.
While it is quick, air cargo transportation is also extremely secure, making it a reliable option for a wide number of imports and exports. Strict airport security can be a hassle for the average commercial flight passenger, but for air freight shippers, strict screenings and rigorous regulations can actually pose as a benefit. Air terminals are thoroughly monitored, reducing the risk of theft or damage during the shipping process.
Enables Global Trading
As the e-commerce industry continues to boom post-Covid, global trading has become a new demand for a number of freight companies. While both land and sea freight are reliable forms of cargo transportation, air freight continues to break barriers and borders, making it quick and easy to ship a number of products abroad, especially to smaller countries that are often overlooked.
Air cargo continues to open more doors in order to reach a larger demographic and facilitate a wide number of diverse sectors.
One of the sectors that continue to benefit from the speed and flexibility of air cargo-based transportation is the healthcare industry. In a post-pandemic ridden world, air freight, in particular, has been vital in the distribution of vaccines across the globe.
Using air-based shipping is critical for flying temperature and time-sensitive pharmaceuticals across the globe in protective conditions. Using cutting edge technology to ensure air charters are viable for a safe transfer has saved 2.5 million lives per year according to the World Health Organisation, facilitating immunisation programmes across the world.
Shortening The Chain
Shipping products via air cargo also significantly shortens the supply chain and makes for a more effective form of importing and exporting goods. Shipping by air freight requires less handling of items during transit which in turn reduces the risk of product damage.
Better still, the international air transport network controls all aspects of the process from carriers to logistics, reducing the dependence on warehousing and inventory control. This enables smaller companies to save money on storing supplies and improves the business export and import chain.
What Are The Disadvantages Of Using Air Cargo?
While air cargo based shipping can be one of the fastest and most flexible forms of transporting goods, it does not come without its challenges. Here are some of the disadvantages of using air cargo and some of the initiatives air freight companies are taking to address them.
Sustainability
Did you know that the aviation industry accounts for 2% of all human-induced emissions? While only 12% of this is made up from the aircraft themselves, running airports, ground operations and freight procedures account for the rest.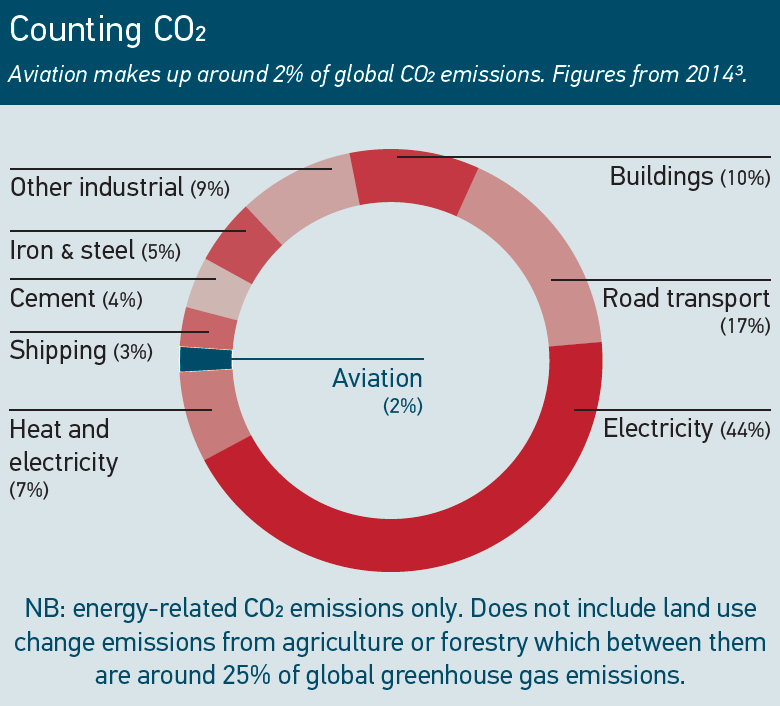 (Image Source: Aviation Benefits)
It's no secret that sustainability is still a looming challenge for the air cargo industry. In the wake of 2021's COP26 meeting, this issue has become more prominent when discussing the future of air-freight based imports and exports.
One of the key issues surrounding the sustainability debate is the use of fossil fuels and the aviation industry's reliance on using them. In the UK's recent 'Aviation 2050' report, experts propose that achieving a net-zero on all aviation-based carbon emissions by 2050 is doable across the globe.
Speaking on behalf of the Aviation 2050 initiative, Aviation Minister, Baroness Sugg, ensured that the environmental challenges the industry currently faces would be addressed within the next decade.
"The Aviation 2050 consultation lays out the proposals that will form the next stage of that process as we seek to address the challenges facing the sector over the coming decades," she said in the published report. "As this consultation makes clear, the government supports aviation industry growth. However, growth must be coupled with steps to mitigate environmental damage such as carbon emissions, noise and air quality."
The Cost Of Air-Freight Shipping
Another disadvantage of air-freight shipping is the cost. While it may be the quickest form of overseas transportation, next day shipping comes at a price. 
In fact, air cargo transportation is more expensive than both land and sea shipping, even when covering the same distance. In fact, the World Bank estimates that sea transport is at least 16 times cheaper than air freight. 
The difference here is weight. While sea freight calculates costs based on distance and volume, air cargo is calculated according to the weight of the product shipment. For heavier loads, this could send your shipping costs through the roof.
To tackle this, you could invest in a consolidation shipping service that aims to combine small packages with alternative shipments that have spare space in an effort to reduce shipping costs. This tactic is especially handy for small businesses that send small packages on a regular basis.
Better still, off-peak shipping is also an option provided by many of the largest air cargo companies. It depends on demand, but it is well known that some days are more expensive to ship your products on. In this case, Friday has been voted as the cheapest day to ship on. Heading into the weekend rush, your item may take longer, but those prices will drop.
Challenges & Limitations
With the miracle of air travel also comes great limitations. The aviation industry may pride itself on being the fastest route around the globe, but both passengers and cargo companies continue to face challenges surrounding weight, size and weather-induced limitations.
Due to the fairly limited space on a commercial aircraft, the weight and size of the cargo have to be assessed before it can be processed and loaded. 
While it may be out of the aircraft's control, the weather can also pose great challenges for the success of air cargo shipping. Severe weather conditions are much more likely to delay flights than both sea and land shipping.
In fact, 2% of flights are currently cancelled due to bad weather. While this may appear to be a small number, a single flight calculation can push back an entire line of cargo shipping, creating a knock-on effect across the chain and delaying orders across the globe.
The Air Cargo Companies Leading The Way Post-Pandemic
From the logistics companies dominating the air cargo sector to the largest air cargo carriers across the world, the air cargo industry continues to grow as shipping demand increases globally.
While the pandemic reduced both commercial flying by 75% and air freight transportation by a further 12% during 2020, the top air freight companies across the world still managed to move 8 million tonnes worth of goods through the air. Post-pandemic, this number is slowly climbing once again. After ITA revealed that air cargo was up 9.1% by September 2021, it seems as if Covid's constraints have been outweighed by consumer demand.
While US giant, FedEx, continues to top the list as one of the most successful air cargo carriers of the decade, German logistics companies continue to dominate the worldwide air cargo industry post-pandemic.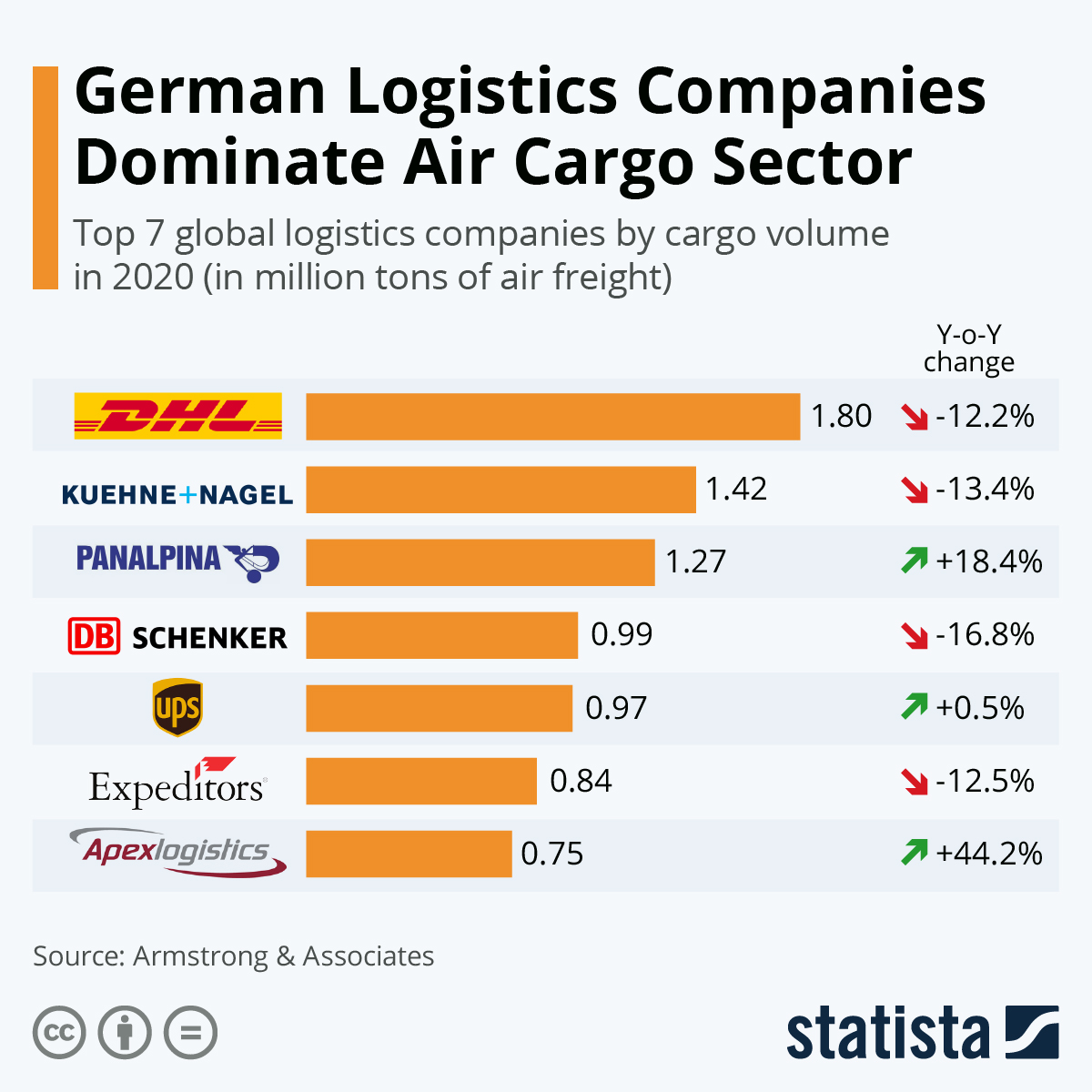 (Image Source: Statista)
In fact, German company DHL Global managed to move 1.8 million tons worth of goods in 2020 alone, narrowly followed up by Kuehne & Nagel with 1.4 million tons. In fact, according to recent data from Armstrong & Associates, US-based companies such as Expeditors and freight giant, UPS moved considerably less air cargo than their European competitors during the pandemic.
The Biggest And Brightest Air Cargo Carriers
As we move into a post-pandemic future dominated by the rise of e-commerce and cross border trading, let's have a closer look into some of the air cargo companies that are tipped to lead the way in the next decade of transportation.
FedEx
FedEx continues to remain at the top of the air cargo industry. Sending an estimated 6.6 million parcels across the globe annually, their income surged to $1.6 billion at the end of 2021.
The US-based parcel and logistics company specialises in internationally shipping packages by air freight all across the world. In fact, as the demands of e-commerce continue to rise, daily shipments have increased by 3% since 2020.
FedEx COO, Raj Subramaniam claims that the air freight giant's success is down to the company's ability to "provide critical delivery capacity and supply chain expertise to support the needs of our customers, while also making it possible for us to capitalise on the growing e-commerce parcel market."
As FedEx continues to up the stakes for delivery times, customer service and the fight within the e-commerce ecosystem, it's clear that this air freight company is set to dominate both North America and Europe across the next decade.
While supply chain constraints remain post-Covid, COO, Subramaniam suggests that the company is more than prepared to tackle the restraints.
"We have the network flexibility to scale up and down," He comments. "The size and scale of our network is massive for us to be able to manage the cost accordingly as well. But for the foreseeable future, I think there is strong demand for our services internationally."
UPS
UPS is another air cargo giant to look out for post-pandemic. Capitalising on the new demand of e-commerce, healthcare and B2B business, it enjoyed a 20% increase in profits during its Q3 2021.
In fact, UPS continues to innovate the air cargo sector, providing new forms of technology-enabled shipping that prioritises critical packages and special handling for healthcare essentials. 
Introducing their on-package sensors, Chief Executive, David Abney stated that this next-generation technology will further improve air cargo reliability when critical packages are shipped worldwide.
"The sensor technologies and special handling plans provide a high-value solution for great visibility and special contingency actions for critical packages," Abney claimed.
In addition to this, UPS has recognised the growth of small business start-ups post-pandemic. As e-commerce dominates the international market, UPS is collaborating with small and medium-sized businesses to directly embed their shipping solutions within high performing e-commerce platforms.
Abney suggests that e-commerce's success is a window of opportunity for air cargo carriers and the future of UPS' success:
"B2C and B2B sellers of all sizes benefit from the convenience of platforms to reach customers and manage their business. Through our digital access programme, we're making it easier for SMBs to use UPS services by embedding our shipping solutions directly into the leading e-commerce platforms."
DHL
DHL continues to prosper in 2022 and is expected to keep rising up throughout the ranks as e-commerce continues to transform the air cargo industry.
In fact, the Deutsche Post-owned forwarder saw a whopping 53% revenue growth in 2021 alone as it continued to expand to meet new customer demands across the globe.
Towards the end of 2021, DHL Express met the growing demands of the intra-Asia and transpacific market in order to serve an acceleration of 61% in online sales growth across the continent.
DHL Asia's vice president, Sean Wall states that expanding to serve an Asian consumer market will provide great profits for DHL during peak seasons:
"To ensure we are ready to cater to the anticipated surge in demand during peak seasons, we consistently enhance our fleet and adjust our air network to provide our customers with the most efficient, time-definite international deliveries."
The Future Of Air Cargo
The question is, what does the future look like for the brightest air cargo companies on the block? 
Air Cargo volumes continue to rise by 3% annually according to a recent report by Mckinsey & Company. Predicted to keep rising until 2030, the post-pandemic e-commerce boost could see a profitable future for well-known cargo giants such as FedEx and UPS.
Experts suggest that rapid growth within Asian markets will contribute to air cargo's success within the next decade as China continues to increase air freight volume while developing new air route networks. In July 2021 alone, just under 600,000 metric tonnes of air cargo was transported by Chinese carriers, which is almost double the amount carried on any other continent.
In order to keep up with rapid growth within the sector, cargo companies need to look into expanding their carrier selection and speed up the movement of cargo across the globe. As the industry continues to go digital, speed and strategy are of the essence in order to keep up with increasing consumer demand.