The reliance on air cargo has been more prominent than ever before, and the positives of using this method for importing and exporting benefit us. Although there are downfalls to using air cargo, the industry itself is trying to provide solutions to these hurdles in order to make it a more viable option for a wider range of industries. There are many interesting points about air cargo and the way that we now choose to transport freight and goods. Delving into the uses of air cargo, what it can be used for, how much it impacts our day to day lives and how it can be used in emergencies are just a few of the interesting statistics and facts that will be explored.  
What does air cargo mean?
The term air cargo or air freight are often used interchangeably and refer to the transportation of goods and products by air. The air charters or aeroplanes themselves are utilised in a very different way. The use of commercial aircraft to import and export goods is something that is being done as a way to make use of the empty space that is available even when the aircraft is carrying passengers. For larger loads and heavier freight, more suited aircraft are used as a way to transport the goods safely and in a timely manner.
The security of goods and cargo is paramount, which is why the air cargo industry has requirements that must be fulfilled before any goods even get on a plane. Heavy and outsize cargo requires a specific skill set and equipment, so taking the time to decide if air cargo is the best method to transport a certain type of goods is very important. The most common types of goods that are transported by air cargo are perishable goods, such as fruits and flowers, pharma and healthcare, such as the vaccine, live animals, and electronic devices. The logistics of air cargo and using air charter as a method of transport is to meet the expectations of things you would like in your own home. Many people forget how globally reliant we are on air cargo and air freight and how many job opportunities are available because of it.
In the last year alone, there have been so many changes in the way that everyday life is conducted, and the reliance on air cargo has been more prominent than ever before. The logistics of the space within an airline needs to be increased to the demand of using air cargo. 
The extra capacity that is needed in the cargo hold is a hurdle that the air cargo industry has encountered during this time. The use of passenger aircraft for all-cargo flights became a solution that was used to overcome this hurdle and was granted by the civil aviation authorities. 
Because the demand for passenger planes used by actual passengers had significantly decreased, the use of the cargo space within them made sense. By using the passenger cabin for cargo, an extra 1,000-1,500 boxes can be accommodated. Over 90% of passenger flights were grounded in the initial lockdown, which meant that the utilisation of the charters was more vital than ever before.
Using air cargo has saved lives
Even with the grounding of so many flights, the air cargo industry was still in demand and very much needed. Every year air cargo is chosen as the method of transportation to move medical goods because of its quick turnaround in terms of actual travel time. In the last 24 months alone, the pandemic has shown us how much we rely on importing and exporting services. With just vaccines alone, 2.5 million lives are saved every year because of them. Air cargo plays a critical role in ensuring that pharmaceutical companies can deliver their medications in a temperature protected and time-sensitive manner. As the use of air cargo is becoming more and more relied upon, the choice to use this as the transport type for medications is important. The prevention of deaths and the movement of highly demanded vaccinations are crucial to the delivery of important medications. 
Mail is king
The use of air cargo as a method for delivery is not only restricted to vaccines and medications. Over 7.4 billion parcels are sent every year with the use of air cargo and 329 billion letters. The use of airmail plays a monumental part in much of the delivery of our mail. Air cargo and the use of air charter is pivotal and essential to their delivery. As the pandemic has shown, the demand for parcels and deliveries have increased for our own convenience, therefore, creating more demand for air cargo and air freight usage. Not only does air cargo assist with international mailing, but it is also a primary point of call for companies such as Amazon and independent production companies alike.
Air cargo and technology
It is no secret or no new news that the use of technology is rapidly increasing and the appearance of new technology in our everyday lives is more prominent. The use of smartphones alone has increased significantly over the last decade, and of course, this has been reflected in the use of air cargo to transport goods and technology.
Interestingly, with smartphones, in particular, the total weight of smartphones delivered via aircraft has decreased by more than 50% because smartphones are getting slimmer and less weighty. The impact of a household income still seems to show that most homes do have at least one item of smart technology, including smartphones, which just highlights the impact and demand that is placed on technology imports and exports.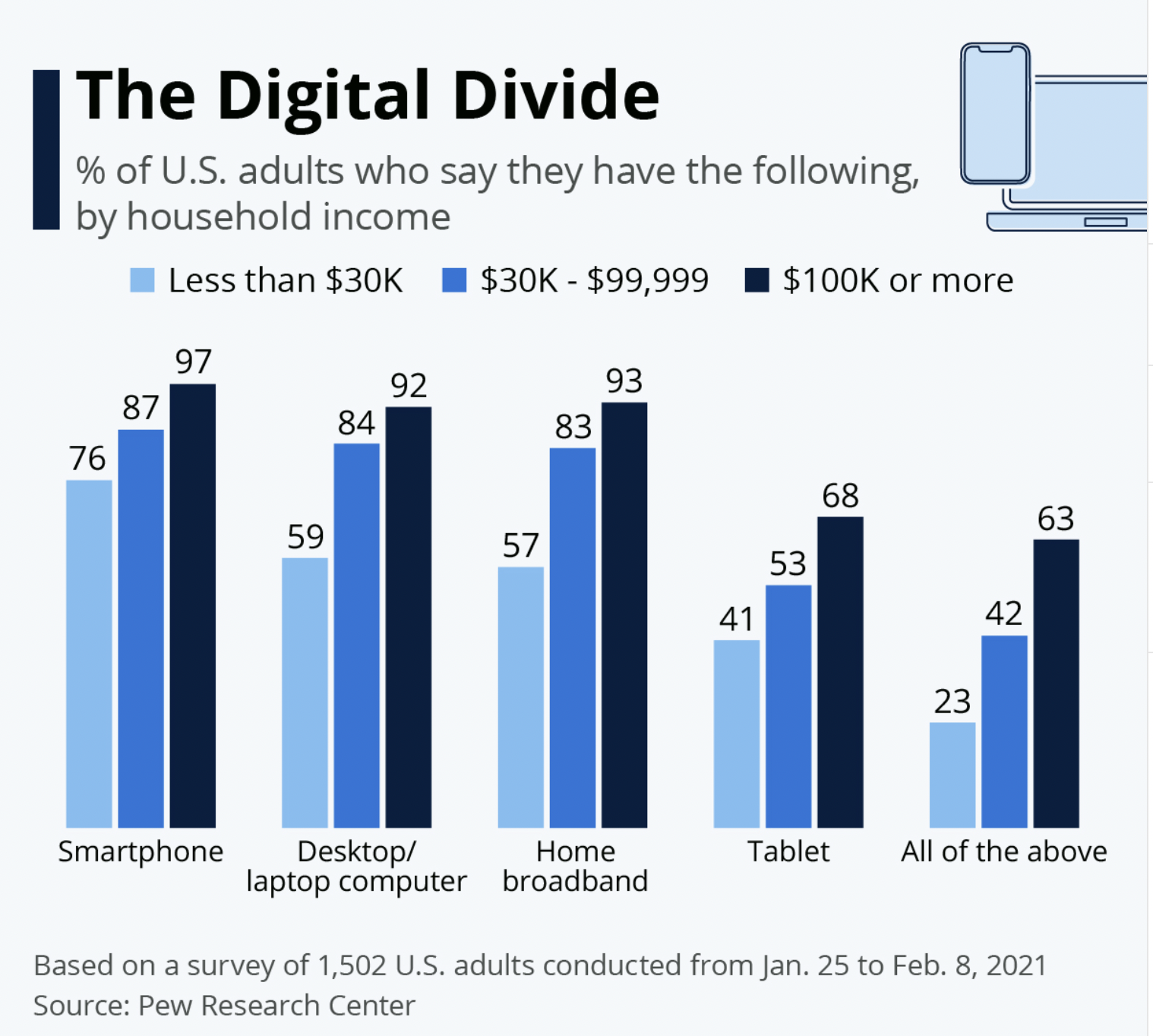 (Image Source: Statista)
The world's busiest airports for cargo
Having an aircraft or an air charter is crucial to the success of air cargo being delivered, but what about the airports where they land? Despite the pandemic and lockdowns, air cargo was still needed, which meant the runways of airports were, too. Airports Council International reported that across the busiest airports handled 18.32 metric tonnes of cargo in 2020. Hong Kong and Shanghai airports are among some of the busiest airports for air cargo.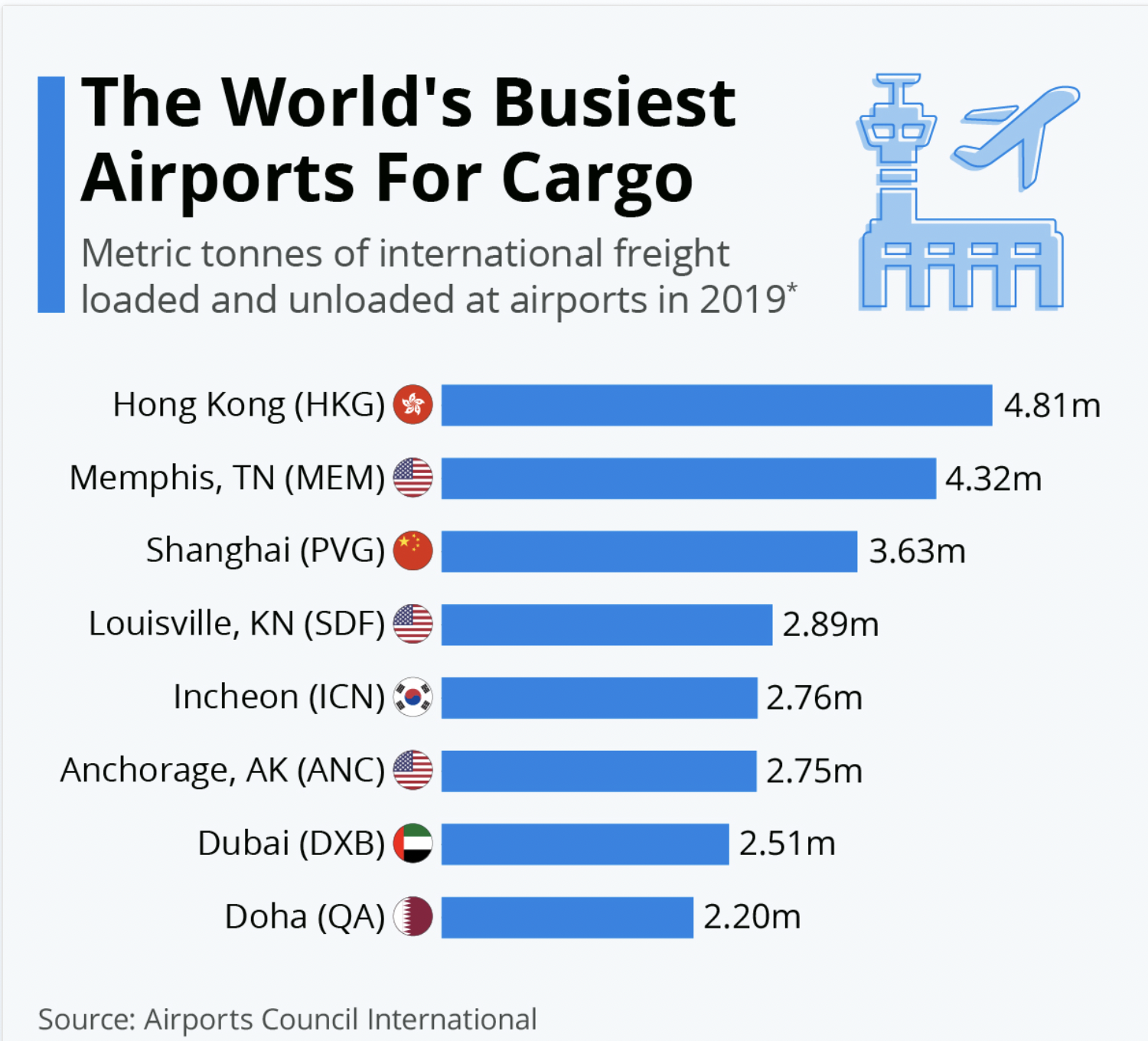 (Image Source: Statista)
Air cargo and global trade
35% of global trade, by value, is represented by air cargo and the revenue of cargo airlines around the world amounts to approximately 50.7 billion U.S dollars. The use of air cargo and air freight is more accessible than ever before which is reflected in the growth of airports and the astonishing amount of jobs that have been created for people in the aviation sector. Across the world, there are over 3,200 airports and 60,000 trade lanes, which reflects the demand and reliance that this had on using air cargo as a form of shipping.
History in the making
When it comes to the history of air cargo and air freight, it has been used as a method of transportation for over 100 years. The first Air Cargo flight took off in 1910, after the first powered flight with a passenger took to the skies in 1903. The Wright brothers were the pioneers of this aircraft, but it was actually Max Morehouse who pushed the idea of using an aircraft commercially. 
The first airmail was transported on February 18th 1911, from Allahabad to Naini. As part of the demonstration, this airmail was shown to fly letters 13 kilometres and was then later introduced as a service in Great Britain as part of the coronation celebrations for King George V. This was in the form of a celebratory letter from London to Windsor (34 kilometres). Following this letter being sent, there were some changes and considerations that had to be put into action because of the cold and rainy weather that was a hindrance in the early days of using air crafts to transport air cargo.
Compared to the early 1900s, the largest air cargo aircraft is known as the Antonov AN-255, which can carry the weight of up to 650 tonnes of goods. This is monumentally larger than when air cargo first started to be actioned. This air charter has carried out the heaviest air freight delivery so far, weighing in at a spectacular 418,834 pounds in weight, which is the equivalent of 4 blue whales in an aeroplane. Now the air freight industry transports around 51.2 million tonnes of cargo and goods in one year.
It's not just nipping around the corner
Choosing to use air cargo as a method of transportation is not a trip around the corner but actually takes planning of routes and regulatory procedures before cargo even gets on the aircraft. The longest planned cargo route service is currently between Dubai, UAE and Panama City which totals 13,281km. This route is covered by Emirates and takes over 17 hours to complete the cargo route, which is not just a trip around the corner.
Just as the longest route is a long journey, the air cargo industry hasn't just stopped there but has been further afield, too. The highest delivery altitude was 400km straight into space. The air freight industry has delivered food, clothes, computer equipment, and scientific instruments to be used at the International Space Centre. This means that alongside the 400km delivery into space, the aircraft was able to carry 3.5 tonnes of goods.  
The effect of the pandemic
The pandemic has affected many industries in the past two years, and the worlds' freight traffic declined by 27.7% in April 2020. The pandemic made a big dent in the air travel industry as fewer people and goods were flying during that time, and the demand for air travel has significantly dropped lower than it has done in years. However, as restrictions are lifted, and the demand for delivery is increasing, so is the air freight industry, but commercial flying, in general, is still not back to where it used to be. The global demand for airfreight has still not fully come out of the slump that it is currently in, and although it is showing signs of increase, it still has a long way to go.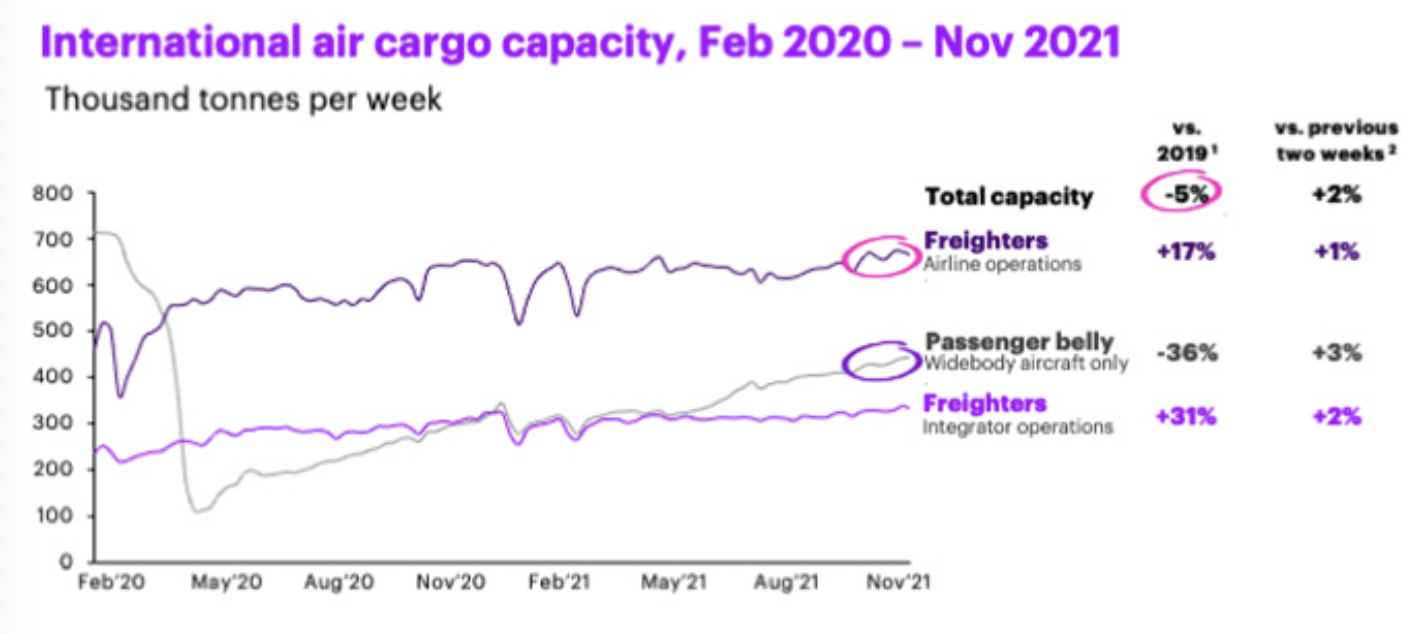 (Image Source: Accenture)
Cutting the emissions of aviation
It is no secret that air travel pollution is not exactly something that is helping the sustainability cause and the evolution and demand of aviation have come with the price of high emissions. In the case of aviation, the environmental impact that it has contributed to is something that needs to be remedied if the aviation industry wishes to continue at the volume and demand it is currently working at. Globally, the aviation industry produces 2% of the overall human-induced emissions, but the aircraft themselves only account for 12% of all the emissions that are used with the flying process overall. The aviation industry also includes ground operations, the energy used within airports and of course, the transport that is used to load and unload the aircraft itself. 
With every kilometre flown, an aeroplane releases 285 grams of carbon dioxide per passenger, so when considering that amount compared to car travel, which is 55 grams of carbon dioxide for every passenger per kilometre, it is without a doubt more sustainable to travel by car. Indeed, this isn't always a viable option and the way that industry is trying to utilise each flight and establish more emission friendly practices.
By 2050, the aviation sector has set the goal to reduce its carbon emissions by 50% and half of the carbon emission that was produced in 2005. The decarbonisation of the industry is reliant on many factors. Oil companies like Shell Aviation are actioning their path to reduced emissions by implementing an array of features within their company and product, which, in turn, will contribute towards the actions of the aviation industry becoming more sustainable. For example, the improvement of aircraft efficiency by powering ground operations with renewable energy sources is a step that has been taken as a way to reduce the emissions caused by the aviation sector. Another step that parallel companies are making is the evolution of sustainable aviation fuel. By proactively reducing emissions through using sustainable aviation fuel, the use of reusable sources and waste sources could be a massive contribution to rescuing the emissions of this sector. 
There are positive results that have been shown that highlight that the goal of reducing carbon emissions by half in the aviation sector will indeed be possible. British Airways operated its first passenger flight using recycled cooking oil, and Rolls Royce had its first electric plane fly for 15 minutes. These two advancements are in the United Kingdom alone and with strides being made in the direction of using more renewable energy, the global impact of other companies being on board could most certainly be phenomenal.
The business is in its people
Although the business of air cargo lies in exporting and importing goods, the use of commercial aircraft for cargo is monumental within the aviation industry. Statistics show that there are far more people in the air at one given time than you may think. It is estimated that approximately half a million people are up in the air at any given moment.
The most frequent flyers in a time before the pandemic hit were actually based in the United Kingdom, with 126.2 million international travellers globally flying out from the UK. This was closely followed by the United States of America, from which there were 111.5 million or 7.6% of global air passengers, and claiming third place were Chinese international passengers, who accounted for 6.6% of the global flying population or 97 million travellers.
The number of travellers that are reliant on air transportation as a way of travelling can often be reflected in how busy airports can be. Hartsfield-Jackson in Atlanta sees over 50 million passengers every year. It is the busiest airport in the United States of America and before the pandemic, this airport was in the lead of passenger footfall. A hotspot for tourism in 2019 (before the pandemic) was certain parts of Europe which accounted for a large number of American passengers. Travel Trade revealed that over 19 million tourists to Europe were from the United States alone.
With all of the cargo and passengers that are transported via air, it is surprising how many people miss their flights. Statistics show that 5% to 15% of passengers miss their flights and airlines often have to overbook their planes to account for this. The overbooking to account for people who miss their flights contributed to the efficient use of airline space and ensured there are as few empty seats as possible.
The Safety of Commercial Flying
Statistically speaking, travelling by air is one of the safest methods of travelling and transportation. Commercial airlines, in particular, have been shown to actually be safer than travelling in a private plane in terms of accidents and crashes. Between the years 2000 and 2009, more than half of United States deaths occurred in private planes, and not commercial flights. This includes not only passengers but also the crew. This can be attributed to an array of things, but a primary reason could be that the training requirements for private pilots are typically less strict than the training requirements for commercial pilots, and there are fewer in-flight safety features on a private plane in comparison to a commercial air charter.  
When it comes to the safety concerns that are often paired with the thought or fear of flying, one can often be put at ease when it comes back to looking at the statistics. You are roughly 4 or 5 times more likely to be eaten by a shark than to encounter a terrorist on your flight. The reason events such as terrorism are so highlighted in the news is because of the rarity of it happening to you. With both of these unfavourable events, the past two decades alone have shown that there is approximately one terrorist incident per 16.5 million departures. Hence, the chances of you being attacked by a shark are around 1 in 3.75 million. Quite a staggering difference, and the aviation and airline industry now take security more seriously than ever before.  
To further cement the safety of commercial flying and choosing a commercial air charter to transport goods is the fact that the plane accident with the largest death toll in history actually took place on the ground. In Tenerife (the largest of Spain's Canary Islands) in 1977, a total of 583 lives were lost when two planes crashed on the runway.
According to the US National Transport Safety Bureau, 95% of all air accidents have survivors and highlights even further that the safety of air travel is indeed not as dangerous as people may think it is, statistically speaking. 
When it comes to air cargo and the aviation industry, the statistics and facts that come paired with it are fascinating and highlight a lot of things. From how the industry is contributing to the environment to the reliance that it has on the sector to distribute goods around the world. The aviation industry has many hurdles and advantages that are being addressed and is still very much in its innovation stage. This is exciting for the future of air travel and its impact on a global level.