The COVID-19 pandemic has heavily influenced the widespread drive towards digital transformation in the world of retail. In fact, according to IBM's 2020 US Retail Index figures, the health crisis accelerated the shift towards digital shopping by around five years. 
Even before the emergence of COVID-19, the use of augmented reality online with virtual try-ons had been growing through furniture applications like IKEA Place and with luxury fashion brands like Louis Vuitton and Gucci. However, while in the months and years prior to the pandemic AR was seen as a luxury feature, the technology has since become pivotal to the digital transformation of retailers. 
For instance, when the pandemic forced a temporary closure of jewellery brand Kendra Scott's brick and mortar stores, the company quickly turned to augmented reality in enabling customers to virtually try on products through the use of integrated smartphone and smart device cameras – all without shoppers having to leave their homes. 
Although we're now entering the age of the 'new normal' where stores are beginning to adapt to post-pandemic life, retailers are aiming to uphold a fresh emphasis on health and hygiene in brick and mortar locations. As a result, beauty brands like Sephora and Ulta are restricting try-ons for makeup, instead of working to integrate AR in a way that can help visitors to virtually explore their makeup products. 
This indicates that while augmented reality is capable of transforming the online shopping experience, it will also become a driving force in physical retail connections.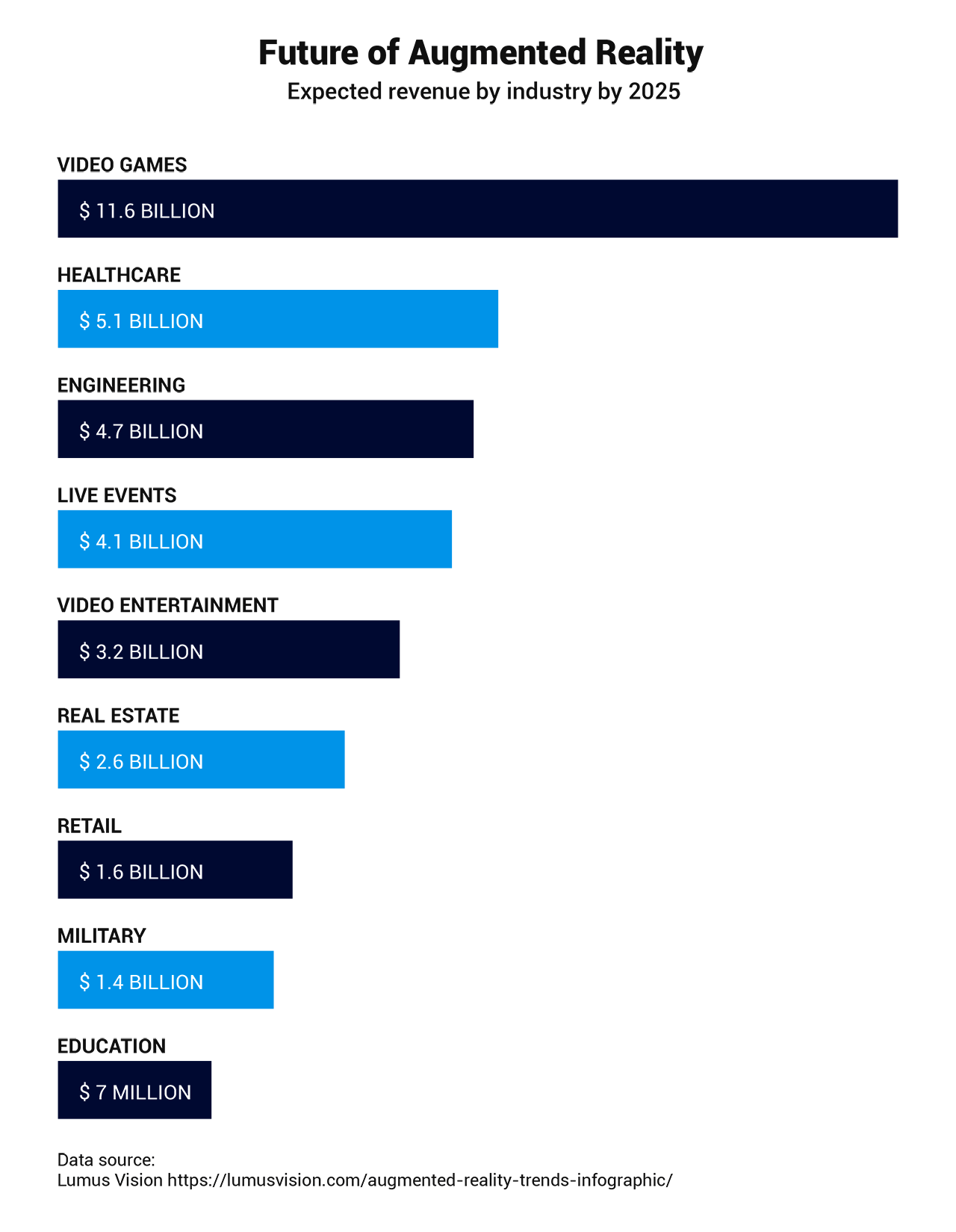 (Image: MobiDev)
As the chart above shows, by 2025 augmented reality within the field of retail will generate a revenue of $1.6 billion – making it a leading industry for the burgeoning technology behind entertainment, healthcare and real estate. 
But how exactly will augmented reality herald a revolution in retail? And what can it do for companies looking to digital transformation to adapt to a post-pandemic world? Let's delve deeper into AR and how it has the potential to drive change in the retail industry: 
What is Augmented Reality?
Augmented reality has evolved to become a natural fit in the world of retail. It can act as an excellent bridge between the in-store purchasing experience and the act of buying products in the world of eCommerce. Most notably, AR can make products more engaging and enjoyable for customers when shopping online. 
But what exactly is augmented reality? And how exactly can the technology help when it comes to retail? 
Augmented reality works by adding digital content like text, images, videos and audio to an integrated screen. This helps to create the illusion that this content is a natural extension of the environment around the user. 
Although this description may sound similar to virtual reality, AR experiences don't require users to fully immerse themselves into a virtual environment. Instead, augmented reality simply adds computer-generated layers on top of the real world. 
This act of overlaying computer-generated content can be done through a variety of approaches. Many of us have already come into direct contact with AR through Instagram, Messenger and Snapchat filters where we have the ability to superimpose pirate hats, Halloween makeup, wigs, and just about anything imaginable onto our faces with the help of a smartphone camera. 
Even using Google Maps or Waze can involve interacting with AR. The digital navigation that helps to guide us from A to B has augmented features built-in.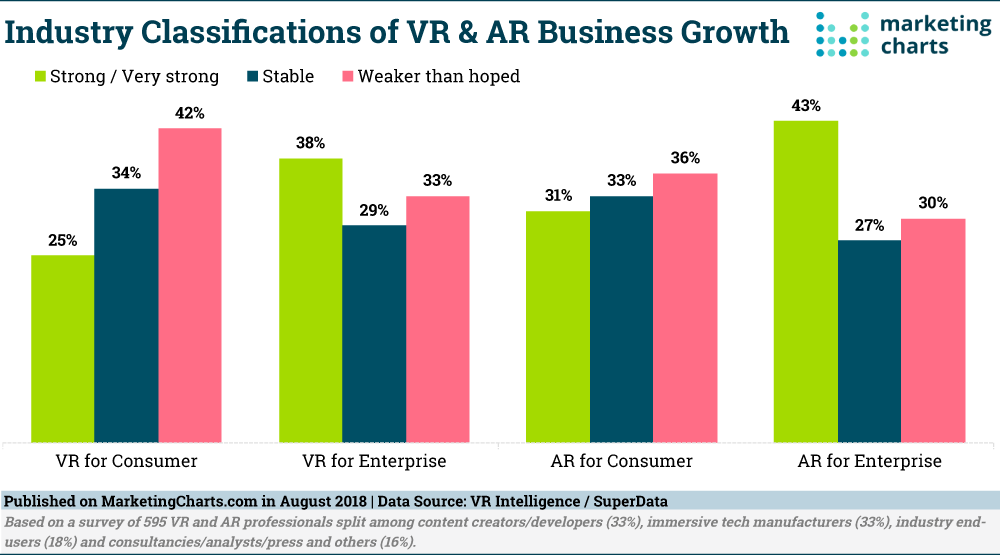 (Image: Marketing Charts)
As a result of AR's blending of reality and digital content, we can see that AR has consistently outperformed VR in terms of business growth in both consumer and enterprise applications. 
Through retrieving and displaying digital content to users, AR utilises computer vision, localisation, mapping and depth tracking whilst utilising sensor data to calculate the distance to objects in the user's field of view. As an example, a navigation app can use computer vision to process the location and objects captured within a smartphone camera lens and recognise it – before labelling them accordingly for the user to see. This is an example of markerless AR, and it's highly convenient in the world of retail. 
When we look at this technology in a more consumer-based environment, we can see how AR can place products right in front of shoppers without the need for them even leaving the house. Augmented reality enables users to play with products without having to visit physical stores and see how they would fit in the house or how they would look while wearing them. 
This is a technology that's rapidly growing, too. In fact, by 2022 it's estimated that there will be 3.5 billion users of augmented reality around the world. 
Augmented reality allows customers to capture and share content with virtual products, while the user-generated content can spread brand awareness and spark new social conversations about prospective purchases before the items arrive. This means that the technology can also work wonders when it comes to marketing – even if a virtual try-on doesn't actually result in a purchase. 
Furthermore, AR gives companies the opportunity to measure which products customers are engaging with the most in order to adapt their online shopping experience. These metrics can help to deliver more personalised shopping experiences and more fitting suggestions for users. 
Given that many companies today are faced with the challenge of transforming their shopping experience to suit an online environment, the eCommerce, marketing and experience benefits that augmented reality is capable of delivering means that it can become an essential tool in any digital transformation plan. 
Augmented Reality's Transition Towards Retail
Over the past decade, smartphones have become advanced enough to comfortably process augmented reality content. This has presented more brands with the chance to come up with their own use cases for AR. 
Today, large retailers are attempting to discover new ways for augmented and extended reality to enhance the shopping experience. IKEA was one of the early companies to jump on the potential of AR, developing its app, Place, in 2017 which enabled customers to visualise products in their homes before making a purchase. 
By 2020 other brands were partnering with social media networks like Snapchat to enable users to try on products. In a partnership with Gucci, users had the ability to virtually try on shoes before clicking an embedded link to buy or share their images in the shoes to other friends and followers. This partnership not only enabled customers to continue engaging in 'try on' experiences but it also helped to familiarise younger future buyers with products. 
L'Oréal also used the technology to great effect, with Lubomira Rochet, chief digital officer at the company explaining to The Drum that "we now consider virtual make-up try on to be the base of any experience. At the end of the day, the only barrier to buying [a product] is wondering what it will look like." The brand has even acquired AR company ModiFace as a means of generating augmented content throughout the company's website.
Elsewhere, Estée Lauder recorded a 133% increase in usage of its virtual lipstick try-on technology during COVID-19-imposed lockdowns, showing that users are ready to adapt to swift digital transformation.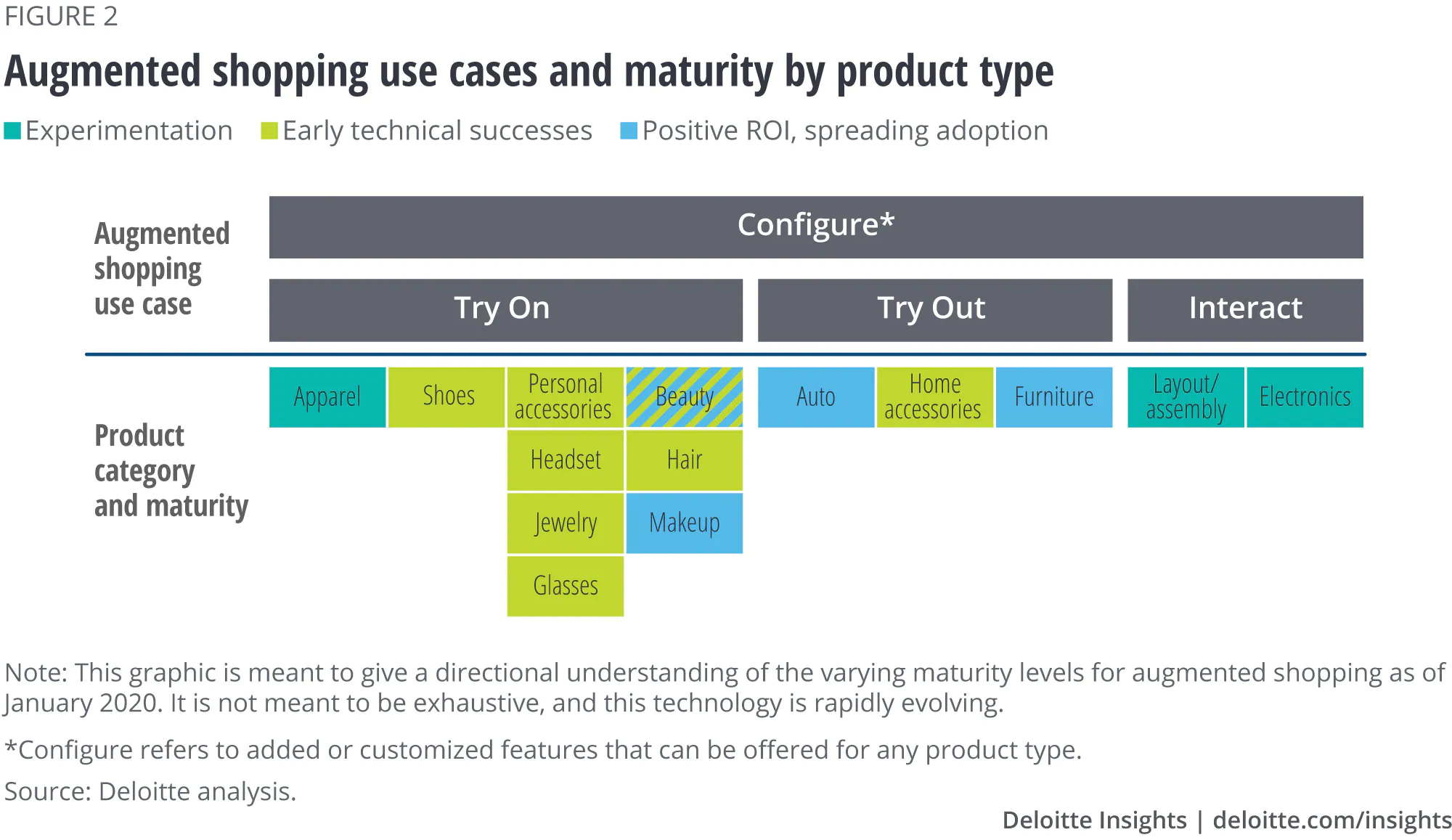 (Image: Deloitte)
As Deloitte's data shows, new applications for augmented reality technology are cropping up all the time, with positive ROI being recorded for furniture, makeup and automotive use cases. Meanwhile, other companies are experimenting with the trying on of apparel and interacting with electronic devices through AR. 
Augmented reality's ability to enhance the real and physical world with virtual interactions with products has helped to open up plenty of opportunities in the world of retail. Let's take a deeper look into how the future of shopping will be influenced by augmented reality: 
How AR is Being Applied to Retail
There are many ways in which augmented reality is being used to great effect within retail. With this in mind, let's take a closer look at the various applications of the technology and explore their industry implications, and how it can help to save businesses more money whilst going digital: 
1. Augmented Try Before You Buy
One of the most significant perks of augmented reality is the fact that it can recreate in-person shopping experiences in the comfort of your own home. This helps brands to move customers along their sales funnel more effectively. 
Building an augmented reality store means a brand can help customers to try on various products in a virtual space, elevating the online shopping experience to a level that could only be replicated in-store. This means that the need to physically visit stores is eliminated, and has already become popular with businesses selling makeup, clothes, shoes and various other wearable products. 
With more users happy to part with money on items that they've already tested on themselves, AR plays a key role in the brand experience model whilst also boosting the presence of augmented brands across online markets. 
We've already explored examples in the form of L'Oréal's makeup range and Gucci's shoes, but another brand, Dior, have successfully launched an AR function via Instagram to market their range of sunglasses – showing that there's an excellent virtual try on market for accessories as well as apparel, makeup and footwear.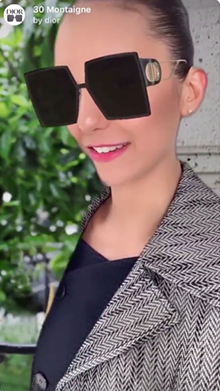 (Image: Lenslist)
In a world that's been significantly impacted by the COVID-19 pandemic, the evolution of AR in paving the way towards recreating an in-store shopping experience that's been lost through a series of lockdowns and social distancing measures has been timely. 
Brick and mortar shopping and the try-on process has become a valuable pastime for many consumers around the world. Although the age of the new normal may lead to more physical stores closing, augmented reality can bring the in-store shopping experience closer to home than it's ever been before possible through recreating the fitting room experience. 
2. Taking The Guesswork out of Homeware Shopping
It's perhaps unsurprising that one of the pioneering applications of augmented reality within the world of retail revolved around the use of AR technology to preview new furniture around the home. 
Prior to the pandemic, virtual try ons were competing with real-world shopping experiences while there was very little precedent for previewing furniture purchases. Other than a tape measure and a lot of imagination, there was very little that consumers could do when it came to furnishing their home. 
However, with AR furniture apps, it's possible to see how a product would look in a home before a purchase is made. This eliminates the need for troublesome deliveries and returns processes of expensive and bulky items and establishes clear and interactive views of how chairs, wall units, lamps, and much more will visually suit a living environment. 
With accurately scaled 3D renderings, users could also make sure that the product could physically fit into a room without the risk of guesswork and a subsequent returns process for ill-fitting items. Furthermore, users are able to fully customise the colour and type of furniture they preview, as well as moving it around the house with ease.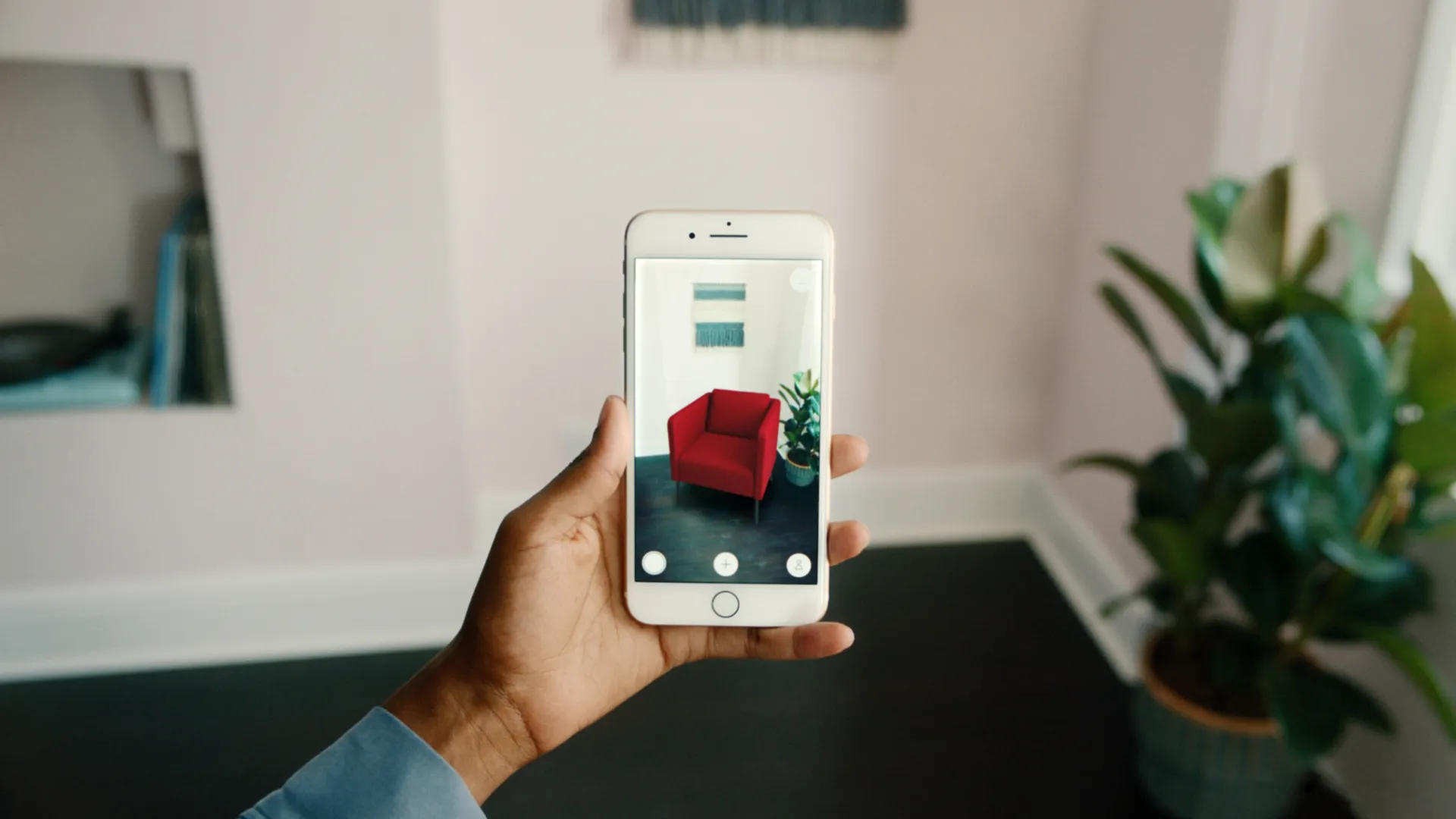 (Image: WIRED)
The dilemma of deciding on the right colour for the walls of our rooms is a common one for consumers. However, Dulux has brought in an innovative solution to this tricky decision process through its Visualizer app. With the use of the app, any user can explore different colours for their walls whilst choosing from hundreds of various shades. It even enables you to apply multiple colours to various parts of the room and take pictures to compare and contrast later on. 
It's reasonable to expect that augmented reality will accelerate fastest when it comes to purchases involving items that are hard to replace or have little margin for error during the fitting process. 
3. Saving Stores Money on Returns
Although AR apps are largely identified as a great solution for marketing and increasing brand engagements, it can also save companies money by significantly reducing the returns process through its digital experiences. 
Because these solutions enable customers to visualise products in real-time, they can make more informed purchasing decisions regarding clothing that's the right size and the right colour for them, reducing the temptation of ordering multiple items to try before picking one and returning the rest. 
Customers who get to experience a product through an immersive shopping experience can feel more reassured that it both fits and suits them, making it less likely that they will later return the item after it's delivered. With 76% of consumers claiming that they would 'maybe' or 'definitely' buy more items if a virtual try-on option existed, the cost-saving benefits of augmented reality is clear to see in retail. 
4. Enhancing Brick-and-Mortar Retail
Augmented reality is also changing the in-store experience for customers. Although COVID-19 has accelerated digital transformation by some years, AR technology is still showing its worth in high street store locations and even paving the way for virtual try ons at a time where it may still be impossible for customers to enter fitting rooms. 
One example of AR on the high street can be found in a use case proffered up by Timberland. The brand installed a magic mirror in the window of its store facing outwards into the street. This enabled passers-by to engage with the mirror to try on clothing digitally. This approach to marketing can be particularly useful when it comes to peddling seasonal sales and generating interest in new clothing ranges.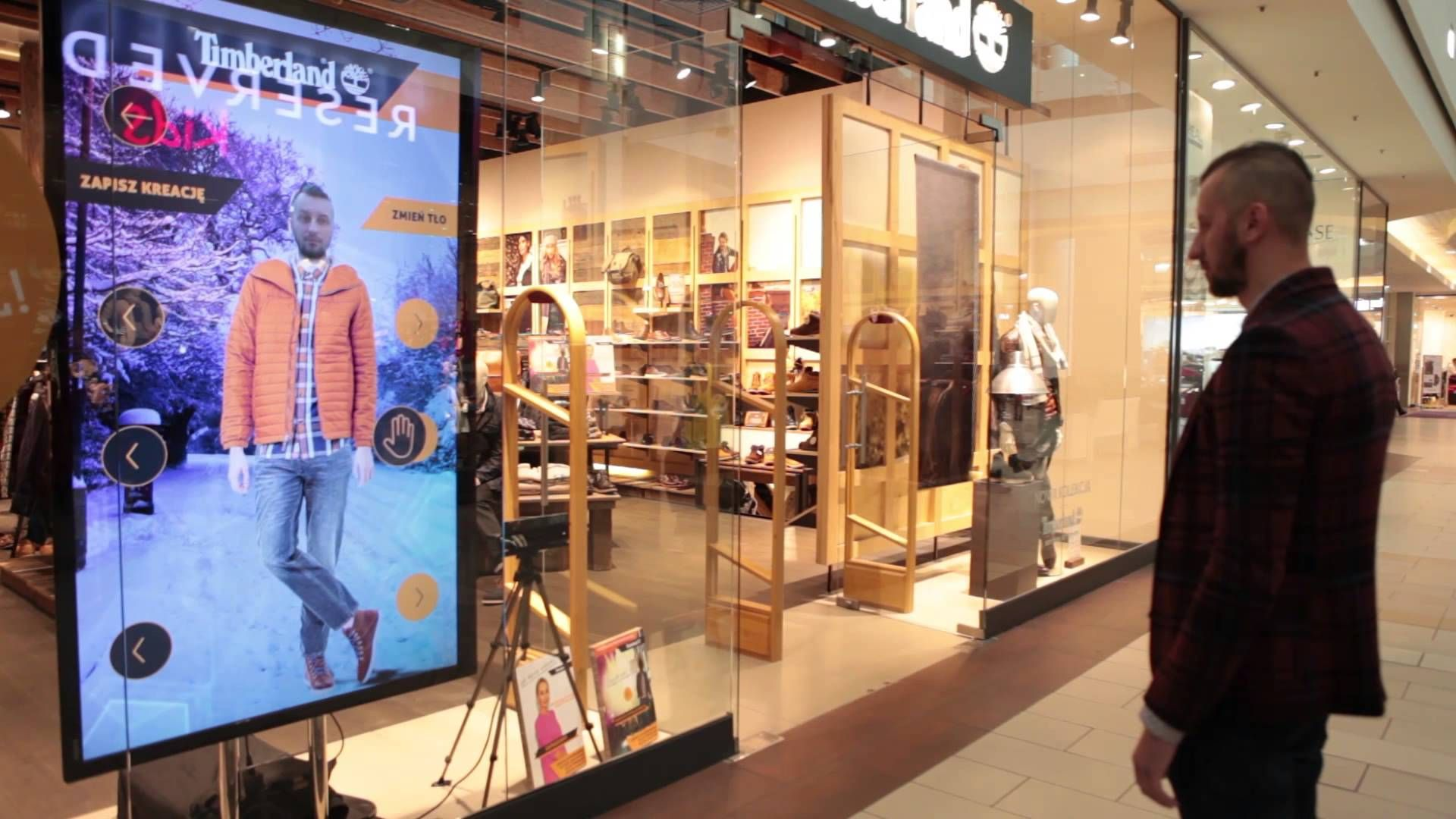 (Image: Pinterest)
Although this can be an innovative new approach to audience engagement, it requires individuals to engage with the magic mirror in a public place. Whilst AR technology is still in its infancy, this may be a little too early to expect widespread interaction from all consumers – and may, in the short term, still be largely used by younger audiences that are more familiar with the technology. 
5. Generating a Marketing Buzz With AR
Whilst the world adapts to the era of the new normal in which in-person events have become more difficult to set up than before, retailers are using new events to create a buzz around new products. Augmented reality can help to facilitate immersive virtual events that can resonate just as strongly as physical events. 
We've already seen some use cases of AR in the field of promotional activities, like its integration into the London Fashion Week and the unveiling of a new smartphone by OnePlus at a live-streamed augmented reality launch party. 
Data shows that 55% of consumers believe augmented reality makes the shopping experience more exciting. This indicates that digital events have the power to generate greater interest in brands and play a key role in driving new confidence in reality technology. 
Augmented reality events carry various benefits in comparison to more offline launch events. It paves the way for consumers to take the role of active participants rather than simple passive audience members thanks to the interactive elements of the digital experience. It can also make events more scalable in overcoming the natural boundaries presented by physical locations. In this regard, a product launch can essentially go global and facilitate the same quality of experience for anybody around the world. 
Companies like Mesmerise VR have developed AR companion app technology that can support events like product launches while opening the experience up to users around the world. Excitingly, the company is also looking to develop true 360-degree AR and virtual reality experiences in the form of games and video that can help to pave the way for more immersive interactions with products and marketing campaigns for consumers. 
Augmented reality also helps to generate authentic product experiences for members of the public without the requirement of visiting a store or engaging with the brand online. 
There are plenty of use cases for AR marketing in recent years, with companies like Pepsi even managing to go viral with their 'virtual window' campaign, where audiences were able to witness tigers, giants and robots superimposed into a window-like landscape. 
Uber ran a recent AR campaign in Zurich, Switzerland, where users could interact with augmented reality screens while on their journey. The campaign generated more than one million views on YouTube. 
As part of their marketing for a new season of TV series, Stranger Things, Netflix collaborated with Snapchat to launch new AR and VR lenses on the social network to display users walking through many of the environments that feature on the show. The company also used augmented filters to promote more content surrounding the show. 
We will see more of these use cases being applied to the world of retail as more businesses look for innovative ways to introduce new products, apparel and accessories to audiences without having to rely on them to interact with features online or view the magic mirrors in stores. 
6. Driving The Future of retail Through Actionable Insights
Today, almost 60% of shoppers choose to view product information and compare prices using their smartphones in brick and mortar stores. AR can help to better inform purchasing decisions through integrated augmented apps. 
While much of this article has focused on recreating in-store experiences online, AR can help to bring the best elements of online shopping in-store, too. Future generations of AR glasses running on 5G will be capable of generating product information in real-time and review data whilst we're browsing products in-store – helping us to make purchases with confidence.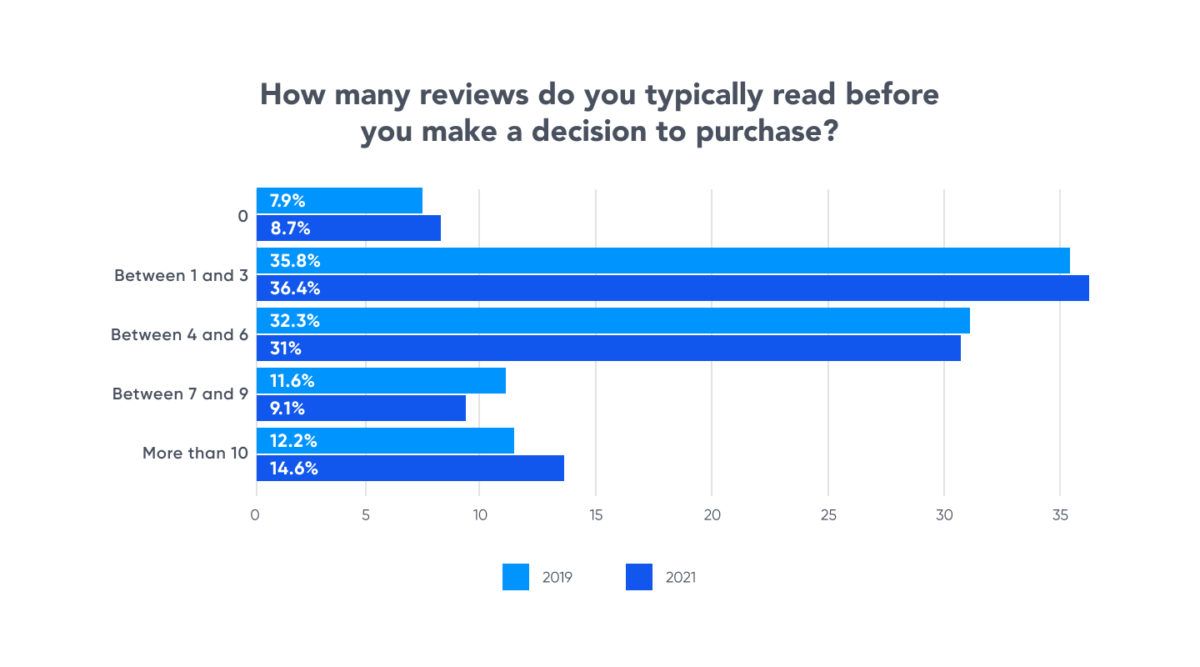 (Image: Bizrate Insights)
With the majority of consumers choosing to view at least one product review before making a purchase, AR technology will evolve over the coming years to become capable of identifying products and automatically showing us what buyers think of them. 
As we tentatively steer away from the era of the COVID-19 pandemic, augmented reality has shown the world what it's capable of in terms of driving digital transformation across a range of industries. What's exciting for retailers and marketers alike is that the technology is still in its infancy and will be bolstered by new developments that come through over the course of the coming years. 
As the decade continues, we will see more powerful technology that will be more omnipresent and more adaptive to real-world environments. This augmented evolutionary chain will further accelerate the adoption of the technology and broaden its potential applications. COVID-19 may have driven the growth of AR, but we're still barely scratching the surface.