Getting a startup business up and running requires capital. Between finding an investor, bootstrapping your way to the top, crowdfunding and getting your hands on a business startup loan or grant; the latter is often the most desirable. 
What is a Business Startup Loan?
A business startup loan is effectively a source of finance for individuals who are in the earliest stages of planning or growing their business. It's an imperative source of capital that can be used to purchase stock, buy or rent premises, cover the costs for marketing and make a strong entry into a market.
Distribution of Startups in Europe 2018 – by the source of financing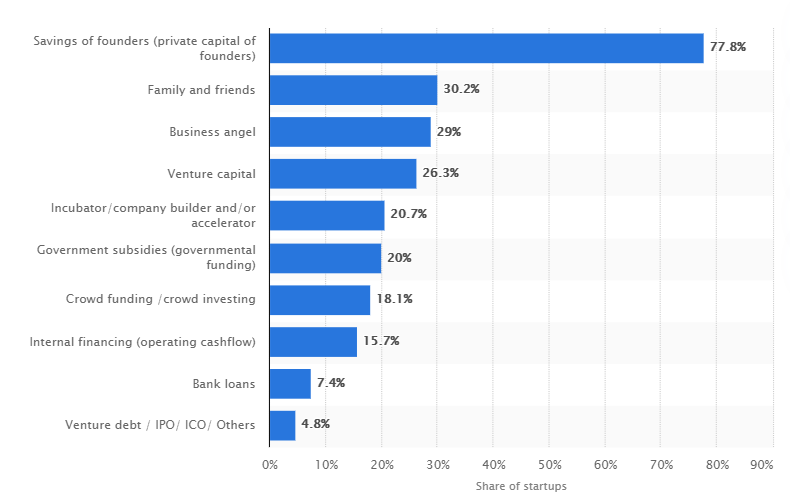 (Sources of startup financing. Image: Statista)
Per the graph above, there are a number of startup funding options available to entrepreneurs. In 2018, somewhat 78% of startups across Europe relied on the savings of founders. In comparison, only 26.3 received funding from venture capitalists. The most popular sources of funding have been private savings, family and friends. Business startup loans have been lagging in popularity over the years. 2020 has spurred on some unanticipated economic changes- many of which have compelled startups and SMEs to reach out for business startup loans.
What are the different types of Startup Business Loans?
A secured or unsecured business loan will give you access to funding at different levels of risk. A secured loan uses a tangible asset such as your property as security against the borrowing. This decreases the risk for the lender and usually offers better rates on finance; since they are secured.
The risk is transferred back onto the lender in the case of an unsecured business loan. These do not require security against the borrowing. With no security for the lender, rates of interest tend to be higher in these circumstances. 
Bank loans are perhaps the most traditional sources of business finance. Most high street banks will offer some form of business loan product. Given the history of lending, these banks now have stricter eligibility criteria – making them difficult to get a hold of.
Some of the drawbacks to such business startup loans include lack of access to industry expertise and contacts, and of course, they can be notoriously difficult to find and get your hands on.
Crowdfunding on sites like Kickstarter and Indiegogo are effectively business startup loans – albeit, gathered in drabs and from multiple individuals. Not only is crowdfunding a great way to raise capital, but it's also a sound way to raise awareness of your new startup.
Peer-to-peer lending platforms, similarly to crowdfunding allow startup entrepreneurs to connect with multiple private investors who are willing to invest in a given business. Unlike crowdfunding, this source of capital is effectively a loan that does not require you to give up shares or equity in your business. 
Government-backed business loans come with a range of perks such as limited fees and interest. In 2012, the UK government launched the Startup Loan Scheme to encourage entrepreneurship. The scheme offers government-backed personal loans of between £500 and £25,000 to anyone looking to launch or expand a small business. Interest rates are typically fixed at 6% per year and loans can be repaid over a one to five year period.
Where to find these Startup Business Loans
Government-backed businesses loans 
To qualify for a government business loan, you'll have to submit a detailed business plan and financial forecast to demonstrate your startup's capacity to repay monthly instalments. Writing a business plan and proofing your cash-flow forecasts are key prerequisites to this capital support. They should be strong and grounded in market research and evidence. Successful applicants are generally paired with a business mentor for 12 months – which is often more valuable than the cash itself. 
Government Loan Guarantees for SMEs in the UK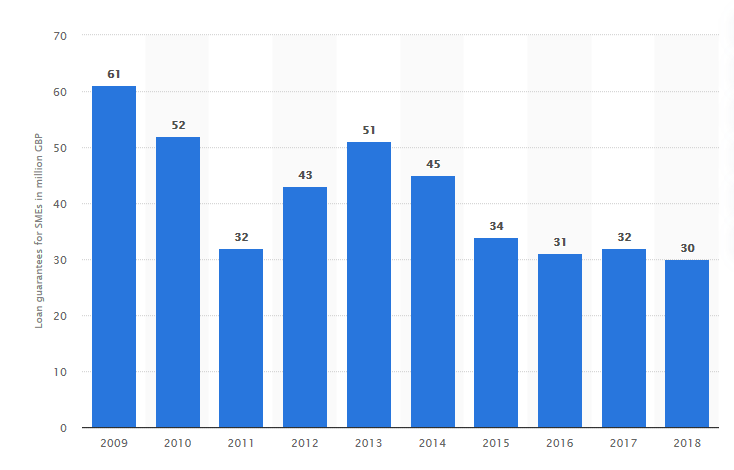 (Value of government loan guarantees for SMEs in the UK measured in £millions. Image: Statista)
The value of government loan guarantees for small and medium enterprises in the UK from 2009 to 2018 has been in gradual decline. The largest value of loan guaranteed was found in 2009, with a total of £61 million. We can anticipate a sharp rise in these figures over the coming months as more businesses reach out for government assistance in keeping their startups and SMEs financially healthy over the post-pandemic period.
The Startup Loans company is a subsidiary of the British Business Bank and supports businesses which struggle to access other forms of financing. They're open to a range of different business ideas and have an interest in each business succeeding – given their direct link to the UK government. 
Secured Business Loans 
If you're looking to use your assets as the basis of your business loan, then you have quite a few secured business loan options. With this type of business loan, in the event of not being able to make your repayments to the lender, they will use the sale of assets provided to recover their costs. Commercial assets such as property, equipment and land could provide access to loans from £5,000 to £2 million+.
Funding Circle Business Loans currently acts as an accredited platform to access the UK governments Coronavirus Business Interruption Loan Scheme. It borrows £50,000 to £250,000, with nothing to pay for 12 months to businesses struggling to cope with the financial strains of COVID-19.
Under normal circumstances, 57,000 UK businesses have financed their goals by borrowing a total of more than £6.2 billion from Funding Circle. Their Bounce Back Loan Scheme is a good option for those startups and small businesses looking for up to £50,000 with a fixed rate of 2.5% per year and pays nothing for 12 months with no upfront or early settlement fees.
Think Business Loans Business Loan can also help prepare and submit Coronavirus Interruption Loan applications. Its matching technology tool, iFunds is an industry-leading platform that matches businesses criteria with over 200 lenders instantly. 
Unsecured Business Loans 
With an unsecured business loan, businesses can find access to finance quickly without the need to offer an asset, collateral or property as security for the loan.
Capalona is a good choice for those businesses that don't own many assets but need a quick injection of cash. It lends up to £500,000+ with flexible repayment terms from 1 month to 5 years+. With no assets required and minimal paperwork, Capalona is a good short to medium term solution. 
LendingWorks, is a quick and simple way to find funding for small to medium-sized businesses. Borrow between £1,000 and £25,000 and gain access to the money within days. Skipping the middleman, LendingWorks matches businesses directly with reputable lenders, offering much lower rates than banks, making unsecured loans more affordable with the option to pay off the loan early. 
Peer-to-peer lending
Lending between individuals or 'peers' without having to apply and negotiate with traditional financial institutions such as banks or building societies is a great way to avoid volatile rates and the risk of losing assets is minimised. 
Peer-to-peer websites match businesses and entrepreneurs with people willing to lend their money. Naturally, it's a great source of capital but can also have significant marketing implications. Startups are able to get their business ideas in front of those who are most interested in and raise capital simultaneously.
Upstart, founded in 2012 by former Google employees has helped to raise more than $6.7 billion in consumer loans. Personal loan borrowers may be able to access up to $50,000 at interest rates as low as 8.13%. Its mantra, "you are more than your credit score" is encouraging for those without glowing financial records. Rather, the company says its underwriting software helps to identify sound borrowers based, in part, on education and employment history.