Raising capital for your business idea through external investment can be both tricky and tedious at times, but it's a strategy that doesn't have to be essential in getting your startup off the ground. While it can be tempting to find financial help, bootstrapping can often be a manageable alternative that puts you in full control of your business. 
The majority of entrepreneurs may dream of gaining access to a lump sum from an angel investor or accelerator, and the appeal of gaining a short-term windfall certainly holds appeal. Plenty of successful startups have been built on foundations laid by external investors. However, it's a fallacy to believe that accessing financial help is a pivotal part of a startup's formative months and years. 
While investors can skyrocket your startup's path from concept to reality, it comes at a significantly high personal price. Oftentimes, entrepreneurs are required to give up some control in their business in return for a windfall, and these losses of equity can create conflicts if your investors don't share the same goals as you.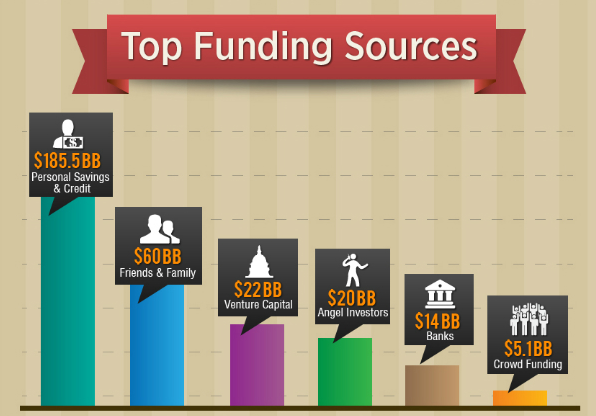 (Image: Neil Patel)
As shown in the bitesize chart above, personal savings and credit actually amount to the top funding source by some distance when it comes to establishing a startup. While venture capital and angel investors are wildly popular sources of finance for entrepreneurs, they only represent a fraction of the funding sources utilised by businesses. Notably, funding from family and friends ranks highly too – illustrating another viable avenue of funding for the bootstrapping entrepreneur. 
Here, it's important to acknowledge that gaining the help of an angel investor can bring huge benefits to small businesses. After all, their level of expertise and networking opportunities can help a startup to scale at a rapid rate. But it's advisable to always look into the viability of bootstrapping before considering accepting the money of other people. 
Bootstrapping remains the most popular form of raising funding for a business idea or startup, but how does it work? And how can entrepreneurs take advantage of the approach? Here's the ultimate guide to bootstrapping your way to success: 
Bootstrapping in a Nutshell
So, first thing's first, what does bootstrapping actually mean? Essentially bootstrapping refers to starting your own business and building it solely from your own money, and managing the cash flow of your own accord. This approach means avoiding the sizable windfall that can be provided by investors and stakeholders – allowing your business to grow organically and operate entirely under your own management, according to your own goals and ambitions. 
Significantly, bootstrapping means that you'll maintain full control of your startup. Alternative funding methods could promise, say, £100,000 in return for a 20% stake in your company. While this significant lump sum could significantly aid the growth of your business, if your endeavour attains a market value of, say £5,000,000 one day, £1,000,000 of this valuation will be in the hands of said external investor. 
As a bootstrapping entrepreneur, it's possible to raise money from a number of sources. Whether you aim to save large percentages of your monthly income from a day job, dip into pre-existing savings, take out a personal loan or credit card, raising funds of your own accord can be a great way of developing a business naturally into a market and managing your growth without having to face up to pressure from outside sources. 
Why Entrepreneurs Turn to Bootstrapping
Bootstrapping doesn't enjoy a great reputation among some entrepreneurs because it typically comes with slower progress compared to the path of acquiring funding from angel investors, for example, but there are plenty of reasons why many business owners prefer to bootstrap their way to success. 
Firstly, there's the appeal of having little-to-no debt involved in getting a startup off the ground. Without any loans to pay off, entrepreneurs can operate without having to worry about repaying their investors in the future. 
Most importantly for many entrepreneurs is the fact that bootstrapping helps them to keep full control over the management of their startup. With no investors or shareholders to answer to, business owners are able to steer, grow, and adapt their business as and when they see fit. There's no danger of having to make compromises to appease the investors funding your growth, and no need to avoid taking risks through fear of losing anybody else's money. 
When starting out, it can be easy to overlook the long-term consequences of gaining external investment for your business. But it's important to consider how you would respond if your startup takes on a new direction that you dislike. There are even cases where shareholders in businesses have successfully fired founders and co-founders. 
Bootstrapped businesses allow owners to have the freedom of deciding each step to take and what type of business is conducted. 
Another great reason behind the appeal of bootstrapping as that the process helps entrepreneurs to learn vital lessons about their industry and business as a whole. Bootstrapping requires a lot of work, but this will ultimately pay dividends for when you need to call on your experience when it's time to scale up or branch out. 
Accepting windfalls from VCs and angel investors can put your endeavour on an easy path where you're largely reliant on the guidance of others. While this can help in the short-term, the level of experience gained from going it alone can set you in good stead either later on in your business or during the early stages of a new project. 
Fundamentally, the appeal of investment can't be ignored, but bootstrapping can be a great alternative that leaves you firmly in the driving seat of your startup. For entrepreneurs that want to learn as they grow, there are few more rewarding approaches to running a business than through bootstrapping. 
The Drawbacks of Bootstrapping
Despite its clear advantages, there are plenty of disadvantages that come with pulling yourself up by the bootstraps. 
Firstly, there's the prospect of gaining no outside help in the running of your business. Having full control may seem like a good thing financially, but sometimes a little support can go a long way if you're inexperienced in terms of running a company. 
There's also no getting away from the fact that bootstrapping is extremely hard work for most entrepreneurs. Of course, you may be fortunate enough to be sat on a huge pile of savings that's too vast to spend. But more likely is that you're going to have to exercise extreme caution in your processes. Staff will need to be hired on small recruitment budgets and there's little room for bringing in employees who aren't fit for the tasks that will be required of them. 
In all likeliness, you'll need to spread yourself across lots of areas of your business, and may need to be your own head of HR, accounts and media relations at the same time. 
You might also find that a lack of funding will mean you'll be unable to grow your business for some time. This can be extremely frustrating if you feel that the market is ready for you to scale your endeavour. When using your own funding, it's likely that you'll grow at a slower rate than with the help of VC.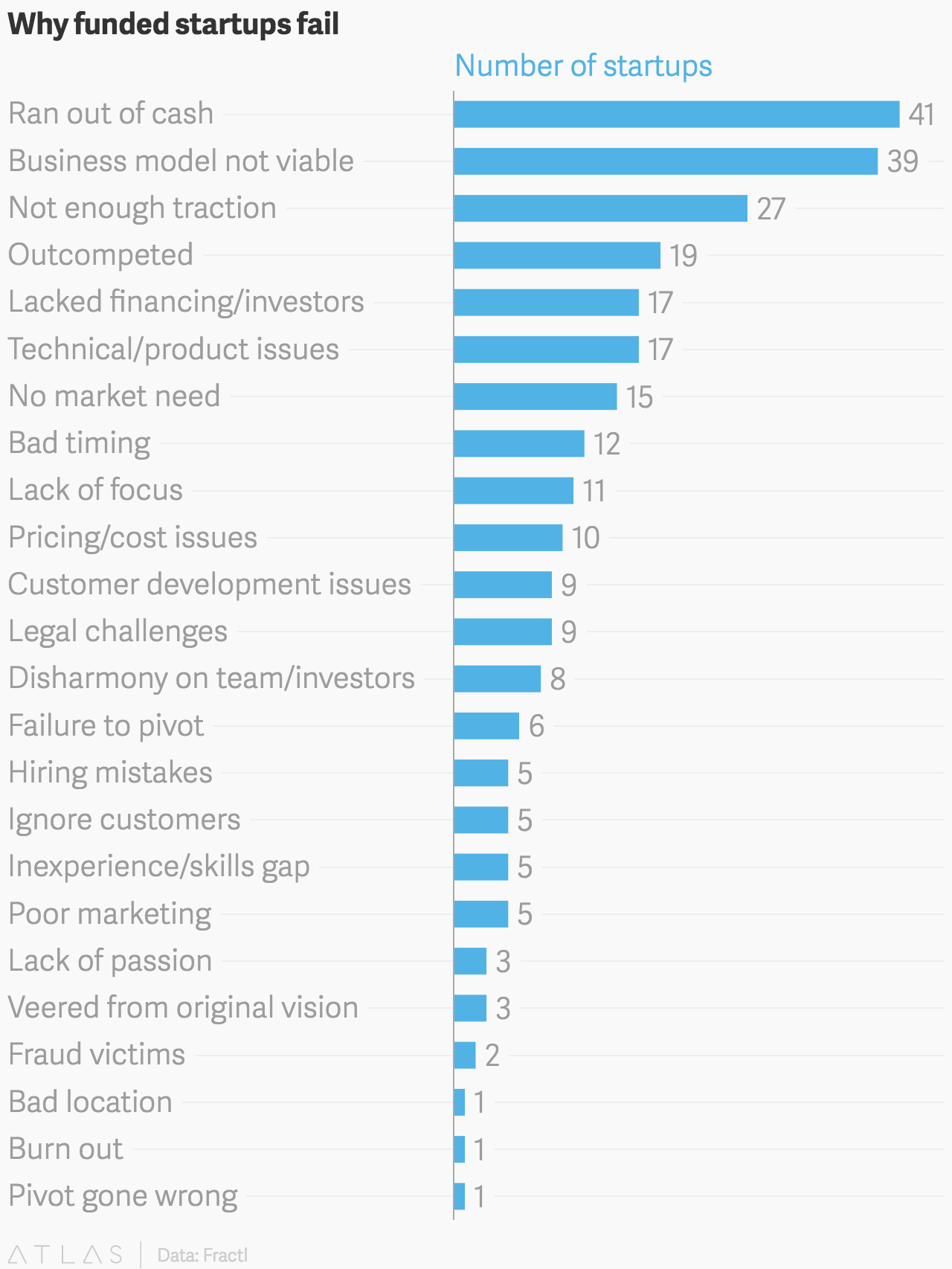 (Image: Strategyzer)
Finally, there's a significantly higher risk of failure. As the chart above illustrates, the most common reason for startups failing is simply because they run out of cash. While the prospect of running out of cash with investor funding could carry more disastrous ramifications, it's far more common for bootstrapped startups to lose their money. 
Mitigating Loneliness
While there's a belief that bootstrapping is a lonely way to run a business, the notion that you're in it alone for the long-haul is a myth. 
There's plenty of support that owners can tap into in the form of networking, or speaking to other successful startup owners – or even talking to unsuccessful startup owners. 
For financing help, you'll find that it's easy to discuss your business' potential with accountants too. In fact, all of the aforementioned options are more-than-capable of providing valuable insights in how to strategise the running of your business – and what's more, is that they'll likely be happy to do so. 
Taking Your First Steps into Bootstrapping
Your first step should always be to make sure that you're prepared. Have a plan in place and avoid the temptation of throwing money at your idea in the hope that it just succeeds. By undergoing due diligence, you'll be ready to manage the creation of your business – from the hiring of your first employees to conducting accurate cash flow forecasts. 
Secondly, conduct enough research to know exactly what market your idea is aiming for, why your startup exists in the first place, and how it's going to help people out. 
Focus on limiting your overheads as much as you can in these delicate early stages. Look at ways to save on office space and even check whether or not you'll be capable of working from home as your startup begins to attract its first customers or clients. 
Always look at ways to spend money wisely, and avoid splurging on expensive tools and software if they're not entirely necessary. 
It's also vital to look at ways of building customer loyalty as early as possible. Good relationships with customers can pay dividends in helping to grow your brand. The power of good testimonials and online exposure generated from users of your product or service can be more effective than traditional marketing strategies. 
Fundamentally, the best way to approach bootstrapping your startup is to ensure that you're adaptive. The sad reality is that many businesses fail – regardless of whether they're well funded or even whether they're a good idea. Sometimes markets don't exist or unforeseen setbacks occur. 
If you adopt an adaptive mentality, you can act quickly to help steer your business through any difficult times, and continually reassess your position to ensure that you're on course to hit your goals. Fundamentally, though, remember to enjoy yourself while turning your dream into a reality. Building your company up by the bootstraps is a difficult task, so be sure to enjoy the good times.