With the rise of users becoming reliant on online storage and even the largest of purchases happening online, blockchain technology has become heavily relied upon in the last few years. Although Blockchain technology has been around since the year 2008  the use of blockchain technology has become more significantly known with the introduction of cryptocurrency and purchases of non-fungible tokens because of its accurate nature. 
As the methods of purchase and transactions are becoming increasingly more popular so is the use of blockchain in many different types of businesses. From entertainment to banking to security, the applications of blockchain are becoming more and more applicable as time and the nature of technology goes on. The applications of blockchain technology are becoming more and more applicable across many different sectors and its uses are still very much being experimented with.
What is Blockchain Technology?
Blockchain Technology is a method of storing and recording inputs, outputs and transactional data in a way that cannot be edited or tampered with. The way that blockchain technology is structured lends itself to not being changed, which in turn makes it one of the most accurate ways to record any changes within its database. 
Just as the name dictates, a blockchain is indeed a chain of blocks as it were. The blocks indicate each grouping of data which then become part of a chain. Blockchain technology is pretty much described as the most accurate and defined way to store transactional records. 
It is a specific kind of database that stores blocks of data together in chronological order. The chronology of the chain and the blocks is what makes it an increasingly desired choice. These records can also be referred to as blocks and other blocks are added onto them to form a data chain. Every transaction within the blockchain is digitally authorised by the user, which is why it's so commonly used with cryptocurrency. These transactions can be seen but not corrupted or altered, providing a secure and accurate way of data storage. It is a database that can be recognised as a traditional database and is typically found in a table format which, in turn, results in easier searching and labelling features. 
Due to the database and its chronology, the inability to have any data tampered with means that each input of data is very much seen and recorded. Any changes made will state who authorised it and in turn ensure that the data is as accurate as it can be. Modernising the financial sector, as well as many other sectors, are seen by the implementation of blockchain technology and one of the key ways that we will start seeing more of this is within the voting system.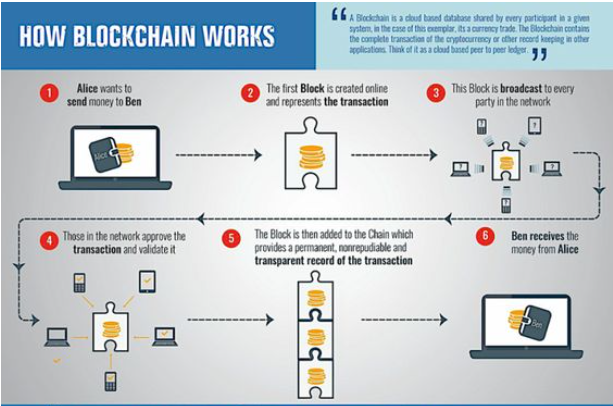 (Image Source: Supply Chain Management)
What is blockchain voting?
 As the nature of blockchain can highlight every type of activity, it can very much be used within a digital voting system. The way that this would work within voting, could be used to eventually facilitate general and local elections across the globe. In its most basic form blockchain is a digital ledger that records everything which means that it can significantly reduce the risk of voter fraud. As each vote and information about each vote will be added to the chain of information there will be a trajectory of the votes. Any changes that are made will be on record as part of the blockchain. 
Bringing elections into the 21st century will very much be at the forefront of the future of voting. Firms such as Horizon State have been trying to come up with a solution to bring voting into the era of technology so centres their solutions around what should voting look like in the present day? Blockchain can ensure fair democracy as the votes will be counted to the true number. This company has created a small digital ballot box on which voters will use decision tokens to cast their votes and this can be done from both a mobile phone and a computer. These tokens and votes are then logged into the blockchain and in turn, will reliably verify the outcome after the vote is closed. There is no room for manipulation, counting errors and tampering when it comes to blockchain and voting. Because of the promise inaccuracy when implementing this method participation to vote will also be encouraged. 
The increasing voter apathy in the United States of America has seen the number of people who cast their votes decrease in recent years and providing an irrefutable way and method to vote, ought to ease concerns about voter fraud. Using blockchain as a means to regulate votes and keep them trustworthy will mean that democracy is upheld and the results of elections are the most transparent that they can be. It will encourage people from many different communities to vote. This technology is still very much in its infancy but is maturing particularly amongst younger voters and is looking like it may well be part of our collective future in terms of elections and voting.  
As well as offering peace of mind and transparency to voters, the use of blockchain within the voting will keep the notion of manipulation of results at bay. The use of electronic voting machines will increase the speed of counting votes and require voters to display a form of identification. This type of voting would provide even more efficiency in larger countries such as India and Brazil. There are still worries that electronic voting itself could be susceptible to hacking, the use of blockchain technology would be able to show exactly that if there was ever any dispute in the vote. This will boost the integrity of elections and prevent misinformation from being spread. Blockchain technology within voting systems will ensure that people's individual political preferences are protected without compromising the integrity of the voting outcome itself.
What are the possible downsides of blockchain voting?
There are still concerns about digital voting becoming the mainstream due to the security concerns that surround it. Cybersecurity experts believe that implementing blockchain is not enough to prevent the other risks that come with digital voting. The issues surrounding online voting can include malware on a client's device, server penetration attacks and denial of service attacks which can mean that computers with these issues could affect the vote overall and in turn, the way that the ballots are counted. If blockchain was implemented as the main source of voting it could still be manipulated and be open to cyber-attacks and many people, including those in politics, are very sceptical about it and would prefer more traditional methods.    
How else can blockchain be utilised?
Although the use of blockchain within voting is seemingly an advantage, there are still other ways that this technology can be used for decision making and in turn simplify and secure smaller votes and elections. Outside of politics, the use of blockchain within a corporate setting could still very much ensure that a fair playing field is encouraged. The use of blockchain is becoming more and more popular across many different sectors and countries and there are ways it can still be creatively and effectively utilised.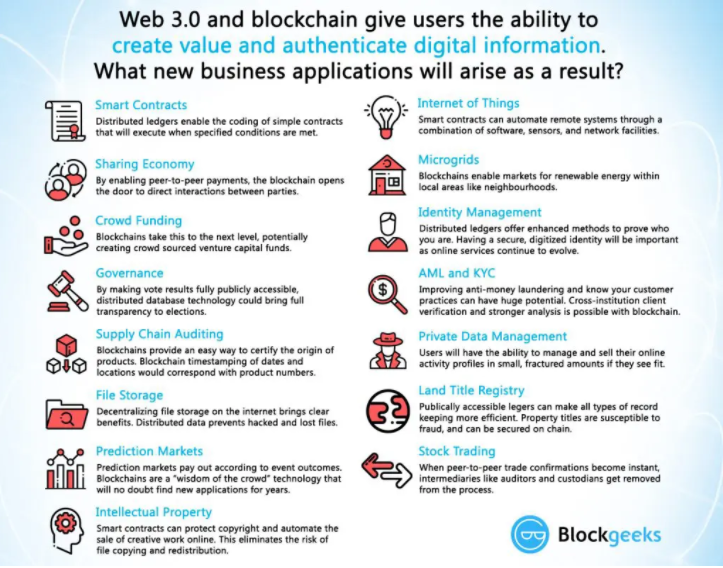 (Image Source: BlockGeeks)
Financial Services
The financial sector is still very much a sector that is implementing new technologies and ways to make finance more accessible to the public. From banking to investing to cryptocurrency there is now a mainstream digital reliance on the way we access our financial information and there is almost certainly room for blockchain technology within that.
Banking
The use of blockchain technology within banking itself could very much eradicate the way that transactions are monitored. Banks are not only a hub for financial transactions but also a hub of financial data. The implementation of blockchain within the banking sector would allow tamper-proof transactions to occur as well as keep a truly accurate ledger of any data that has been stored.
Banks such as Credit Suisse have already started to partner with blockchain companies as a way to up the ante in their security and transparency. The way that blockchain could help within banking will apply even to institutional and business accounts. Facilitating high-value transactions will also be aided by the implementation of blockchain.  
Stock Trading and hedge Funds
Over the last decade or so, many companies have worked to try and ease the process of buying, selling and trading stocks. With the use of blockchain and its application across a range of sectors, it can be used to increase the efficiency of stock trading processes. 
Overstock has a subsidiary that wants to be able to enable stock transactions online using blockchain technology. The automation of trading networks and exchanges will allow blockchain to help ease exchanges and become more cemented within this sector. The nature of the blockchain database will ensure that every trade and transaction will be added to the block and in turn the chain. 
When it comes to hedge fund models the application of blockchain in hedge funds means that many different types of transactions can be monitored at the same time. In October 2020, Numerai announced a new project called Numerai Signals that will accept signals from models trained on any dataset, not just on its own. This means that predictive models can assess the contributors to these hedge funds and ensure that nothing is tampered with.
Crowdfunding
Crowdfunding has become an extremely popular go-to when it comes to trying to fund a small business or start-up venture. By reaching out to a range of potential backers, crowdfunding can be a source for many different types of business that may otherwise not be considered for investment. The use of blockchain software will allow campaigns to be funded. A key example of the implementation of blockchain technology is shown within companies such as CoinList have shown that collaborations between different platforms can work together by bringing digital assets together and then helping them structure legal assets. With blockchain, there is the ability to keep track of every asset transaction and digital upload to ensure that the crowdfunding is being used as it was intended to be used. 
Travel and Mobility
Blockchain technology is no longer restricted to certain sectors and can very much be used within the travel and mobility industry. This can go from purchasing a vehicle to cargo to the defence industry. The record of physical assets, for example, auto parts, provide a prime example of how blockchain technology can be used to provide a reliable and resilient system.
Car Leasing and Sales
The traditional process of leasing, buying or selling a vehicle can be lengthy for both sides of the transaction.  The widely used software Docusign is used as a way to provide a digital signature. Within the realms of ca leasing this tool allows prospective customers to essentially sign and take away on the same day. With the pandemic putting barriers on the considered normalcy of certain transactions the use of document signing software has become increasingly more used and popular.  Prospective customers can choose which car they want to lease and use the digital signing tool to agree on any terms and policies. These digital signatures and any changes made to any documents will be added to the blockchain and stored. Deploying the use of blockchain technology when it comes to leasing a car will mean that the data logs will be on the system and reduce any problems that there may be.
The cargo industry (trucking and air cargo)
The cargo industry is an industry that has become very relied upon. From transporting cargo via trucks or air, the nature of this sector means that there are new founding ways that security can be breached and with the number of products that can be in transit during one time, blockchain technology can very much be of assistance. 
The use of blockchain can improve transactions, shipment tracking and fleet management as well as protect assets and increase the efficiency of the vehicles. For example, keeping track of food goods can happen from start to finish. Making a record of the status of foods and goods before they are loaded and the conditions they are kept in and maintained will ensure that every step of the food transaction is in the blockchain. Ensuring that the status of the food runs parallel to what the blockchain says will mean that routes can be optimised and, in turn, food waste can be reduced. Large corporations, as well as small businesses, will benefit from having a blockchain ledger to ensure they are optimising their cargo transfer as much as possible.
Within air cargo, in particular, by streamlining so many ground operations, emissions will be significantly reduced by implementing blockchain technology. For example, the environmental benefits of reducing paper waste by switching to digital methods and knowing they are accurate, will not only contribute to more sustainable ways of conducting operations but also result in more accurate tracking. The economic footprint of paper storage is monumental and could be significantly reduced by storing data in a digital manner. A study revealed that nearly 3% of a company's revenue is spent on paper. Digitising the administrative side of air cargo is an excellent way to reduce costs and create further accuracy that is overseen by staff.
Another advantage of digitising and implementing blockchain technology is the convenience of doing so. The systems and tools that are used today allow processes to be streamlined and in turn for the cargo and checking process to be accelerated. The time that is saved printing and sorting and filing, is all amended by switching to digitalisation and automating certain processes. 
This means that the energy that would normally be used to work out the things that are now automated can be used to prioritise another area of the air cargo process and bring efficiency to that area. The digital world is one that many businesses are getting very much acquainted with so it is only natural that the air cargo industry jumps on that bandwagon too. Although there is the hurdle of security when it comes to data input, the advantages of these digital processes will significantly increase the effectiveness of certain processes and systems. The accuracy of doing so is also solved by the use of blockchain within this industry. It will bring convenience, time savings and also contribute to the air industry's promise to reduce their carbon emissions.
Aerospace and Defence
 In accordance with Accenture 61% of aerospace and defence companies are working with blockchain technology or digital ledger solutions. Just like with the cargo industry, blockchain can streamline procedures and track inventory to authenticate personnel in a streamlined manner.  An example of using blockchain technology within the aerospace industry is through the trade and selling of the parts that are needed within this sector. According to the Federal Aviation Administration's requirements, avoiding manual work and paperwork, heavy processes and operations within aerospace can be made more efficient by using blockchain technology. 
The defence industry is also using blockchain technology as a means to establish research for parts and strategy. Countries such as Russia and the USA and their ministries of defence have implemented blockchain solutions as a way to allow government data to remain secure and the data is unable to be tampered with. 
Air Travel
The implementation of digitalisation within the air industry and travel industry has very much changed over the last decade. The data that is inputted when booking air travel can include credit card numbers, immigration details, flight destinations, and even hotel information depending on how the flights are booked. Implementing blockchain technology to secure and encrypt this data can mean that customers and users of air travel can feel safer knowing that their data is secure with a blockchain database. Switching out paper tickets to digital ones can uphold the use of blockchain and make sure that every step of the air travel process is stored within the database and secure. This will provide another layer of control and security when it comes to travelling by air. Alongside the use of digital tickets, using a digital sales process can ensure even more verification of travel plans and create more accurate logs of aircraft maintenance and monitor things such as overbooking and passenger details even more than ever before.
Hospitality and hotel bookings
The reliance on third-party booking services and commission-based services when it comes to booking hotels and flights has very much risen in popularity. For small chains and start-up businesses, this can mean up to a 20% fee going to these third party sites. With the implementation of blockchain technology, the middle man in these situations can be cut out completely and reduce cost and encourage the provider to consumer interaction. Because there would be an active blockchain ledger, the data and service would be stored in a secure manner. For example, the blockchain-based platform Winding Tree has been working with hotels, airlines and tourism offices to provide an open-sourced marketplace for booking with more of a business to business feel and method. By bypassing the high fees and operator costs, airlines and hotels can make the most of their profits and keep more of their revenue.
When it comes to blockchain technology its use and applications are becoming more and more widespread. The use of blockchain within digital voting in particular will provide another layer of security and ensure that there is nothing that has been tampered with. The ambiguity that comes from more traditional voting methods will be removed knowing about the security and nature of a blockchain database. Alongside the use of blockchain within the voting system will reduce voter fraud and the way that votes are counted. The use of blockchain technology across other sectors has also proven to provide another layer of protection and security. From hospitality to air travel to cargo, one can seek comfort in knowing there is a blockchain ledger being used for data storage.